This post contains Amazon affiliate links. If you click on a link and make a purchase, I earn a small commission that helps to fund this blog. Thanks!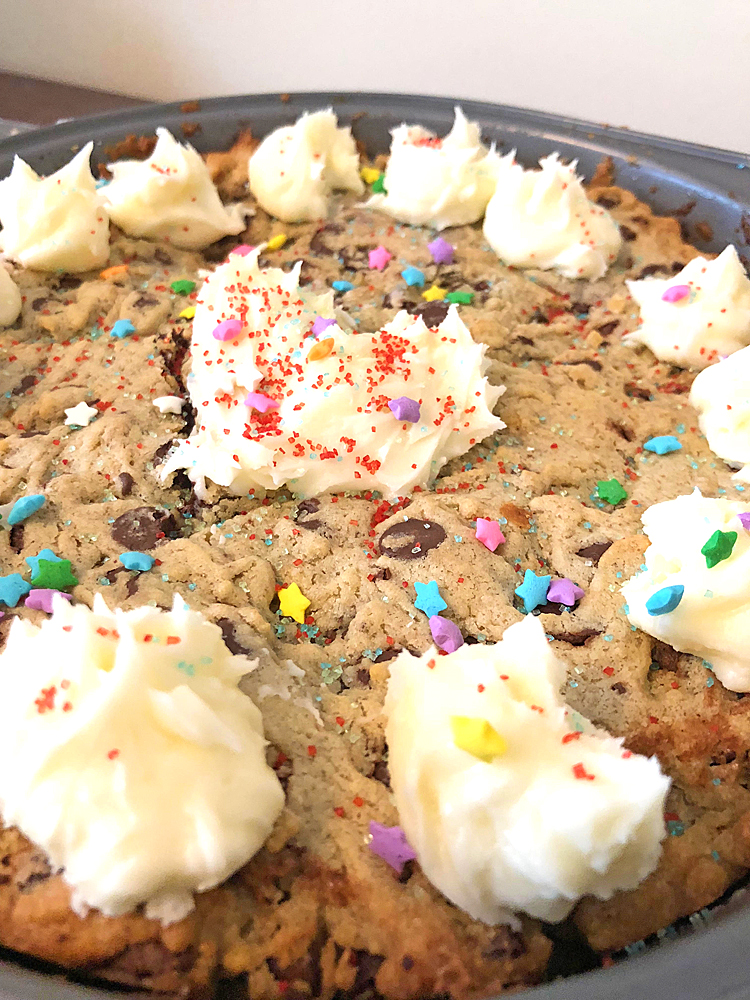 Welcome to the Taste Creations Blog Hop! The first Monday of each month, my blogging friends and I get together to share recipes. One of these friends, Rosemary Molloy, has written her first cookbook, and we are so all excited for her! Her book, Authentic Italian Desserts: 75 Traditional Favorites Made Easy
, is now available on Amazon!


To celebrate Rosemary's new dessert cookbook, my blogging friends and I decided to share a cake recipe today!
Rosemary blogs at Italian in My Kitchen. You should stop at her blog and read how her cook book came to be — her story is really sweet! Rosemary is a Canadian who met an Italian at a church dance and wound up marrying him! She moved to a small Italian town with her new husband. With the help of her new in-laws, friends and acquaintances, she has become an amazing cook of authentic Italian cuisine.
Her recipes are all really amazing and beautiful!
Chocolate Chip Cookie Cake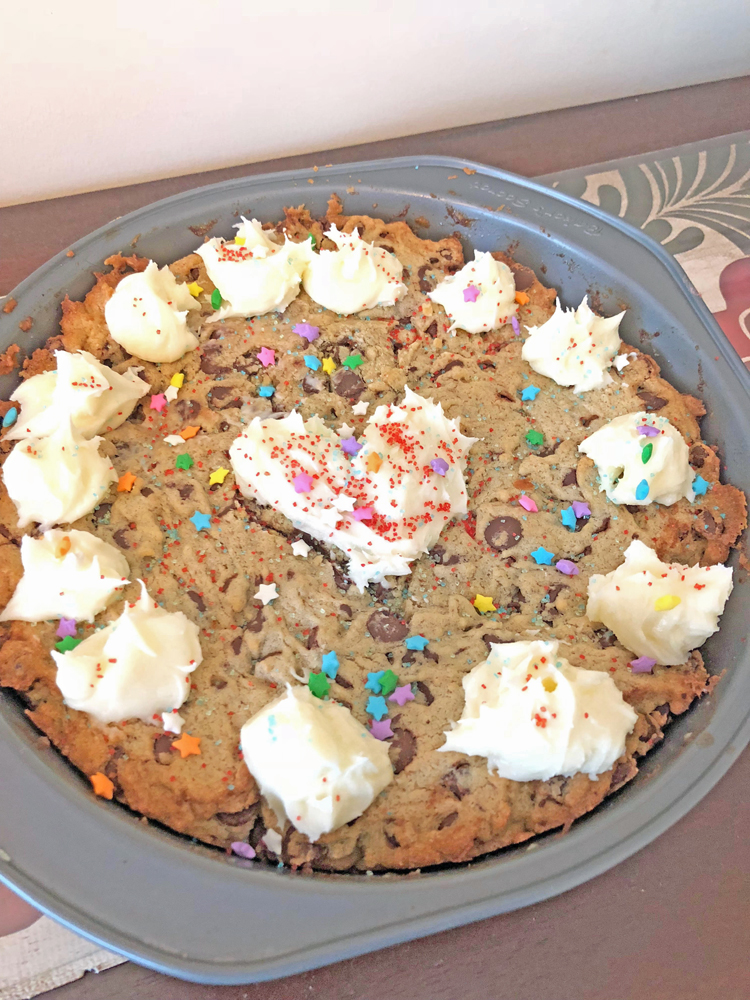 I'm not at the level of baking that Rosemary is, but I do like to bake treats for my family now and then. My twin daughters celebrated their 15th birthday last week, so I decided to make them a cake. They love chocolate chip cookie cakes, so I opted to make them a homemade one to celebrate their birthday! (Technically, chocolate chip cookie "cakes" are just really big cookies, but we're letting that slide here!)
Chocolate Chip Cookie Cake Recipe
We have been serving my daughters a chocolate chip cookie cake for their birthday for years. But, I used to always buy their cakes for them. This is the first year I made one myself! Had I known that cookie cakes are so simple to make, I would have made them a homemade birthday cake years ago.
For my cake, I used the chocolate chip cookie cake recipe from Allie of Baking a Moment. Allie's cake is a bit fancier than mine is — she has beautifully piped icing on her cake, whereas I just put spoonfuls of homemade icing on mine. I tried to use a kit I got years ago to pipe on icing, but as I squeezed the plastic piping bag, it burst and leaked out icing on the sides. Oh, well. I think I need a better method to pipe on icing.
INGREDIENTS
For the cookie
3/4

cups (1 1/2 sticks) unsalted butter, softened

3/4

cup light brown sugar (loosely packed)

1/4

cup granulated sugar

1

large egg

1

large egg yolk

1 1/2

teaspoons vanilla extract

2 1/4

cups all-purpose flour

1/4

cup cornstarch

1

teaspoon baking soda

3/4

teaspoon kosher salt

12

ounces semi-sweet or bittersweet chocolate chips
For the decoration:
1/2

cup (1 stick) unsalted butter, softened

pinch of kosher salt

2

cups powdered sugar

1/2

teaspoon vanilla extract

1

to 2 tablespoons heavy cream

rainbow sprinkles, for garnish
INSTRUCTIONS
To make the cookie:
Preheat the oven to 350 degrees F and lightly mist a 10-inch 10-inch baking pan or 10-inch ceramic quiche pan with non-stick spray.
Place the butter, brown sugar and granulated sugar in a large mixing bowl and beat on medium-high speed in an electric mixer until very fluffy (3 to 5 minutes).
Add the egg, egg yolk, and vanilla, beating until completely mixed together.
Scrape the bottom and sides of the bowl with a silicone spatula, then add the flour, cornstarch, baking soda and salt. Mix on medium-low speed just until all the ingredients are combined (do not over-mix).
Mix in the chocolate chips.
Transfer the cookie dough to the prepared pan, spreading it in an even layer.
Bake for 22 to 28 minutes, or until golden around the edges but still soft in the middle.
Cool completely, then decorate with buttercream and rainbow sprinkles.
To decorate the chocolate chip cookie cake:
Place the butter and salt in the bowl of an electric mixer, and beat on medium speed until smooth.
Add the powdered sugar, a half cup at a time, beating on medium speed until mixed together.
Stir in the vanilla extract.
Whip the frosting on medium-high speed until very fluffy.
Whip in the cream (as needed) to achieve a more spreadable consistency.
Transfer the buttercream to a piping bag fitted with a jumbo open star tip, and pipe swirls around the outside edge of the cooled chocolate chip cookie cake.
Garnish with rainbow sprinkles.
Allie's recipe worked out perfectly for my daughters' birthday cake. They adored the cake, and my family polished off the whole cake!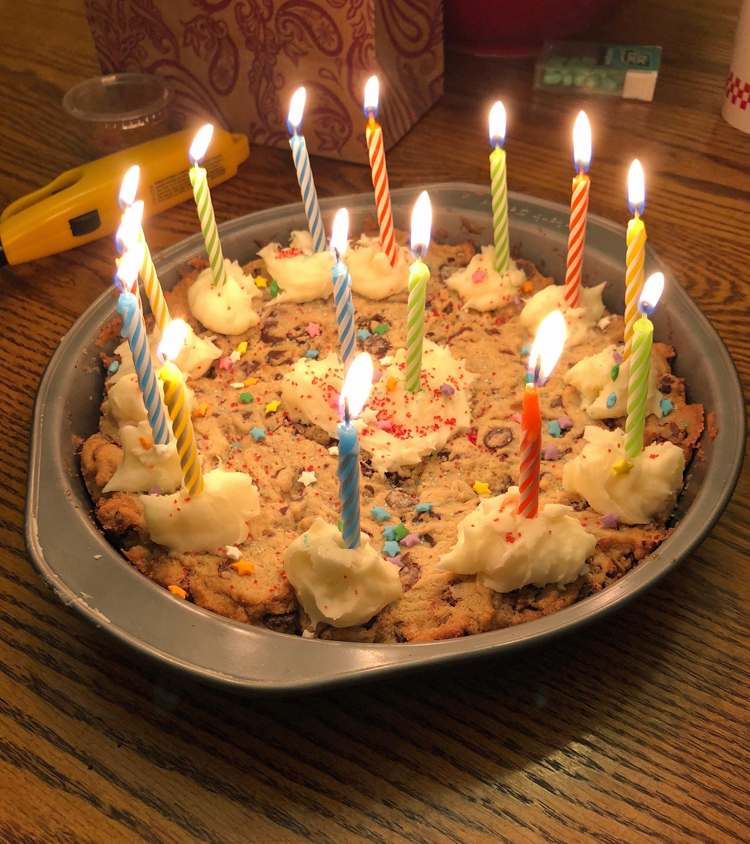 Be sure to check out my friends' delicious cake recipes!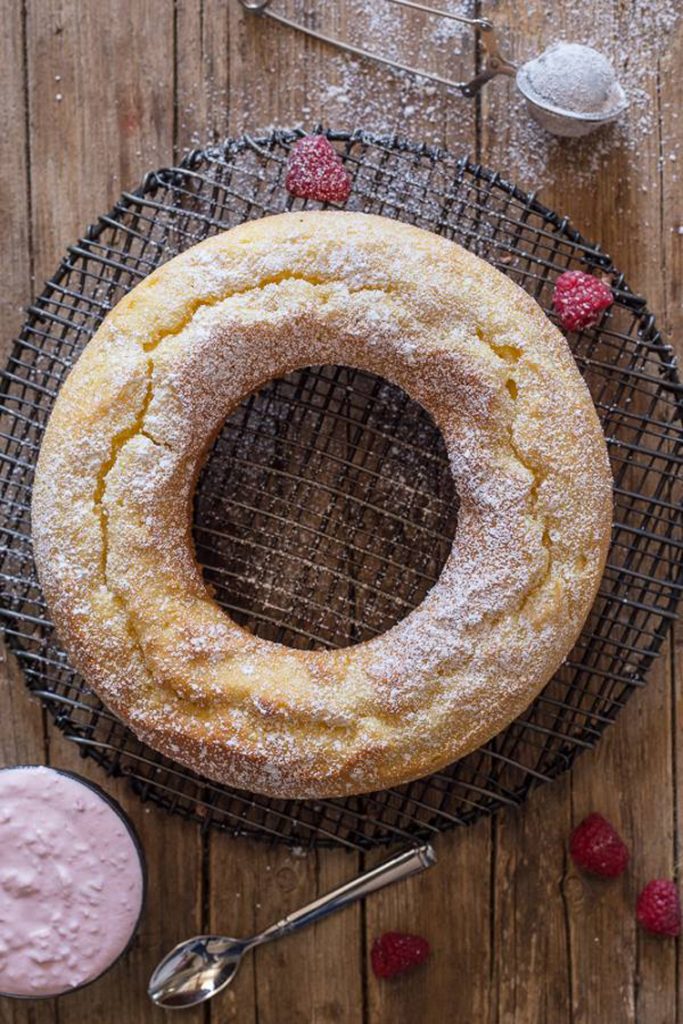 Mascarpone Cake with Raspberry Cream