This post contains Amazon affiliate links for your shopping convenience.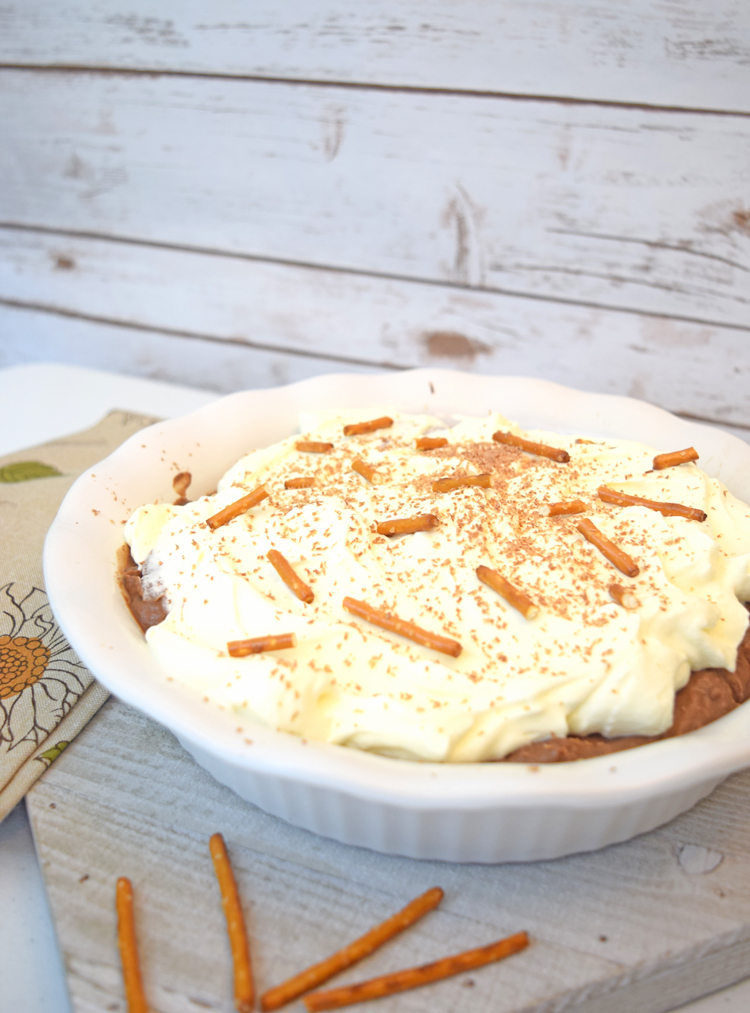 I can't believe it's September already! I'm happy fall is near. In autumn I love comfy sweaters, autumn leaves and comfort food. Two of my favorite comfort foods are chocolate and pie! I decided to put the two together and bake up a simply delicious chocolate pretzel pie. I'm sharing the recipe as part of the Taste Creations Blog Hop. My blogging friends and I get together for the Taste Creations Blog hop the first Monday of every month. Today all will be sharing delicious pie recipes! (Check the bottom of this post to see my friends' pie recipes.)
Fall is a busy time in my house, with my daughters starting their second year of high school this year. They are now in the marching band, so there are band practices to get them to, and football games and band competitions to attend. Having a pie recipe that doesn't require much effort is a big plus! The thick pudding of this pie comes together quickly on the stove, and the pretzel pie crust only requires about 10 minutes of baking time in the oven.
I found my chocolate pretzel pie recipe at Tidy Mom. My blogging friend, Carrie of Curly Crafty Mom, met Cheryl of TidyMom at a blogging event recently, so I decided to check out Cheryl's TidyMom's blog. I really like her mix of lifestyle, recipes, craft and DIY tutorials.
Easy Chocolate Pretzel Pie Recipe
(Adapted from TidyMom)

Ingredients
4 ounces (3 cups) broken pretzel sticks
3/4 cup light brown sugar, divided and lightly packed
1/2 cup (1 stick) butter, melted
1/4 cup cornstarch
3 tablespoons unsweetened cocoa (I used HERSHEY'S)
Pinch of salt
2 1/2 cups whole milk (I used 2%)
4 egg yolks
7 ounces chocolate, chopped (a little less than 2 large HERSHEY chocolate bars)
1-1/4 cups + 2 tablespoons heavy whipping cream, divided
1 teaspoon vanilla extract
2 tablespoons confectioners sugar
Instructions
Heat oven to 350 degrees F. In a food processor or mixer, combine pretzels, 1/4 cup brown sugar and butter. Blend until the mixture resembles fine crumbs. Press the mixture firmly into the bottom of a 9-inch pie pan. Bake crust until it turns golden, about 10 to 15 minutes. Let cool.
In a medium saucepan whisk 1/2 cup lightly packed brown sugar, cornstarch, cocoa, salt and milk together. Place the mixture over medium heat and stir until the sugar is dissolved, about 2 minutes. Whisk in egg yolks. Cook, stirring constantly, until the custard thickens and starts to boil, about 5 minutes. Remove the mixture from heat and stir in 3 ounces of chocolate, plus the vanilla. Place the pan in a bowl of ice and stir occasionally until the custard cools. (Save the custard for step 4.)
While the custard cools, make a chocolate ganache to cover the pie crust. Place 4 ounces of chopped chocolate in a medium bowl. Heat 1/4 cup + 2 tablespoons of heavy whipping cream in microwave about 30-40 seconds. (Heat it until it starts to boil.) Pour the warm cream over the chocolate and' stir until melted. Pour the chocolate mixture over the cooled pie crust. Use a rubber spatula to spread chocolate over the entire crust. Place the crust in refrigerator or freezer until set.
Pour the custard into the cooled crust over the hardened ganache. Cover the pie with plastic wrap. Chill the pie until firm, 4 hours or up to a day.
Whip cream and confectioners' sugar until soft peaks form. Spread the whipped cream over the pie and garnish the pie with extra pretzels and chocolate shavings.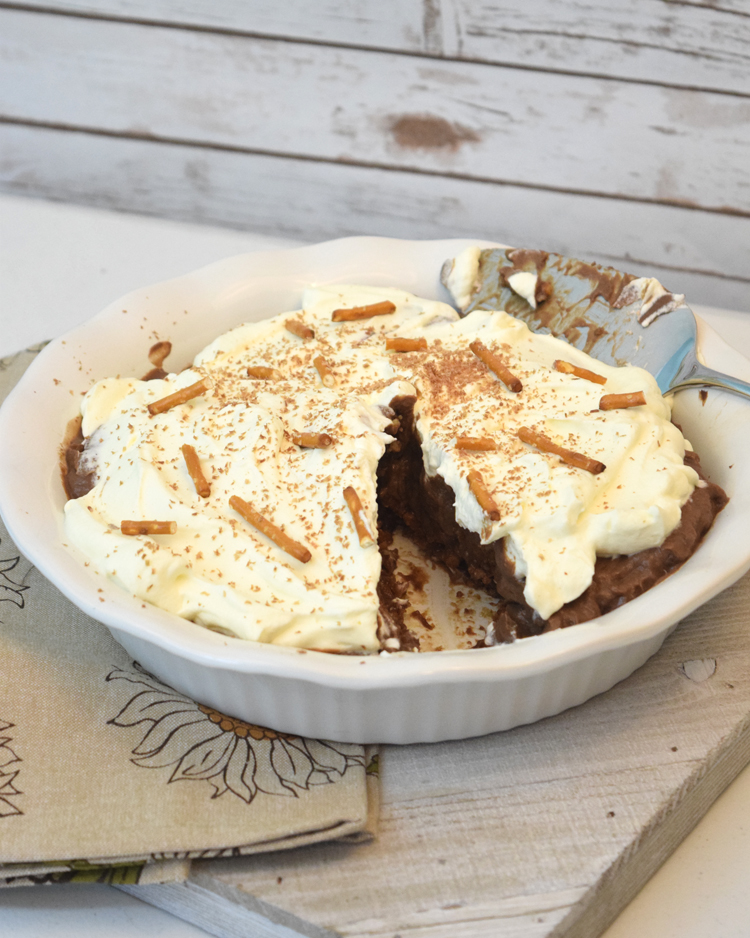 The pie is ready to serve — this pie is so good, so don't be surprised if this pie disappears quickly!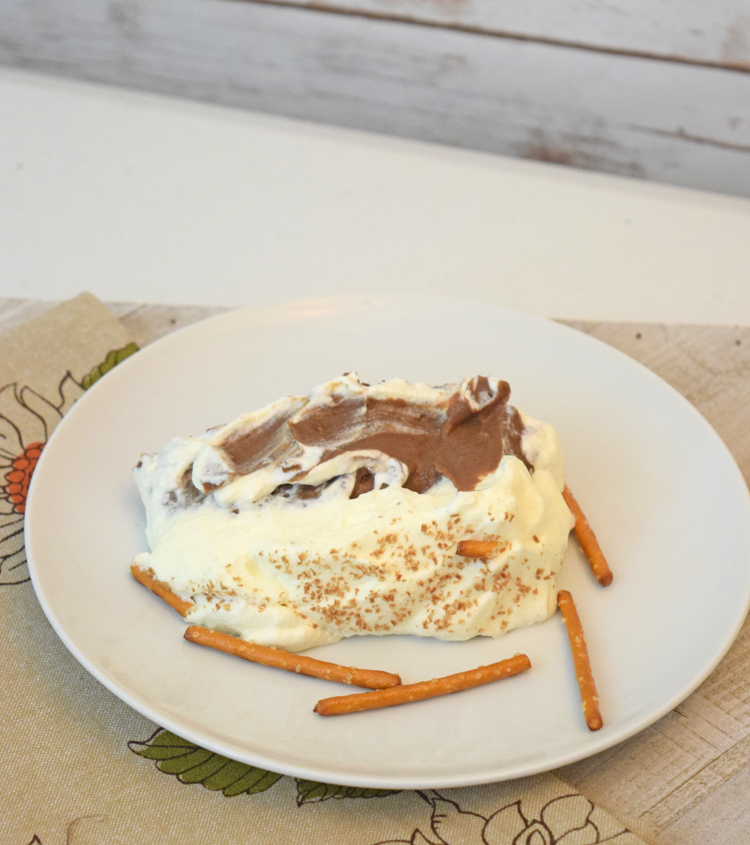 Now check out my friends' amazing fall pie recipes!
Homemade Pumpkin Pie with Maple Whipped Cream – An Italian in My Kitchen
Old Fashioned Peach Pie — Our Good Life
Be sure to also check out these pie recipes!