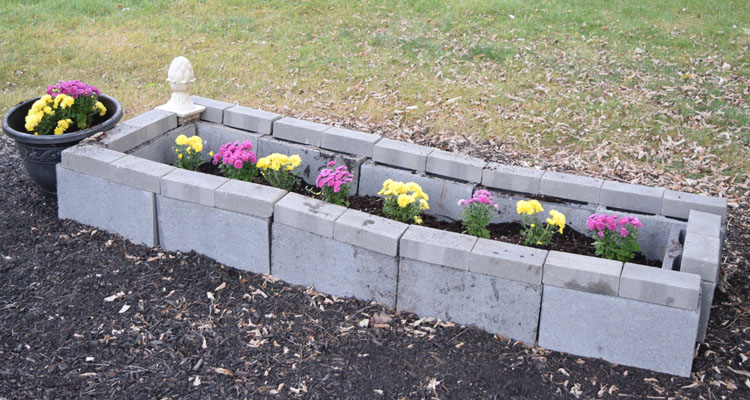 Over a year ago, I created an outdoor seating area in my yard with a few concrete/cinder blocks and some wood. Sadly the top of the bench didn't last long. Just before this summer, the wood warped, and the adhesive that held the wood to the concrete block base of the bench dried up. I debated whether to fix the bench or find another use for the concrete blocks.
My family and I never used the bench much, so I nixed the idea of rebuilding it. (Even though the bench was pretty!) I thought about building a fire pit with the blocks, but my daughters didn't think we'd use it much. So I opted to use the blocks to make a quick DIY planting bed for some fall mums!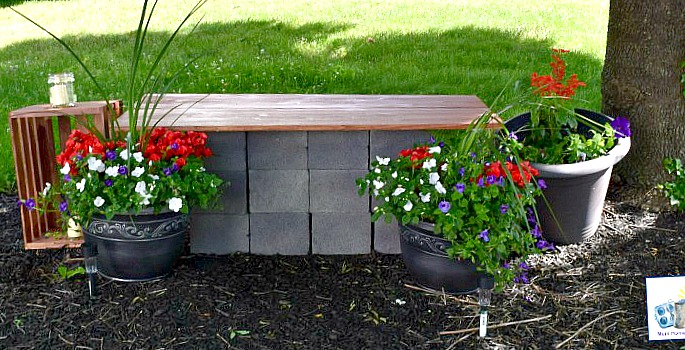 The planting bed on the side of my home's driveway has been problematic. The bushes the builder planted there died within a few years and everything I put there doesn't survive. The ground there is super hard, so it's hard to plant anything. A raised bed is perfect since I can bring in soft, nutrient-filled soil for plants.
Building a DIY Raised Flower Bed
12 Concrete Blocks
12 Concrete Bricks
Garden Soil
Annual Mums
Approximate Total Cost: $42
To make the raised garden bed, I simply laid my 12 cinder blocks out in a rectangular pattern with the holes of the cinder blocks facing up. I was going to top the concrete block holes with concrete block caps, but those things are heavy! I really didn't want to lift 12 of those into the car. So I used 12 concrete bricks instead, at a cost of just 45 cents each. I simply placed a concrete brick over each cinder block hole.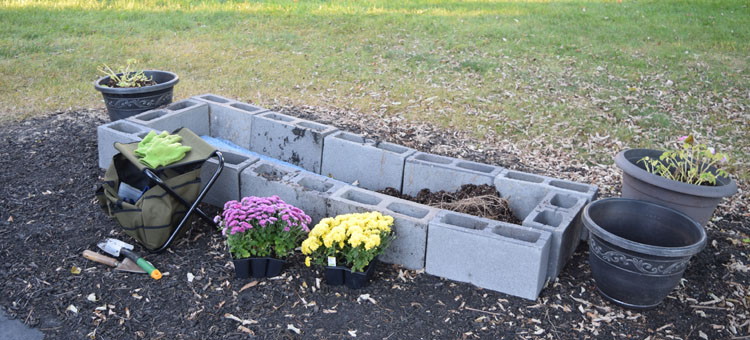 I filled the raised garden bed with a colorful selection of annual mums. In all, this project (including my run to the home improvement store to get the bricks, soil and mums) took less than 3 hours.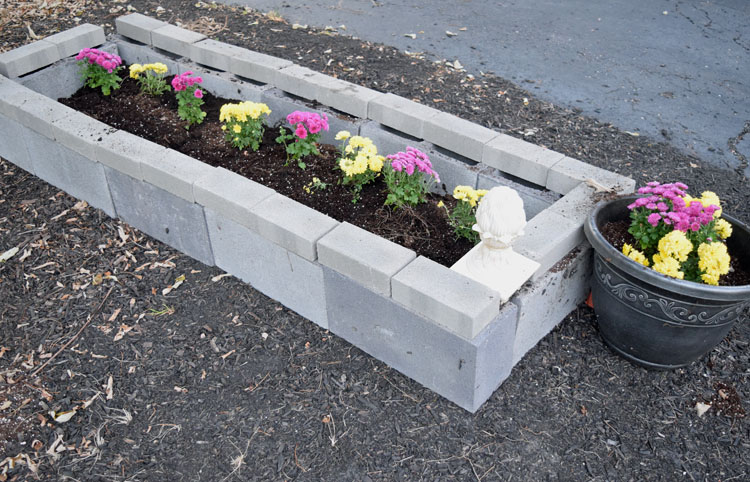 I was thinking of using Quikcrete to mortar my concrete block planting bed together. I might eventually, but the bricks and concrete blocks are heavy enough that they stay in place. I will leave it as-is so far.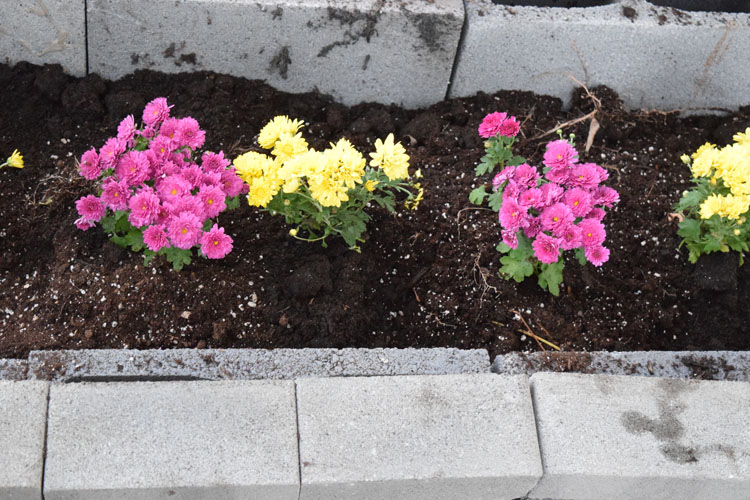 I'm thinking of getting more soil for the raised planting bed. I would like to add more mulch around the bed to soften the look of the concrete blocks. I think the raised garden bed will look great once the mums fill out.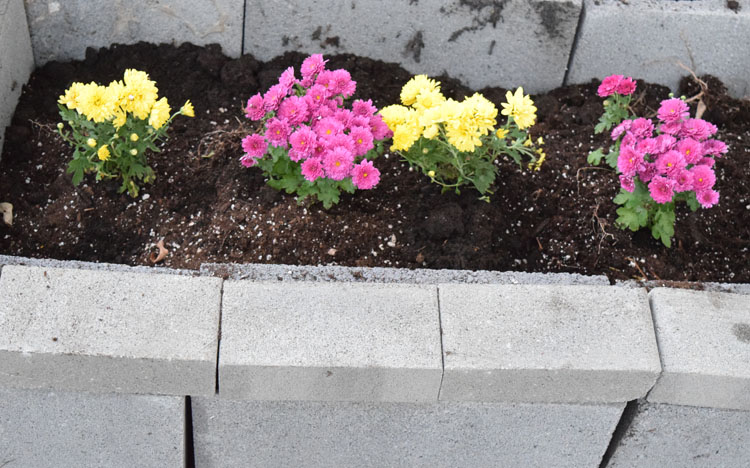 What do you think of my DIY planting ideas? Is there anything you'd add or change? I'm thinking of either getting more concrete bricks to top off the holes, or perhaps planting ivy in the holes.
A New Raised Garden Bed
I shared this project on Hometalk, and it got more than 183,000 views and 110 comments! There were a lot of helpful (and not so helpful) comments about this project. Some people suggested staining or painting the blocks, so I'm contemplating that, too. I might be replacing this concrete block garden bed, though. I will be reviewing a line of gardening products soon — one of those products is an easy and convenient raised garden bed! I'll have to find a new purpose for the concrete blocks — any suggestions?
Always Gardening
I'm always working in my garden, so as soon as spring hits, I will be out there digging in the dirt and planting some plants!
In both the summer and the spring, I have flowers that bloom in my sunny perennial garden, to which I've also added some spring bulbs.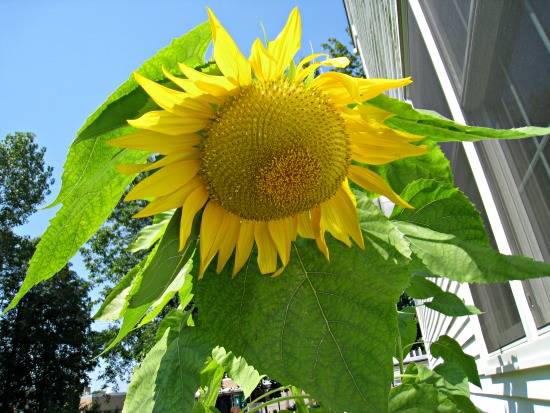 I know the first thing I'll be doing in the spring is adding mulch to my front yard garden, in which I've planted tulips and daffodils.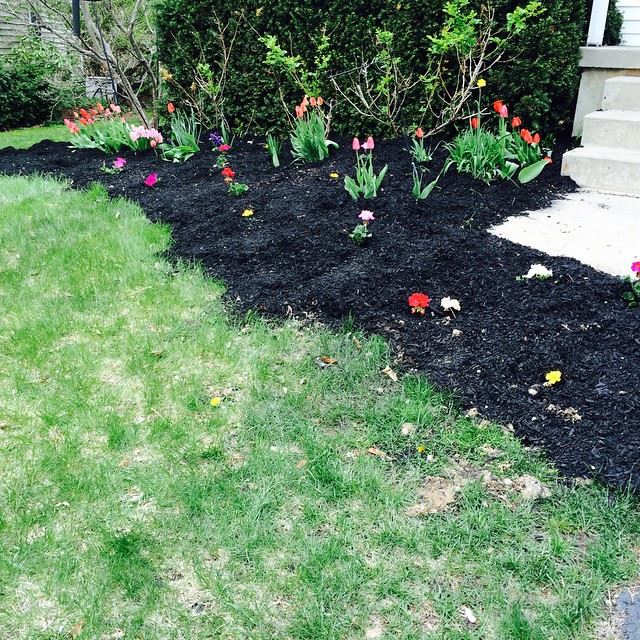 Thanks for visiting! This spring I'm starting a new gardening series where I will be reviewing new garden products, so be sure to stop by!