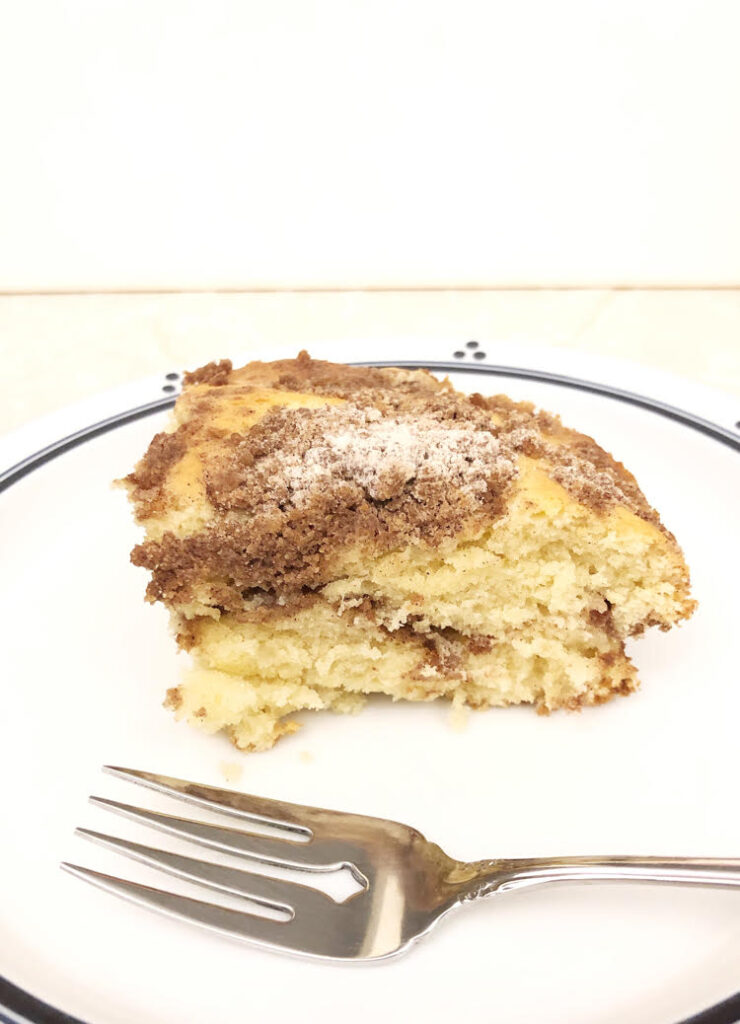 Welcome to Tasty Tuesday, a new feature on Mom Home Guide. On Tuesdays, I share some of my favorite recipes. Today I am showing how to make a simple to make, but delicious cinnamon crumb cake.
Cinnamon Sour Cream Crumb Cake Recipe
One day last week, I wanted to make a sweet treat for my family. My husband has been working from home, and my daughters have been doing remote high school since the pandemic hit our area in March. I like to surprise them with a delicious treat now and then.
I was hoping to make my family cookies or something like that, but we were out of milk! I've been afraid to venture into the grocery store since we've been mostly sheltering at home, so I wasn't about to go out to get some milk.
So I Googled recipes and discovered that I can make a delicious crumb cake with sour cream – which I had in my fridge. A big plus is that I love crumb cake!
I found the recipe for this crumb cake at Sally's Baking Addiction. The recipe includes instructions for a vanilla glaze. Check out the Sally's Baking Addiction recipe if you want to include the glaze. I didn't include the glaze, since it requires some milk. But, this cinnamon crumb cake with its sweet streusel (crumb topping) on top is perfect without the glaze, in my opinion!
I like that some of the streusel is included in the center and top of the cake. I have to admit that I had some trouble spreading the layers of the cake batter and the streusel evenly – it requires some skill. lol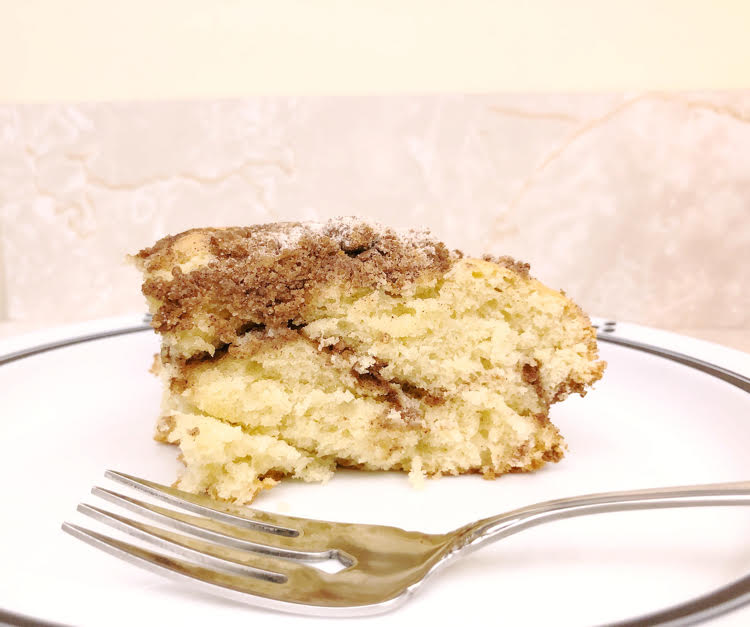 Needed Baking Tools
Among the baking supplies you might need for this recipe are a mixing bowl, an electric mixer, rubber spatula, pastry blender (or you could use two forks), a baking dish, measuring cups and measuring spoons.
Check out my recipe card below for the complete instructions and recipe for how to make this simple, but incredibly delicious crumb cake!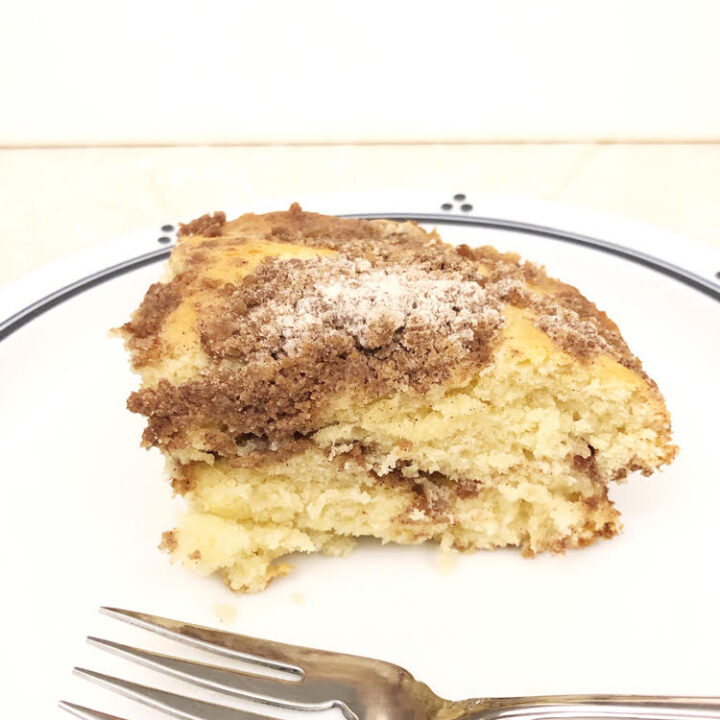 Cinnamon Sour Cream Crumb Cake Recipe
A delicious cinnamon crumb cake with a sweet streusel (crumb) topping.
Ingredients
STREUSEL
1/3 cup (67g) packed dark or light brown sugar
1/2 (62g) cup all-purpose flour (spoon & leveled)
1 and 1/2 teaspoons ground cinnamon
3 Tablespoons (43g) unsalted butter, cold and cubed
CAKE
1 and 1/3 cups (166g) all-purpose flour (spoon & leveled)
1 teaspoon baking powder
1/4 teaspoon baking soda
1/4 teaspoon salt
1/2 cup (115g) unsalted butter, softened to room temperature
3/4 cup (150g) granulated sugar
2 large eggs, at room temperature
2 teaspoons pure vanilla extract
1/2 cup (120ml) full-fat sour cream, at room temperature
Instructions
Preheat oven to 350°F (177°C). Grease and lightly flour a round or square 8-inch pan. Or simply line with parchment paper.
Make the streusel: Combine the brown sugar, flour, and cinnamon together in a medium bowl. Cut in the chilled butter with a pastry blender or two forks (or even with your hands) until the mixture resembles pea sized crumbs. Set aside.
Make the cake: Whisk the flour, baking powder, baking soda, and salt together in a large bowl. Set aside. Using a handheld or stand mixer fitted with a paddle attachment, beat the butter on high speed until smooth and creamy – about 1 minute. Add the sugar and beat on high speed for 2 minutes until creamed together fairly well. Scrape down the sides and up the bottom of the bowl with a rubber spatula as needed. On medium-high speed, add 1 egg at a time, beating well after each addition. Beat in the vanilla extract and sour cream. Scrape down the sides and up the bottom of the bowl with a rubber spatula as needed.
With the mixer on low speed, beat in the dry ingredients until just combined. Do not overmix this batter. Scrape down the sides and up the bottom of the bowl with a rubber spatula as needed. The batter will be smooth and thick. Carefully spread half of the batter into the pan. Sprinkle with half of the streusel. Carefully spread the remaining half of the batter on top, then the remaining streusel. You need every last drop of batter to fill this pan. Do your best spreading it out into even layers. I use the back of a spoon to spread the batter around neatly.
Bake for around 30 minutes or until the cake is baked through. To test for doneness, insert a toothpick into the center of the cake. If it comes out clean, it is done. Allow cake to cool in the pan set on a wire rack for 20 minutes.
Slice and serve. Cover leftovers tightly and store at room temperature or in the refrigerator for up to 5 days.