*I received a free shipment of Hello Fresh in exchange for this review. All opinions expressed in this post are 100% my own.
Hello Fresh, A Weekly Food Box Delivery Service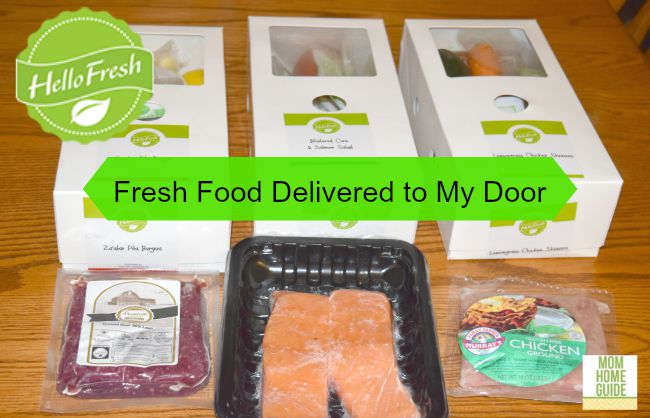 It's been about 4 weeks since I had my foot surgery. I haven't done any grocery shopping since then. (I can't drive or walk for a few more weeks.) So when my really sweet blogging friend, Carrie of Curly Crafty Mom, snagged me the chance to review a shipment of Hello Fresh meals, I was thrilled!
For my first Hello Fresh shipment, I got to choose three meals for two people. I chose lemongrass chicken skewers, za'atar pita burgers and blistered corn and salmon salad.
Simplifying Dinner Prep
I HATE grocery shopping! I don't like planning meals, making grocery lists and fighting crowds at my local grocery store. So, I love that Hello Fresh is delivered right to my door! Easy peasy!
My Hello Fresh delivery arrived packed in an insulated box filled with reusable ice packs. Each meat portion was sealed in plastic packaging. The fresh veggies, fruit and herbs for each meal came in clearly labeled white boxes.
Each meal's box had a clear plastic panel so the ingredients could be easily viewed. I got to keep the full-color recipe cards that came with the meals! I love the variety of cuisines that were featured in my week's meals and will be making the recipes again.
Gourmet Meals at Home
The first meal my family tried was the lemongrass chicken skewers. I love Thai food and lemongrass, a big ingredient in Thai food. I started out by making the coconut rice, which was simple using the rice and coconut milk provided.
My husband took over after I made the rice. He's been pampering me and cooking most of the meals since my foot surgery! The food preparation took a while, but it was worth it! (My husband is meticulous and artistic with food preparation.)
You can see how carefully my husband chopped and prepped the fresh veggie and fruit ingredients for the chicken skewers in the photo below!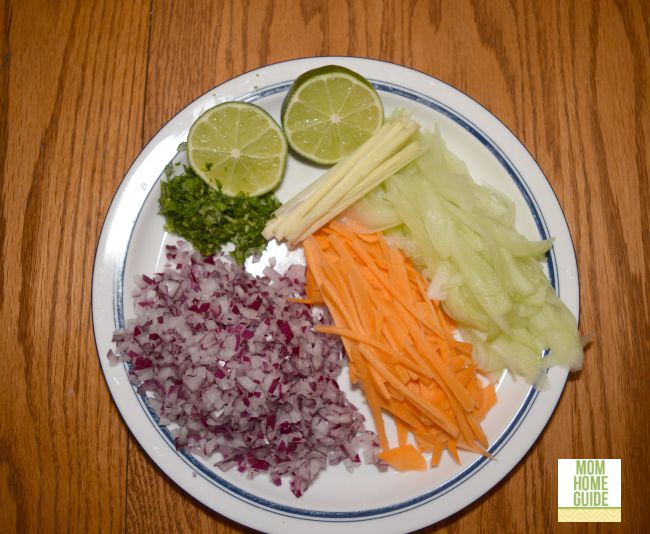 I loved the chicken skewers — they were quite flavorful, which was a wonderful surprise! (My family likes flavorful foods, and often, typical or standard recipes don't cut it for us.) The dish was delicious — not too spicy and very savory. I also liked the coconut rice and the fresh carrot slaw.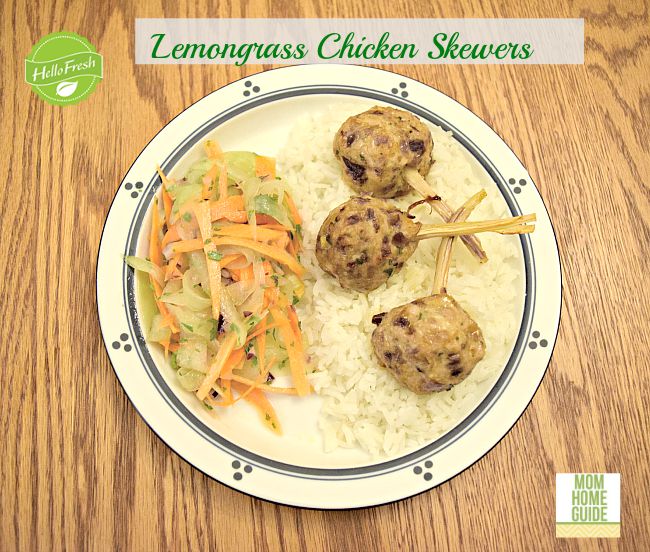 The next meal my family tried was the blistered corn and salmon salad. Although one of my daughters and I thought that we don't like salmon, we LOVED this salad!  (My other daughter still doesn't like salmon, so I'll top this salad with chicken for her instead.) I adored the mix of fresh greens, the fresh corn and the flaked salmon! I devoured this salad!
The last meal my family and I enjoyed were the za'atar pita burgers. I made these for my daughters and me one night when my husband was working late. (My daughters and I split the 2-person portion by making three smaller burgers.) This meal came with zucchini and panko to make zucchini fries. Since I'm allergic to zucchini, I skipped that step. (My kids aren't fond of zucchini, either.)
My tween daughters and I topped our burgers with the cucumber, dill and yogurt sauce that I made using Hello Fresh's ingredients and recipe. This was a quick weeknight meal. My daughters enjoyed the burgers and liked the yogurt/dill/cucumber sauce.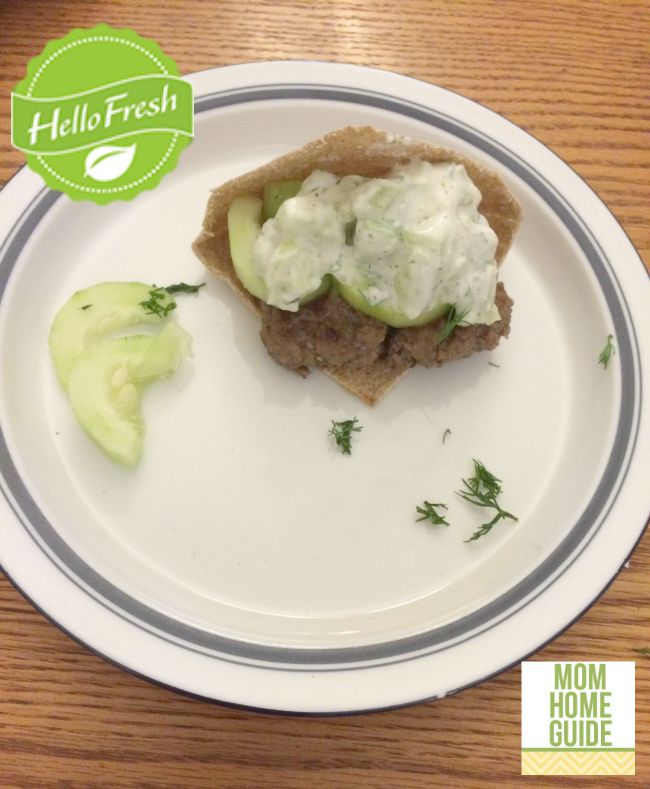 Pricey, But Good
I enjoyed my Hello Fresh experience. I wish I could order the meals every week! My life would be so much easier if I left the menu planning and food shopping to Hello Fresh!
If I were to up my Hello Fresh subscription to three meals a week for four people, it would cost me $129, or $43 a meal, for a family of four. That can be less that eating at a nice restaurant, but it's more expensive than what I typically spend for a meal at home. Hello Fresh will have to be an occasional treat for my family. (Too bad, because the recipe and ingredients are good!) I am a mom on a budget, but if you can make the splurge for Hello Fresh, I'd do it!