This post was sponsored in part by Oriental Trading, which supplied me with the beautiful cake pedestal used in this post. This post contains Amazon affiliate links. If you click on an Amazon link and make a purchase, Mom Home Guide earns a small commission that helps to fund this blog. Thanks!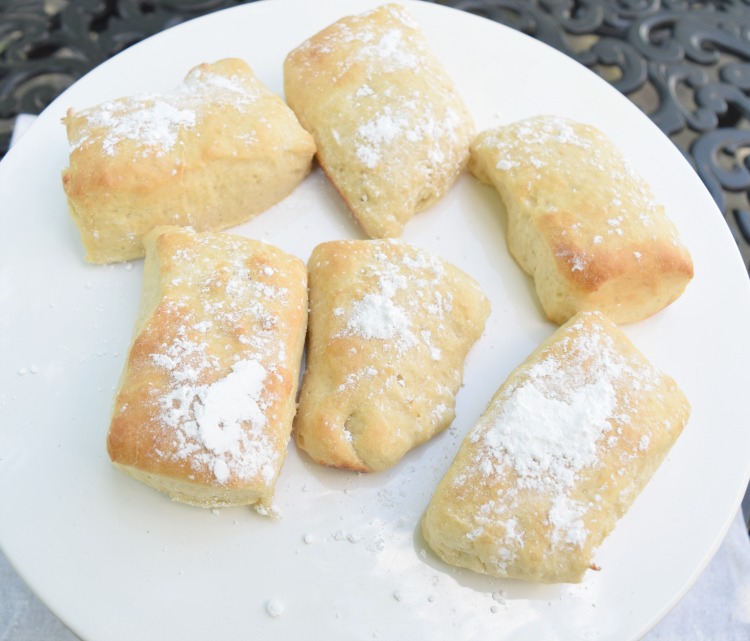 Welcome to this month's Taste Creations Linkup blog hop, where we will be sharing our donut recipes! The Taste Creations blog hop happens on the 1st Monday of Every Month at 7am PST / 10 a.m. EST.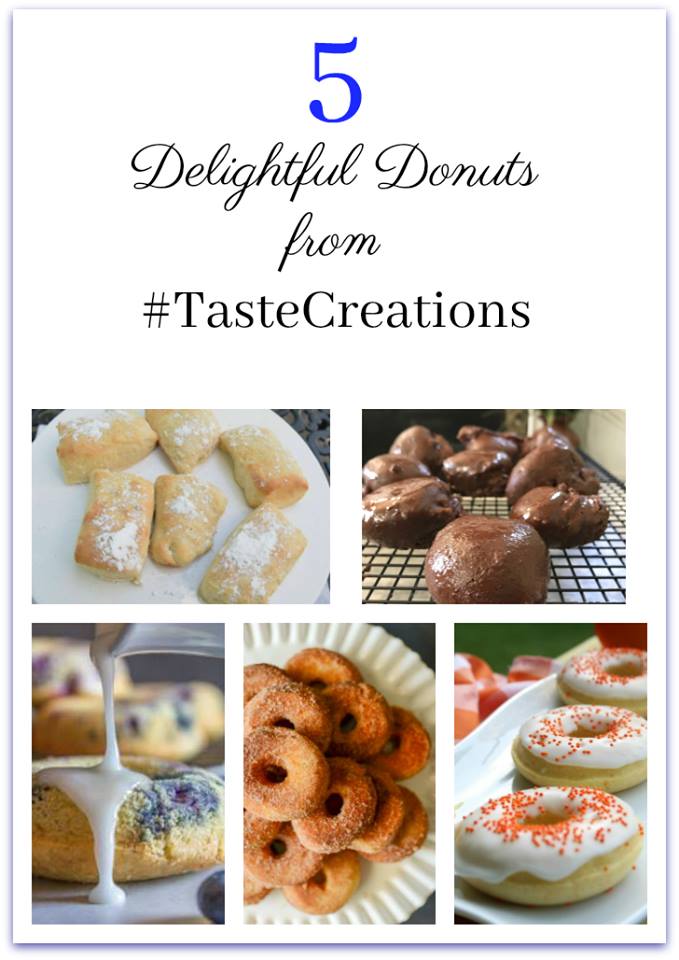 I have to admit that when my Taste Creations blogging group picked donuts as this month's theme, I was a bit distressed! I love donuts as much as the next person, but I don't own a Deep Fryer
(and don't often deep fry) and don't have a Donut Pan
. But luckily, I came upon this recipe for baked beignets from Eat, Live, Run! With this recipe, you can bake delicious beignets without all the fuss and mess! (In case you were a wondering, a beignet is basically a square donut with no hole.)
Better yet — I was able to pull this recipe together in a little more than an hour! With only a little work, my kids and I were able to enjoy doughy, sugar-dusted beignets!
The beignets also gave me the chance to try out the white ceramic cake pedestal that I received from Oriental Trading. The cake pedestal is sweet and simple and is perfect for serving all my baked creations! (Stay tuned — I'll be featuring this pedestal in a fun candy bar birthday party buffet tutorial later this month.)
Oven Baked Beignets Recipe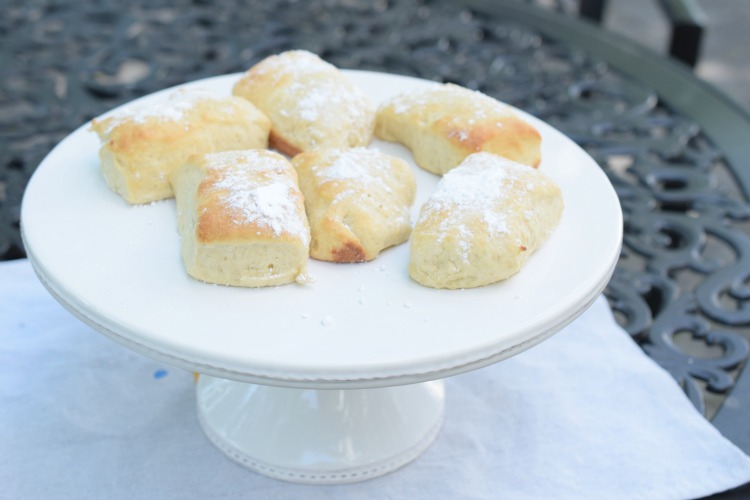 (recipe from Eat, Live, Run)
makes about 18 beignets
Ingredients:
1/4 cup warm water (about 100 degrees F)
1 packet active dry yeast
3 cups all purpose flour
1 1/2 tsp baking powder
1/2 tsp baking soda
1 tsp salt
1/4 cup sugar
5 T cold butter, cut into small chunks
1 egg
3/4 cup buttermilk
Directions:
Mix the yeast, warm water and a pinch of the sugar in a small bowl. Set aside for 5 minutes. The water will look foamy and bubble.
Combine the flour, baking powder, baking soda, salt and sugar in a large bowl. Use your fingers to cut in the butter and work mixture together. (Until it resembles coarse sand.)
Mix the egg and the buttermilk together. Add the combination to the yeast and then add to dry ingredients. Stir together to form a soft dough and then continue to knead (or use your KitchenAid Mixer
) until the dough is smooth and elastic.
Spray a mixing bowl
with cooking spray. Drop in your dough ball. Cover the bowl with plastic wrap, a towel or foil and let rest for 15 minutes. Roll out dough with a rolling pin
into a large rectangle or square on a floured surface. Cut the square into five long strips and then cut those strips into squares. Place squares on a lined baking sheet
, spray with cooking spray and cover. Let rise for 45 minutes.
Preheat oven to 400 degrees. Bake beignets for 10-12 minutes or until lightly golden. Dust with powdered sugar and eat warm. Set out on a decorative plate or cake stand and enjoy. (I set mine out on the new white ceramic cake pedestal that I received from Oriental Trading.)
Time:
Just over an hour.
Be sure to check out my friends' delicious donut recipes!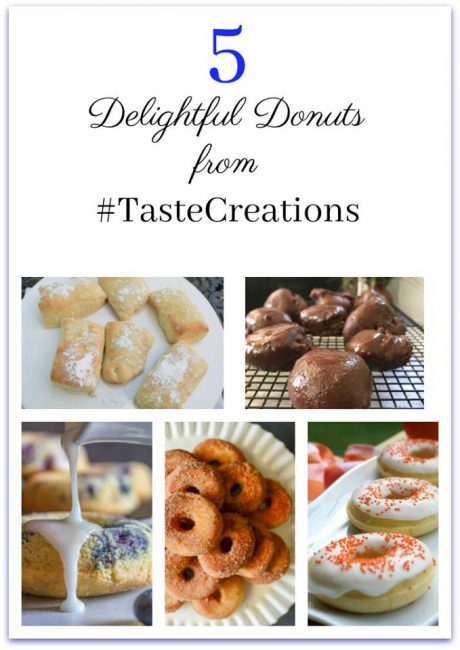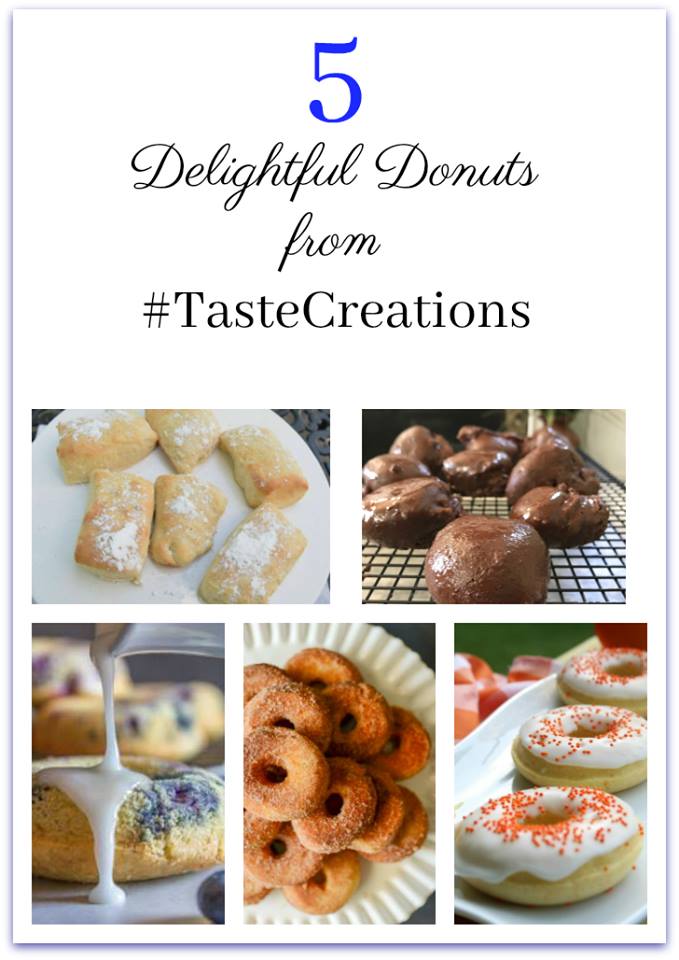 Sugar Free, Gluten Free Chocolate Donuts, Our Good Life
Blueberry Baked Donuts, An Italian in My Kitchen
Cinnamon Sugar Cake Donut Recipe, Tikkido