This post contains Amazon affiliate links. I received the Twin Dragon Asian Gyoza Wrappers free for this recipe as part of the Twin Dragon Asian Wrapper Blogger Recipe Challenge.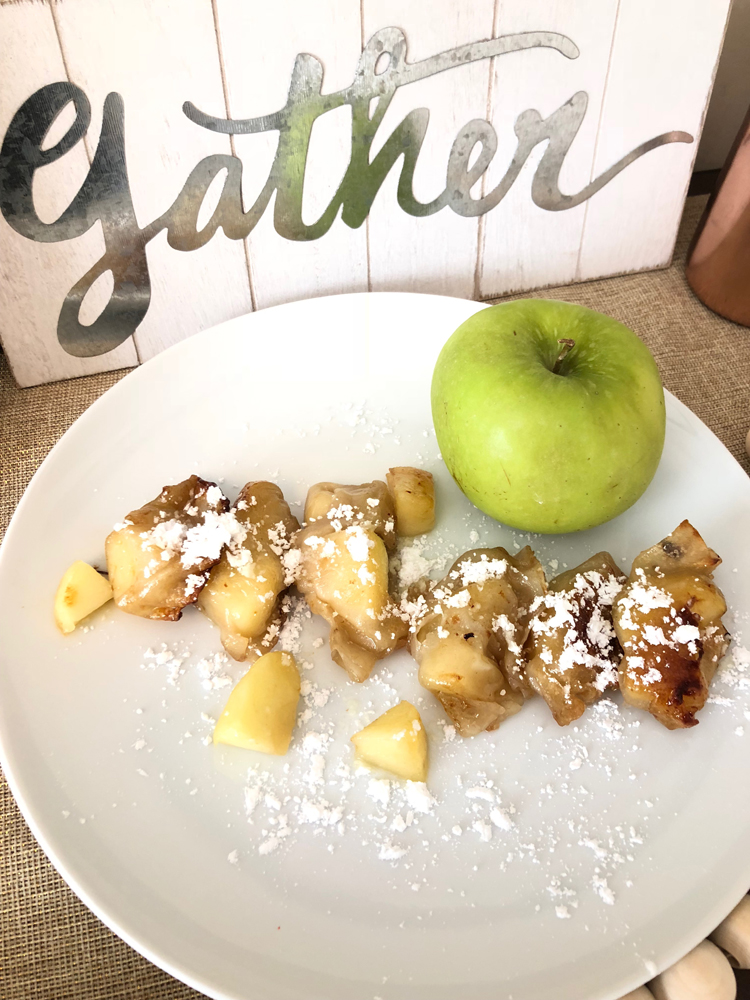 My family and I love dumplings — but we usually eat dumplings that are stuffed with an Asian mix of vegetables or veggies and pork. I thought dumplings would be delicious stuffed with apples instead, and served as a dessert.
Each month, I get together with some of my blogging friends for the Pinterest Challenge Blog Hop, hosted by My Pinterventures. The purpose of this Pinterest Challenge is to motivate all the participants of this hop (and you too) to not just pin, but to make it happen! So for this month, I decided to make some apple dumplings.
Be sure to check out what creations my friends' made this month at the end of this post!
How to Make Apple Pie Dumplings
I got my inspiration for the apple dumplings from the Apple Pie Dumplings made by Holly of Spend with Pennies. Holly used canned apple pie filling and a can of crescent rolls to make her dumplings. Since I had some easy-to-use gyoza wrappers and fresh apples in the fridge, I decided to prepare my own apples and make my dumplings with the wrappers instead.
I'm glad I did — the sweet apple-stuffed dumplings were absolutely delicious!. I served them with a sprinkling of powdered sugar to my daughters one day after school. They were happy to have such a sweet surprise after school!
Apple Pie Dumpling Ingredients
Three granny smith apples — peeled, cored and cut into cubes
2-3 tablespoons butter
2-3 tablespoons freshly squeezed lemon juice
3/4 cup sugar
2 tablespoons cooking oil (I used canola)
Powdered sugar for dusting
Approximately 24 Gyoza wrappers (I used Twin Dragon Gyoza wrappers).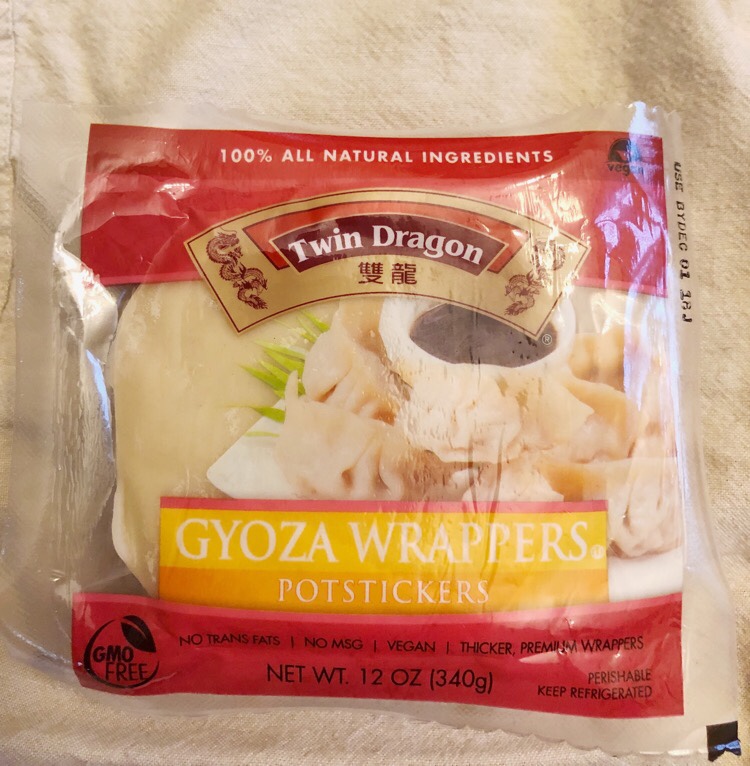 Apple Pie Dumpling Instructions
Put the lemon juice in a medium mixing bowl
. Peel, halve and core the apples.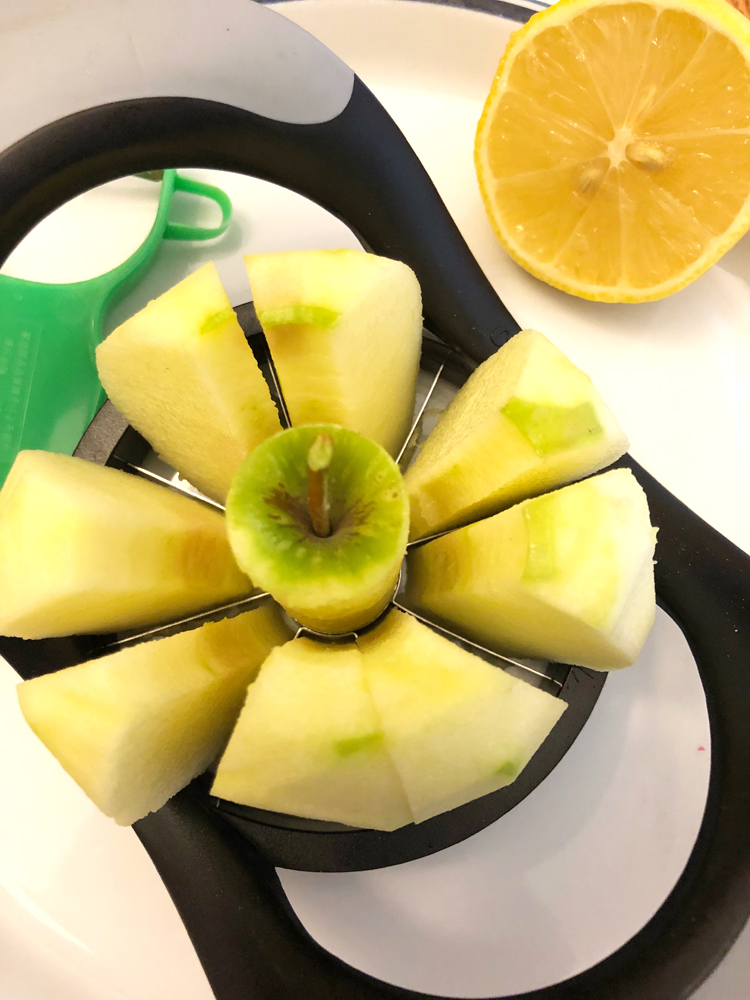 Cut the apple into wedges and then into cubes. (An apple slicer
makes the job easier.)
Toss the apples with the lemon juice. Add the sugar and toss to combine evenly.
Melt the butter over medium-high heat in a dutch oven
or large stainless steel skillet
. Add the apples and cook and stir until the sugar dissolves and the mixture begins to simmer — about 1 minute. Cook for another 2-4 minutes, or until the apples are softened.

Place a stack of gyoza wrappers on a clean dry surface. (I used a plastic cutting board.)
For my recipe, I used Twin Dragon Gyoza wrappers. These round wrappers are the perfect size for making bite-sized dumplings (gyoza). The wrappers are GMO free and are made with vegan and all natural ingredients. I found the wrappers easy to work with, even for this novice dumpling cook!
Have a small bowl of water ready on your dry surface.
To make a dumpling, place a small amount of the apple and sugar mixture mixture into the center of each wrapper. Dipping your finger into a bowl of water, moisten the edges of each wrapper. Fold each wrapper over and press to seal the open edges.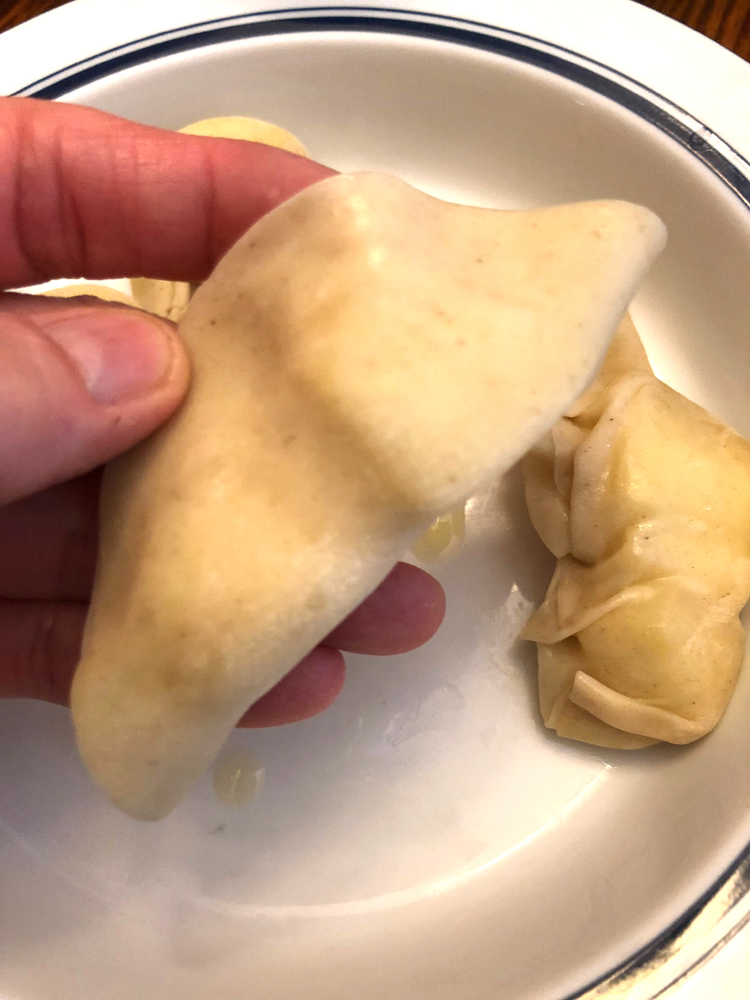 To cook the dumplings, coat a frying pan with about 2 tablespoons of cooking oil. Add the dumplings. Fry the dumplings until they are lightly browned on the bottom. Pour in some water so the dumplings are covered with water about 1/4 of the way up. Cover your frying pan. Steam the dumplings until the tops are steamed.
If you like your dumplings crispy, you can fry the dumplings some more. Remove the lid and cook the dumplings until the steam has evaporated. Be sure to lightly move the dumplings around while the water is evaporating, so they won't stick. Add 1-2 tablespoons more of cooking oil, and fry the dumplings some more until crisp.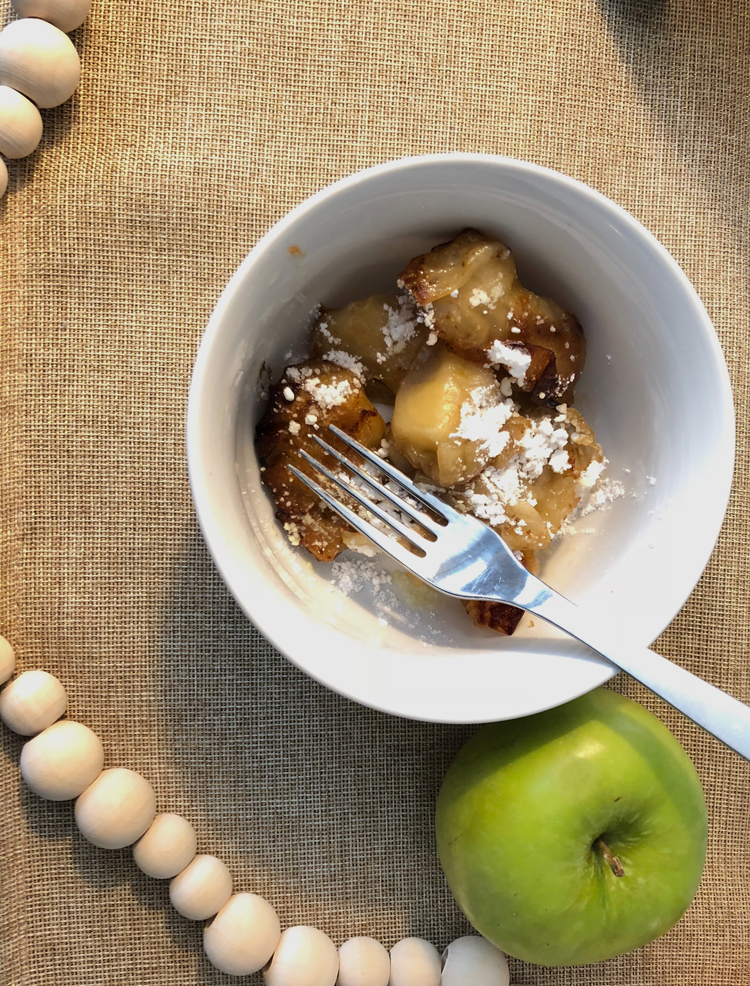 When your dumplings are cooked the way you like them (either mostly steamed or fried), transfer them to a plate and dust them with powdered sugar. Enjoy!
To join next month's #pinterestchallenge, click here to sign-up: December Pinterest Challenge
---
Now let's see what other things Pinterest inspired! Head over and visit the other hosts to see what they crafted, cooked, built, or tried!
Erlene – My Pinterventures • Alexandra – Eye Love Knots
Joanne – Our Unschooling Journey • Laurie – My Husband Has Too Many Hobbies
Jenny – Cookies Coffee and Crafts • Kristie – Teadoodles
Beverly – Across the Boulevard • Sam – Raggedy Bits
Debra – Shoppe No. 5 • Gail – Purple Hues and Me
Chelsea – Making Manzanita • Susan – Suzer Space
Julie – Sum of their Stories • T'onna – Sew Crafty Crochet
Michelle – Our Crafty Mom • Lisa – Blogghetti
Marie – The Inspiration Vault • Kelley – Simply Inspired Meals
Debbee – Debbee's Buzz • Shirley – Intelligent Domestications
Roseann – This Autoimmune Life • Terri – Our Good Life
Lydia – Lydia's Flexitarian Kitchen • Emily – Domestic Deadline   Lynne – My Family Thyme
Lauren – Mom Home Guide
Interested in finding out more about the Twin Dragon Asian Wrappers? Check them out here for recipes and more:
Website: http://www.jslfoods.com/
Facebook: https://www.facebook.com/JSLFoods/
Twitter: https://twitter.com/JSL_Foods
You can purchase JSL Foods Twin Dragon products at Albertsons, Shaw's, Von's, Stater Bros, Lucky's, Food Maxx, Fred Meyer, QFC, Cub Foods, Rainbow Foods, Safeway, Associated Stores, Price Rite, Shop Rite, Winco, Price Chopper and Gelson's!