This post was sponsored by Keter®, which provided me with garden planters in exchange for my honest review. This post contains Amazon affiliate links for your shopping convenience. I may receive a small commission that helps fund this blog if you click on an Amazon link. Thanks!
Welcome to the May Pinterest Challenge Blog Hop, hosted by My Pinterventures. The purpose of this Pinterest Challenge is to motivate all the participants of this hop (and you, too) to not just pin, but to make it happen! This month, I chose to create pretty container gardens for spring. Earlier this year I received 2 Keter® Cozies Knit 2-Piece Round Resin Indoor/Outdoor Planter Sets
, and I was looking forward to getting them planted! Each Cozies Knit 2-Piece Round Resin Indoor/Outdoor Planter Set contains one larger planter and one compact one. I put the larger planters on the walkway leading up to my home, and the smaller ones on my home's small front porch.
The problem is, I wasn't sure what to plant in my planters. I did some looking online to find spring/summer flowers that would work well with my planters. I can sometimes be a little negligent with my plants, so I needed flowers that don't require a lot of fussing over them. I also wanted bright, pretty container gardens to add color to my home's front door.
Petunia & Alyssum Container Garden
I found a pin on Pinterest by Garden Geeks for a container garden of petunia and alyssum. I like the combination of the vibrant purple petunias and the light lacy alyssum. Both petunia and alyssum flowers are quite hardy and don't need a lot of care. The flowers seemed perfect for my new Keter® containers.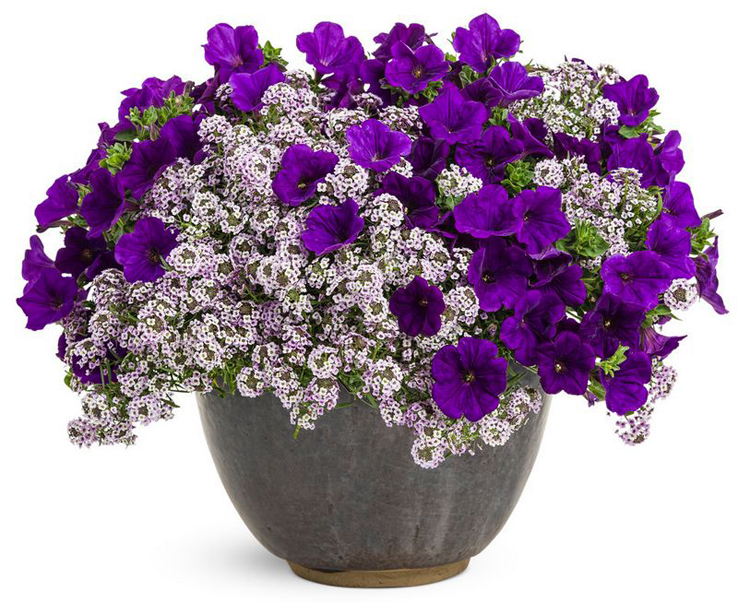 I decided to plant my Keter® containers
with a mixture of petunia and alyssum flowers. About two weeks ago, I filled the Keter® containers with a healthy amount of potting soil before planting the flowers. After adding the blooms, I watered each container until the soil was moist.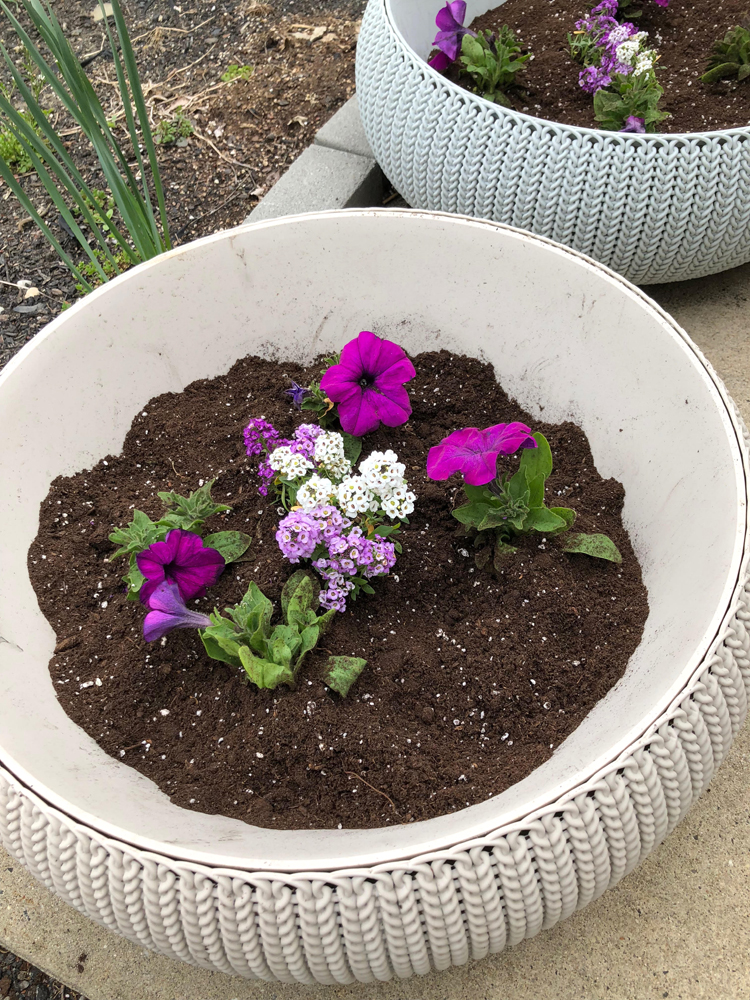 I think the Keter® resin planters are a good home for the flowers.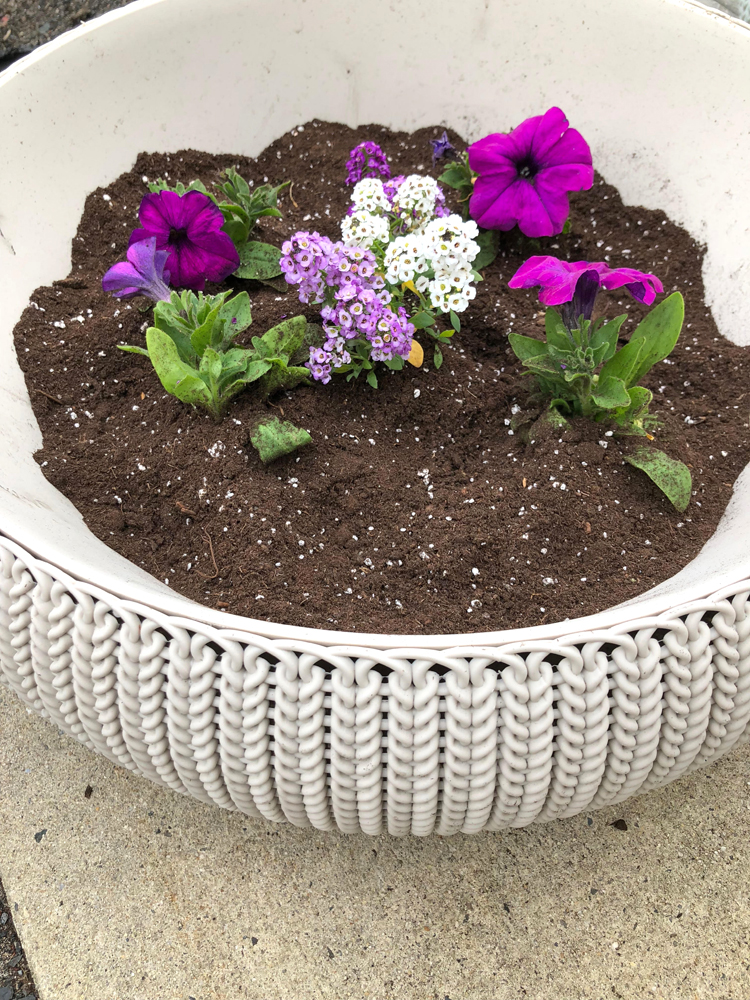 The planters have a surface that can be wiped down easily and inside the planters is a removable liner. A drainage plug at the bottom of the planters can be removed to let excess water drain. I like the knit inspired texture of the Keter® containers.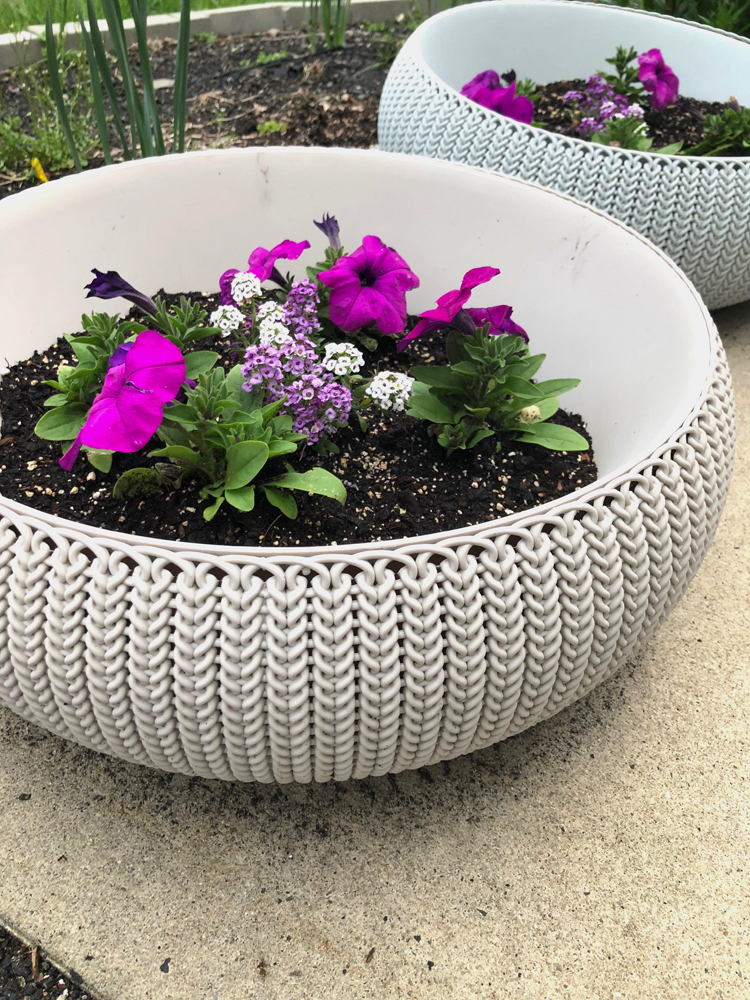 It's been about two weeks since I've planted the containers, and the flowers are already starting to fill out the planters. (As you can see in the photo below of one of the smaller planters on my home's front porch.)

To see more of my planters, check out the video below!
To join next month's #pinterestchallenge, click here to sign-up ? June Pinterest Challenge.
---
Now let's see what other things Pinterest inspired! Head over and visit the other hosts to see what they crafted, cooked, built, or tried!
Erlene – My Pinterventures • Lauren – Mom Home Guide
Debbee – Debbee's Buzz • Laurie – My Husband Has Too Many Hobbies
Marie – DIY Adulation • Julie – Sum of their Stories
Marie – The Inspiration Vault • T'onna – Sew Crafty Crochet
Pili – My Sweet Things • Debra – Shoppe No. 5
Roseann – This Autoimmune Life • Terri – Our Good Life
Marci – Stone Cottage Adventures
Leslie – Once Upon a Time & Happily Ever After
Kelley – Simply Inspired Meals • Joanne – Our Unschooling Journey
Jenny – Cookies Coffee and Crafts • Gail – Purple Hues and Me
Rebecca – Hello Central Avenue • Sam – Raggedy Bits
Beverly – Across the Boulevard • Tyler – Just Enough Blush
Kristie – Teadoddles • Shirley – Intelligent Domestications
Kelli – The Olympic Nest • Lydia – Lydia's Flexitarian Kitchen
Cherryl – Farm Girl Reformed • Ola – J'adore Le Decor
Rebecca – Simple Practical Beautiful • Gwen – Geez, Gwen!
Michelle – Our Crafty Mom • Emily – Domestic Deadline
Megan – C'mon Get Crafty • Micah – Home Faith Family
Chelc – Inside The Fox Den