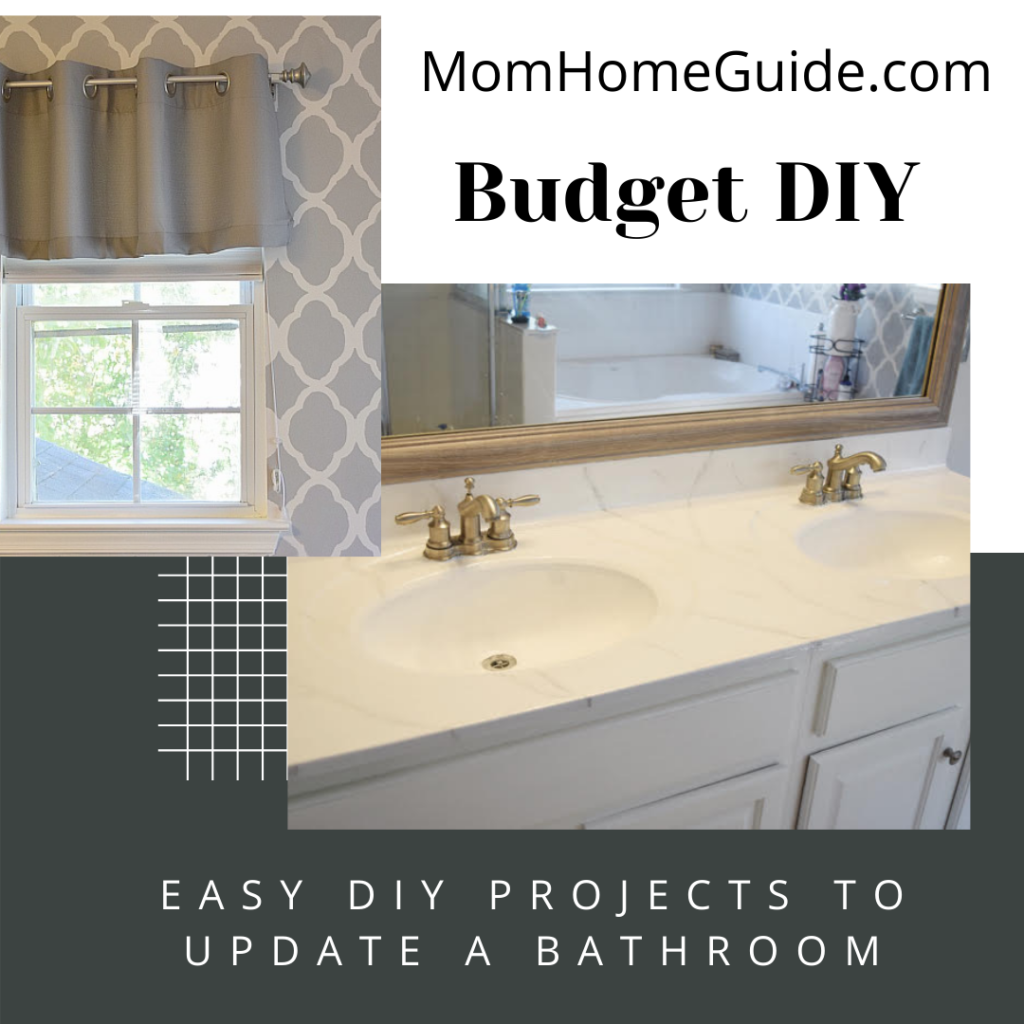 If you have been following my blog, you might have noticed that I have been updating my home's master bathroom little by little with budget DIY bathroom projects.
I think I can finally say that it's complete!
I totally have changed the look of my home's builder-grade bathroom. I like the way it looks now! You can give your bathroom a budget makeover, too!
Take a look at these easy DIY bathroom projects that you can do.
Paint Your Oak Vanity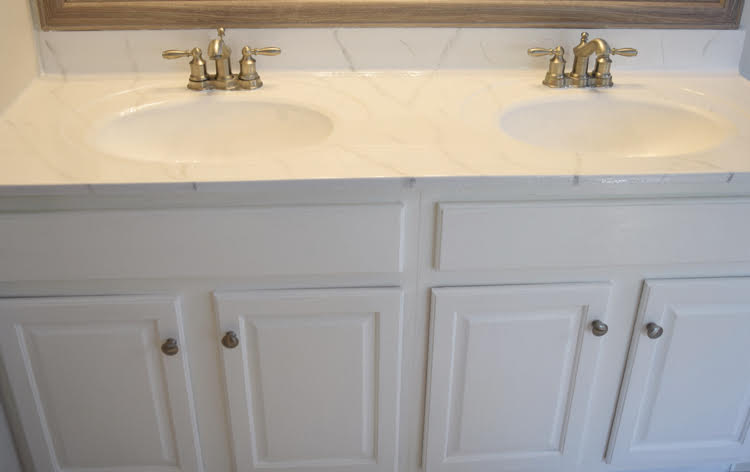 If your home is like mine, the bathroom came complete with oak vanities. Not too exciting. Or perhaps you just want to change the color of your vanity.
You can easily paint your vanity and give it a new color and durable finish with a special paint made for high traffic areas and refinishing furniture: DecoArt Satin Enamels Paint.
The paint is available on Amazon. A little of this paint goes a long way, which makes this easy bathroom DIY project not very expensive.
Visit my tutorial on how to paint a bathroom cabinet in a weekend for the complete tutorial.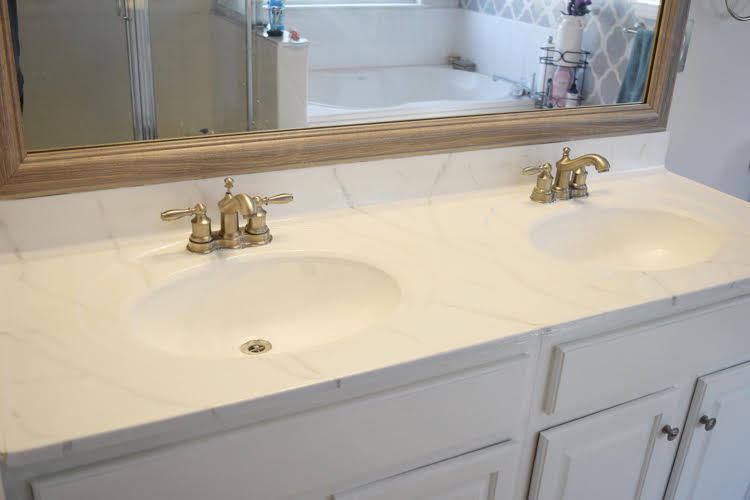 Paint a "Marble" Countertop
You can give your bathroom vanity countertop a brand new look with another easy bathroom DIY project with a Giani Carrara White Marble Epoxy Countertop Kit
With this kit, you actually paint on a bright white base coat.
Then you add some veining, with the kit's included gray paint with mineral colors. I used this kit to give my bathroom double vanity a "marble" counter, and I love how this easy DIY bathroom project came out!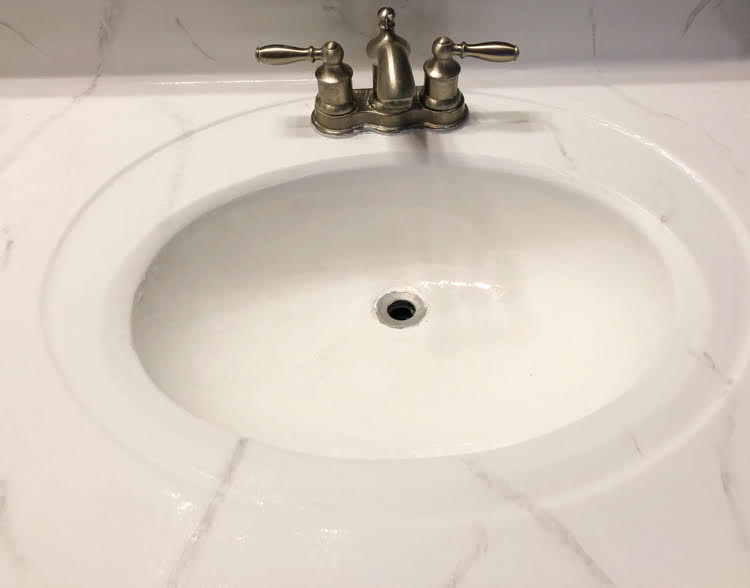 You can choose the type of veining you'd like for your countertop.
The veining that I painted on my bathroom vanity countertop is a little more bolder than the more subtle veining that I am currently painting on my kitchen counters.
Once your counters are painted, you top them with the kit's durable, high-gloss epoxy resin topcoat.
I find it fun and relaxing to paint on the veins! The good thing is that if you don't like how a "vein" looks, you just immediately spray it with water and wipe it off. So it's not hard to get the look you want with this easy DIY bathroom project.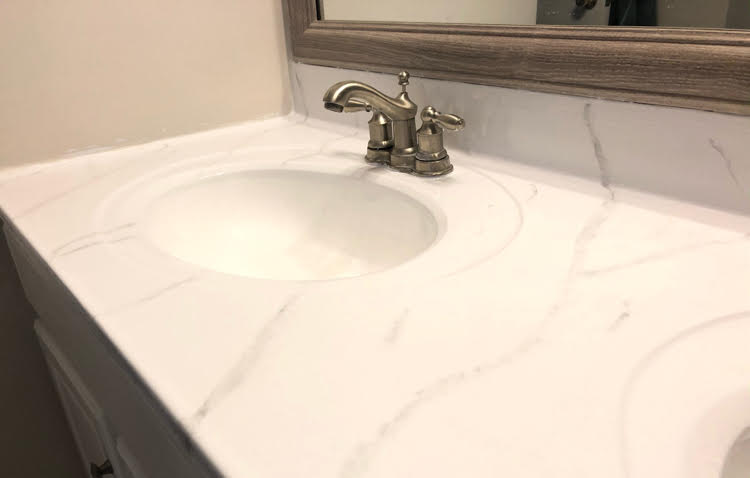 Check out my full tutorial on how to paint a marble countertop.
Frame Your Bathroom Mirror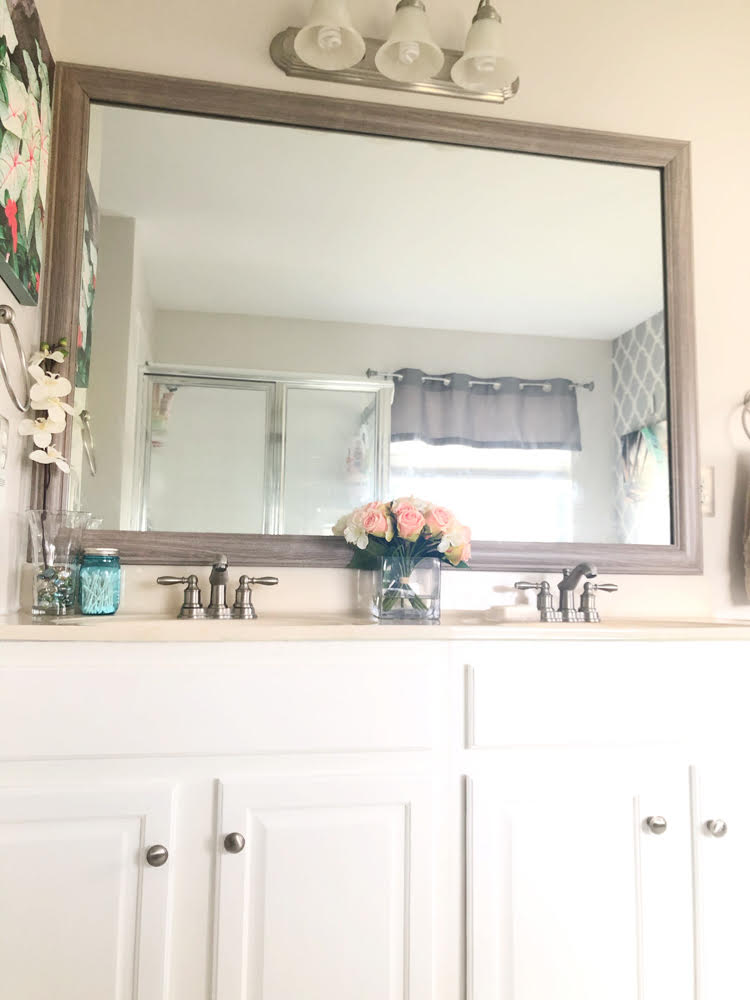 Many homes come with builder-grade unframed mirrors. The good news is that you can easily add a frame to your bathroom mirror with a super easy DIY bathroom project.
I have added frames to two bathroom mirrors in my home. I made one simple DIY bathroom mirror frame (no power tools required) myself and I installed a made-to-order bathroom mirror frame from MirrorChic.
With a MirrorChic bathroom mirror frame, you pick the finish you like and supply the measurements of your mirror.
MirrorChic sends you a mirror frame that exactly fits your mirror.
Each MirrorChic comes with heavy duty strips of adhesive on the back, so putting up the mirror frame is quite simple!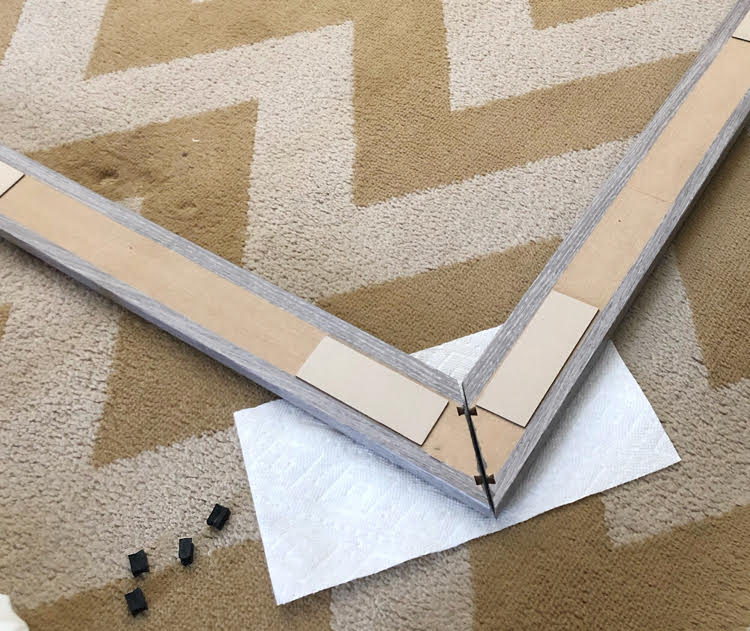 Check out my tutorial on how to hang a MirrorChic mirror frame.
For my twin teens' bathroom, I made a DIY mirror frame. I used molding that I had cut to size at the Home Depot. I used 4 rosette trim molding blocks for the corners, so the mirror didn't need any complicated cuts.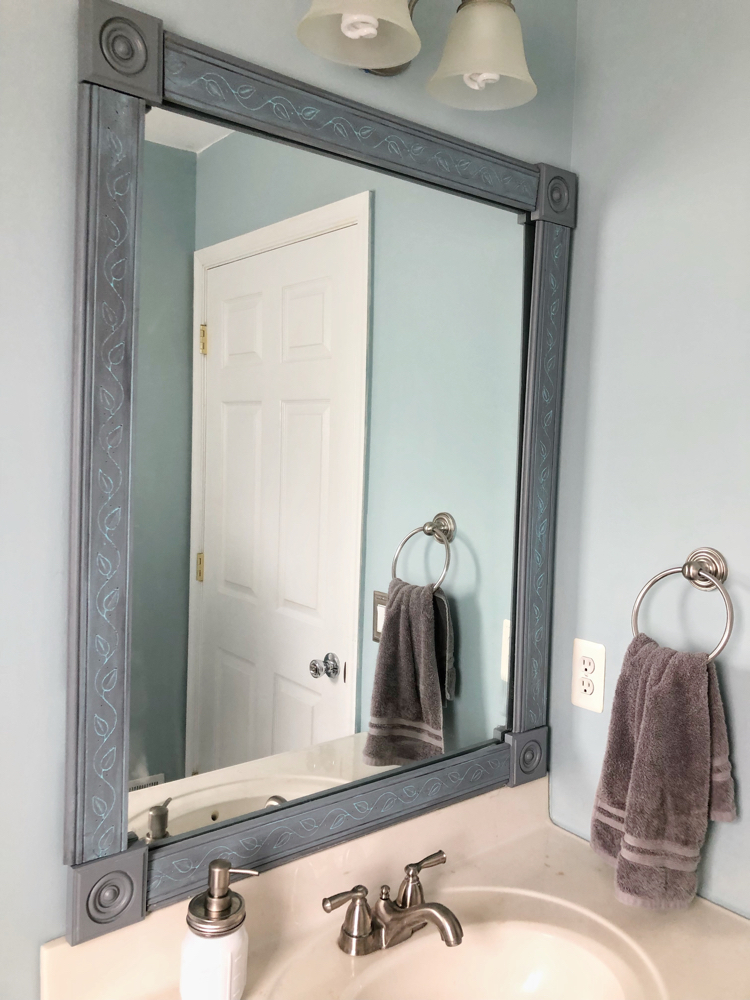 I painted my mirror frame with DecoArt Americana Decor Satin Enamels Paint in Smoke Grey. The paint is easy to work with and gives the frame a durable finish.
Check out my tutorial on how to make an easy DIY bathroom mirror frame.
Budget Sink Update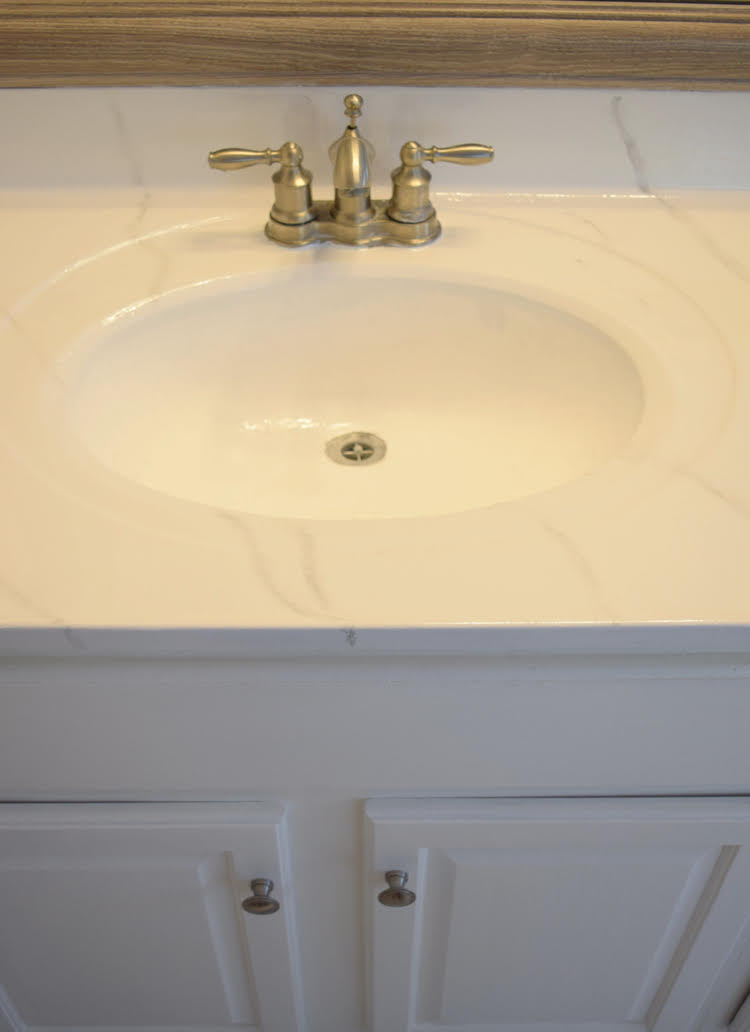 When I decided to paint a marble look on my master bathroom's double vanity top, I knew I'd have to update the vanity's sinks too. (The cultured marble vanity tops included built in cultured marble sinks that had yellowed over time.)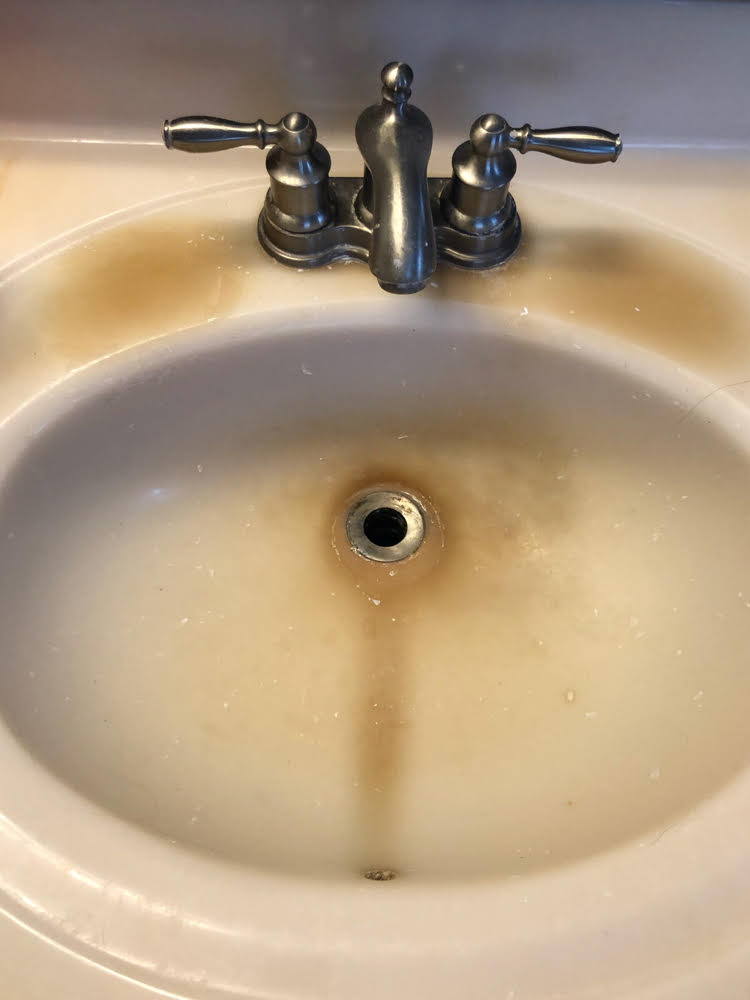 After doing some research, I deiced to use a Ekopel 2K Bathtub Refinishing Kit (approximately $100 on Amazon) to refinish both of the bathroom's sinks.
The paint on, low VOC hard enamel coating is safe and easy to use and doesn't have a strong chemical smell like other DIY sink coating projects do.
This was a fairly easy project (the only hard part was avoiding drips and making sure the coating didn't run into the drains.) I love the new, hard and durable bright white surfaces of my bathroom sinks!
Check out my tutorial on how to do an easy budget sink update.
Paint a Feature Wall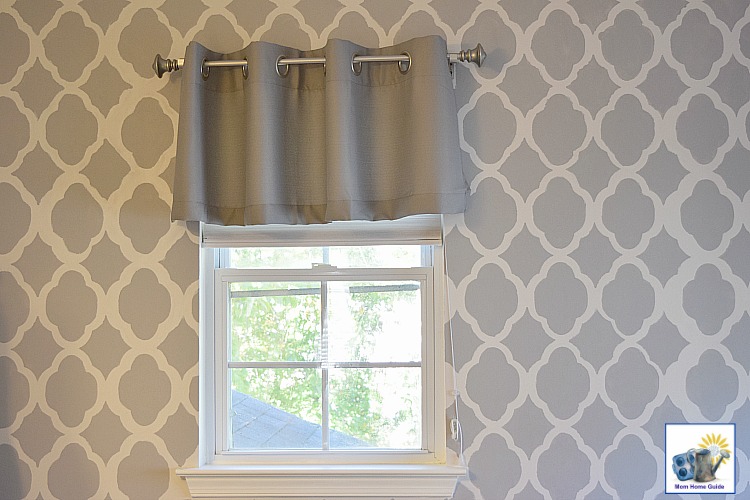 My master bathroom used to be quite boring – white tile floors, white walls and an oak double vanity. So, I painted the walls gray and then painted a bathroom feature wall.
I used the Rabat Allover Wall Stencil from Cutting Edge Stencils for my feature wall.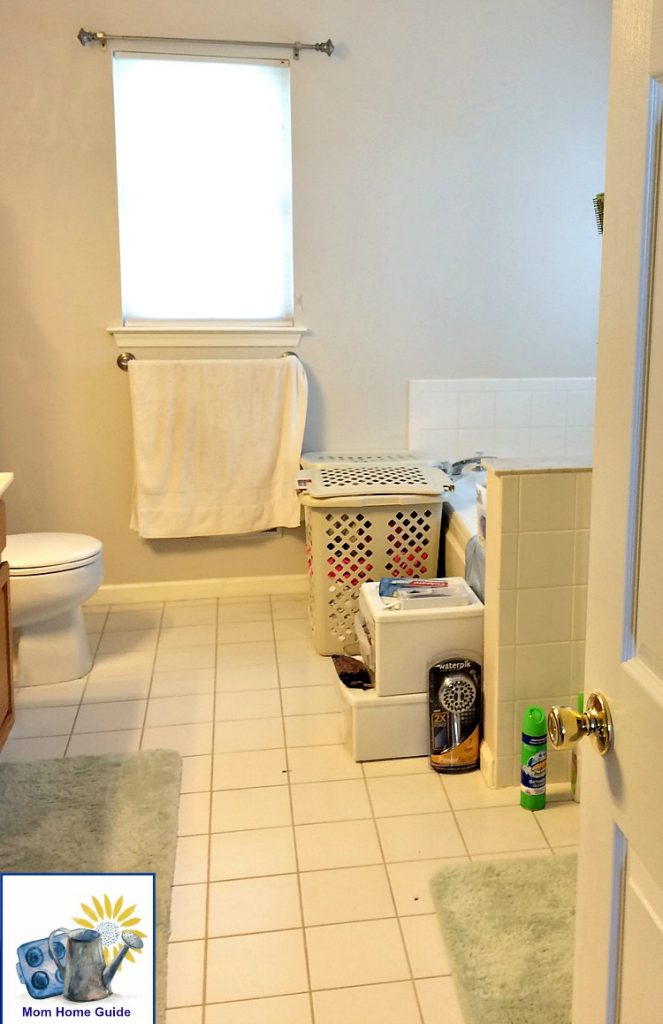 The feature wall has really upgraded the look of my once super plain bathroom!
Now that I have updated my home's master bathroom, I have started working on the kitchen and have more DIY projects planned!
So far, I have painted the oak kitchen cabinets white and added new nickel cabinet knobs and pulls.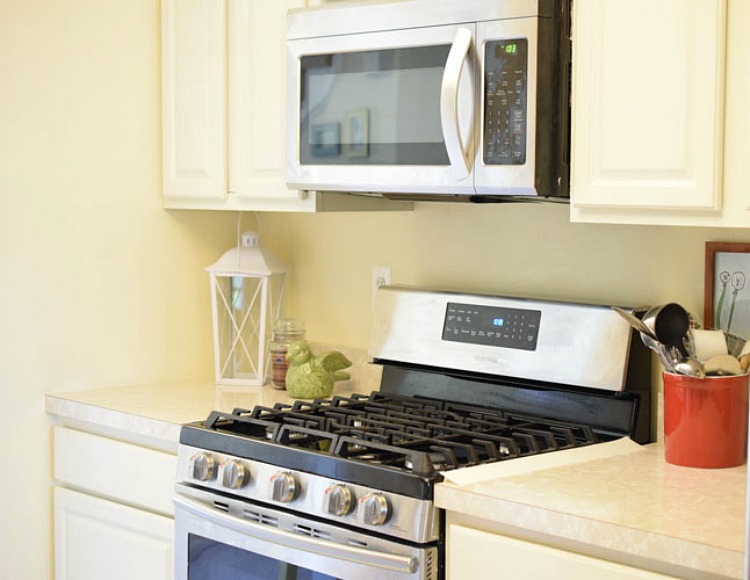 Check out my tutorial on the best way to paint kitchen cabinets.
Just recently, I have started painting the laminate countertops to give them a marble look, too!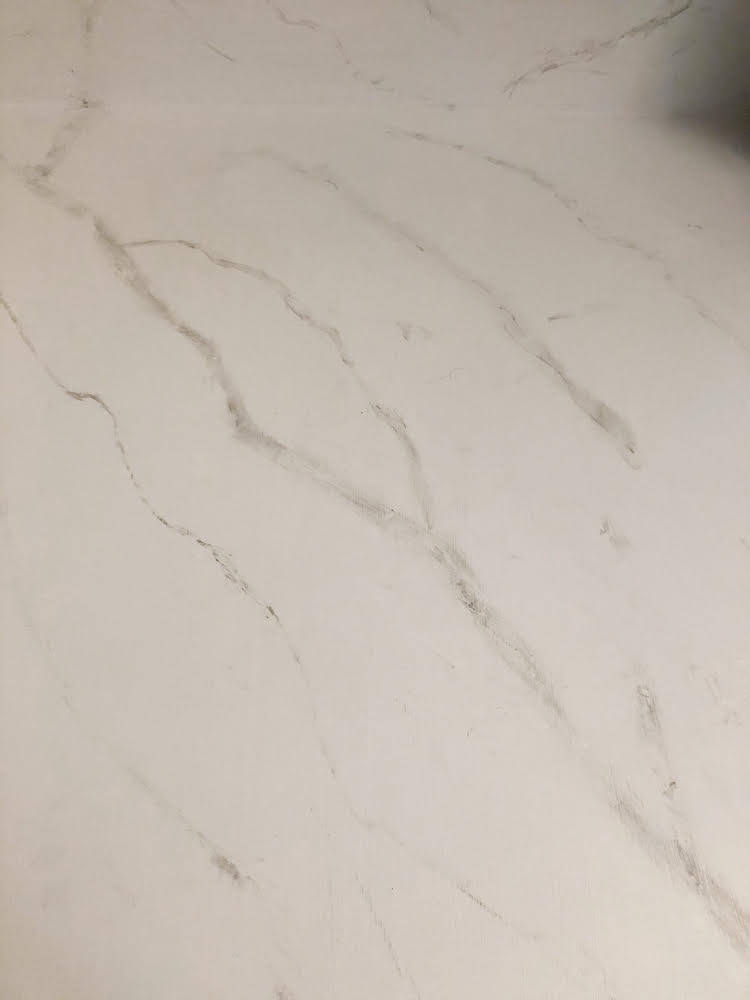 Check back here on the blog to see how my "new" kitchen is coming along!