Thanks to DecoArt for providing products used in my bathroom makeover. This post contains Amazon affiliate links.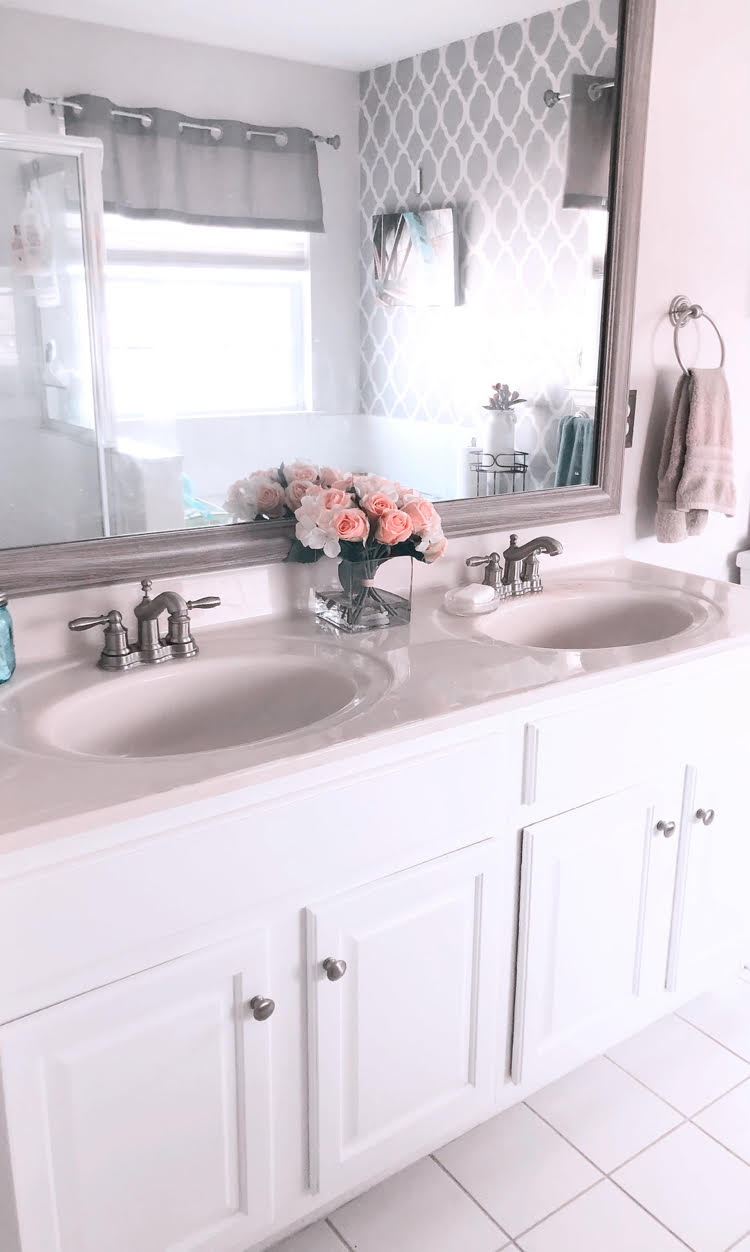 I have been slowly working to update my home's master bathroom. Just before our daughters were born, my husband and I purchased our home in 2002. The master bathroom came with standard features – white tile floor, a large unframed bathroom mirror and an oak bathroom vanity. Today I am sharing how I easily painted the bathroom cabinet / vanity. Painting a bathroom cabinet is something you can do this coming weekend! I used Americana Decor Satin Enamels Paint by DecoArt (in Pure White) for this project. Painting a bathroom vanity with Satin Enamels paint makes the job quick and easy!
DecoArt's Satin Enamels paint requires very little prep work before painting (e.g., sanding). It has a durable finish for high use areas. It is designed to minimize brushstrokes.
So far in the bathroom, I have also stenciled a feature wall and added a bathroom mirror frame to the standard builder-grade mirror. And now, with the white painted vanity, I think my bathroom looks great!
I painted my cabinet little by little (when I had the time) over a few days. This project can be completed over a weekend. Especially since the DecoArt Satin Enamels paint doesn't require a primer coat or an extra topcoat, like other paints I've used.
I used three 8 ounce jars of DecoArt Satin Enamels Paint to paint my cabinet – that would cost about $30 total. Americana Decor Satin Enamels paint can be found at Amazon and Michaels Stores.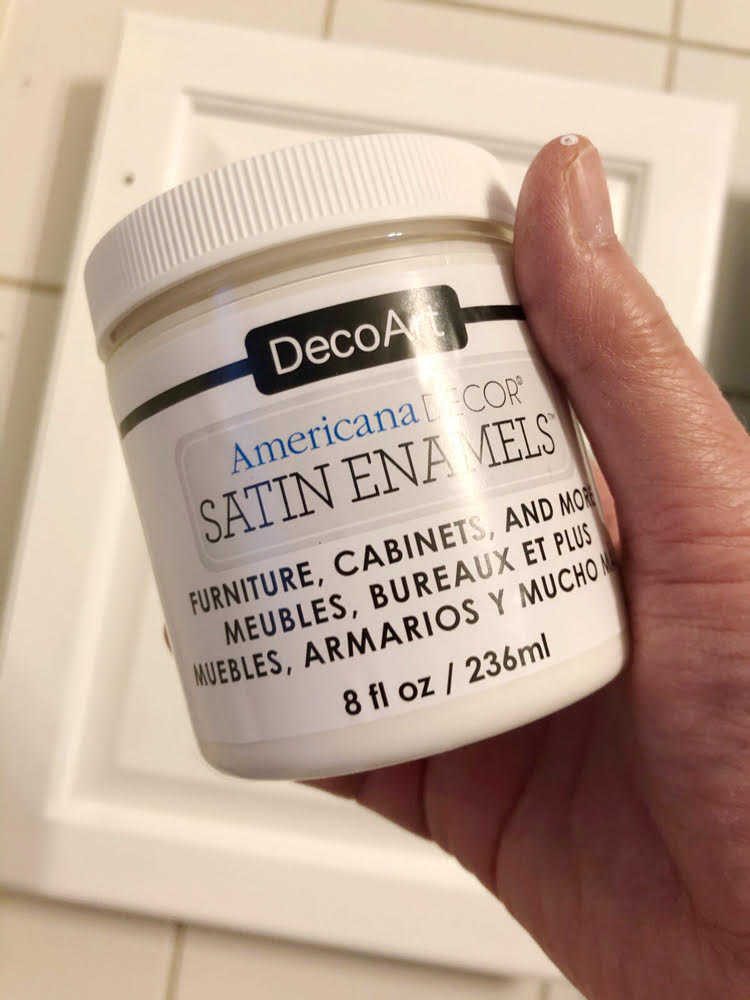 I painted my daughter's bathroom cabinet about 2 years ago with Americana Decor Satin Enamels Paint in Smoke Grey, and the bathroom vanity still looks great!
The below photo shows what my master bathroom oak bathroom cabinet looked like before I painted it. The DecoArt Americana Decor Satin Enamels paint has really elevated the look of the cabinet!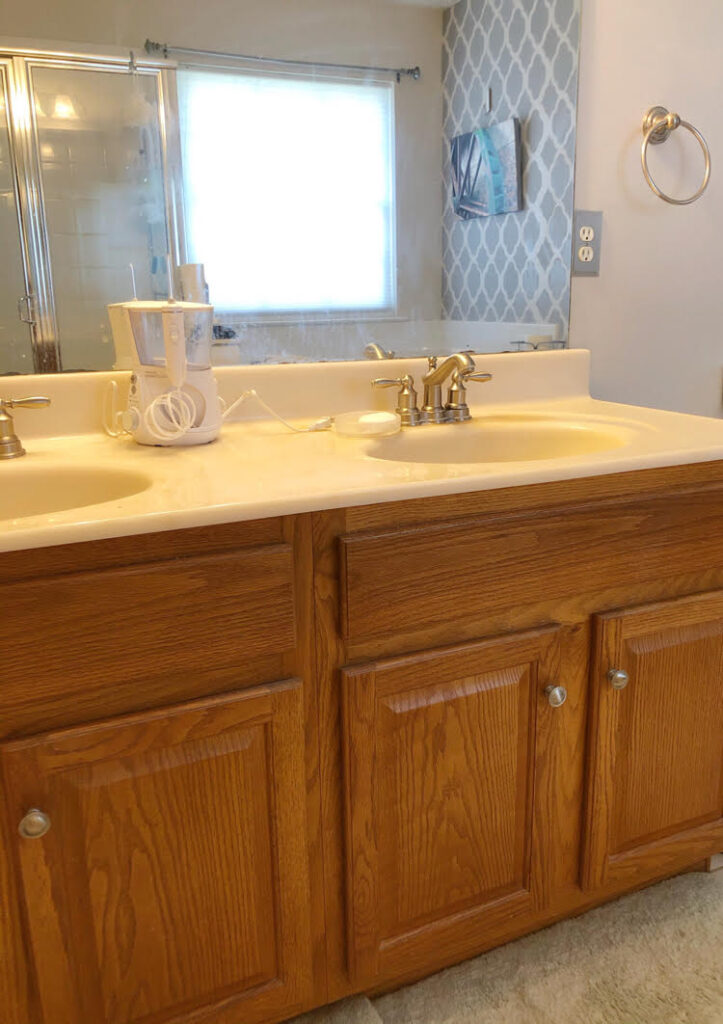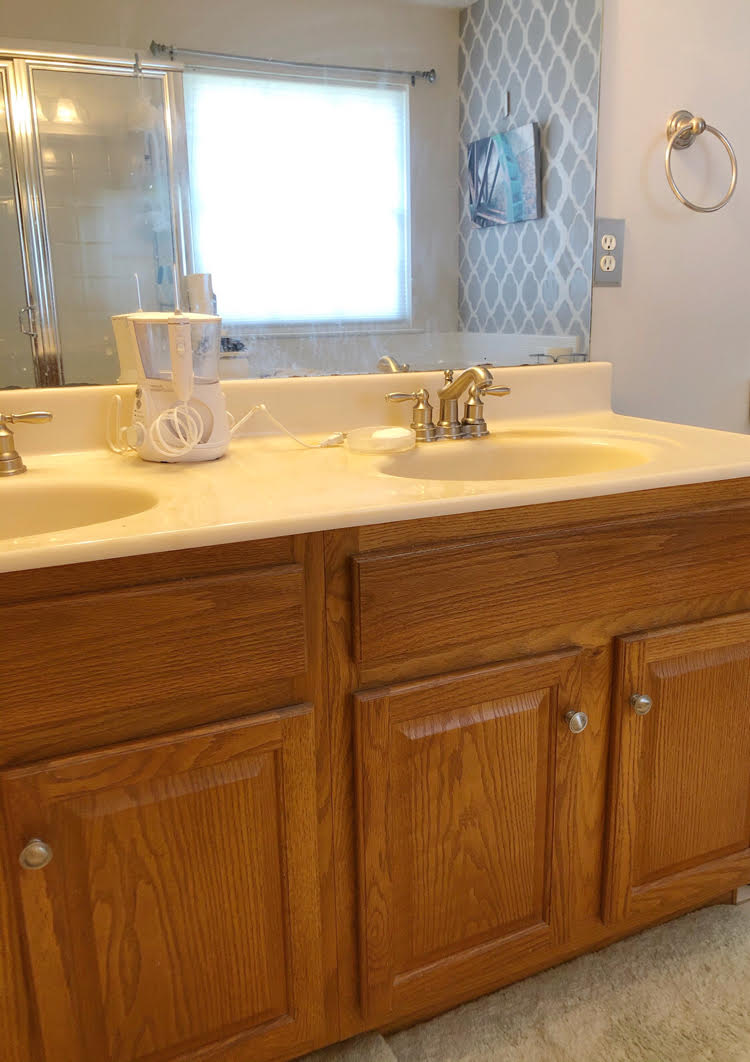 Paint a Bathroom Cabinet This Weekend
Follow the easy steps below if you'd like to transform your bathroom cabinet or vanity in just a few hours with paint.
Lightly sand your cabinets and doors with Coarse Sandpaper at the start of your project.
Use a cleaning product like Krud Kutter to prepare your cabinets for painting.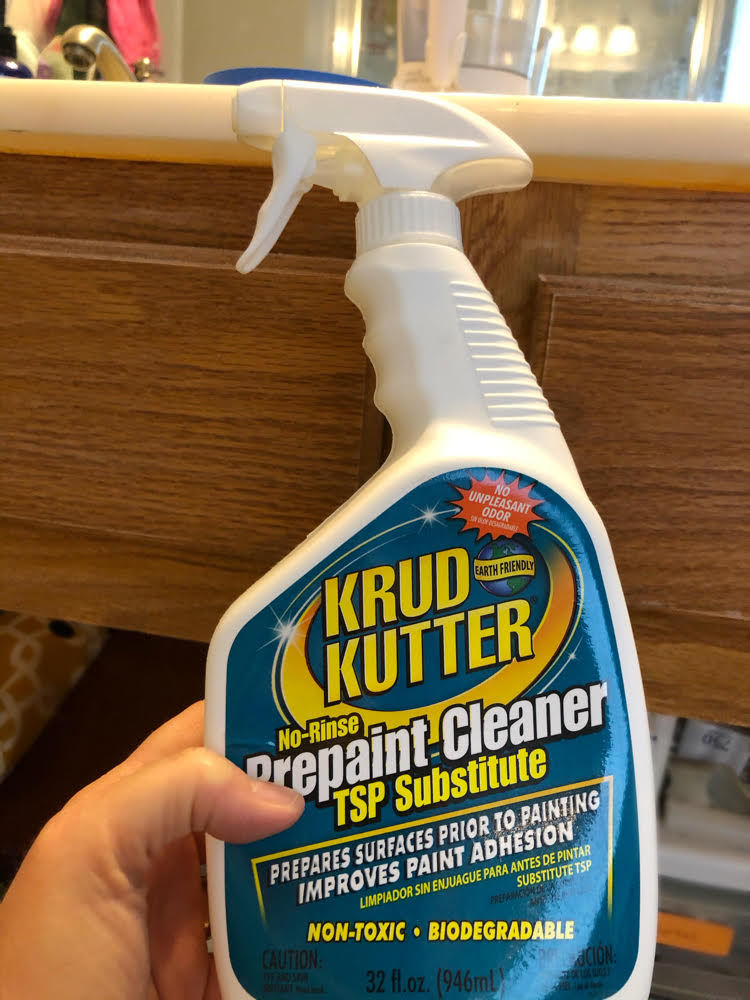 After I cleaned the cabinets, I removed the doors from the cabinets with my NEX L1 PRO cordless screwdriver . I also used my cordless screwdriver to remove the hardware from the doors. I stored the hardware in the bathroom cabinet while painting.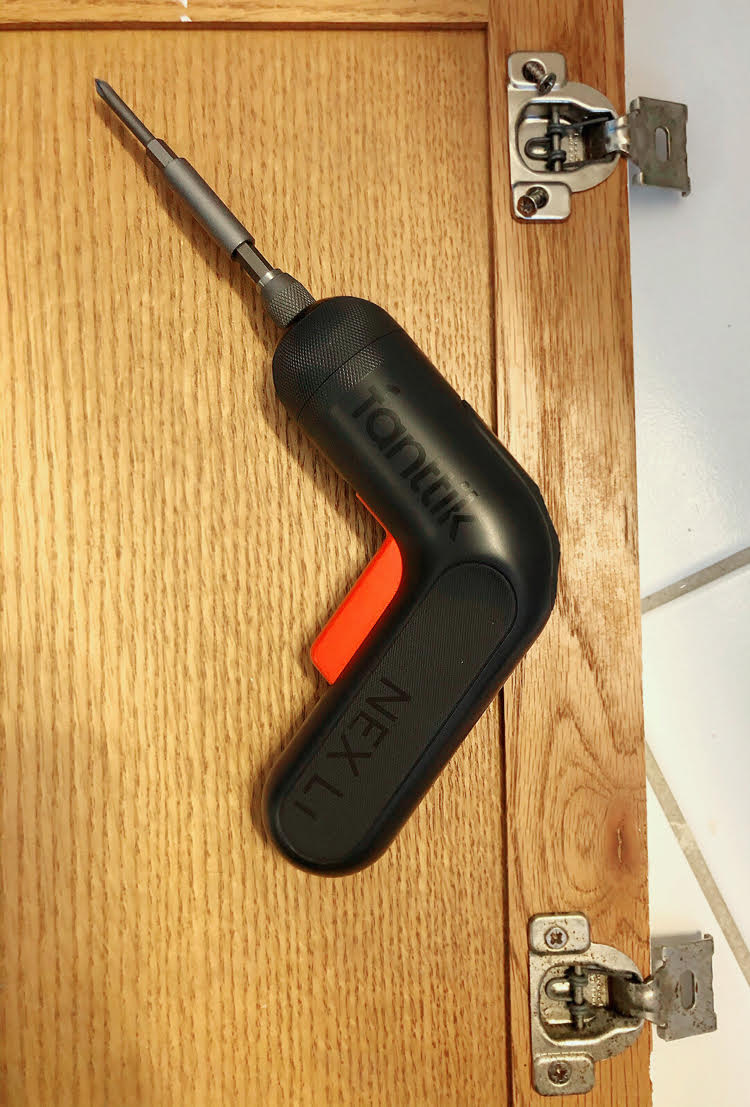 Inexpensive Foam Paint Brushes work well for painting bathroom cabinets. With these brushes I was able to avoid brush strokes in my paint.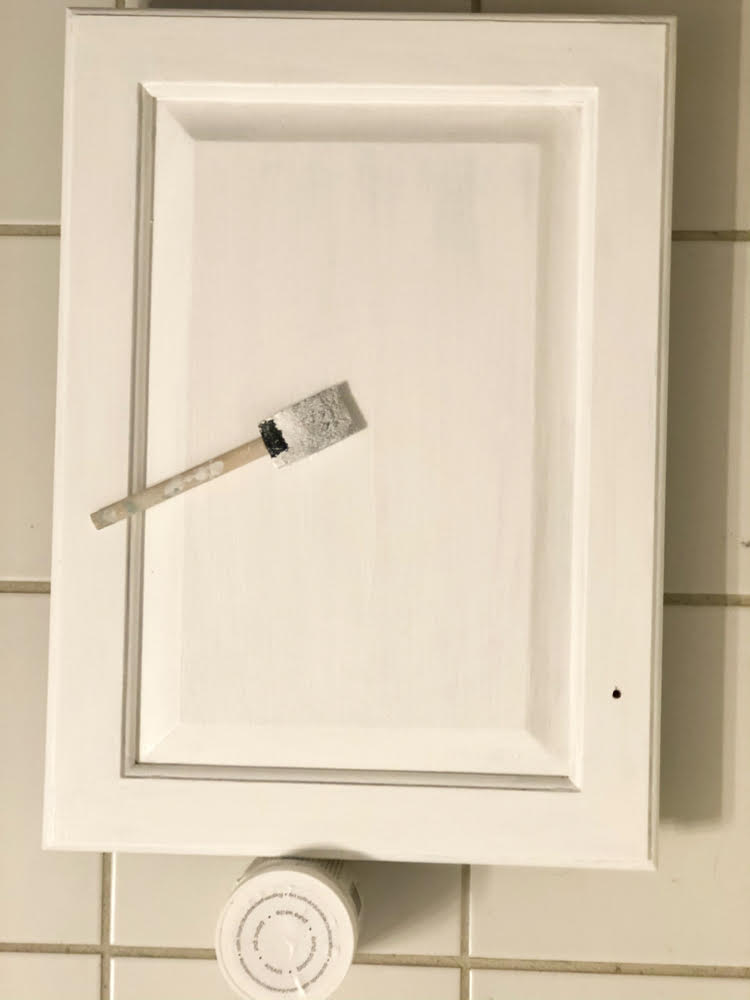 Lightly sand between coats of paint with an Extra Fine Sanding Sponge. (This helps to get an extra smooth finish.)
You can use simple Wood Blocks (or you could use scraps of wood or boards) to lift the cabinet doors up from your painting surface (e.g., the table or floor). Or you could purchase Painters Pyramids.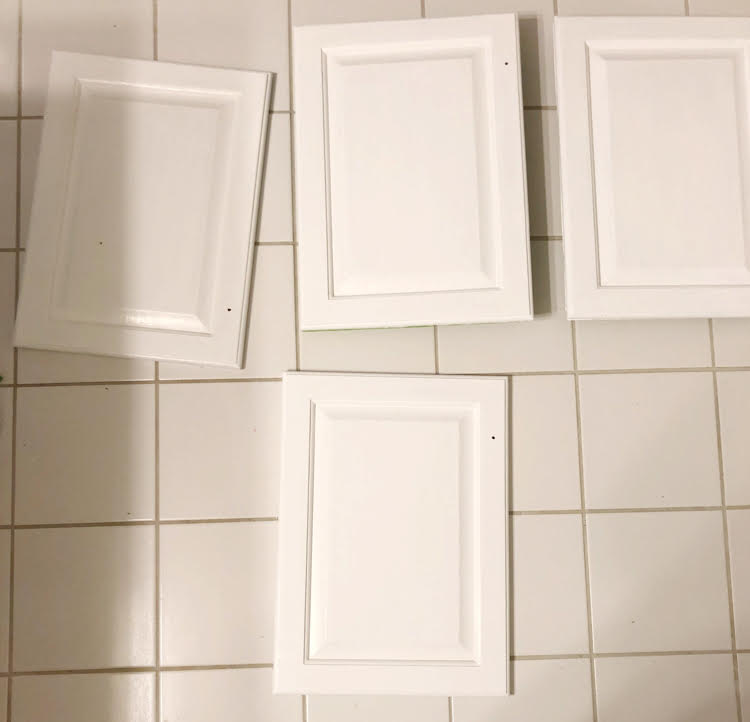 If you decide to add knobs and pulls (if your cabinets didn't have them before), a Hardware Knob/Handle Pull Drill Mounting Template
will help you to mark where to drill the holes in the cabinet doors for the new hardware. (I added knobs to my cabinets a few before this project.)
I laid my cabinet doors out on the bathroom floor for painting. I discovered that the paint dried quite quickly on the cabinet doors!
After I painted the cabinet doors, I painted the frame of the bathroom cabinet. I put at least two coats of paint on the cabinet frame. I let the paint dry completely in between coats.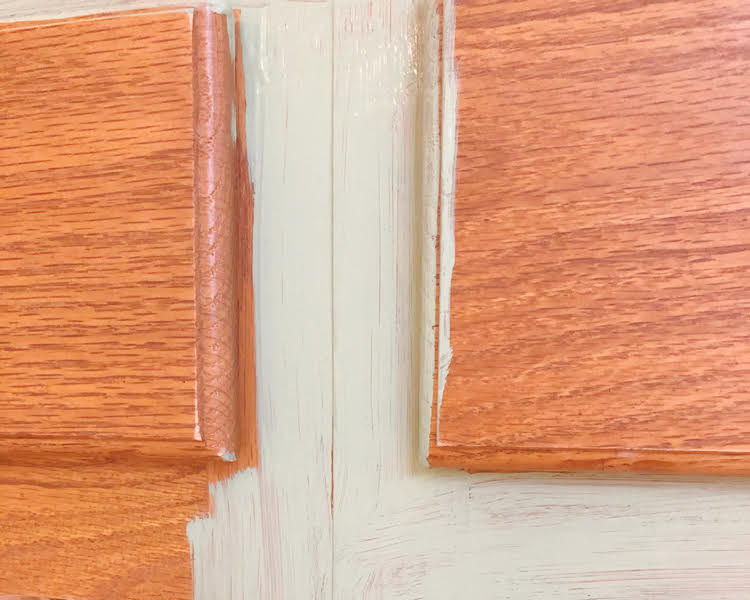 I think the painted cabinet coordinates so much better with my current bathroom design and decor than the orange oak cabinets did!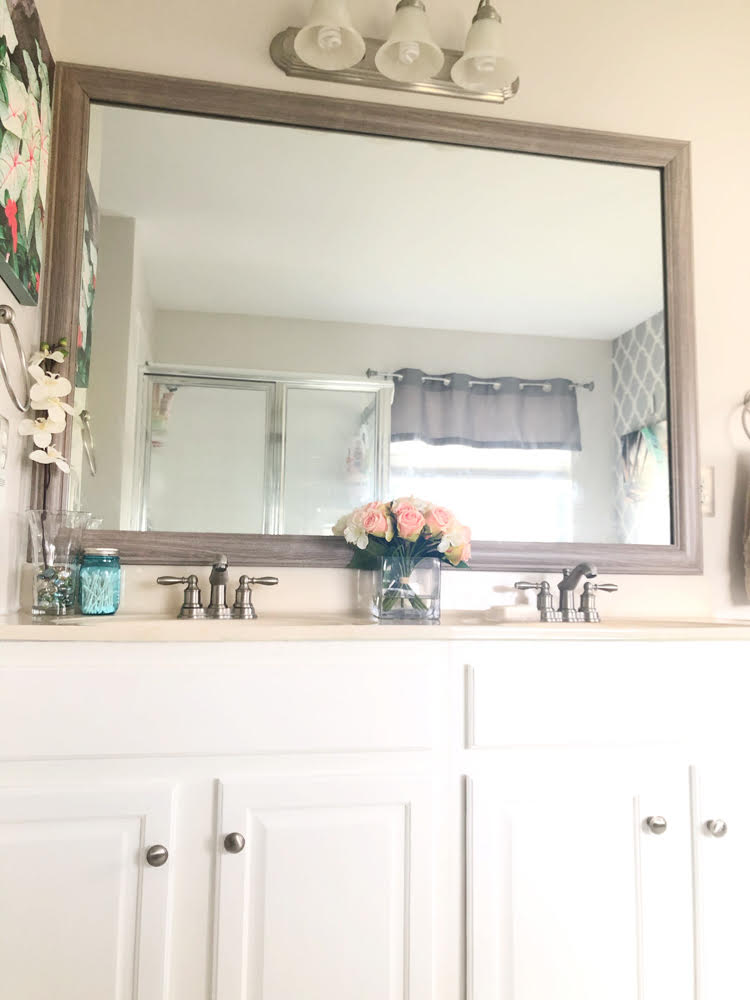 This was a rewarding and easy project!
Pin This Project For Later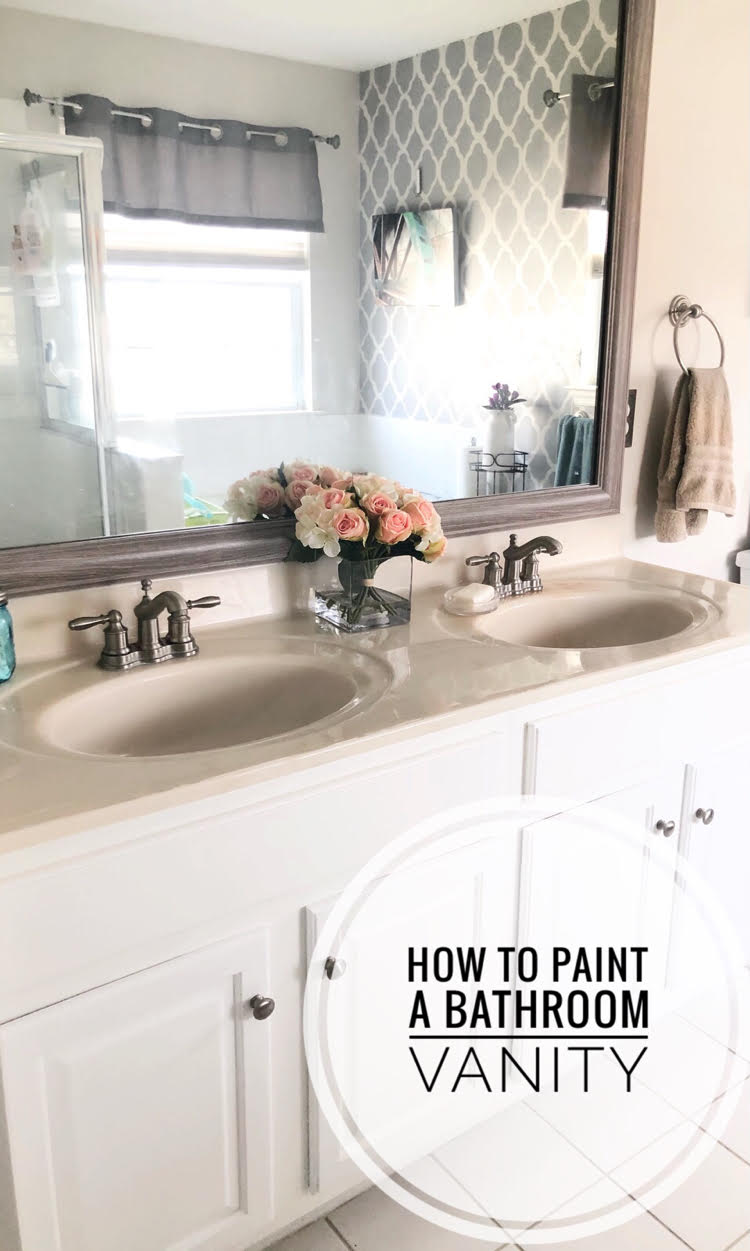 You Might Also Like