Thanks to the makers of the Giani Marble Countertop Kit for partnering with me on this post. All opinions expressed in this post are my own. This post contains affiliate links. These links won't cost you anything, but may earn me a small commission.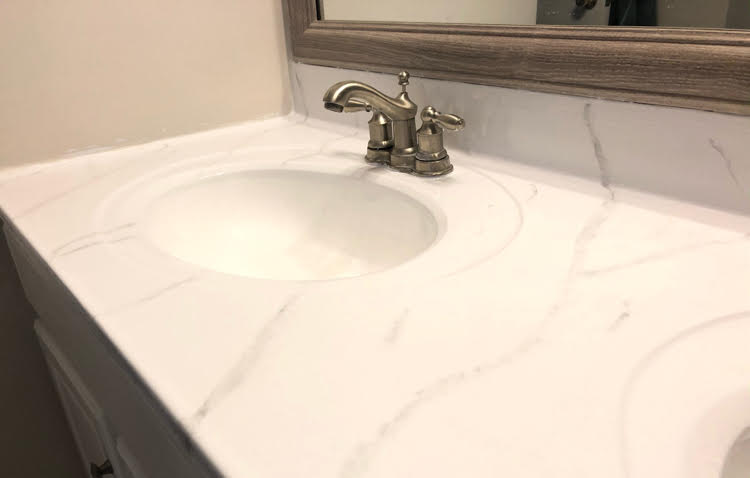 My husband and I have owned our home for about 19 years now. Some things in our house are starting to show their age. With two daughters entering college in the fall, I have been looking for ways to update my home on a budget. Luckily, I have found a fantastic way to update kitchen and bathroom counters. I recently used a Giani Carrara White Marble Epoxy Countertop Kit on my master bathroom's old cultured marble countertop and love it! My hand-painted marble veining surprisingly looks realistic, and the white marble epoxy coating provided with the kit makes my counter look so new and glossy!
I am so happy that I have discovered the Giani Carrara White Marble Epoxy Countertop Kit!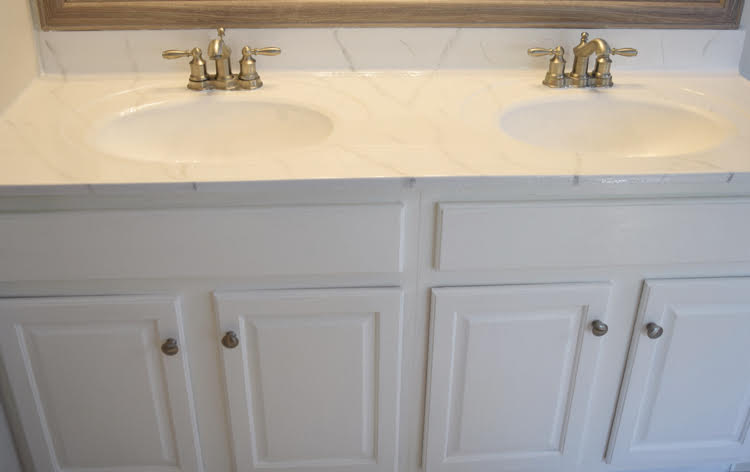 Painted White Marble Epoxy Countertops
The beauty of using the Giani Carrara White Marble Epoxy Countertop Kit is that the project is no harder to complete than a simple paint job! Even applying the epoxy coating, which I thought would be hard, was quite easy.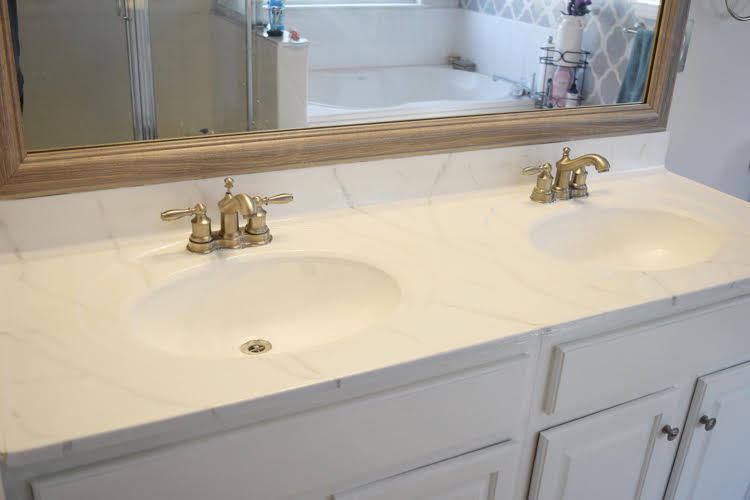 Before I stared my project, I used a product called Ekopel to resurface the once yellow looking sinks in the bathroom vanity. The sinks are now a brilliant white! [Check out my tutorial for a beautiful budget sink makeover.]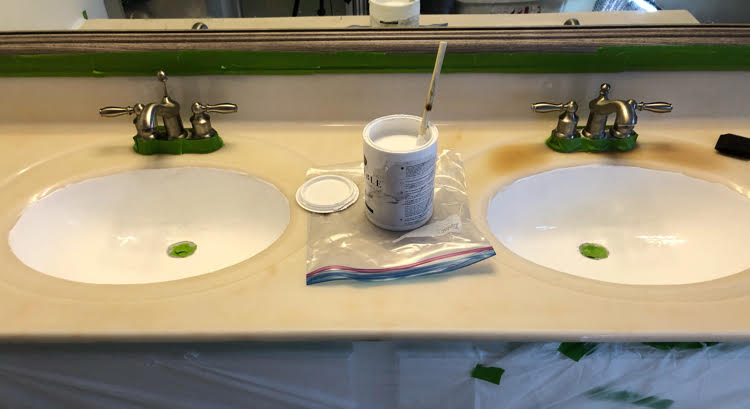 To start my project, I first sanded my countertops by hand with some 220 grit sandpaper to get some of the gloss off my old countertop. It wasn't necessary to strenuously sand the countertop – only a light sanding was needed.
After I sanded the countertop, I scrubbed the counter clean with a Brillo pad. I used some wet paper towels to completely clean off the counter afterwards. I needed to make sure that the counter was completely clean and didn't have any cleaning residue, etc., left on the counter. I purchased my Brillo pads and sandpaper on Amazon.
My Giani Carrara White Marble Epoxy Countertop Kit came with just about everything I needed for my countertop painting project, making my project so easy!
The paints are marked by step (1,2,3), and the white marble epoxy kit contains supplies needed to complete the project – paint brushes and rollers, paints, stirring sticks, tarps, a spray bottle and the two-part glossy top coat.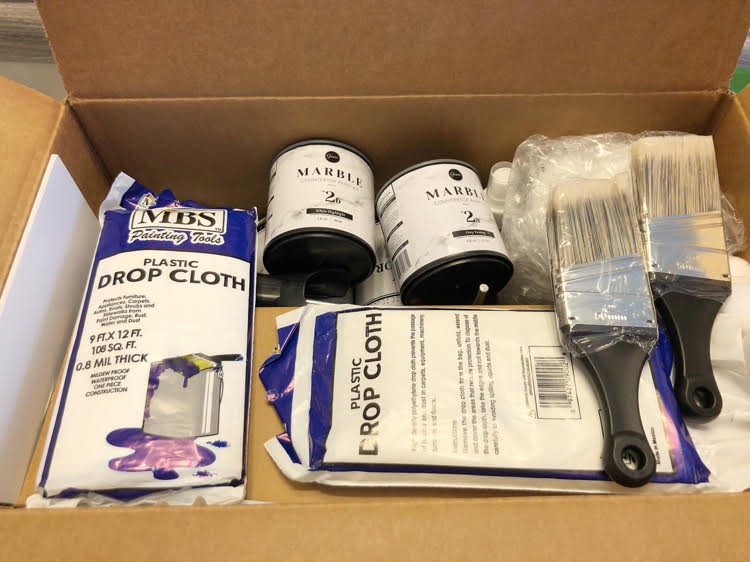 Painted White Marble Epoxy Counter Supplies
1 Giani Carrara White Marble Epoxy Countertop Kit
Paper Towels
How to Paint DIY White Marble Epoxy Counters
Once I had my counters prepped, my first step was to use Frog Tape to tape off the wall, faucets, the bathroom mirror and the under part of the bathroom counter.
Then I set about applying the base coat from the Giani Carrara White Marble Epoxy Countertop Kit. My master bathroom vanity is a double vanity, but it isn't that large. Getting the first base coat down for my painted marble countertop project didn't take very long.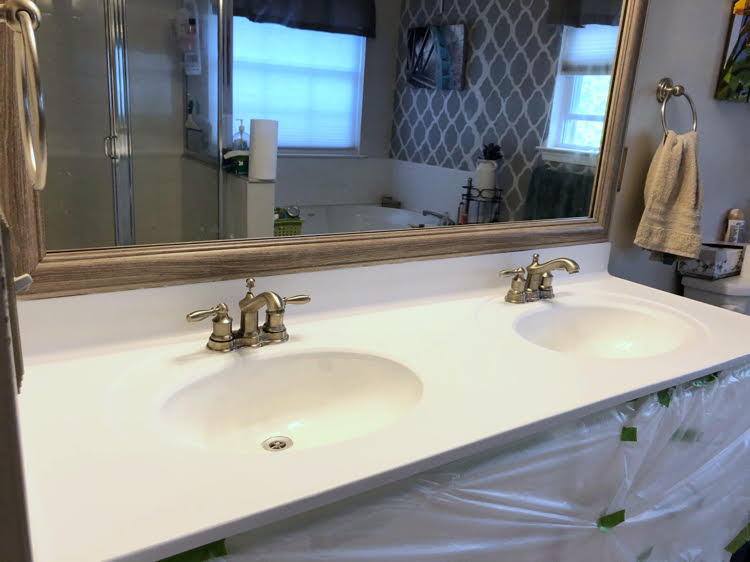 I let the base coat dry for a few hours before applying a second coat. I let the second coat dry for a few hours before proceeding to the next step.
Then it was time to paint on the marble veining for my white marble epoxy counters! I used the paper practice board from my Giani Carrara White Marble Epoxy Countertop Kit to practice painting the veins.
I have to admit that I dd terribly when I painted the veins on the practice board. I was almost afraid to start painting the marble veins on my countertop.
But it turns out that painting veining on an actual countertop is much easier than painting them on the provided paper practice board. The veining blends so much better on a Giani base coat of pant.
Once I started working on the actual countertop, my technique got a lot better. I made sure to draw out a rough draft of my countertop (on paper) to show how I wanted my veining to look.
Before my project, I pinned a few examples of beautiful Giani marble epoxy counters on my bathroom Pinterest board. There are so many examples of beautiful Giani marble epoxy counters on Pinterest!
I used the thin brush from my Giani kit to paint the marble veins.
After I painted a vein, I spritzed it with water using the kit's spray bottle to soften the vein. I used one of the kit's large paint brushes to feather out the veins. I also used a crumbled paper towel to further soften the veins.
I used a paper towel to mop up any stray paint as well. (Check out the video above to see the technique I used to paint the veins on the countertop.)
After I had the veining painted on the countertop, I lightly sponged some of the provided small can of white paint over the veins with the provided sponge to lighten and soften the look.
I found painting on the veins to be quite relaxing!
Painting a White Marble Epoxy Marble Counter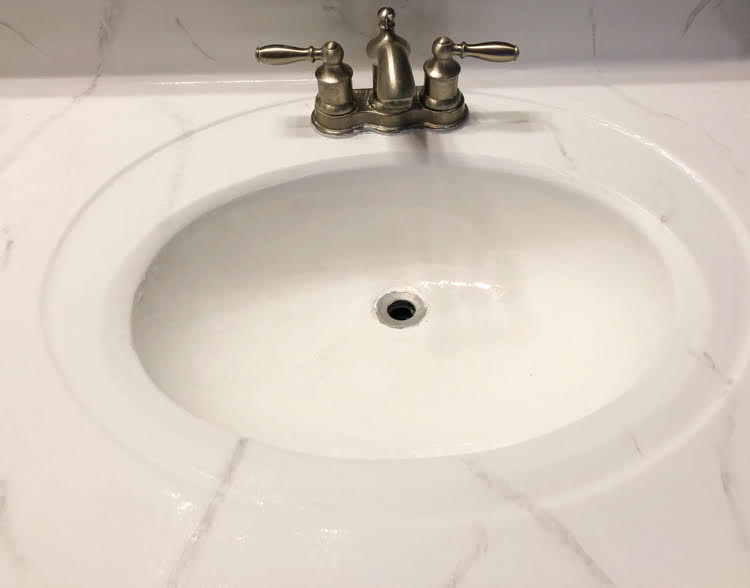 After I was happy with the veining on the counter, it was time to mix one of the cans of epoxy with a can of activator from the kit. (The kit comes with 3 cans of epoxy and 3 cans of activator.) I poured a can of activator into a can of epoxy and stirred it for 3 minutes and 30 seconds.
I used a foam brush to paint the epoxy on my counter's mini backsplash. I worked on the counter in sections.
At first I poured on epoxy on a small section and used one of the kit's included soft rollers to roll out the epoxy. But I found that I got a smoother application using my foam brush, so I used a foam brush to cover the rest of the counter and its edges with epoxy.
The next day I used the kit's included sheet of extra fine sandpaper to sand down any air bubbles I found.
I followed up the other day with another coat of epoxy, using another of the kit's cans of epoxy and a can of activator.
I really love how my master bathroom counter turned out! I will be using a Giani Carrara White Marble Epoxy Countertop Kit to turn my kitchen's old laminate countertops into beautiful Giani Marble epoxy counters! Check back to see that project!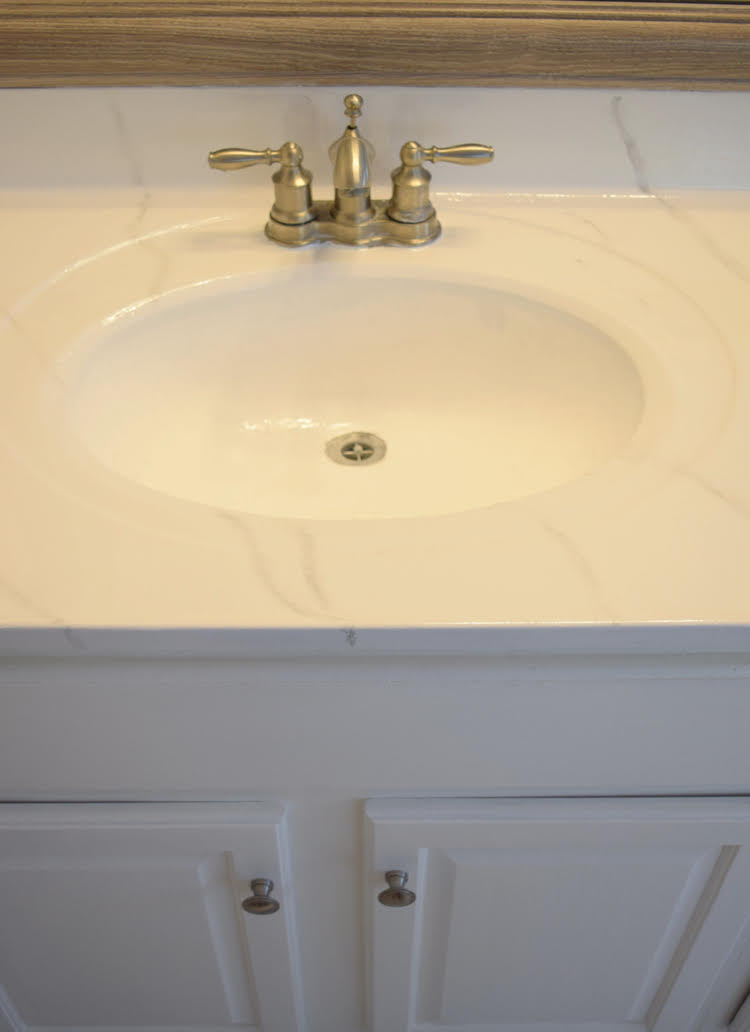 Before I added the beautiful Giani epoxy marble painted countertop to my bathroom, I painted the previously oak vanity white with Americana Decor Satin Enamels Paint by DecoArt (in Pure White). You can check out my bathroom vanity project here.
Check Out These Budget DIYS