Thanks to Corner Copia for sponsoring this post by providing the annuals for my container gardens. Thanks also to Thompson's Waterseal Waterproofing Stain for sponsoring this post by providing the waterproof stain used on my new bench. All opinions expressed in this post are 100% my own.
Welcome to the fourth week of the Curb Appeal Blog Hop! As I mentioned in week 1, when I shared my curb appeal blog board, and week 2, when I shared a tutorial for two beautiful shade container gardens, I have been trying to beautify and add purpose to an area in my front yard. The space was basically an empty garden area to one side of my home's driveway. It's great to finally be getting that area together!
The garden area has come a long way in the past few weeks! What was just a pile of wood chips has turned into a pretty and restful seating area for me, my husband and my daughters. This is what the space looked like at last week's blog hop, after I added some container gardens, and a DIY cinder block and wood bench that I made.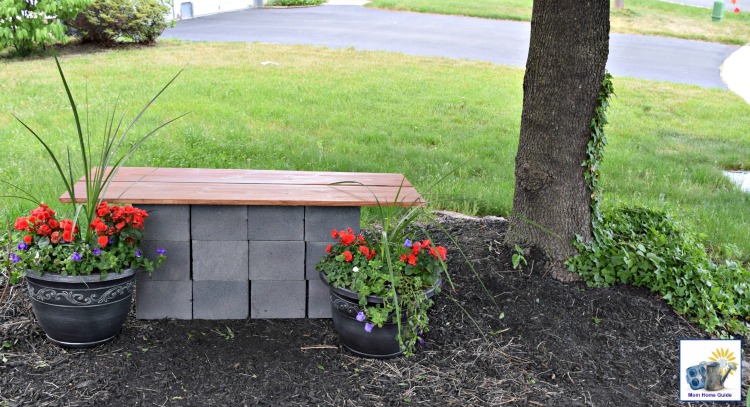 I was tired out from all the work I did last week in putting together the cinder block and wood bench. So this week, I just made a few tweaks to my garden. I am saving some really fun DIY decor items and the full reveal for next week!
This week I put together another container garden, since the other two I put together are doing so well. The new container garden goes well with the two container gardens that I previously added to my new garden seating area.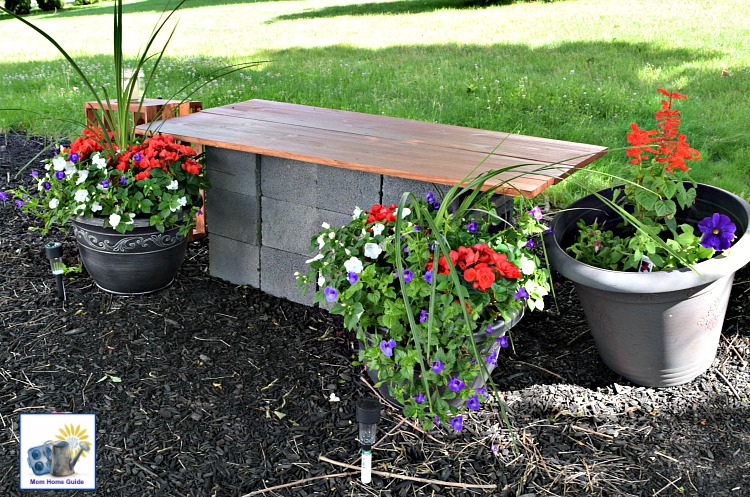 I also made a really easy and fun side table (for only about $12) for my DIY bench! In addition, I added two $1.99 solar lights to the space. My daughters really like the glow of the lights on the bench at night!
This is a picture of one of the container gardens with one of the solar lights.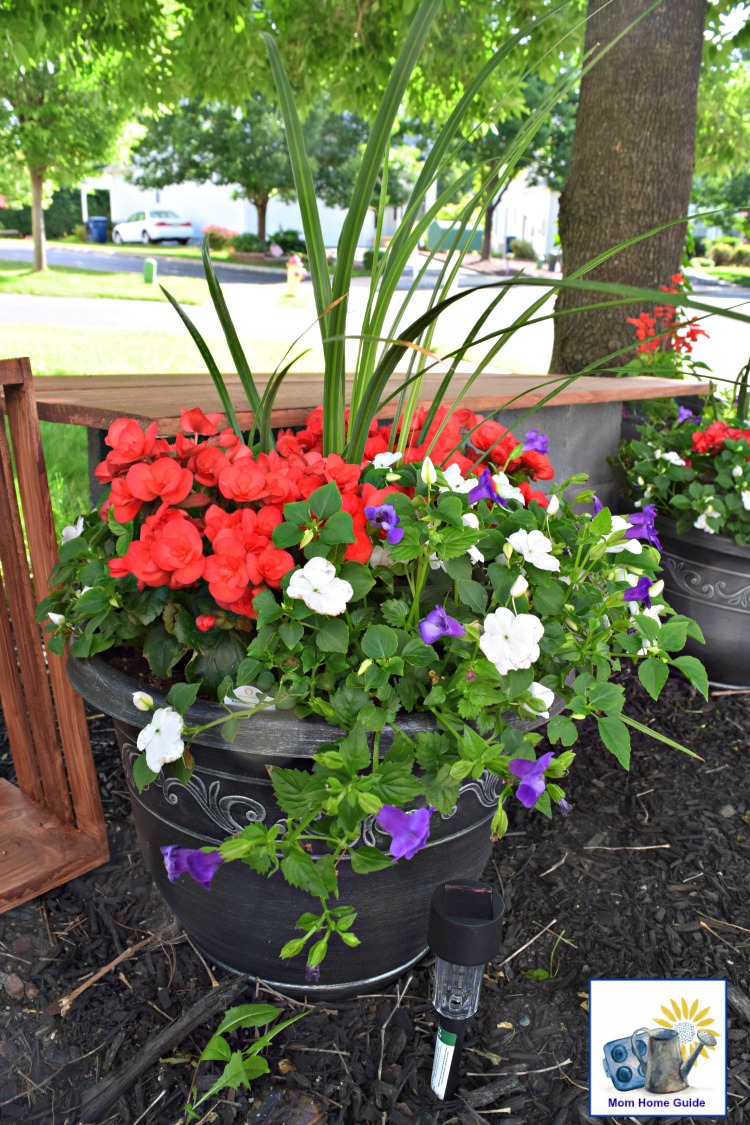 Easy Garden Side Table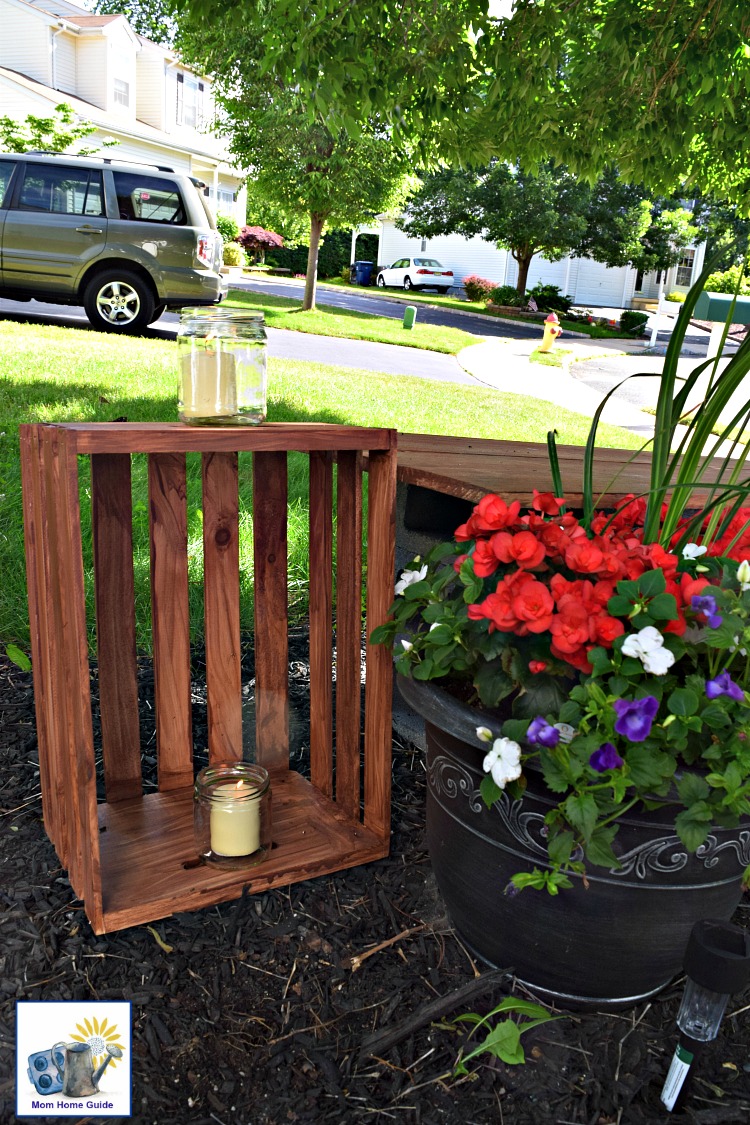 Since my new DIY bench is such a great place to enjoy our front yard's shady tree and to read a book, I thought it would be nice to add a side table to the space. After all, one needs a space to sit a cold class of homemade lemonade! I also thought it would be fun to add some candles to my side table. All I did was add tall votive candles to two empty (and clean) salsa containers!
My garden side table was an incredibly easy project. All I did was pick up an unfinished crate for about $12 at my local Walmart. Then, all I had to do was stain the crate with some Thompson's Waterseal Waterproofing Stain in Acorn Brown and set the crate in place. The stained crate makes for a really nice side table!
This is what the garden area in my home's front yard now looks like.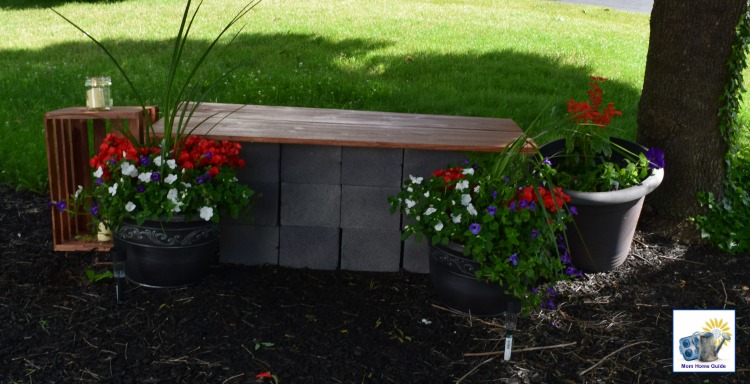 My family and I have really been enjoying our new garden seating area!
Be sure to stop by next Tuesday to see the culmination of my curb appeal project! I have a really pretty outdoor decor project planned around my new bench!
Please check out my blogging friends' Curb Appeal Blog Hop 2016 posts! Also, check back here next Tuesday to see my progress on my front yard seating area! Follow along with the hashtag #curbappealbloghop.
Simple Nature Decor Blog | Seeking Lavender Lane | The Deans List | Curly Crafty Mom | My Life From Home | Lehman Lane | Knock it Off Kim | Paint Yourself A Smile | A Designer at Home | Our House Now a Home
This project was shared at Party in Your PJs and Wine'd Down Wednesday