This post contains Amazon affiliate links. These links cost you nothing, but they may earn a small commission that helps fund this blog. Thanks!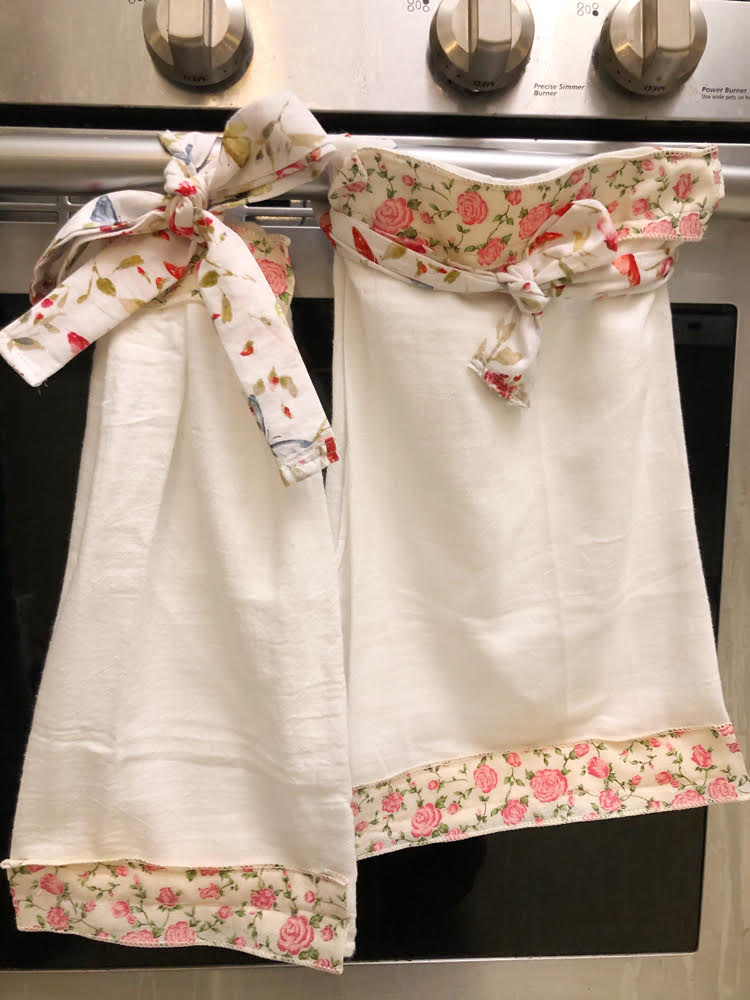 It's been a crazy past couple of days! I am sure that your family, like mine, has been affected by the Coronavirus outbreak. That means we've been spending more time at home. I find that I have been washing my hands a lot. In an effort to reduce my use of paper towels, I decided to make some more hanging towels. I made some really quick and easy hanging towels (with pot holders and store-bought kitchen towels) last month. This time, I decided to make pretty garden-inspired hanging towels by adding pretty rose ribbon to the towels and sewing my own ties (for hanging the towels from a towel rack, fridge or oven door, etc.) These towels require just a tiny bit more sewing than my last towels did!
I am sharing my super easy DIY hanging kitchen towel tutorial (I am only a beginning sewer myself) as part of the monthly Pinterest Challenge, hosted by Erlene of My Pinterventures. This month, the theme of the challenge is spring projects with a focus on Easter and gardening. The Pinterest Challenge encourages its participants to not just pin, but to get out there and complete the projects and recipes they've pinned
My tie-on kitchen towels are inspired by the tie-on hanging kitchen towels by Trey & Lucy. I like that these towels are super easy to make and you can customize them with a fabric of your choice. You don't even have to purchase fabric for this project – you can even use leftover fabric in your stash. I went an extra step by sewing on decorative ribbon to my towels.
TO JOIN NEXT MONTH'S #PINTERESTCHALLENGE, CLICK HERE TO SIGN-UP ? April Pinterest Challenge
At the bottom of this post, check out what projects my friends completed this month!
Easy Hanging Towels Two Ways
I wound up using two different ways to attach the ties to my hanging towels. Both methods work — I think the first method I used looks prettier when hanging on my oven door. (But if you want the front of this towel to face out, it requires a slightly more difficult way to tie the towel onto your towel rack or oven door.)
Hanging Towel with a Horizontal Tie on Top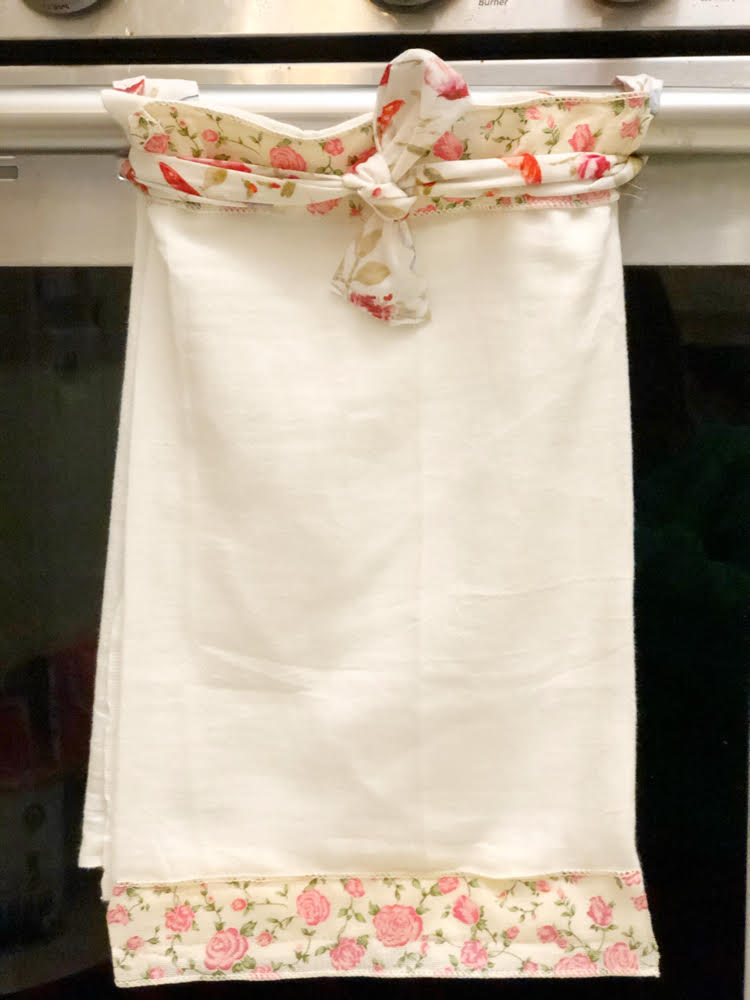 For the first hanging towel I made, I deviated from the pin that I pinned a little and made a simple tie that I sewed horizontally on top.
A plus to this method is that I as able to show more of the pretty accenting ribbon I chose for the towels.
I wound up sewing it this way because I was working from memory, and didn't realize that I was sewing the tie on differently than the pin said to sew it on! lol
I think that sewing the tie on this way makes for a prettier towel. Sometimes error is the source of invention!
DIY Hanging Kitchen Towel Supplies
These are the supplies I used for my easy DIY hanging kitchen towels. I got all my supplies at Walmart but I have provided links for similar products on Amazon:
White Cotton Dish Towels
1 Yard Floral Fabric
(For towel ties – for one towel, I used a piece of fabric 3 feet long by 5 inches wide.)
Rose Floral Ribbon
You just need enough ribbon to span the length of your towel (when folded) times two.
Fabric Scissors
Thread
Sewing Machine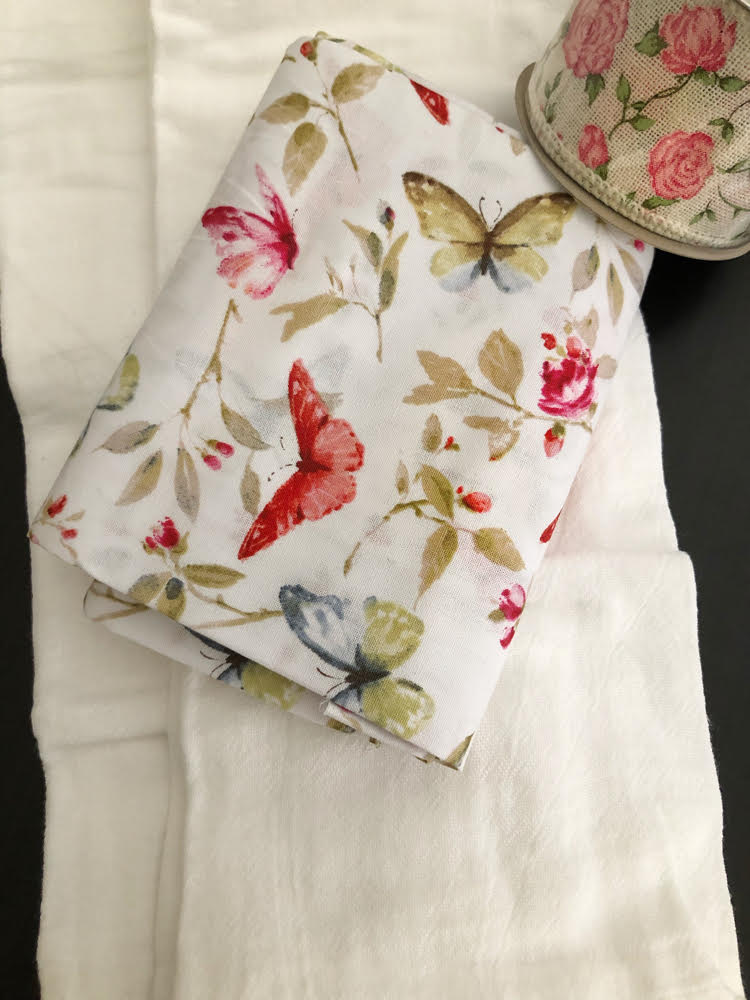 DIY Hanging Towel – Method 1
To start my first towel, I cut a piece of fabric that was 3 feet long and about 5 inches wide for the tie. I folded this piece of fabric in half, right sides together, and pinned it place. I found it's better to have a wider tie than a thinner one — thinner ones are more difficult to turn right side out after they are stitched!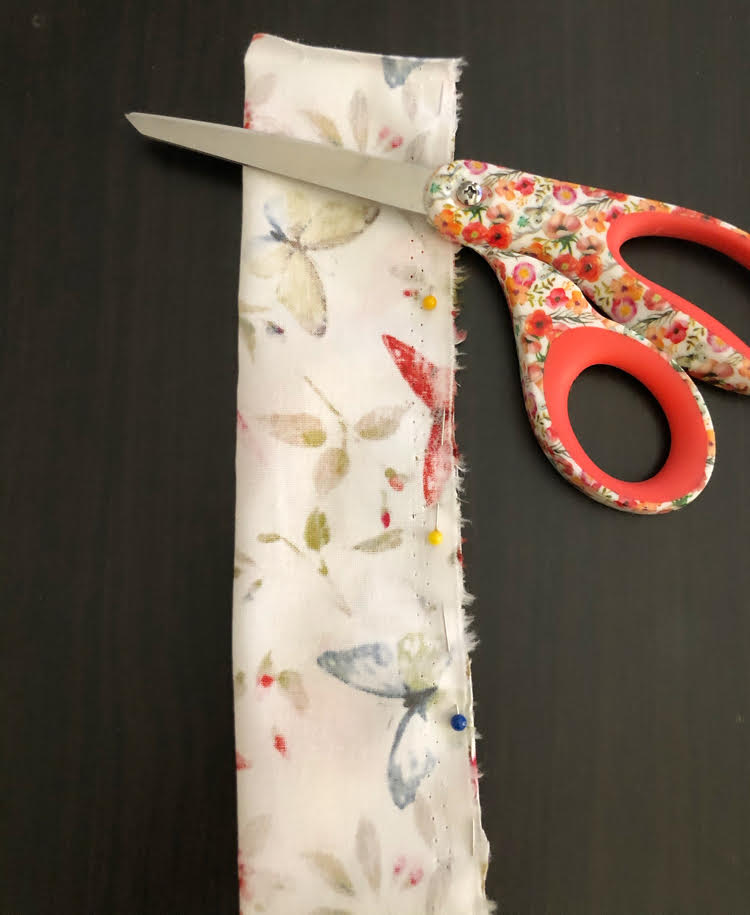 I used my sewing machine to sew down the long edges of the fabric.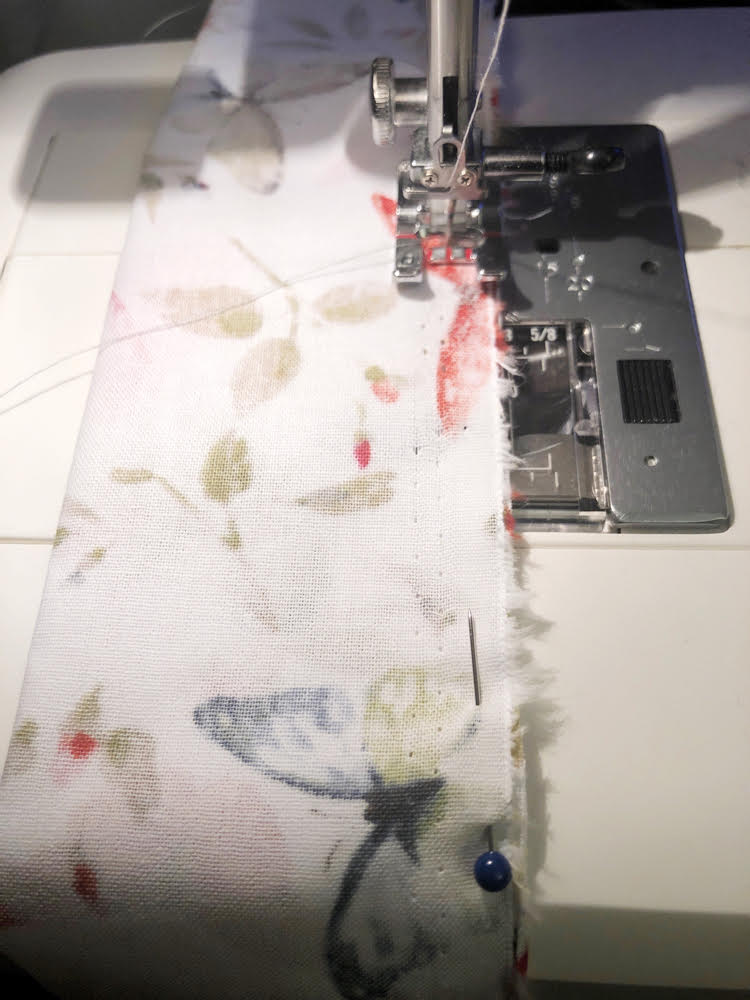 I then turned the fabric right side out and then top stitched the short ends of the fabric. My kitchen towel tie was complete!
I then ironed my handmade towel tie and store-bought cotton kitchen towel.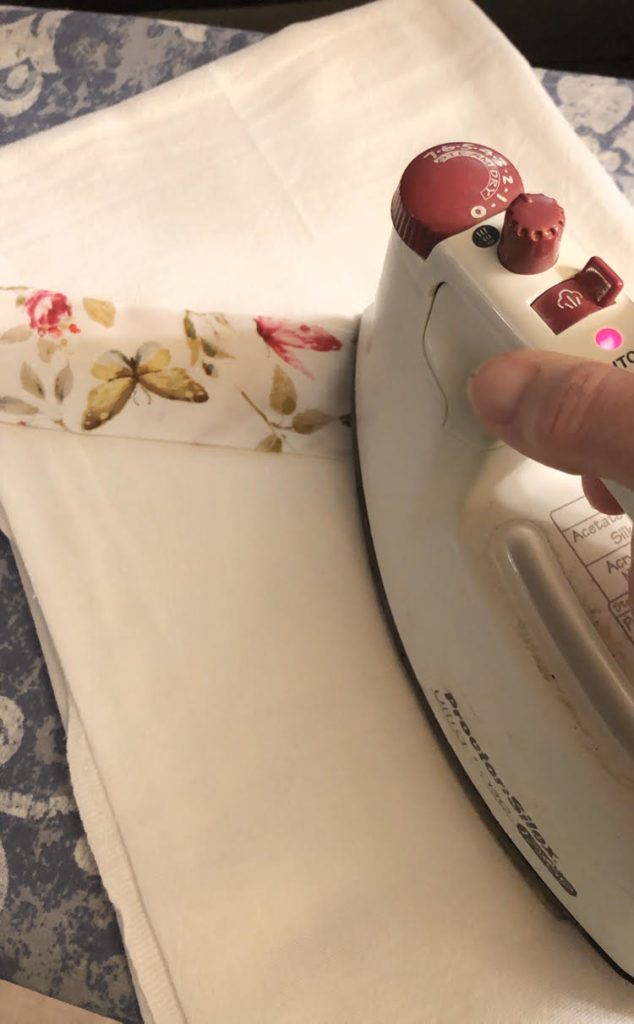 Before sewing on the tie, I folded the towel to the width I wanted for my towel. I then folded the towel in half (from up to down). I used this fold to find the center of the towel, and sewed my handmade tie horizontally onto the top of this fold. I made certain to center the tie (from side to side of the towel) to have equal lengths of the tie on either side of the towel.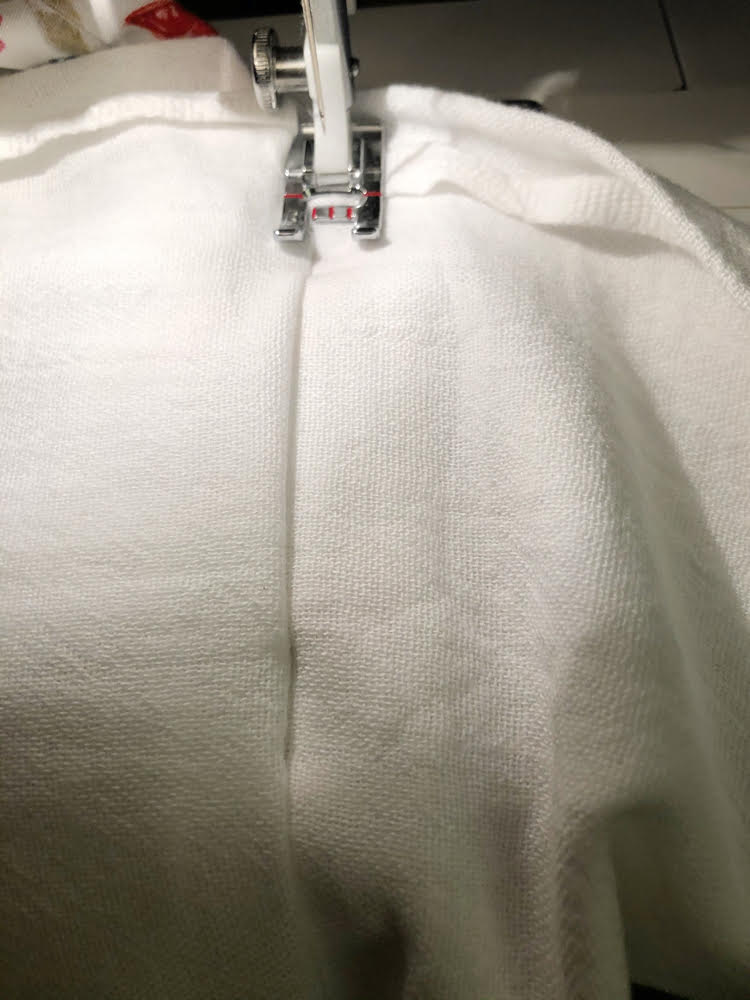 Once the tie was sewn onto the towel, all that was left was to sew some decorative ribbon to the top and bottom of the front of the towel.
I simply cut two length of ribbon as wide as my towel, plus a little extra. I pinned the short ends of each ribbon under (to create a clean edge) and pinned a length of ribbon to both the top and bottom of the towel.
I used my sewing machine to sew the ribbons onto the front of the towel. (I top stitched on the top and bottom of each length of ribbon to secure them to the towel.)
Then my first DIY hanging kitchen towel was complete!
I like the look of this towel with the two long lengths of decorative ribbon on the towel.
When I tie the towel onto the handle of my oven door, I simply loop both ends of the tie over the oven door and then bring the tie across the front of the towel to make a bow. I hope this makes sense! (If didn't care about whether the towel faced me or not, I could simply just tie it on with a simple knot.)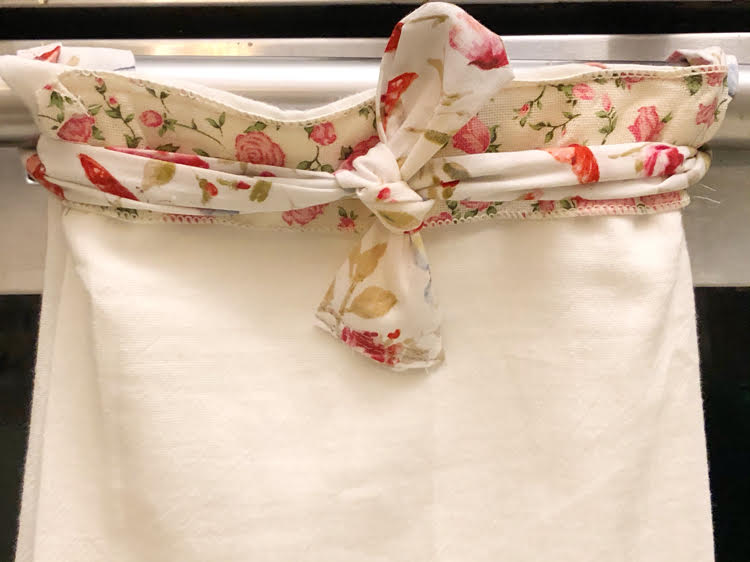 DIY Hanging Kitchen Towel – Method 2
For my second towel, I decided to make sure I stuck to the tutorial for the pin that was my inspiration for this project. lol
For this second kitchen towel, I made a DIY towel tie using the method I used for my first towel.
I then ironed a new cotton kitchen towel and my DIY kitchen towel tie.
I folded my towel in thirds to the width that I desired.
I then folded my towel in half (from top to bottom). I set my sewing machine to make a straight basting stitch (stitch length 4, stitch width 0). I sewed directly on the fold from one side of my folded towel to the other side.
I then pulled the top thread of the stitches I just stitched to cinch/gather the towel horizontally.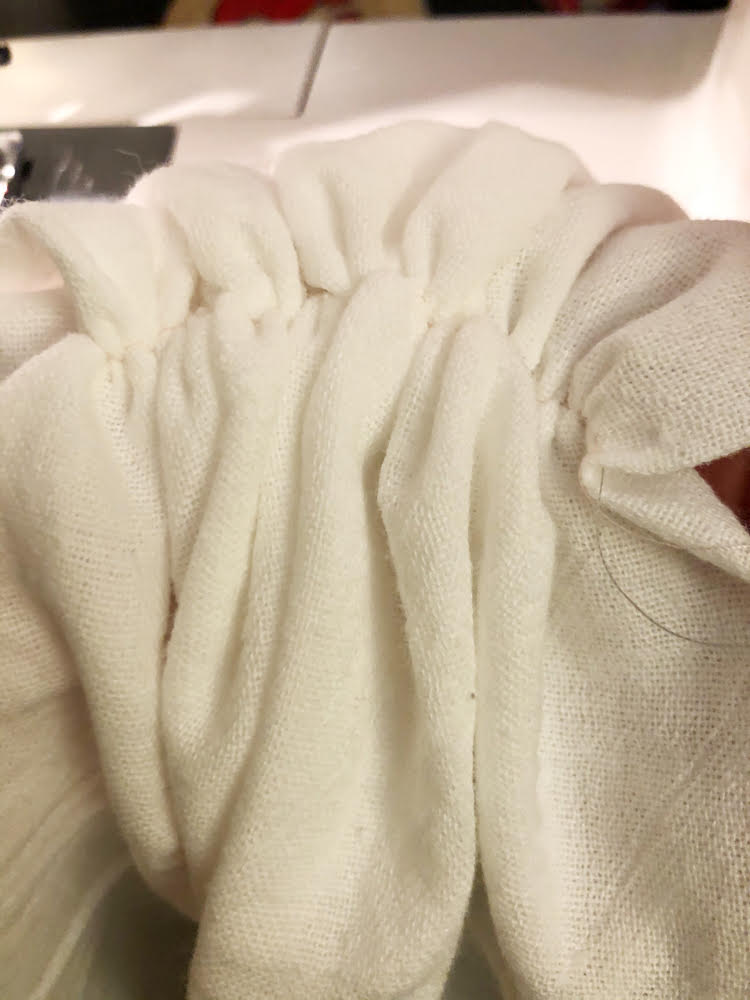 I folded my kitchen tie in half with the ties stretching vertically up over the towel. I placed the tie in the center of the towel, directly over where I had cinched the towel. I used my sewing machine to sew on the tie. I made sure to backstitch to securely sew the tie on.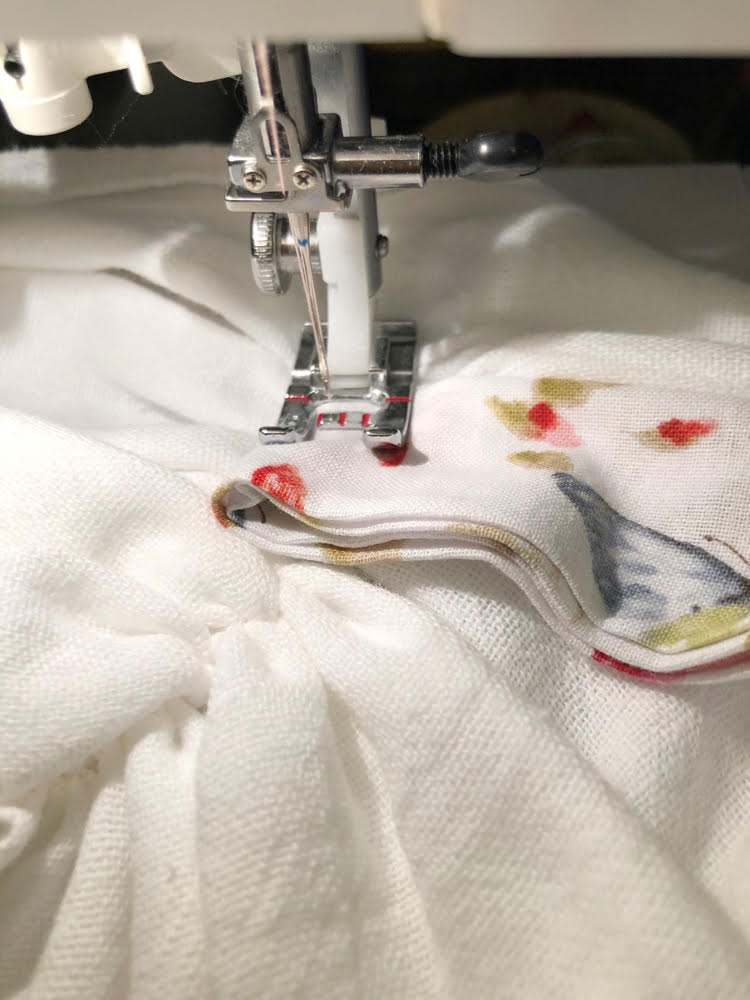 After that, all there was to do was sew my decorative ribbon to the top and the bottom of the front of the towel. (I used the same method as I did for the first towel.)
Hopefully I have described clearly how to make a DIY hanging kitchen towel. If not, be sure to visit this tutorial for tie-on hanging kitchen towels by Trey & Lucy.
I think I like how the first towel came out better! (The below photo is of the second hanging towel.) What do you think?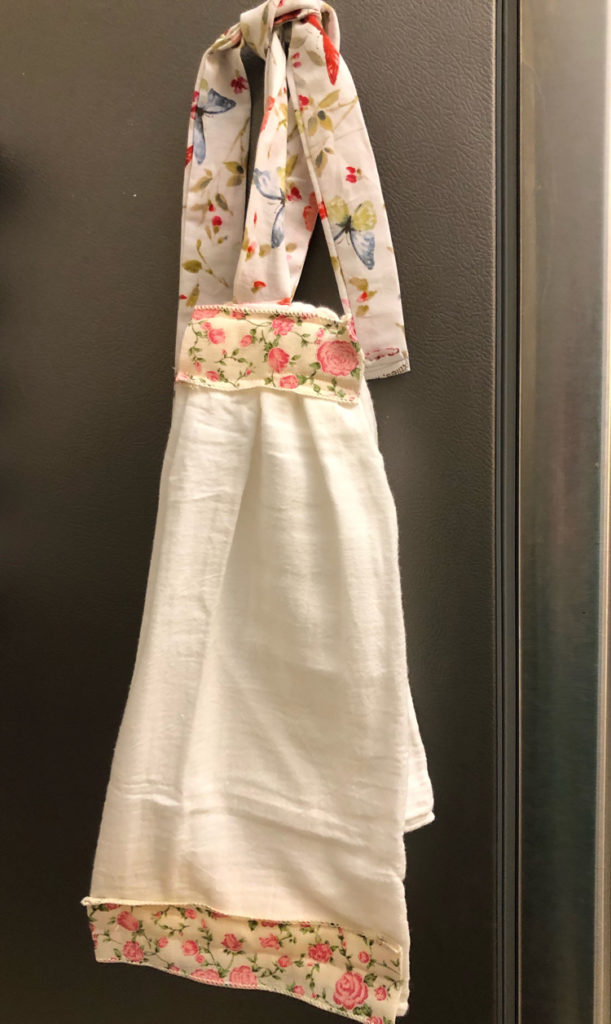 For more Pinterest inspired projects from this month's Pinterest Challenge hosts, check out the links below!
My Pinterventures • Across the Boulevard Cookies Coffee and Crafts • Farm Girl Reformed • Slices of Life Decorate and More with Tip • Purple Hues and Me • Intelligent Domestications • Sew Crafty Crochet Life Beyond Kitchen • Modern on Monticello • Sum of their Stories • Our Good Life Once Upon A Time & Happily Ever After • EyeLoveKnots Create with Cynthia • This Autoimmune Life • DIY Vibes Mom Home Guide • Stone Cottage Adventures • Teadoddles • Our Crafty Mom
Now, let's see what the other hosts have created!
Pin this tutorial for later: