Thanks to Nakturnal for sponsoring this post. All opinions expressed in this post are my own. This post contains Amazon affiliate links for your shopping convenience. These links don't cost you anything, but may earn a small commission that helps to fund this blog.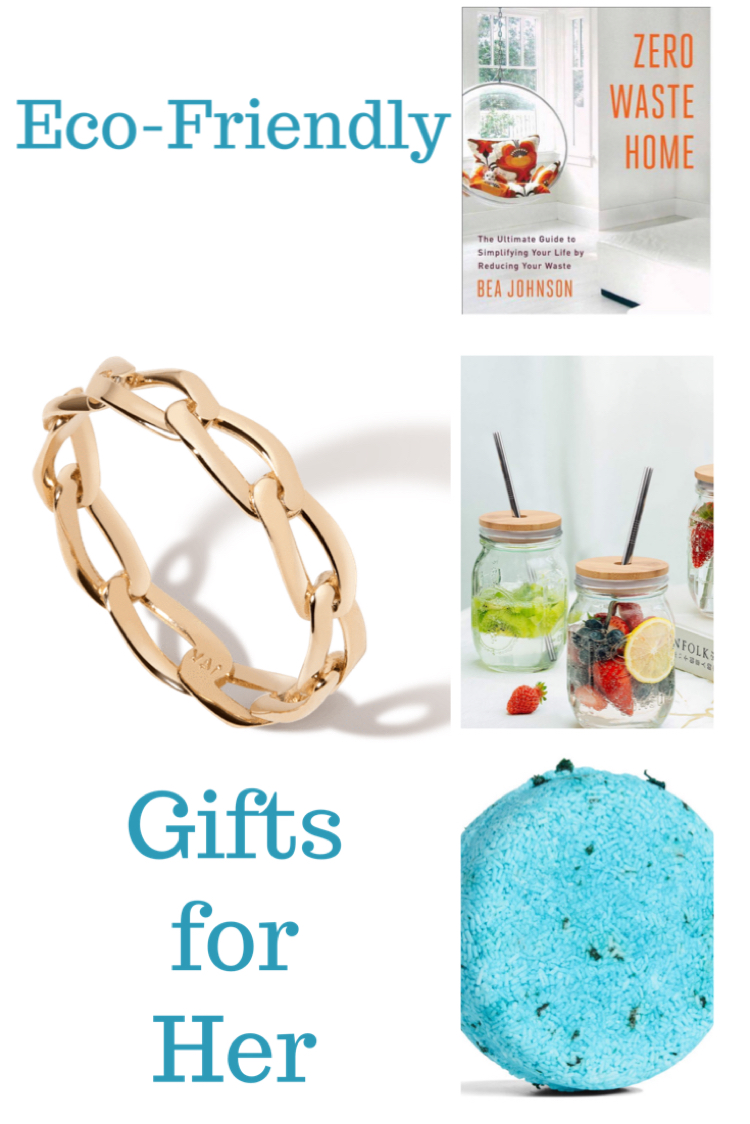 These days, like lots of other moms I know, I've been trying to be more eco friendly. With all the dire headlines about climate change, I want to do what I can to be less destructive and demanding of our environment. With Mother's Day and spring birthdays coming up, I though it'd be fun to share a list of eco-friendly gifts for her that are sure to please.
1- I recently chose the Open Link Gold Vermeil ring from AuRate New York. I have to admit that I am in love!
AuRate New York specializes in handmade gold rings.
AuRate New York's gold rings are made with 100% recycled gold and are ethically sourced and sustainably made.
The rings, crafted in New York City, and are designed to last a lifetime.
I love the classic look of my gold vermeil (gold plated) open link ring.
The ring is delicate and pretty, and is something I can wear everyday — it looks great with just about any fashion or outfit! (My daughter agrees — she modeled the ring for this post.)
My new ring from AuRate New York has become a new favorite and a treasured piece for me.
It's hard to just pick out just one gold ring from Aurate New York. What ring among their collection is your favorite?
2 – One thing I strive for is to throw out less waste each week. I can get distressed seeing all those plastic garbage bags in the trash. I'm not alone — there is a growing movement of folks who follow the Zero Waste movement — to significantly reduce the amount of household trash a home produces.
Total newbies like me are sure to appreciate the book by Bea Johnson, Zero Waste Home: The Ultimate Guide to Simplifying Your Life by Reducing Your Waste
. Johnson has reduced her family's household waste to just 1 quart a year and has lowered their annual spending by 40%.
I have a lot to learn to achieve anything like this — I put at least 1-2 very full trash bags in the garbage can each week. That's despite all the recycling my family does! By the way, if you are interested in purchasing this book, consider buying the eco-friendly Kindle or Audiobook version!
Check out the
Zero Waste YouTube channel
to learn more about how to create less waste/trash at home.
3 – Bamboo Mason Jar Lid Set with 2 Stainless Steel Straws. I often worry about all the plastic in the world. It's in our homes, our oceans, everywhere! When I am out and about, I avoid using plastic straws and drink containers. I came across this bamboo mason jar lid set with 2 stainless steel straws
, and I think it's a great gift for eco-friendly-minded folks like me.
My daughters and I have become fond of drinking from mason jars. I like that when I pop on a non plastic lid and add a stainless steel straw, I have an eco-friendly way to tote some water or
iced tea
(my fave) with me when going about my day.
It turns out that mason jars are a perfect fit for my Honda's cup holders! (Check out this helpful post by Sam of Little Green Lives for other eco-friendly ways to use mason jars.) Also, check out these mason recipes and projects.
4 – Folks like me looking to reduce the amount of plastic they buy would love to be gifted a Lush shampoo bar. Many of you might already be acquainted with the luscious, deliciously scented Lush bath bombs for relaxing hot baths. Lush also crafts shampoo bars
– each bar of shampoo comes with zero plastic packaging and is said to outlast 2 to 3 bottles of regular shampoo. There are several varieties of Lush shampoo bars for different hair types, and each bar is packed with essential oils and fresh ingredients.
I have my eyes on the Seanik bar — this bar sounds perfect for volume-deprived hair like mine. Each bar contains softening Irish moss seaweed and Japanese nori seaweed, and sea salt for body and volume. Lush has also added lemon oil for shine, and floral oils to perfume one's hair.
What do you think of this list? Do you have any eco-friendly gifts ideas you'd like to add? Please mention them in your comment!