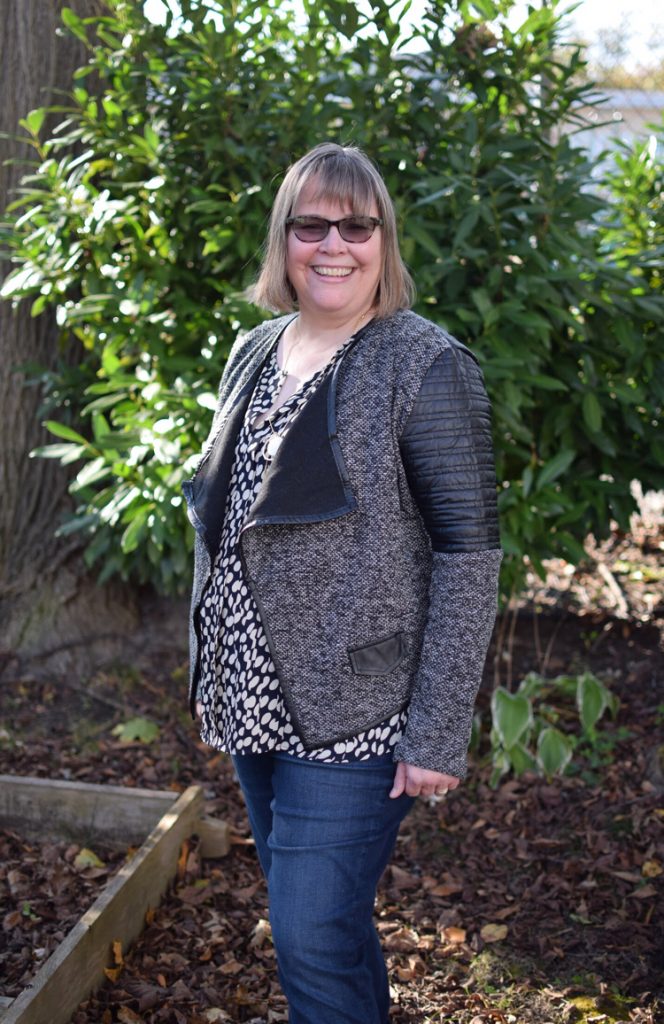 I am a big of FabFit Fun. I already subscribe to the FabFitFun subscription box every season. So when the folks at FabFitFun announced their new Style Box, I decided I had to give it a try! A plus is that I received an email offer that waived the first styling fee for me! (There is normally a $20 styling fee – that fee is applied toward the items you buy if you make a purchase.)
To start out, I filled out my FabFitFun Style Profile. I answered questions on my body shape, my height and weight and the size clothing I wear. I then selected the clothing and accessory mood boards that most closely match my style.
I also left a note for my stylist when I ordered my first Style Box. This is what I wrote: "Hi! Looking forward to my style box! I could use high waisted comfy but stylish pants, cute fall cardigans and sweaters/sweatshirts, and would love a big purse with a zip top enclosure. I tend to wear black, blue and green the most but am open to fall oranges and other colors, too. I'm not a fan of pastels, pinks and purples."
My Style Box arrived only about a week after I scheduled my Style Box. I love finding FabFitFun boxes on my doorstep!
I shared in my profile that I only wanted to spend about $150 on my box. The total of the items in the box that arrived came to $274. With the Style Box, you get a discount if you purchase all the items in your box.
If I opted to buy all 6 items, I'd get $68.50 off my box and pay just $205.50.
I was so excited to open my first FabFitFun Style Box and see what was inside!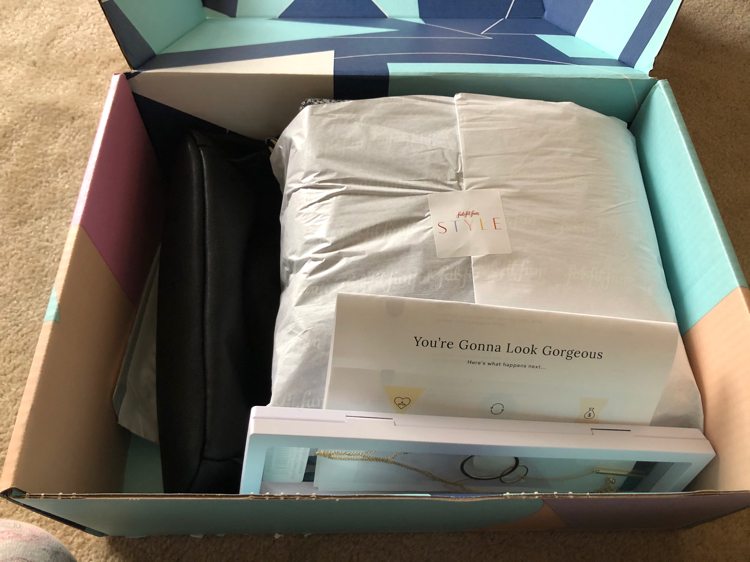 Review of My First FabFitFun Style Box
Michelle Drape Front Moto Jacket ($34) The very first thing that caught my attention in my FabFitFun Style Box was the moto jacket. I liked the contrast between the faux leather and the tweed-like gray fabric. The problem is that I recently bought an incredibly similar moto jacket at a local thrift store. (For only about $10).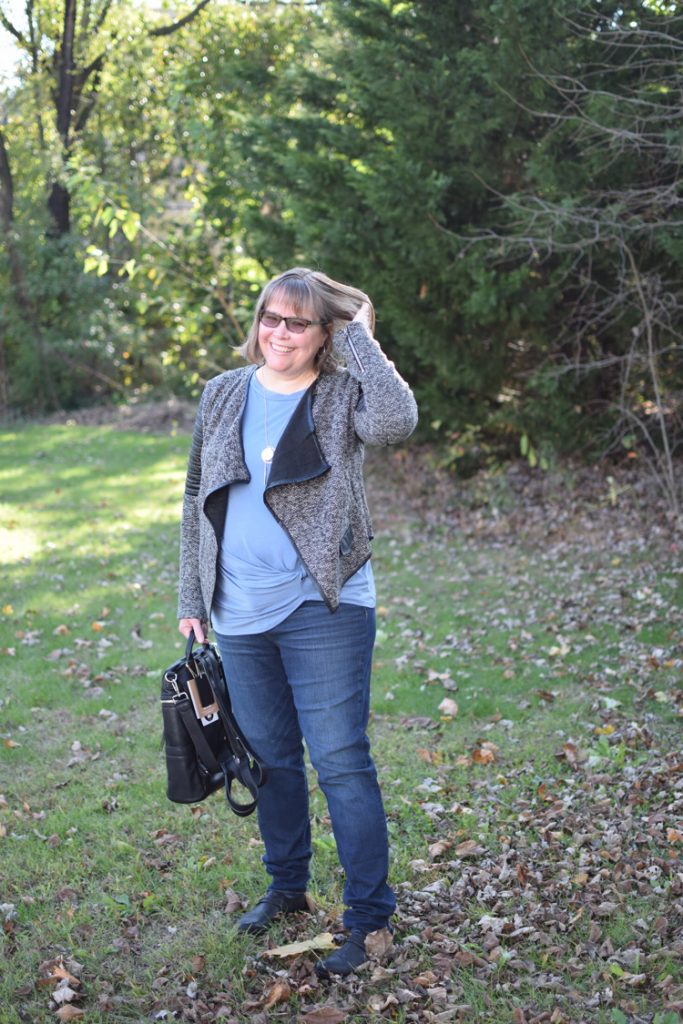 I really like the styling of the new moto jacket, so I was tempted to keep it. But since it's so similar to a piece I already own, I didn't. (Even though the FabFitFun jacket is a little cuter than the one I own.) Verdict: Returned.
Mattie Convertible Multi Zip Backpack ($58): The next item I was especially excited about was the Mattie Convertible Multi Zip Backpack in black. I had asked for a "big purse with a zip top enclosure," and this purse fits the bill! I like the classic, understated look of the bag and that it is big and roomy inside. The purse is also sturdy and well made. It has backpack straps on the back of the purse — the straps make the purse more versatile. Verdict: Kept.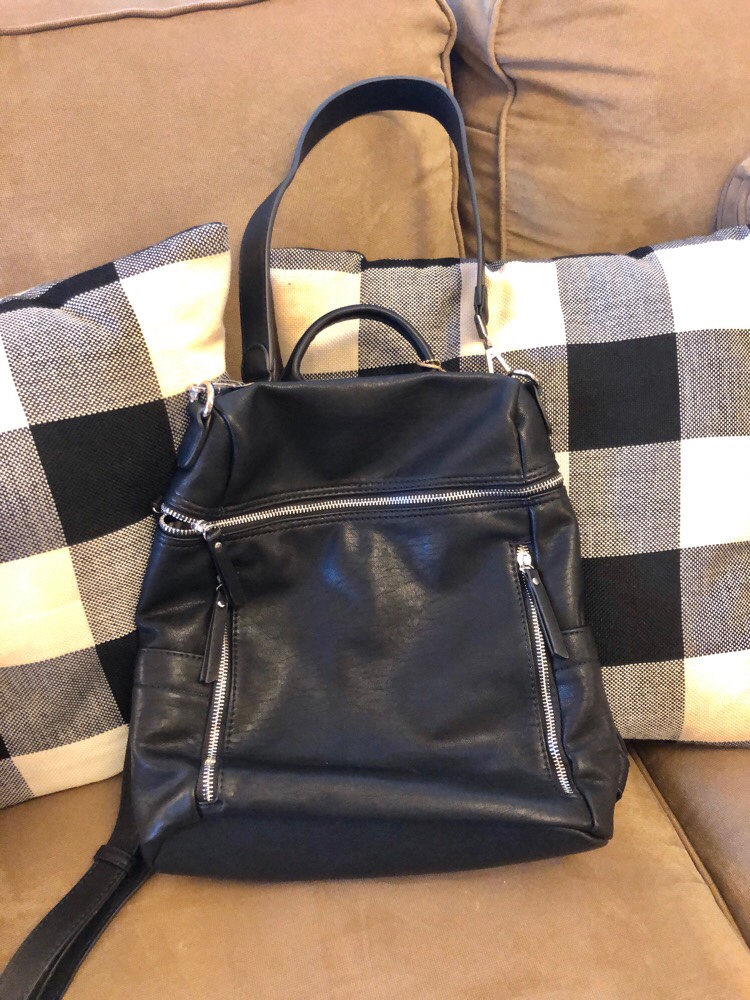 Mia High Waist Skinny ($89): I wasn't expecting to love the Mia High Waist Skinny jeans that I received. The past two years have been a struggle with my weight, with my middle being the biggest problem. As a result, it's been hard to find jeans that fit me well. I've actually haven't worn a pair of jeans in about two years! But the Mia High Waist Skinny jeans fit me well — I was surprised! Not only do the jeans fit well, but they are quite comfortable, too. The price on these jeans are much higher than I normally spend, though. (I often spend less than $35 on jeans.) But since I haven't found any jeans I like on me in many months, I had to hold onto them. Verdict: Kept.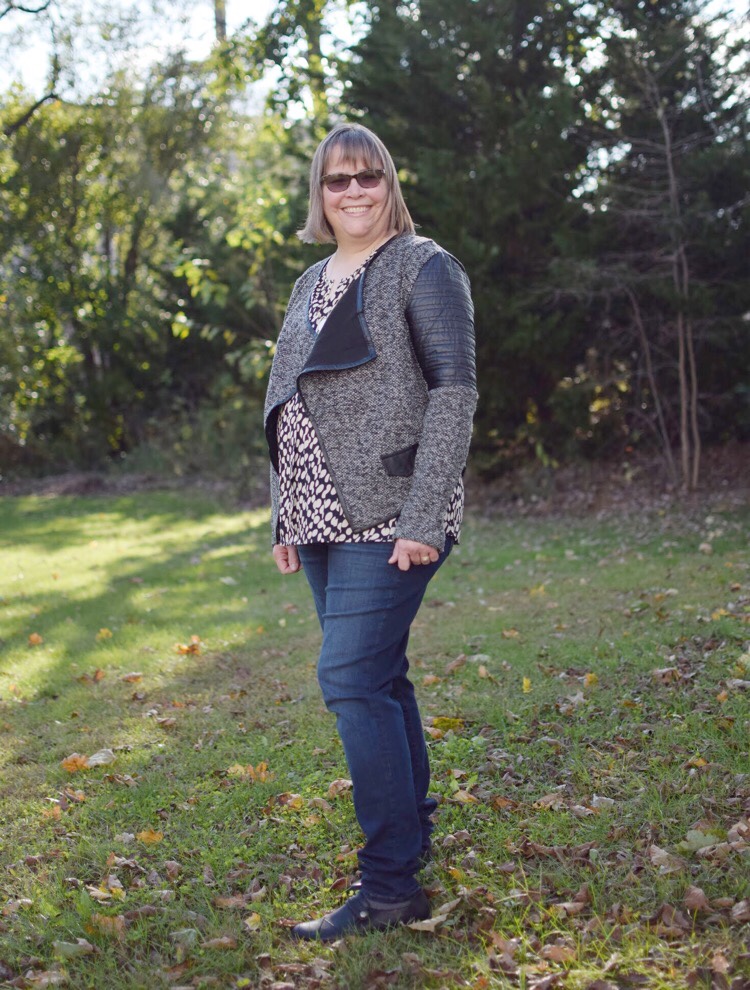 Misha Dotted Sleeveless Top ($19): I received two tops in my FabFitFun Box. The first was the Misha Dotted Sleeveless Top. I was surprised to receive a sleeveless top in my box. I was hoping for more fall-like items, like a sweater or a long-sleeve shirt. I was also hoping for some fall colors. The top did look nice underneath the moto jacket. But since I decided to return the jacket and wasn't looking for a sleeveless top, I decided to send it back. Verdict: Returned.
Side Knotted Short Sleeve Top ($46): The other top I received was the Side Knitted Short Sleeve Top. The top is baby blue — a pastel color, which I specifically mentioned in my note to my stylist that I don't like. The top is quite large and is cinched with a knot at the bottom. I didn't feel like the top flattered me particularly well, so I decided it wasn't a keeper. Verdict: Returned.
Lily 14K Gold Plated Round Pendant Drop Necklace ($28): I was hoping to receive an accessory item like the Lily 14K Gold Plated Round Pendant Drop Necklace in my box. The long statement necklace is gold, which I like. I didn't love this necklace, though. I tend to wear more understated jewelry, and the chain on this necklace tends to twist where it meets the pendant. Verdict: Returned.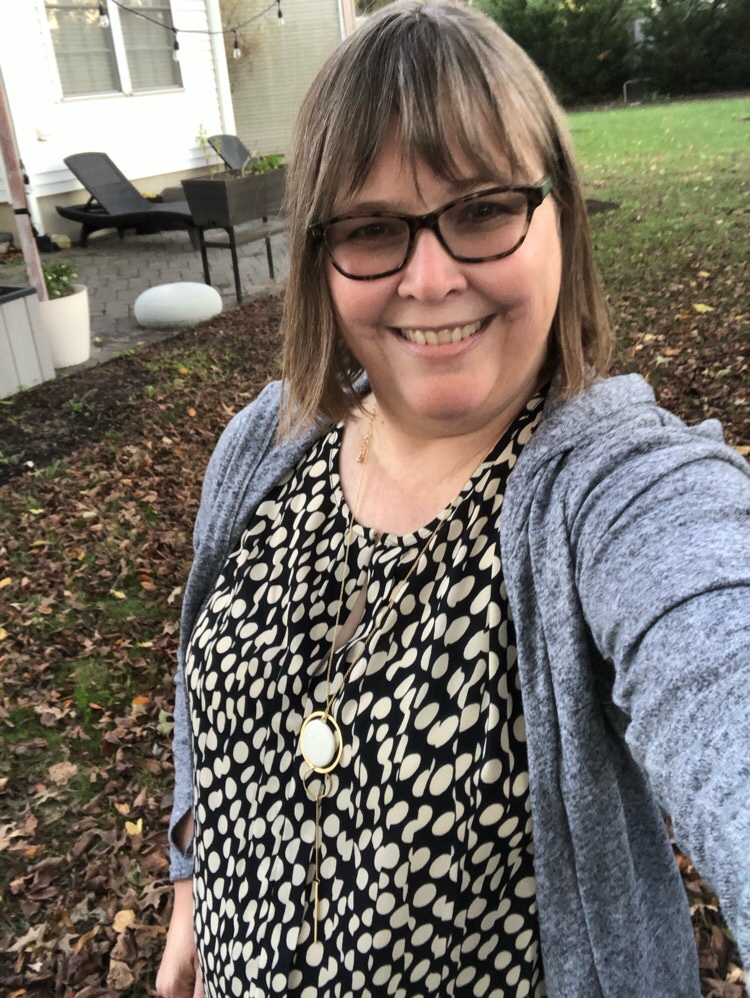 Returning the FabFitFun Style Box items was easy and free. All I did was slip the items I didn't want into a Fedex envelope/bag that was included in my Style Box. I had originally had three days to try on my items and return the clothing and accessories I didn't want. I had a huge cold and felt like I needed more time. So I emailed my stylist, and she gave me an extension of 4 days to review my box. It worked out perfectly.
Verdict on My FabFitFun Style Box
I really liked my first FabFitFun Style box. I am not a big shopper — when I shop, it tends to only be in local stores in a 1-mile radius from my house. It's often hard to find the things I want.
The jeans and purse that I received in my Style Box are perfect for me — even if they cost more ($150.84 total, including NJ sales tax) than what I normally spend. I think the jeans and purse will both become staples in my wardrobe. I will rein in my budget the next few months because of my purchases, but I am happy that I scheduled my first FabFitFun Style Box.