This shop has been compensated by Collective Bias, Inc. and its advertiser. All opinions are mine alone. #TasteIt2BelieveIt #MorningStarFarms #Collectivebias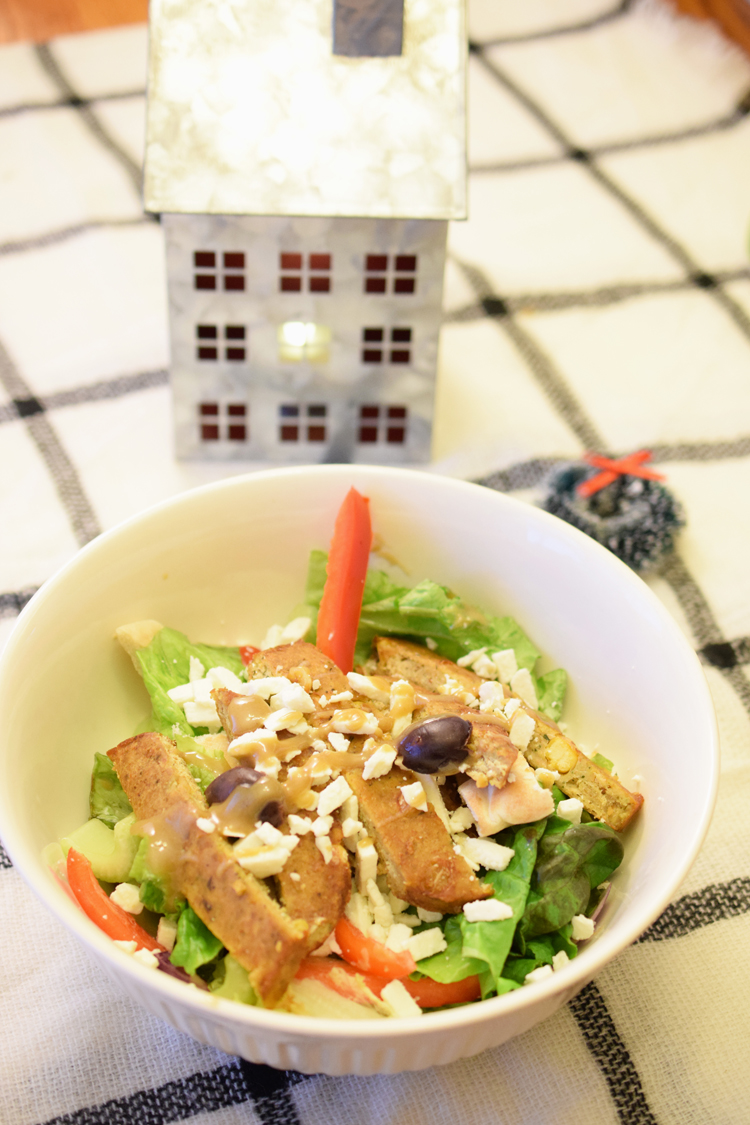 I adore falafel. This tasty vegetarian food is made with chickpeas/garbanzo beans and a mixture of spices. My family has been trying to eat more vegetarian meals, so I came up with a quick and easy falafel green salad with tahini sauce recipe I could make on meatless Mondays or any day of the week.
I came up with my salad recipe when I discovered MorningStar Farms® Falafel Burgers made with garbanzo beans, rice, cilantro, parsley and onions. I'm already a fan of Morningstar Farms' vegetarian burgers, so I am thrilled about the Morningstar Farms Falafel Burgers.
The delicious Morningstar Farms Falafel Burgers are vegan, have no artificial colors or flavors and have 100% plant-based protein from beans and rice. The new bigger burgers are a quarter pound, so each burger is a meal in itself.
Vegetarian Falafel Salad with Tahini Dressing
My vegetarian falafel salad combines falafel with toasted pita bread and a tasty homemade tahini sauce. (Pita bread and tahini sauce are often served with falafel.) Tahini is a thick sauce made from sesame seeds. I've also included kalamata olives, red peppers, celery and red onions in my salad. You can serve this salad with or without feta cheese.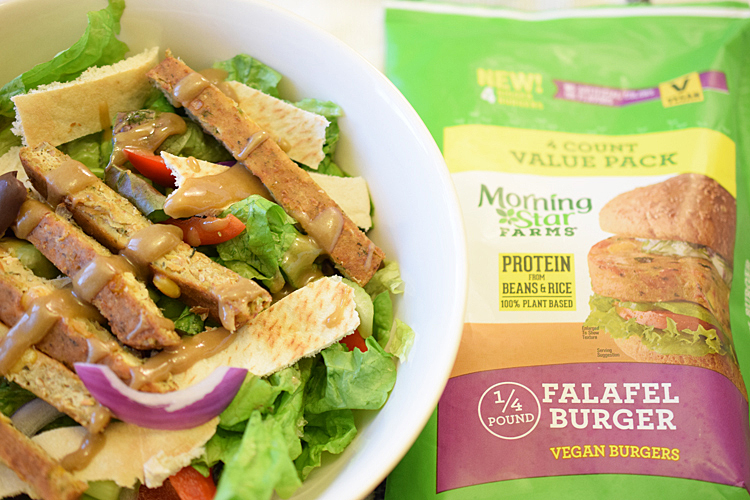 Tahini Dressing Ingredients (serves 4)
1/2 cup olive oil
1/2 cup tahini (You can buy tahini or make your own.)
4 teaspoons fresh lemon juice
4 teaspoons honey mustard
4 teaspoons maple syrup (you can substitute with honey)
1/2 teaspoon sea salt
Freshly ground black pepper, to taste
Salad Ingredients (serves 4)
1 medium bunch red leaf lettuce
4 Morningstar Farms Falafel Burgers, heated and sliced into thin strips
1 red bell pepper, sliced
1 cup crumbled feta cheese
I half red onion, sliced
1 cup pitted and sliced Kalamata olives
3/4 cup sliced celery
Pita bread, sliced into strips
Tahini Dressing Instructions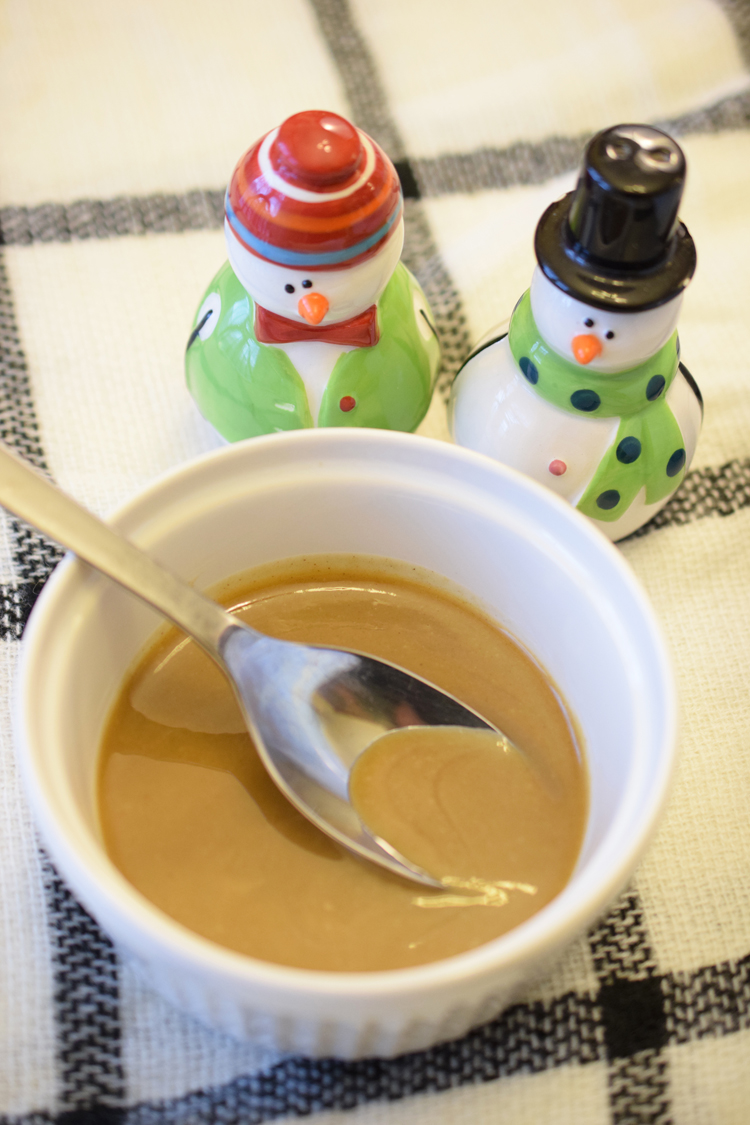 In a medium mixing bowl, combine olive oil with tahini. Stir to combine. Stir in lemon juice, mustard, salt and maple syrup. Add black pepper to taste. Set aside.
Green Salad Instructions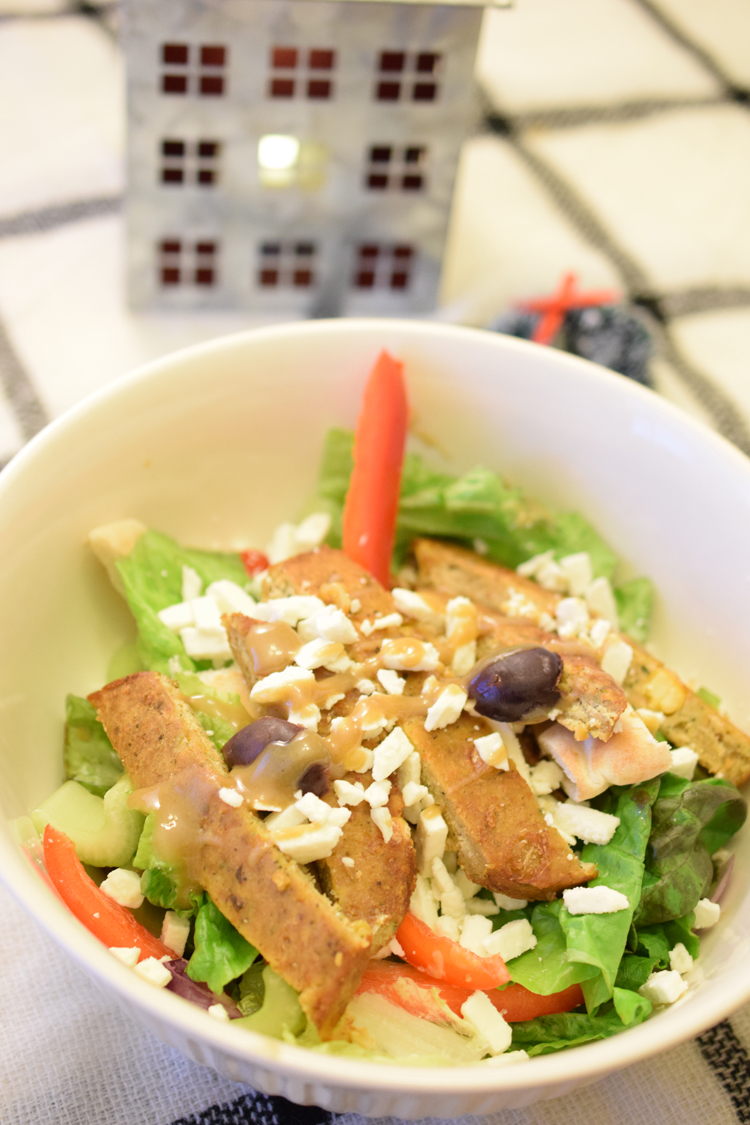 Rinse lettuce and let dry completely (in a salad spinner or colander.) Slice the red pepper, onion and celery. Heat the Morningstar Falafel Burgers in the microwave (according to package instructions) and slice the falafel burgers into thin strips. Heat the pita bread (I used a toaster oven) and cut into strips.
Arrange the salad greens on four plates. Dress each plate of salad with the peppers, celery, olives, celery, onion and the crumbled feta cheese. Lie strips of Morningstar Falafel Burgers across each plate of greens. Drizzle the salad and the falafel burgers with the homemade tahini dressing. Add some warm pita bread to each plate. Enjoy!
Easy and Quick Grocery Pickup
I got the items I needed for my salad with the Walmart Online Grocery Pickup service. I simply used the Walmart Grocery Shopping app on my phone.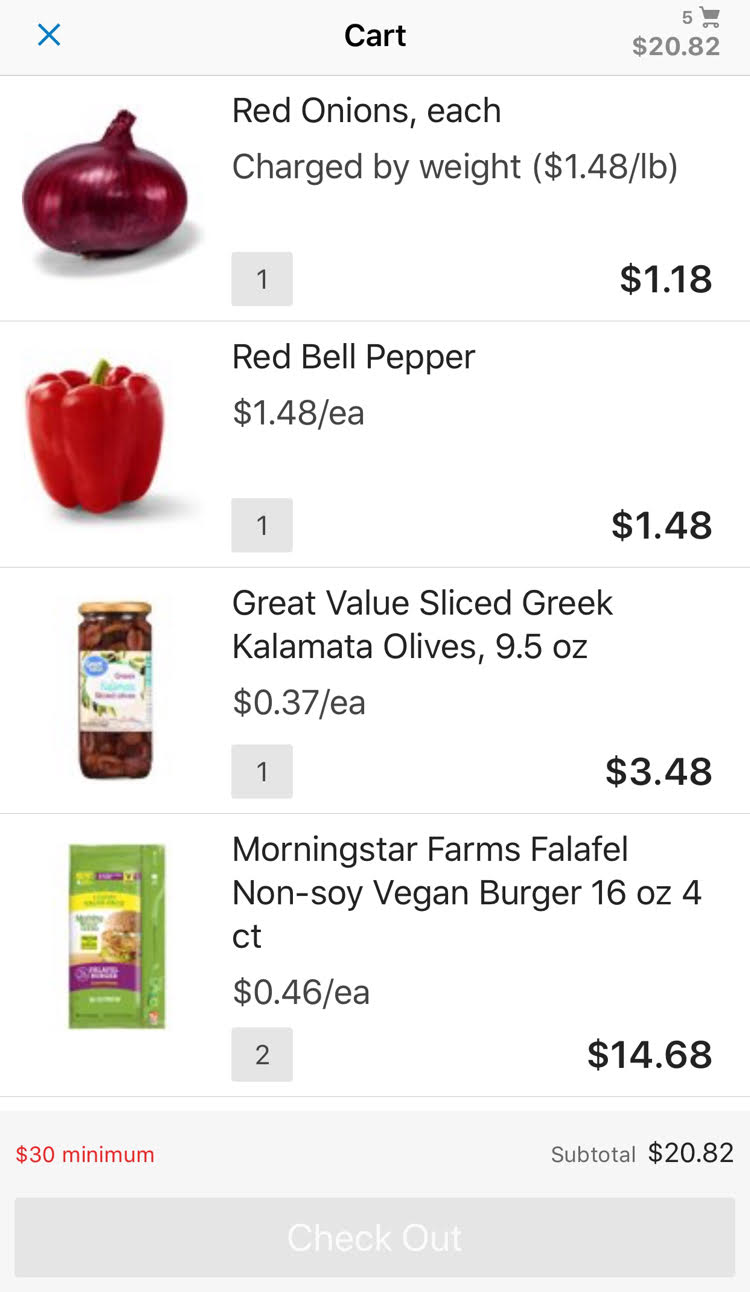 I put what I needed in my online cart, set a day and time for pickup at Walmart and placed my order!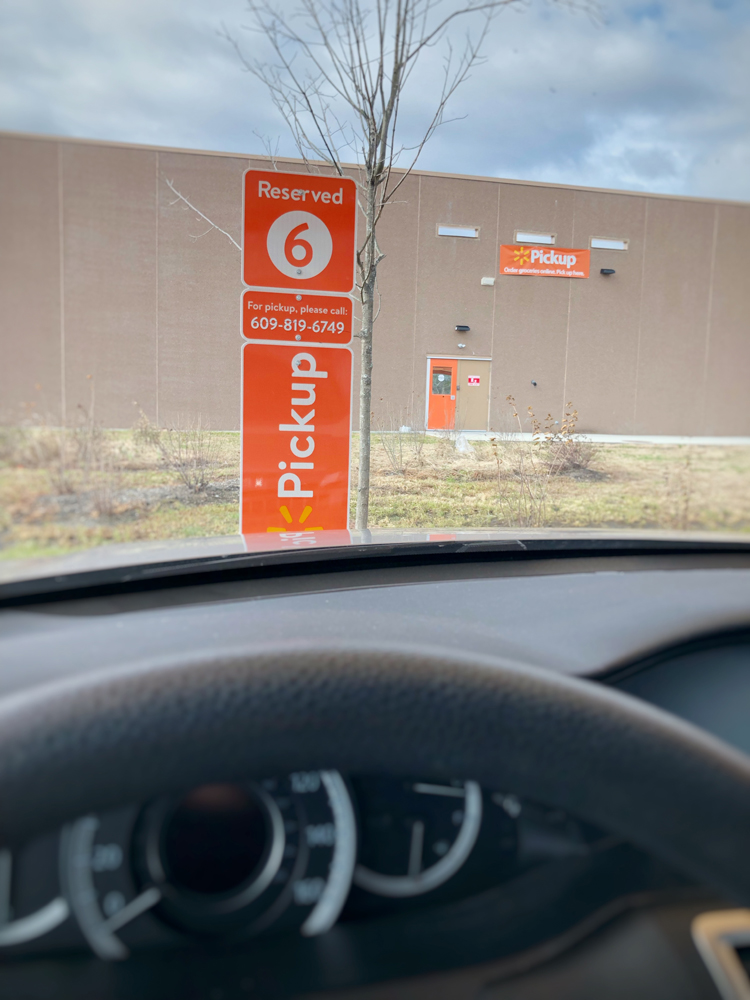 Walmart sent me a text when my order was ready. To pick up, I just drove to the pickup area at my local Walmart. So easy!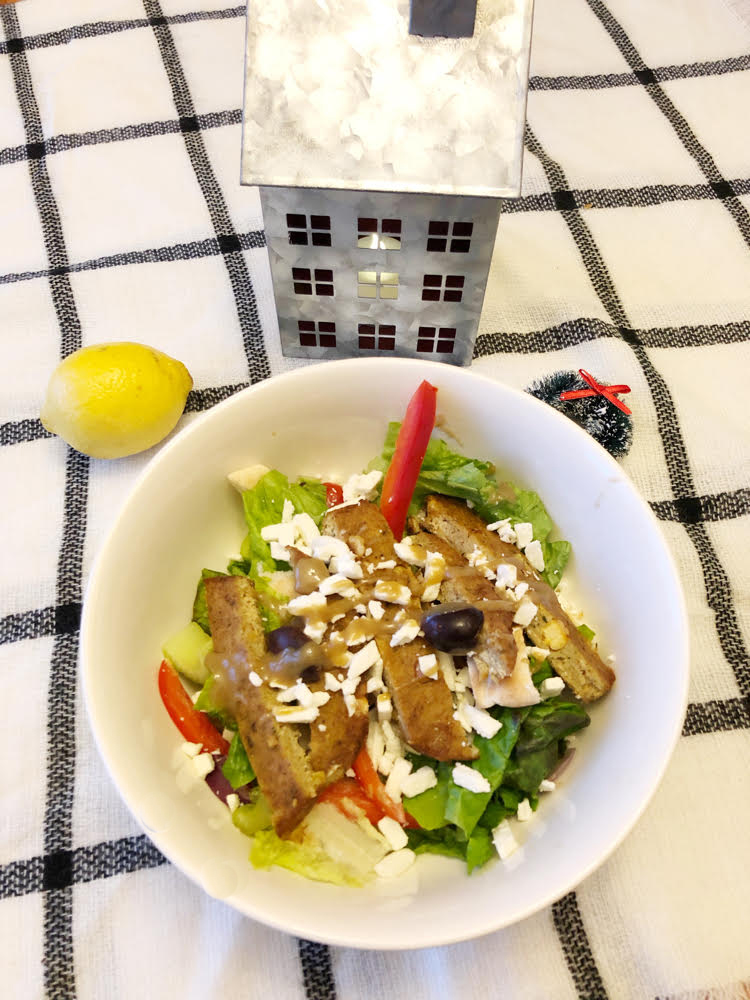 I made this delicious vegetarian falafel salad with tahini dressing for my daughters last week, and they loved it! It's going to be on the dinner menu again this week. This salad is an easy way to add a vegetarian option to your weekly meal plan without sacrificing flavor!