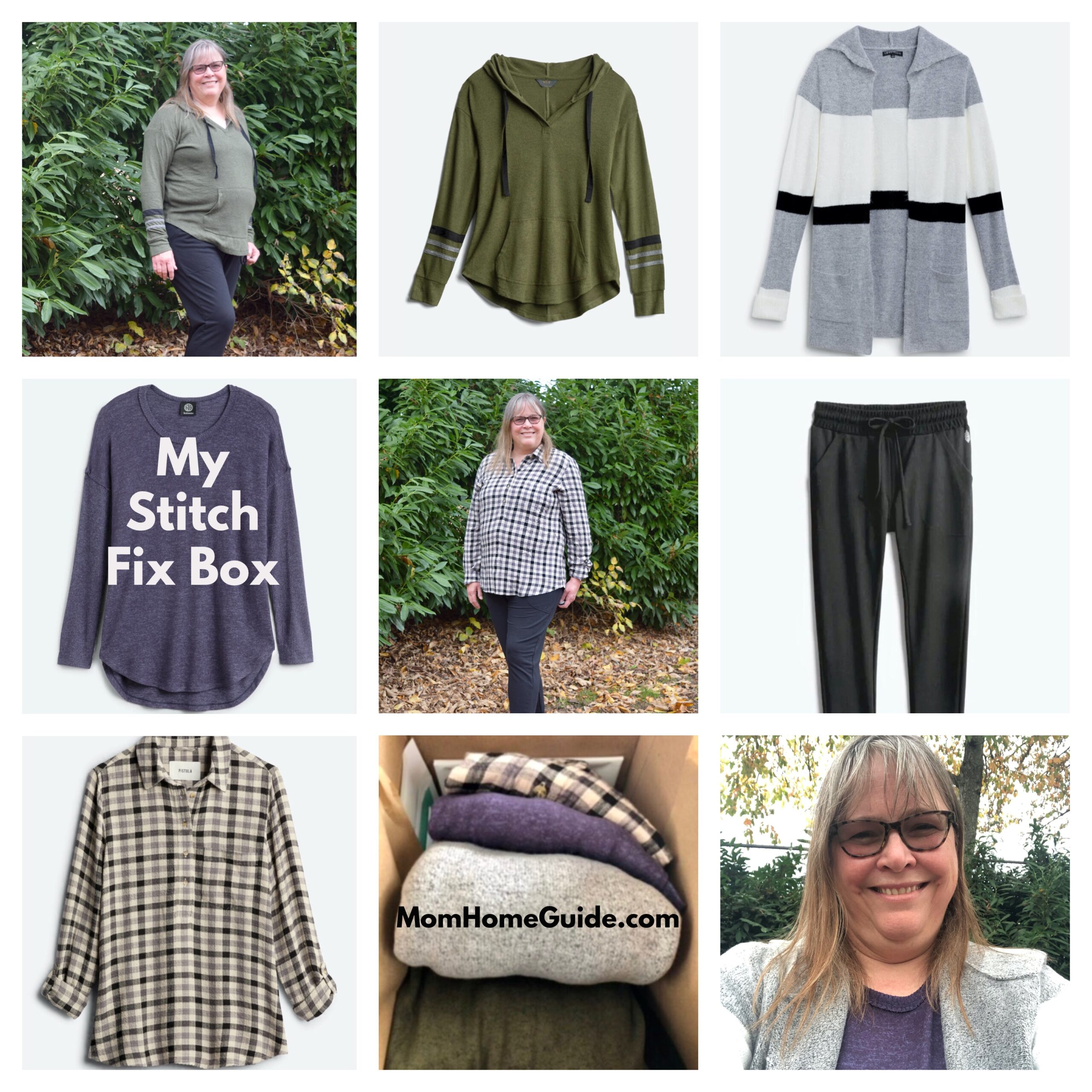 Happy November, everyone! I can't believe how quickly the months are flying by! It's been just over a year that I've been in my new job as a remote content writer for a Philadelphia-area media company, and I felt that I could use some new work-from-home clothes. I also broke my ankle a few months ago, and sadly, while I recuperated, I put on some pounds. I am still working on getting my ankle back to 100%. I need to work on getting back into shape, but until then, I also need some new duds!
So, I definitely need some new clothing. I wanted the clothing to be comfortable, look good on Zoom calls, and work well for my lunchtime walks with my Shih Tzu. So I reached out to Stitch Fix and ordered a fix!
Stitch Fix is a personal styling service for women, men and children where you can have fashions picked out for you sent straight to your door. I have received a few Stitch Fix boxes in the past.
If you would like to get your own Fix, use my link to get $25 off yours!
How to Get Personally Styled by Stitch Fix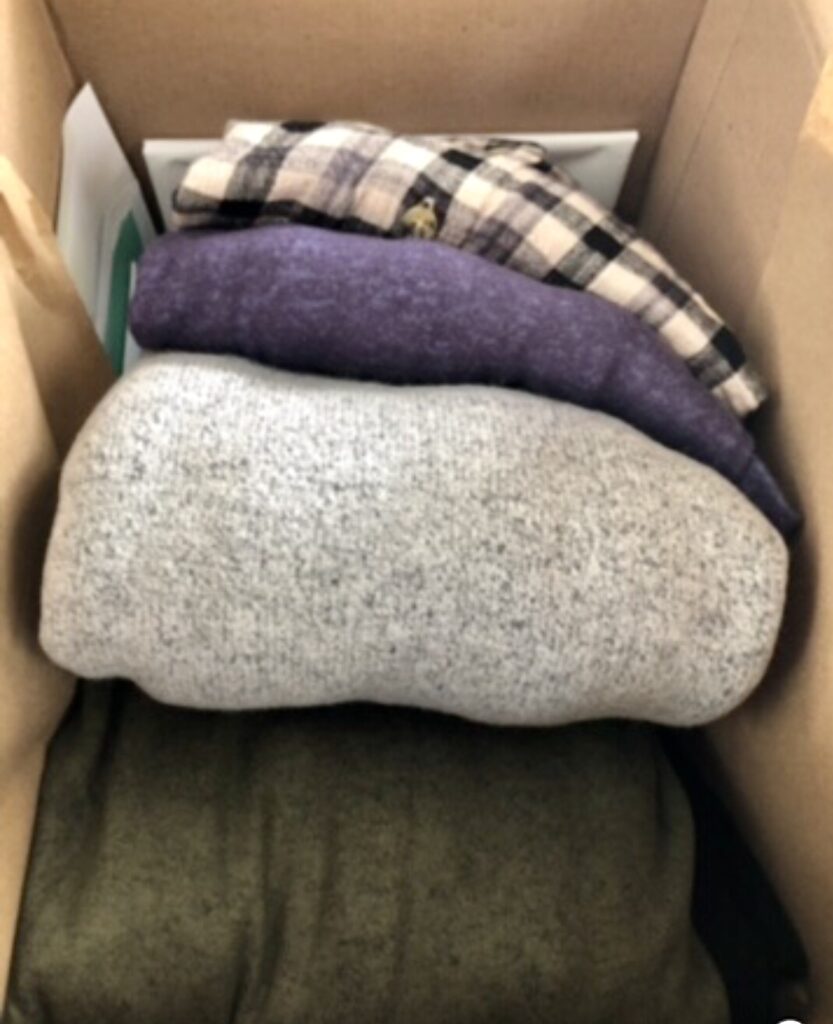 When you order a Stitch Fix, you should fill out your profile on the Stitch Fix website before your stylist starts hand-selecting fashions for you. You can note things like your style, your size, and other important factors that will help your stylist pick out clothing for you—you will receive 5 articles of clothing or accessories in your box.
Stitch Fix offers discounts according to how many items you keep. You get the biggest discount, 25% off, if you keep all 5 items. Once you order a fix, your stylist will email you, and you can share more details with them about what you would like to see in your Stitch Fix Box!
Using Stitch Fix's styling service is very helpful for me now that I have my full-time writing job. I love my job and devote a lot of effort to it, so I don't have much time to shop in person. So I really appreicate having items picked out and sent to me. Stitch Fix also sends a postage-page envelope in each Stitch Fix box, so you can easily return any items you don't want to keep.
This time I was able to preview what was being sent—that wasn't a feature when I first began ordering Stitch Fix boxes. After I saw my preview, I asked my stylist to not send two of the items that were selected for me since I didn't feel they suited me. So, my stylist selected two new items, which were then a surprise when I received my box. So, how did it go? Check out the below to see what I received and what I kept!
Sunny Drawstring Jogger Sweat Pant ($48)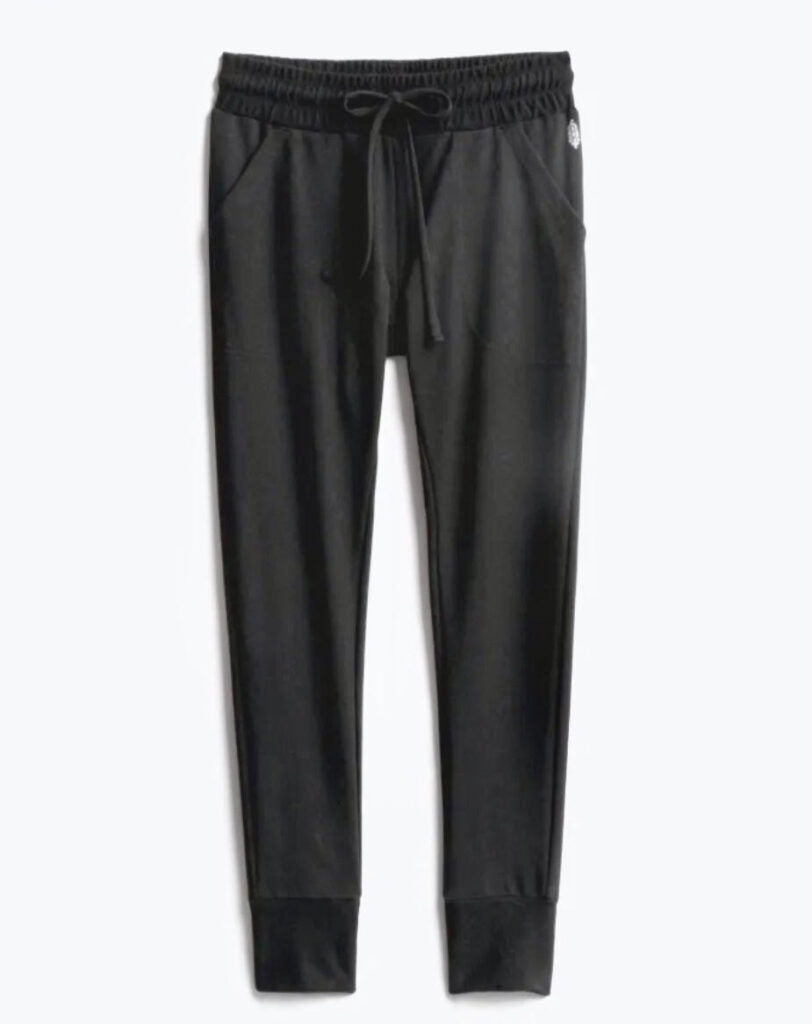 I live in black yoga pants or joggers. So these joggers work perfectly in my wardrobe and go well with the olive-green hoodie that Stitch Fix sent (see below). This comfy mid-rise pair of pants has two pockets (a plus for carrying my keys, etc., on my walks) and a drawstring, and are a good length for me.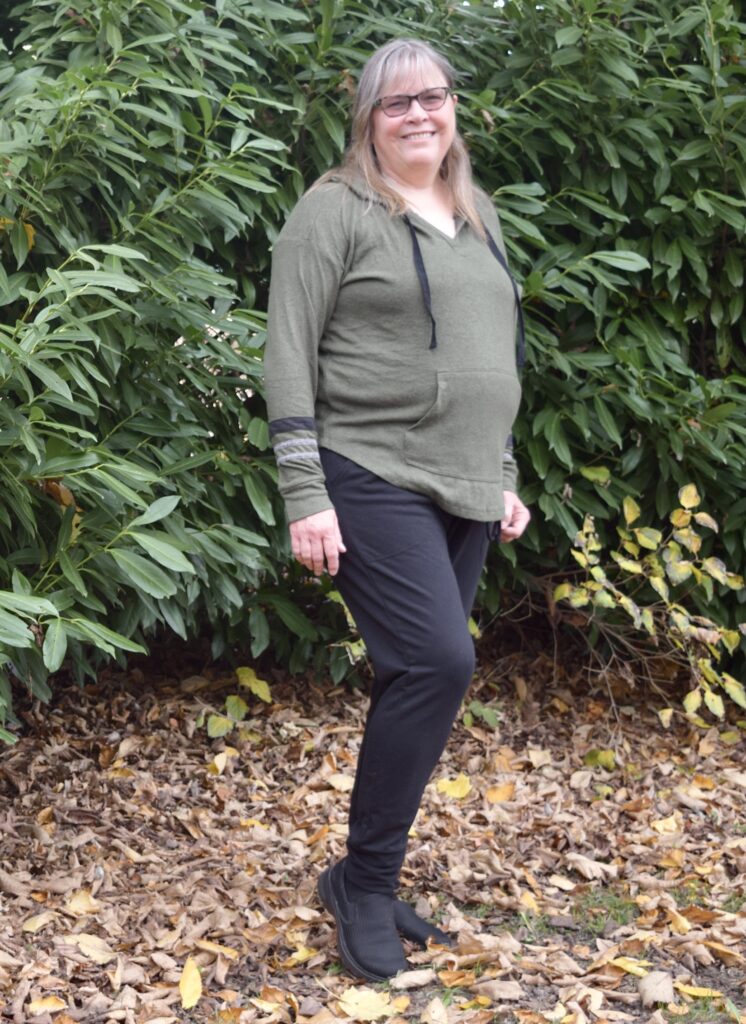 Decision: Kept
Kallon Brushed Knit Hoodie ($42)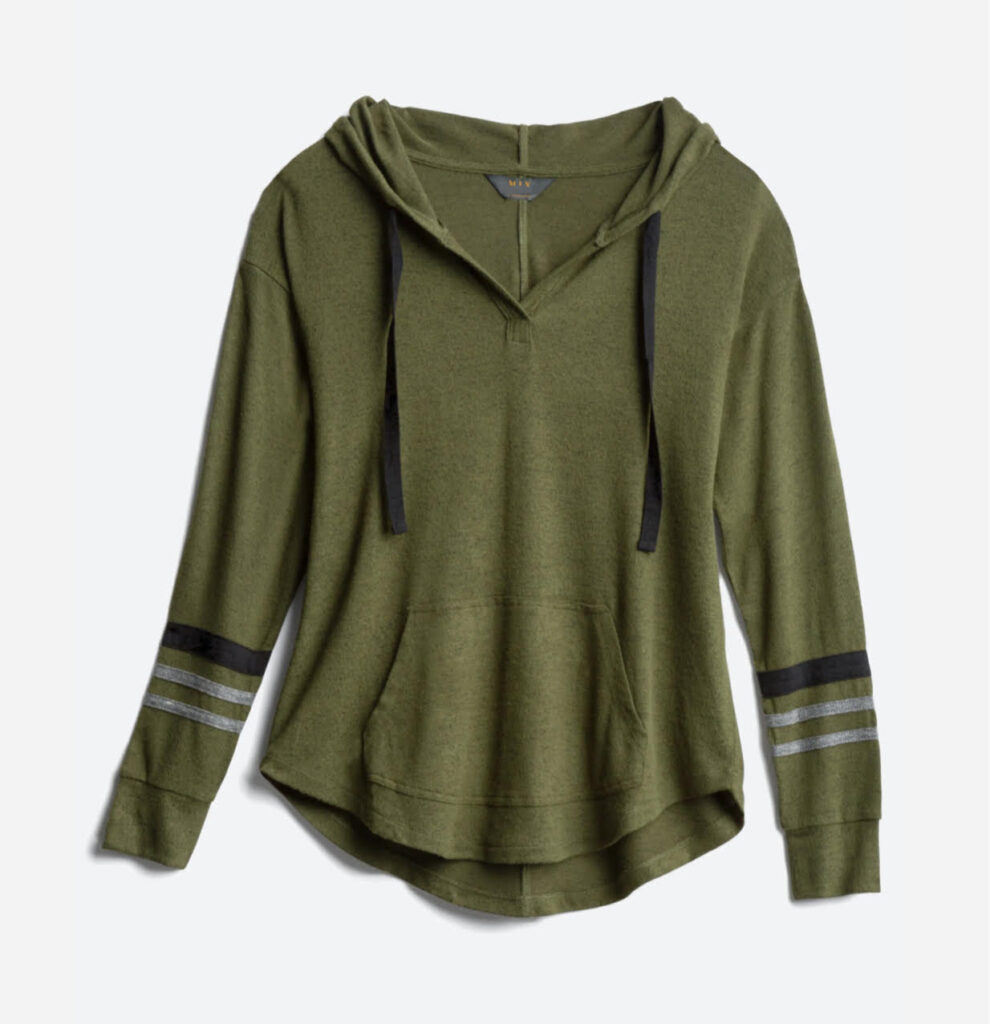 When I saw this in my Stitch Fix box, I didn't think I would keep it. But when I put it on, it had a good length—I like shirts that fall past my waist. It was comfortable and soft, so I kept it! I also happen to love olive green. The v-neck is a little deep for me, so I will wear a black t-shirt under this.
Decision: Kept
Kassidy Double Pocket Cardigan ($48)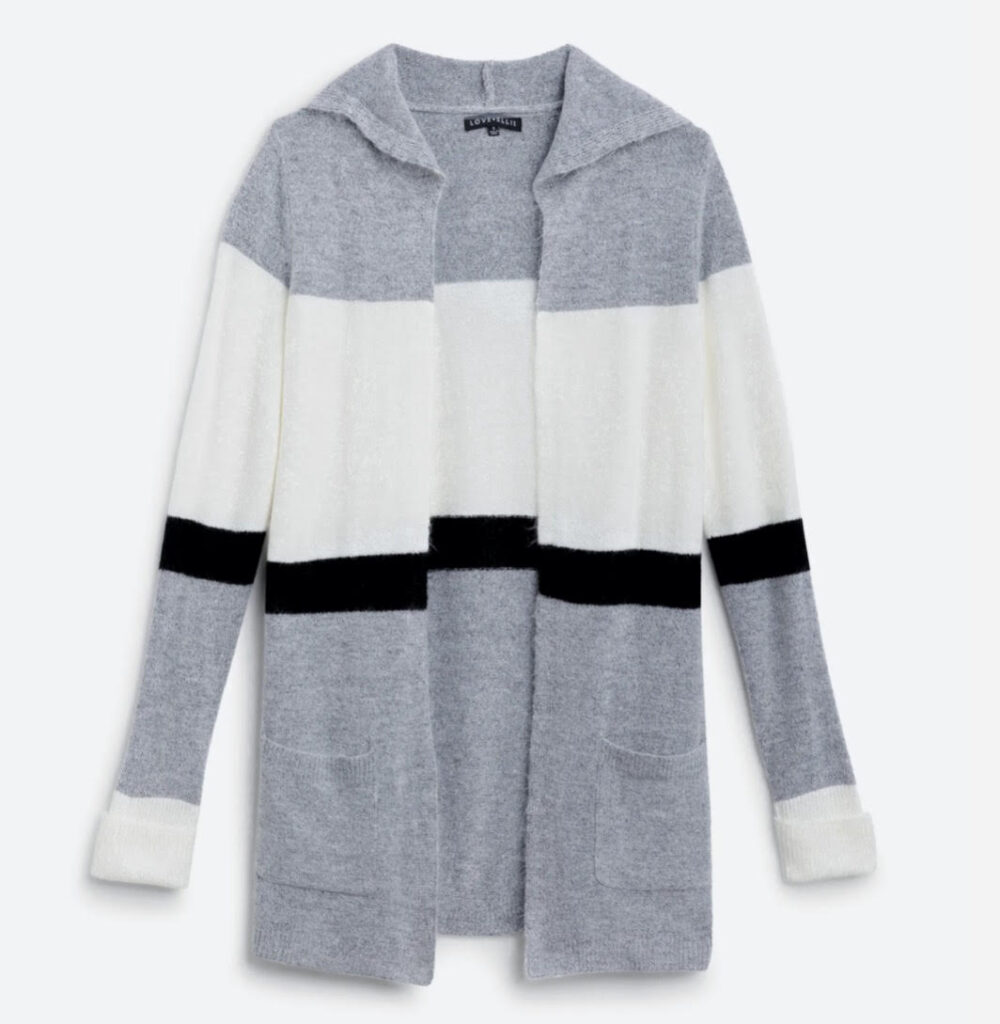 I asked for a cardigan in my Stitch Fix box and was sent a color-block sweater in grey, black and white. I think this cardigan will much of my wardrobe In the photo below, I paired with the long-sleeved shirt and joggers that I received in my Stitch Fix box.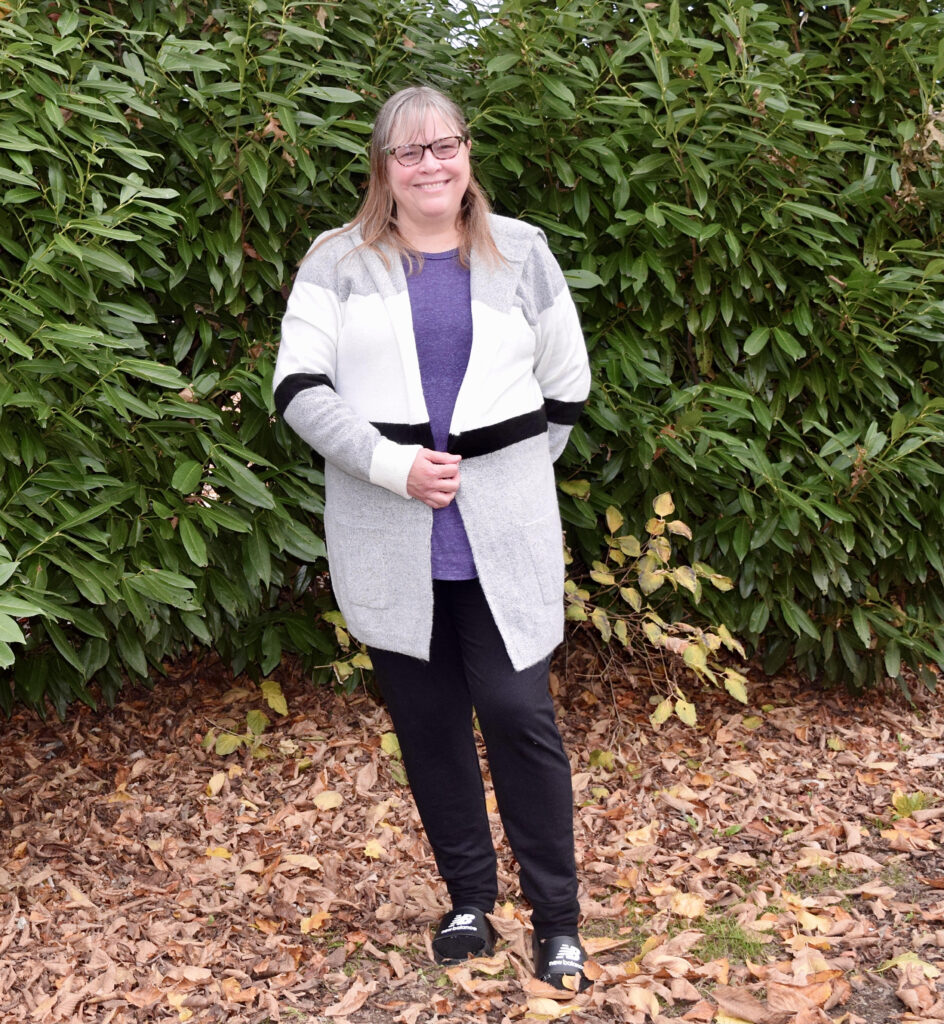 This cardigan is ultra-soft, has big pockets, a longer length to it, and some stretch. It will be good to wear during Zoom calls or while I'm working at my desk and want some extra warmth.
Decision: Kept
Maci Relaxed Half Button Down Shirt ($78)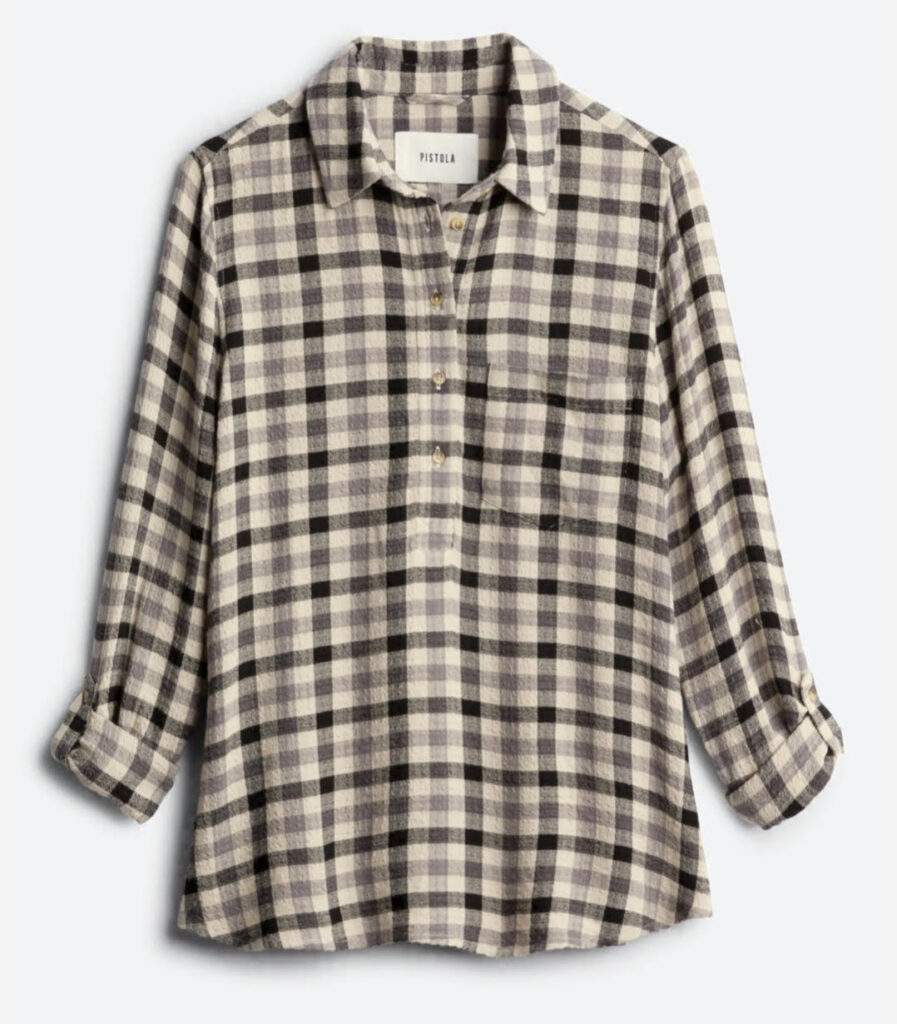 I wanted a new flannel-style shirt, so I was happy to receive this half-button down, tan and black gingham plaid shirt. I didn't love that the shirt fully buttons down in the back—I would prefer it to button down in the front, and in the back.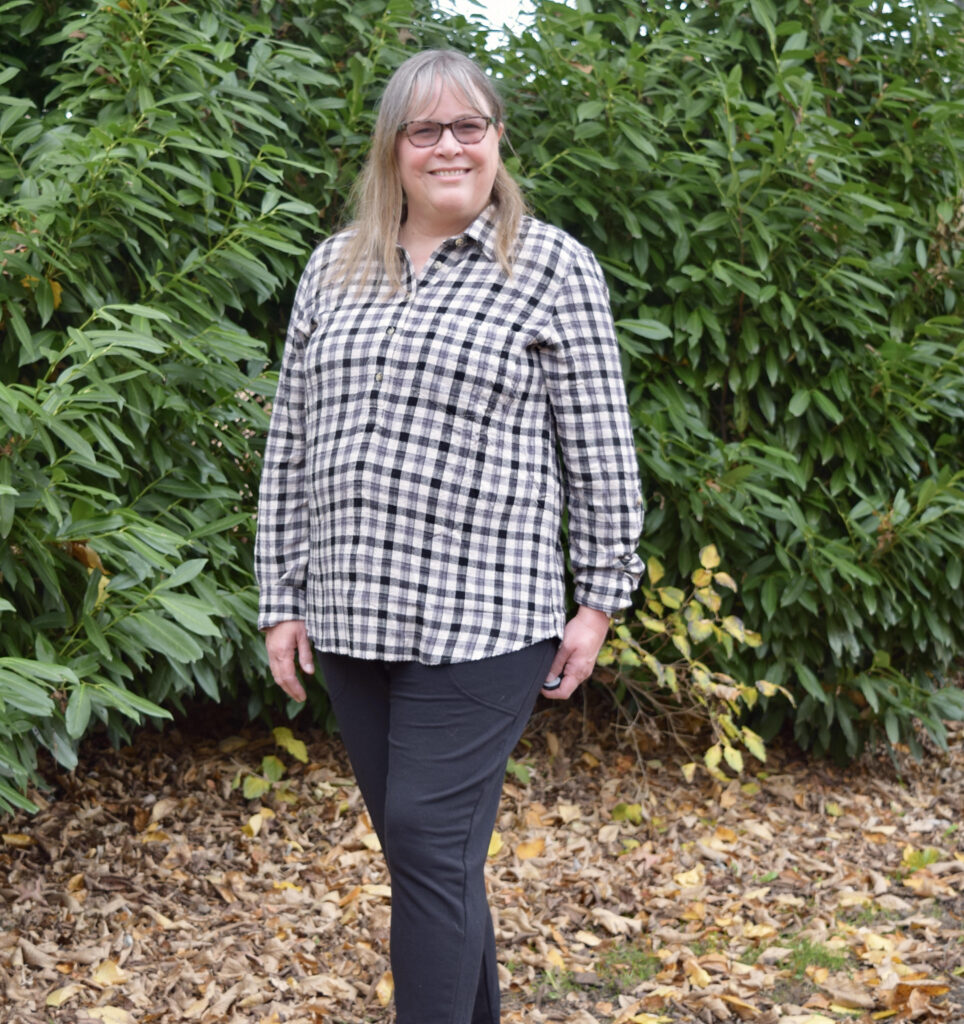 But the shirt has a nice length, is soft, and I can button up the sleeves if I like. I also like the way this shirt looks, so I am keeping it.
Decision: Kept
Bartie Hacci Ribbed Sleeve Knit Top ($54)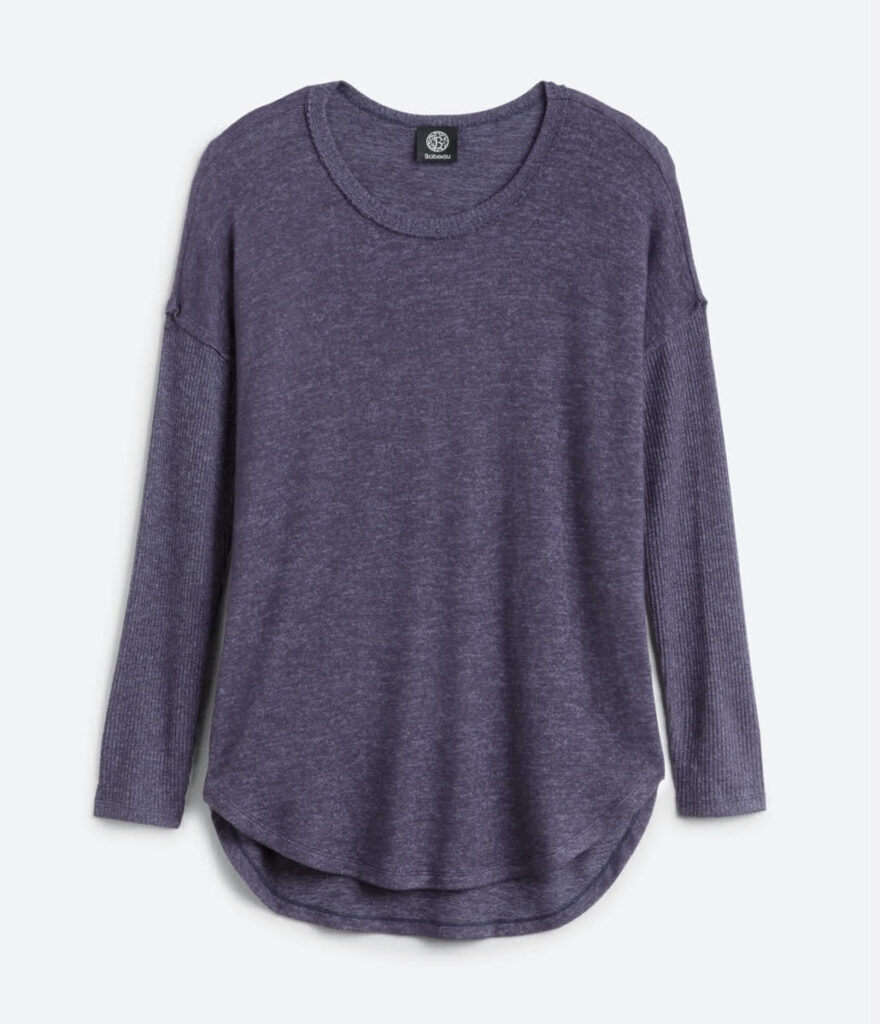 When I saw this heathered top in my Stitch Fix preview, I didn't think I would keep it because I felt that it looked like just an average T-shirt. But, when I tried it on, I liked the way it looked, it is a lot thicker than I thought it would be, and it is extra soft. (As you can probably tell right now, comfort is a priority for me for my work-from-home clothes.) Stitch Fix calls the color of this shirt deep purple, but it looks more blue to me.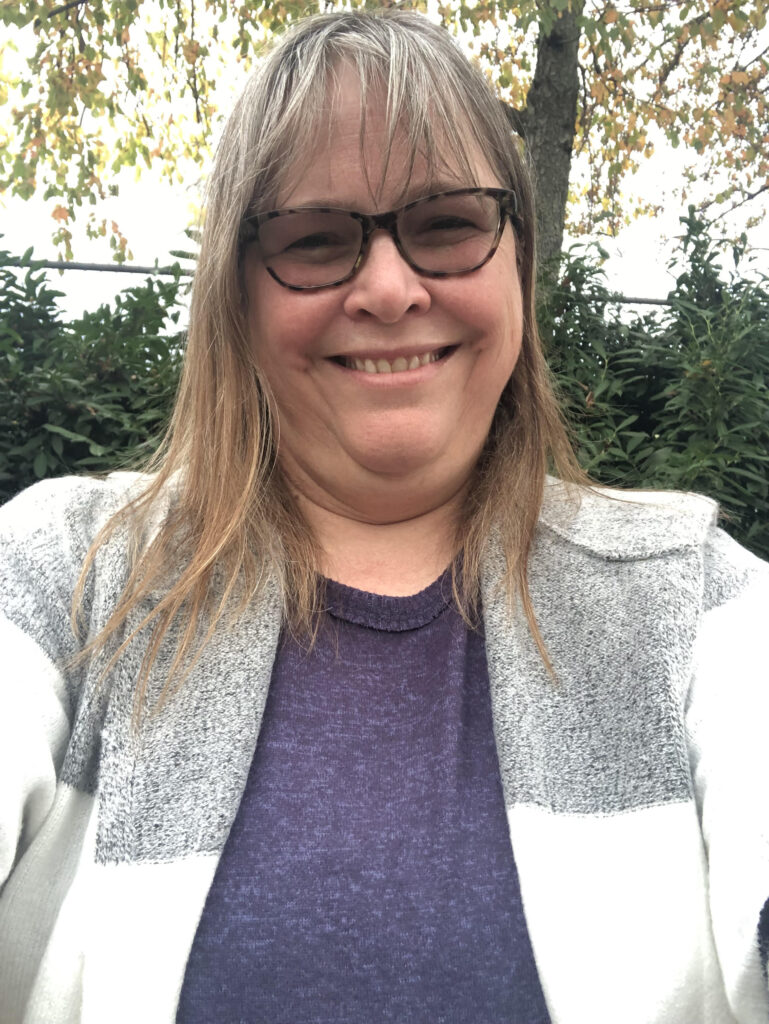 This top has interesting detailing on the sleeves. I partly opted to keep it because I would get the 25% off discount off my Stitch Fix box if I did. Plus, I don't really have any long-sleeved shirts like this in my wardrobe.
I wound up keeping all the items in my box for about $200 total. I didn't expect to—I haven't kept all the items in a Stitch Fix box in a while. But all the items fit well, and because of my recent circumstances (my ankle break), I'm in need of new clothes. It was a successful fix!
Remember, If you would like to get your own Fix, use my link to get $25 off your Fix!
Other Posts You May Like