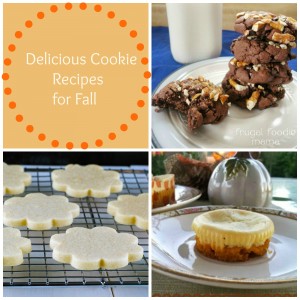 This has been such a fun week so far, since I am co-hosting the Moonlight & Mason Jars Linky Party! I love all the great projects and ideas that have been shared. Some of my favorites are all the great fall cookie recipes that have been linked up!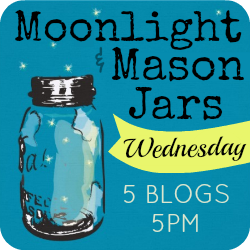 Now that the school year has started, I've been looking for delicious cookie recipes that I can use so I can pack yummy treats for my kids in their school lunches! The cookie recipes that were shared in the Moonlight & Mason Jars Linky Party will be perfect for the job.
I know my kids will love the Take4 Chocolate Pudding cookies from Frugal Foodie Mama. The cookies combine pudding, chocolate and pretzels — what's not to love? These cookies look like a perfect combination for a sweet and salty treat!
Semisweetdesigns.com has a great sugar cookie recipe — sugar cookies are always a fun lunchbox treat, since they can be made in different shapes with pretty frostings! For my girls, I'd have to make some cookies with pink frosting and the others with blue frosting — that's just how my kids roll!
The pumpkin mini cheesecakes from Orchard Girls would be a really special lunchbox surprise for just about any kid. What's really great about them is that the treats are made with Pillsbury premade cookie dough. Easy peasy!
Now, I just have to start some baking! My kids will love opening up their lunchboxes the next few days! Have any great cookie recipes you'd love to share? Please share them in the comments.