Disclosure: I received compensation from Bayer Consumer Health, makers of MiraLAX® to write this post. MiraLAX® is a laxative used to treat occasional constipation. All opinions are entirely my own. #EaseTheDay #CollectiveBias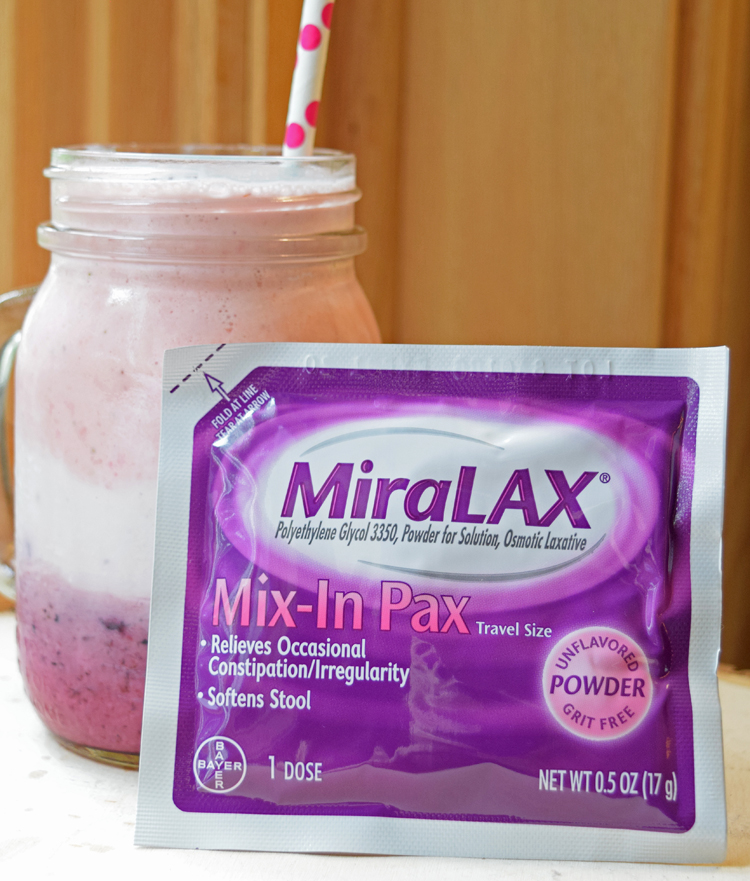 Summer is my favorite time of year. The warm weather gives me lot of time to spend outside in the sunshine! I also get extra treasured time with my family. But summer can wreak havoc on our schedule/routine. It affects what and when we eat. We grab food on the run and have more ice cream and "fun" food — like tacos and burgers on the boardwalk.
My family's loose summer schedules can negatively affect my system. Things can get sluggish when I don't drink enough water or eat enough fruits and vegetables. I think my body craves routine. Occasional constipation can really put damper on summer fun!<
Rainbow Smoothie Recipe
One way I like to keep my "system" running smoothly during the summer months is by making fresh fruit smoothies. I make sure to add ice in my smoothies for essential hydration, and lots of fresh fruit.
Tip:
I can also mix in MiraLAX® when I need it. MiraLAX® works with my body's natural processes to relieve occasional constipation. I like that MiraLAX® doesn't cause harsh side effects and doesn't bother my tummy. MiraLAX® doesn't give me gas or cramps or cause a bloated feeling. (Use as directed.)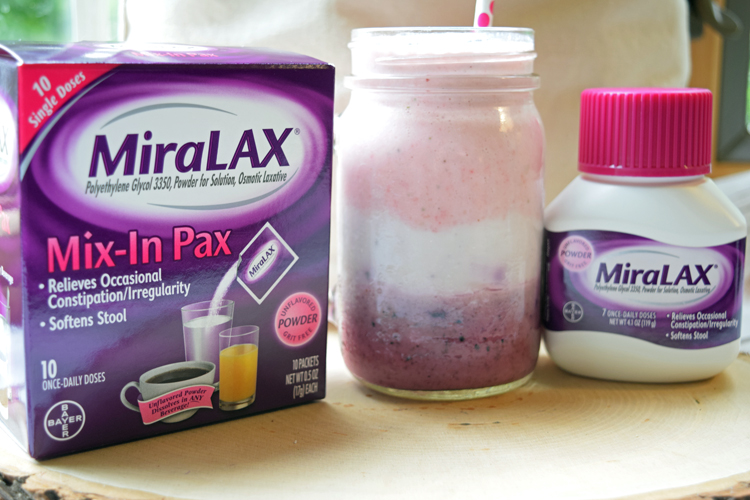 On the other hand, stimulant laxative pills forcefully stimulate the nerves in your colon. MiraLAX® works with your body to hydrate, soften and ease to unblock your system naturally.
Tip: When I have occasional constipation I can add my favorite form of MiraLAX® to my smoothie — either a single dose from the bottle or a packet from the MiraLAX® Mix-InPax.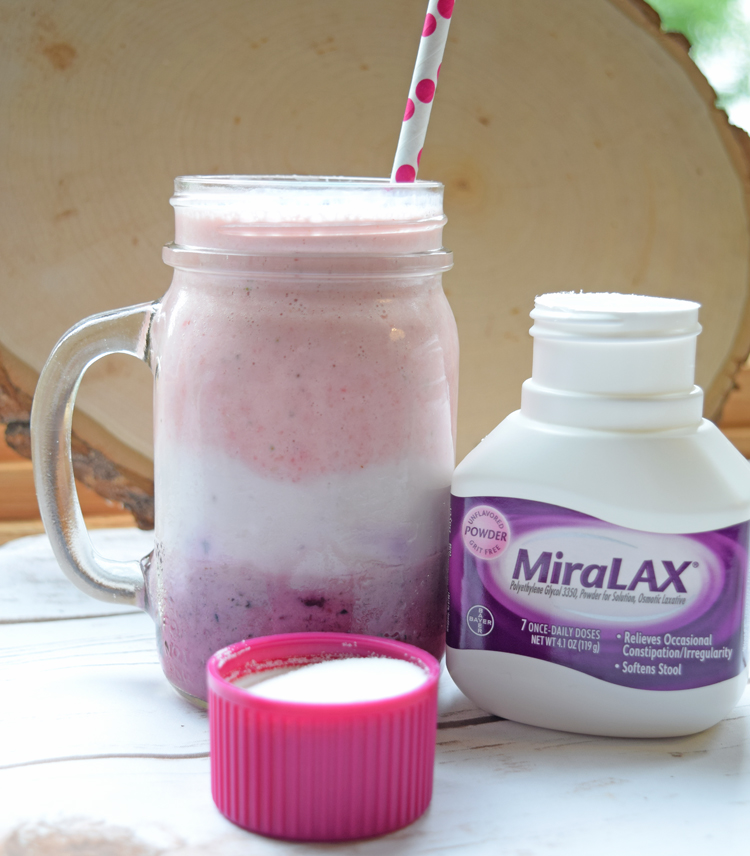 When I make my smoothies, I like to use Greek yogurt for a smooth, creamy texture. A colorful way to make smoothies is by whipping up different fruit smoothie flavors in a blender. They then can be carefully layered to create a rainbow or multicolored effect. I used three flavors in my rainbow smoothie, but if you want more of a true rainbow look with all the colors in the rainbow, you can add in more layers.
I think a pretty rainbow smoothie is a sweet way to start the day!
Rainbow Smoothie Tips: The smoothie layers better if your smoothie has a thicker consistency. Blend each fruit ingredient with Greek yogurt, an ice cube or two and 1-2 tablespoons of water until you get the consistency you like. One way to keep the rainbow colors from running into each other is to put each rainbow smoothie layer in a plastic bag or container and freeze it for at least 20-30 minutes before assembling your smoothie.
Ingredients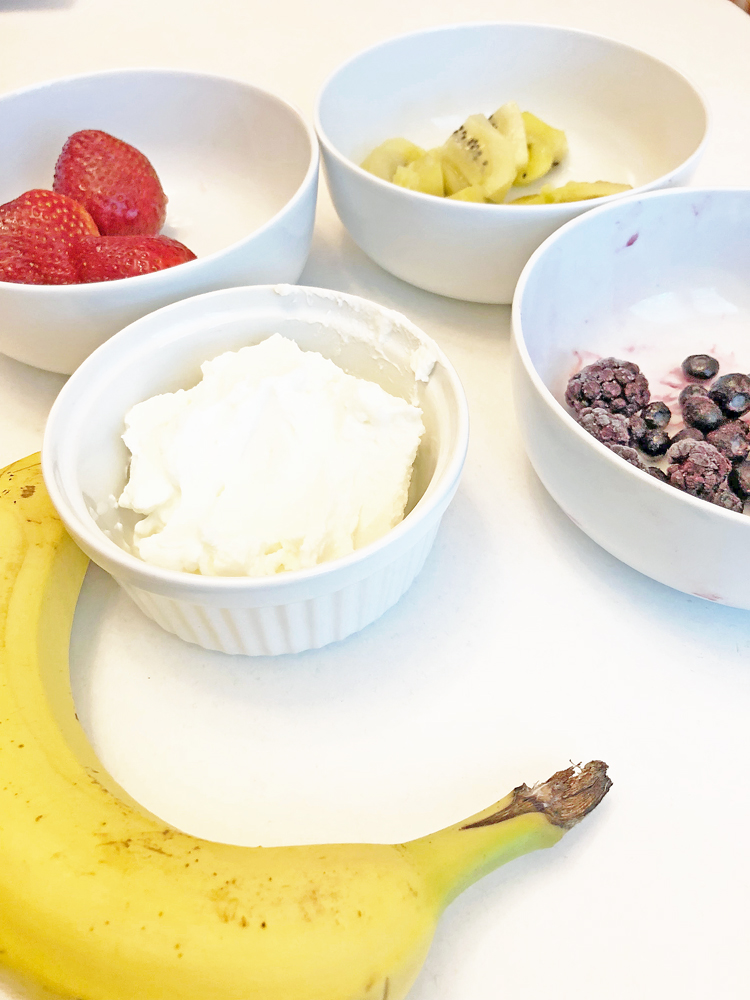 Small handful of frozen strawberries
Small handful of frozen blackberries
Small handful of frozen blueberries
½ banana
½ sliced Fresh kiwi
1-2 cups Greek yogurt
Ice Cubes
Directions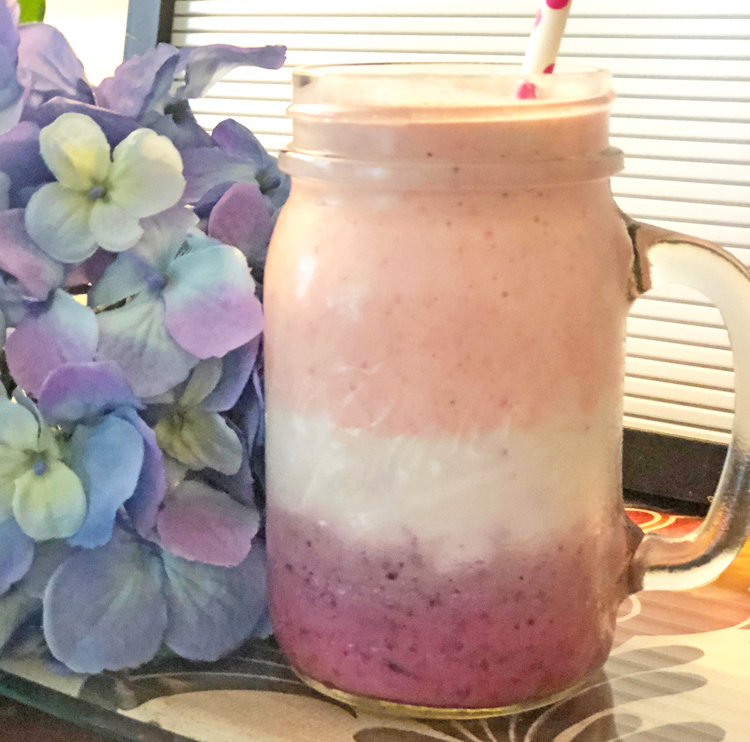 For my smoothie, I mix each fruit layer with some ice, water and Greek yogurt until I get the consistency I like. (I only need 1-2 ice cubes and a tablespoon or two of water per layer.) For this smoothie,I made one layer with blueberries/blackberries, a strawberry layer, and a kiwi layer. (Kiwi doesn't add much color, so if you like, you can add a drop or two of food coloring to liven it up.)
After I had each layer for my smoothie, I carefully spooned each smoothie layer on top of each other into a large glass. Then all there was left to do was enjoy! A rainbow smoothie is a delicious and healthy way to start the day.
I picked up MiraLAX® and MiraLAX® Mix-InPax at my local Walmart in the Probiotics & Fiber section. Save on any MiraLAX® product with this coupon.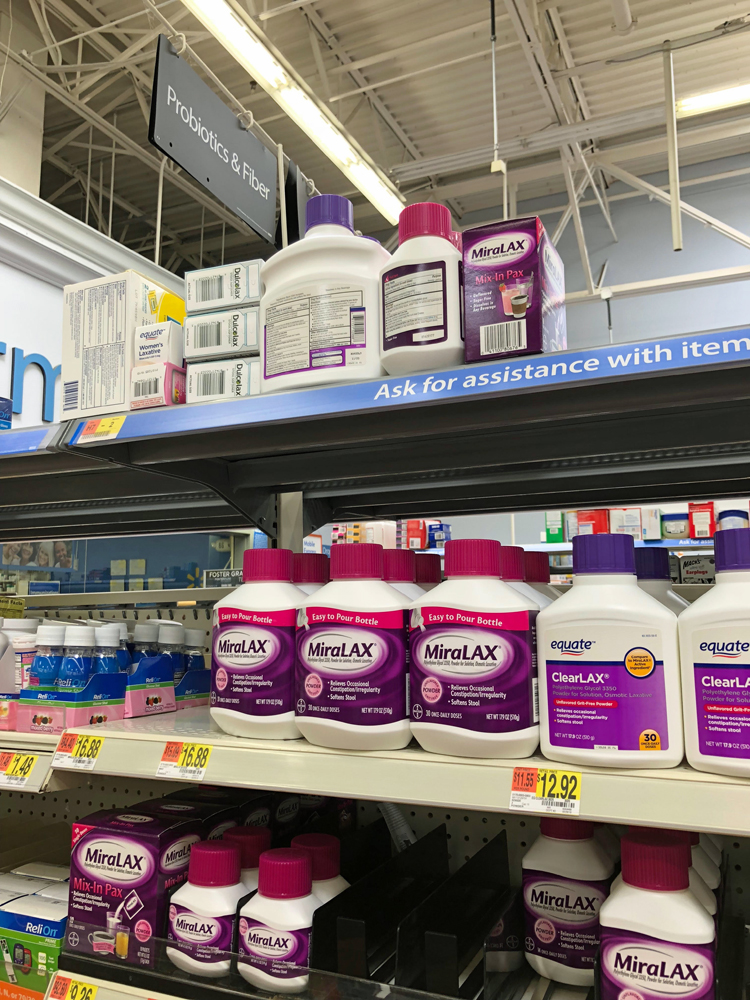 This summer I have been keeping a few layers of rainbow smoothie (without MiraLAX®) ready to go in my refrigerator.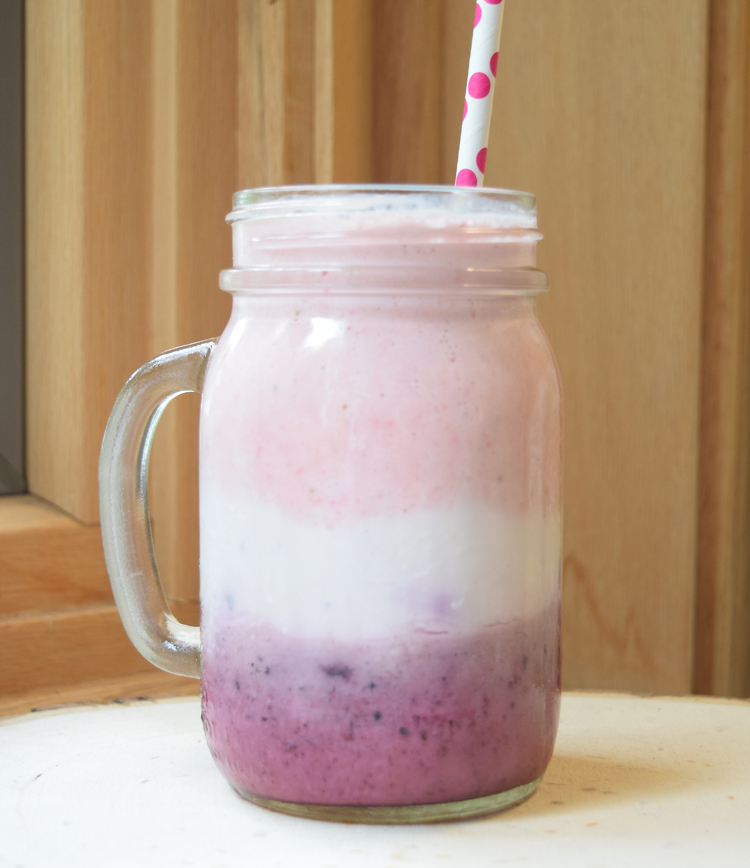 That way, all I need to do is layer a rainbow smoothie together in the morning for a tasty way to ease into my day.