Thanks to Lemon Drop Gifts and the makers of the AUVON Ultra Bright Motion Sensor Night-Light Plug in for sponsoring this post. I received free product in exchange for my review. This post contains Amazon affiliate links.
Are you looking for a cute gift idea? I recently received an adorable gift box from Lemon Drop Gifts. Lemon Drop Gifts creates fun seasonal gift boxes that you can send to friends and loved ones—with the gift you can include a custom gift card that you can customize with a photo and design of your choice. The fall gift box ($40), which is available now, comes with a cute owl felt gift bag, caramels in 10 flavors from Big Picture Farms, moisturizing fall-scented hand soap from Mixologie, a printed hand towel from Designs by Beverly and Autumn Spice Coffee from Door County Coffee. My gift came with a gift card that Lemon Drop Gifts made for me—the card features a photo of me with my dog, my sweet Mochi!
There are several gift boxes you can choose from at Lemon Drop Gifts, and there are more than 100 templates available to custom create the greeting card to include with your gift. Boxes ship each spring, summer, fall and winter plus special gifts for holidays, Valentine's Day and Mother's Day.
<
Gift boxes for her
It turns out that my gift box is perfect for me! I recently started a new writing job, and my gift box helped me to set up my home office and my home's nearby hall bathroom, which has become my "work" bathroom in a way.
I placed the box of candies from Big Picture Farms by my desk. I have to admit that after opening the caramels, I gobbled them up very quickly. (But they were a source of support during my first few days on my new job!) I am not usually a fan of caramels, but these are amazing! My caramels were in flavors like Sea Salt & Vanilla, Chai, Cider Honey and Cocoa Latte. I liked them so much that I'm thinking of ordering some for my family for the holidays.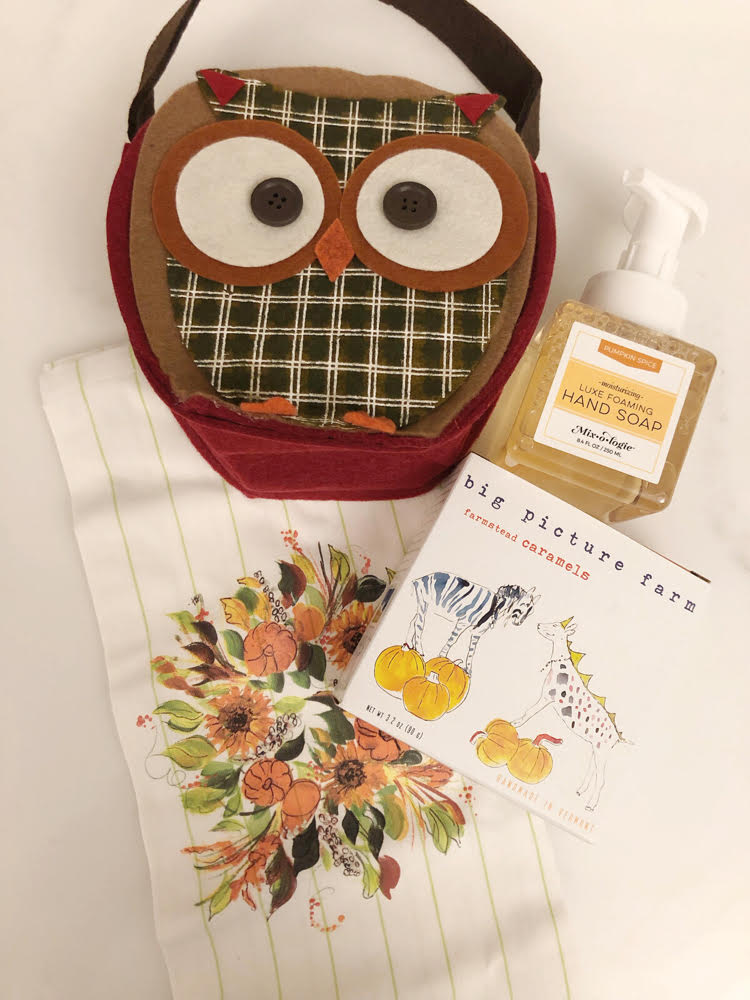 I actually hung the cute owl gift bag on my bulletin board behind my desk. I am a graduate of Bryn Mawr College, whose mascot is the owl, and now one of my twins goes there, too! (I was lucky enough to visit with my kid last weekend during Family Weekend at Bryn Mawr.) I know all my Bryn Mawr friends would love this cute felt gift bag
The foaming gift soap and the beautiful fall towel are nice touches for my new "work" bathroom. Before my kids went to college in August, it was their bathroom. But slowly, I am converting it into my own space.
I am going to be checking out the holiday gift box options at Lemon Drop Gifts for gifting my friends this upcoming holiday season—I just loved the fall gift box so much.
Lighting the Way
I was also recently gifted the AUVON Motion Sensor Night-Light (2 pack) ($13.99). The night-lights are super handy now that it's been getting dark out earlier. I tend to get wrapped up in my work, and find myself writing in the dark now that the sun sets before 5 p.m. I've found it handy to plug one of the motion sensor AUVON night-lights into a power cube on my desk. The light provides just enough light so I'm not typing in the dark. (Especially since I have to get up to switch on the ceiling light in my office –I know, my life is rough. lol) I keep my night- light on my desk set to "auto," so it can go on when it senses movement, but it can also be set to "on" and to "off."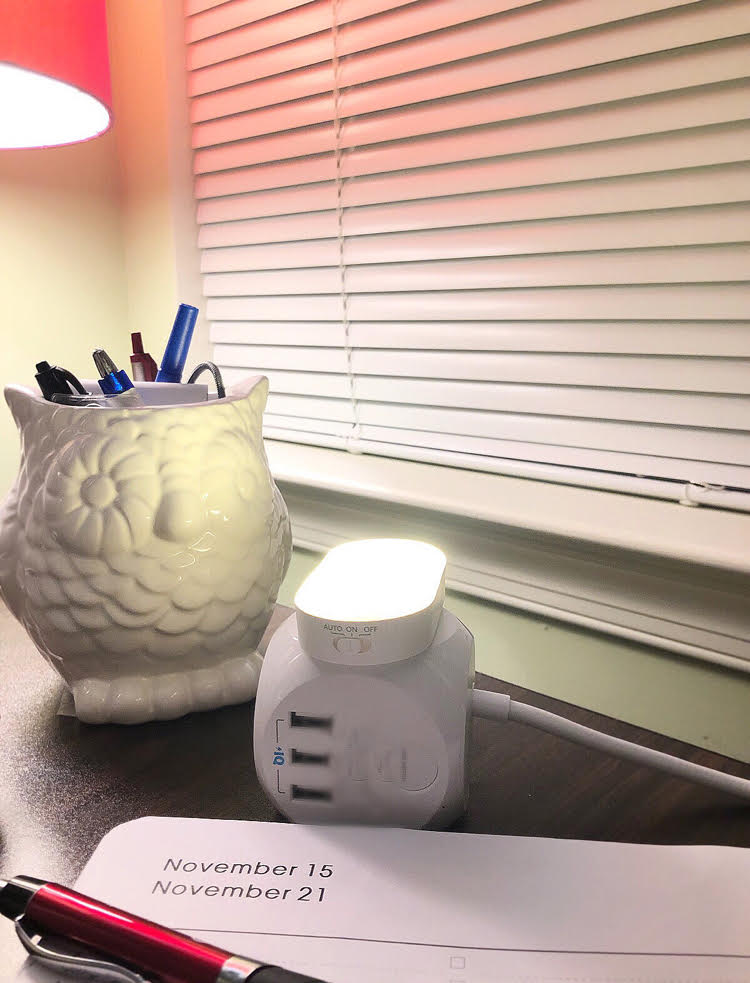 I also put one of my new Auvon light-sensing night-lights in the hall bathroom that's adjacent to my home office. The nigh-light casts a lot of light in the small bathroom. (By the way, if you like the frame on my bathroom mirror in the photo below, check out how I made the frame without picking up any power tools!)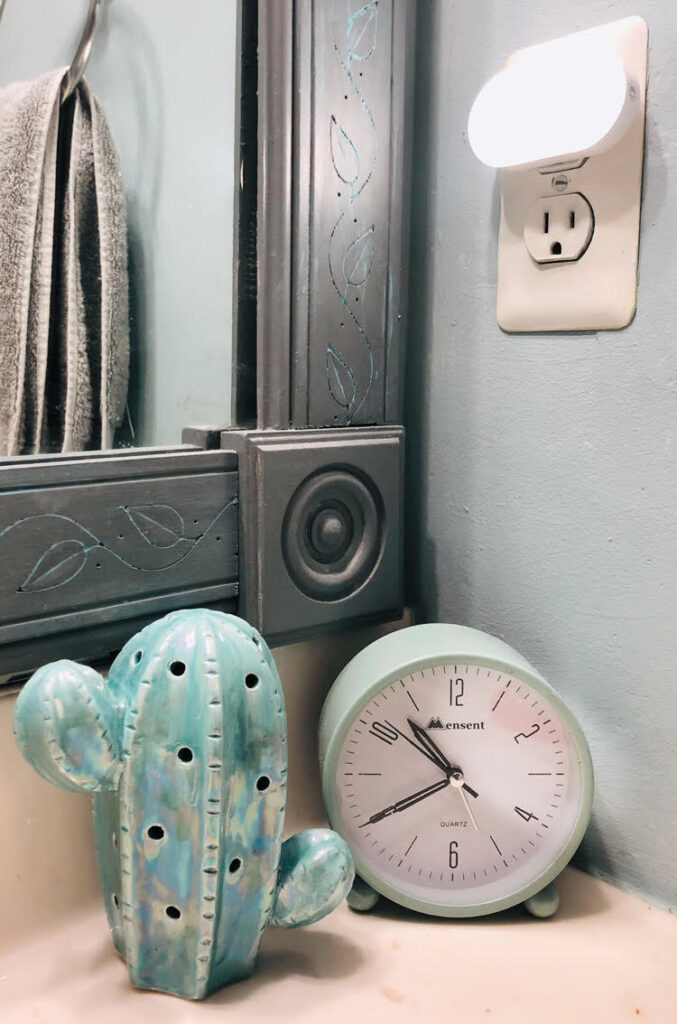 My Auvon night-light also shines a fair amount of light into the hallway at night, which can be helpful since it gets dark out so early these days, and the light switch for the hallway is across the hall from my home office.
I am really thankful for how my new night-lights help me get through the day—I guess I should be happy that I'm enjoying my new job enough that sunset and the end of the work day come around so quickly that I forget to turn the lights on and need my night-lights!
I'd love to get an Echo Dot from Amazon, some smart plugs and some smart bulbs. That way, I can ask my Echo Dot to turn on the lights for me, and if I want to have some fun, dim the lights or change the color of the lights. Have you ever used these products? I'd love to hear how you like them!
You Might Also Like