This shop has been compensated by Collective Bias, Inc. and its advertiser. All opinions are mine alone. #HatfieldEaster #CollectiveBias
Hatfield Maple Bacon Scallops and Sausage & Cheese Quesadillas
Even when I'm not hosting a big get together for Easter, I like to make a nice meal for my family. I always appreciate the special moments I share with my husband and kids. We usually serve a ham for our Easter dinner. This year, I'd like to take it up a notch by adding some easy and quick appetizers to our traditional Easter dinner – like also serving some maple bacon scallops and spicy sausage quesadillas. My family will be surprised and delighted by the new dishes at our Easter table.
Sausage & Cheese Quesadillas (each quesadilla can be cut into quarters)
Ingredients for One Quesadilla
¼ cup Hatfield Recipe Essentials ground sausage (I use a mixture of Sweet Italian and Hot Italian Ground Sausage)
8 ounces sliced white mushrooms
1 cup cubed Pepper Jack, Monterey Jack or cheddar cheese
About 1 tablespoon of olive oil
Two soft flour tortillas
A few leaves of fresh spinach, if desired
Sour cream, salsa or guacamole for topping the quesadilla, optional
For the quesadillas, I use a mixture of Hatfield Recipe Essentials Sweet Italian Ground Sausage and Recipe Essentials Hot Italian Ground Sausage. (You can choose to use just one variety, or both, depending on how spicy you like your quesadillas.)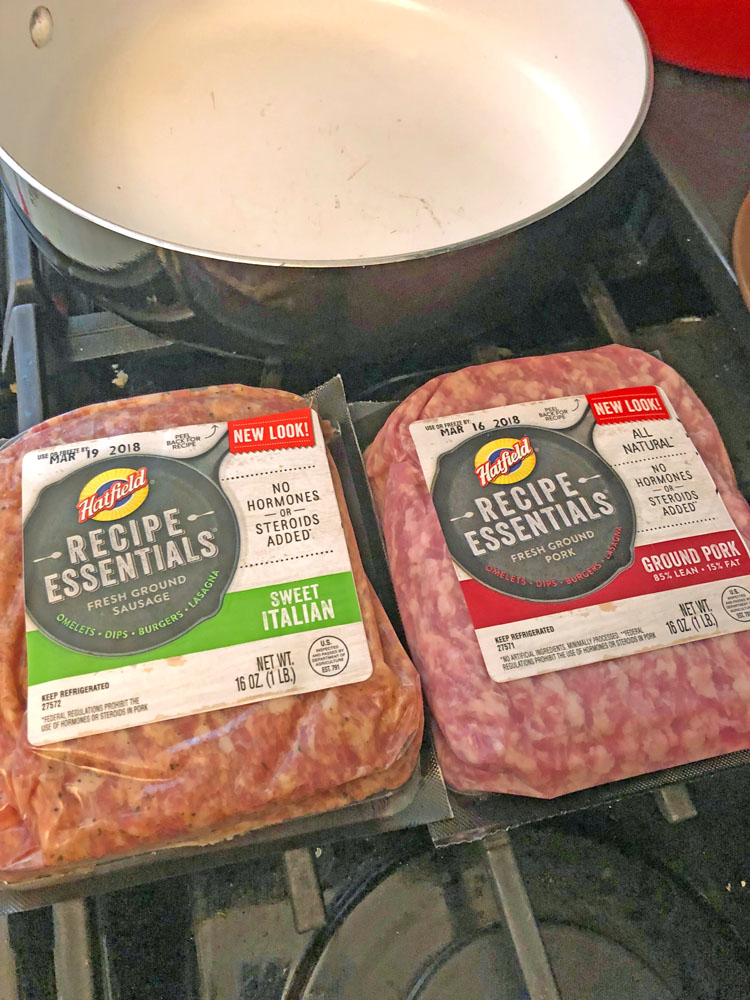 I cook the ground sausage in a pan on the stove until the meat is no longer pink and cooked through, or at least 10 minutes. I use about ¼ pound of ground sausage for each quesadilla.
While the sausage cooks, I sauté about 8 ounces of sliced white mushrooms in olive oil in a separate pan until the mushrooms are soft. I also cube about a cup of Pepper Jack cheese and set them aside in a small bowl. (Monterey Jack and cheddar cheese would also work.)
To make a quesadilla, place a soft tortilla on a large plate. Add the cooked sausage, some sautéed mushrooms and the cheese. If you like, you can add a few fresh leaves of spinach. Top the tortilla and toppings with another soft tortilla. Heat about a tablespoon of olive oil in a pan on the stove. Transfer the assembled quesadilla carefully to the pan. Heat the quesadilla for about 3 minutes or until the cheese melts, carefully flipping the quesadilla with a spatula halfway through. Transfer the quesadilla to a plate and cut the quesadilla into quarters. If you like, you can serve the quesadilla with guacamole, salsa or sour cream.
Maple Bacon Scallops
Ingredients
1 lb. sea scallops (sea scallops are the larger scallops)
1 package Hatfield Classic Sliced Bacon
1/3 cup real maple syrup
1/3 cup soy sauce
1 tablespoon Dijon mustard
I package angel hair pasta, optional
Asparagus, optional
2-3 Tablespoons of butter for topping the pasta, optional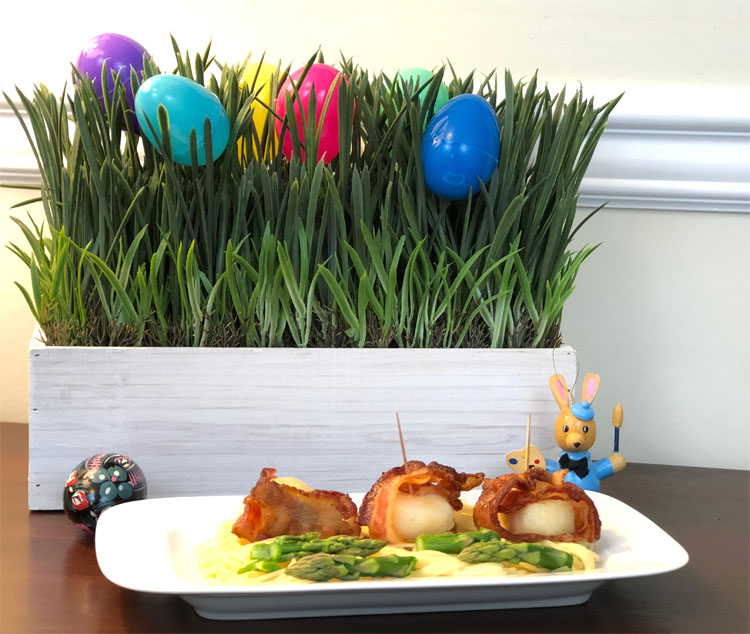 My Hatfield Maple Bacon Scallops are delicious on their own or served on a bed of buttery pasta with steamed asparagus.
For the scallops, I make an easy marinade of a 1/3 cup each of soy sauce and maple syrup. I add 1 tablespoon of Dijon mustard to the marinade and mix well with a spoon. I put the scallops in a container that has a lid and pour the marinade over the scallops. I then cover and marinate the scallops for ½ hour in the refrigerator.
I then pre-bake the bacon at 375 degrees Fahrenheit on a foil-lined baking sheet in the oven for about 8 minutes. (The bacon will be cooked, but still pliable.)
I blot the bacon with a paper towel. I then wrap each scallop in a strip of bacon, pin together with a toothpick and cook the scallops 10-15 minutes in the oven on a foil-lined baking sheet, flipping the scallops halfway through. I cook the scallops until they are opaque or cooked through.
I think these scallops wrapped with bacon are some of the tastiest appetizers around!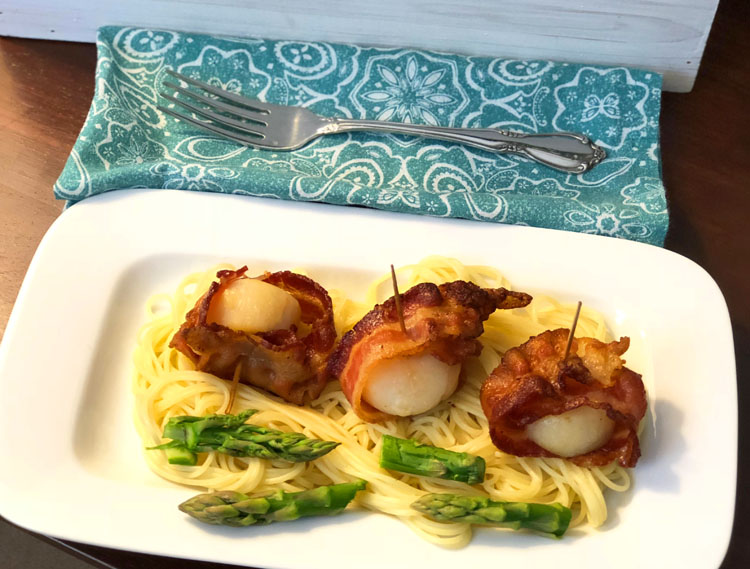 I can get everything I need for my meal from my local Acme. I use Hatfield Classic Sliced Bacon for my maple bacon scallops.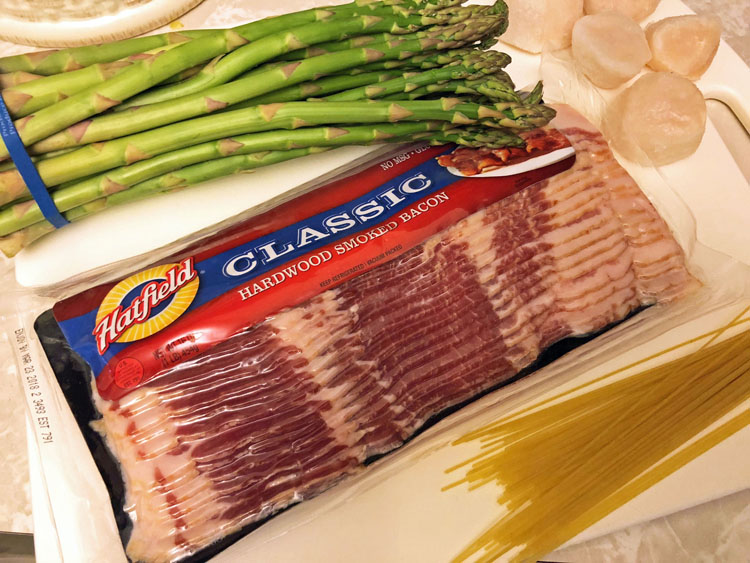 The Hatfield Bacon is in the section where eggs, bacon and other meats are sold.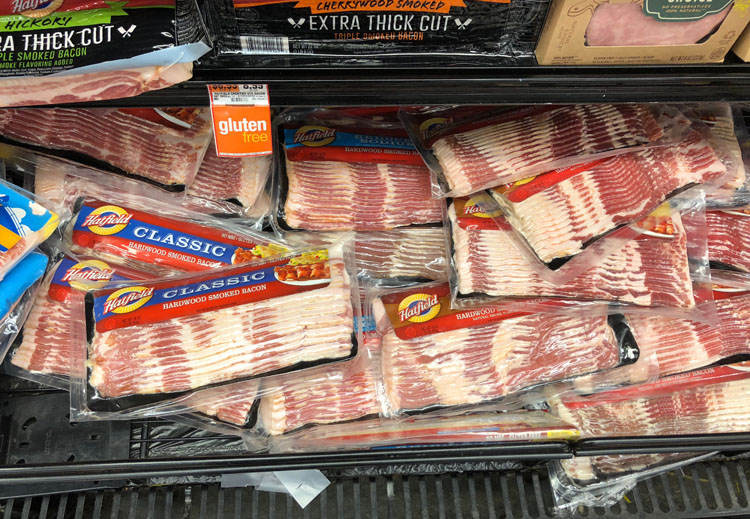 The Hatfield Recipe Essentials Sweet Italian Ground Sausage and Hot Italian Ground Sausage for the quesadillas are in the same section of my local Acme as the bacon.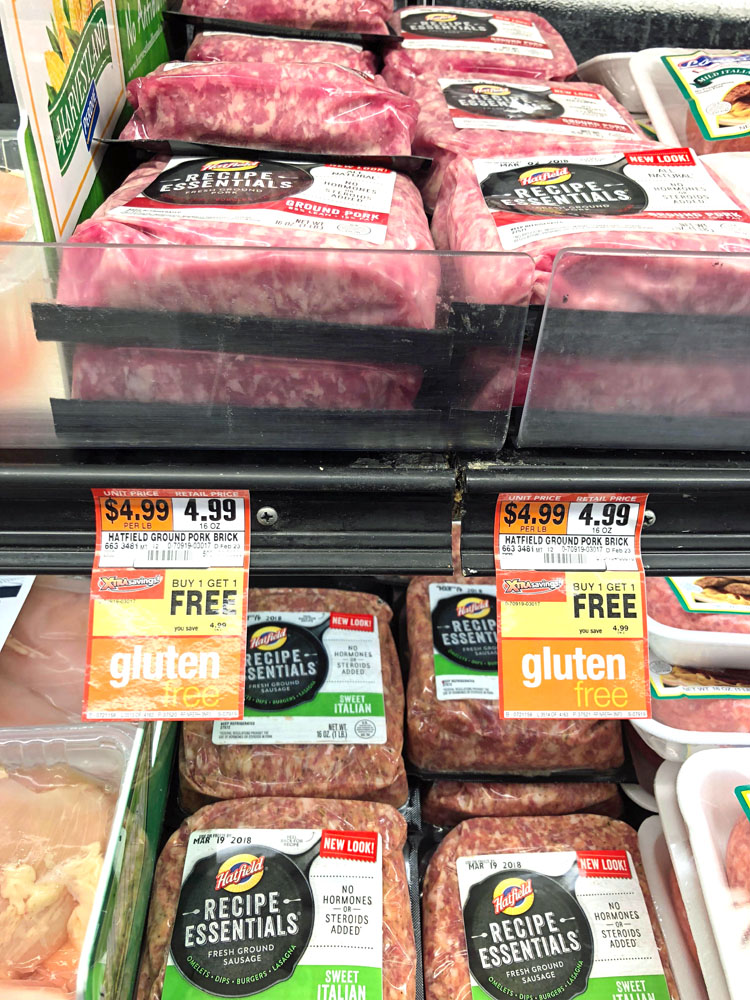 I like that Hatfield is a family owned, American-made Pennsylvania company and that Hatfield's ground sausage and bacon are ethically raised with no hormones or steroids added.
The Hatfield bacon and ground sausage are quick and easy to cook, so it will be a cinch for me to make some appetizers for my family while our Easter ham is cooking. I always run a little behind when making a holiday meal, so my hungry family will appreciate the appetizers! I know they will be happy to find some new dishes on our Easter table.