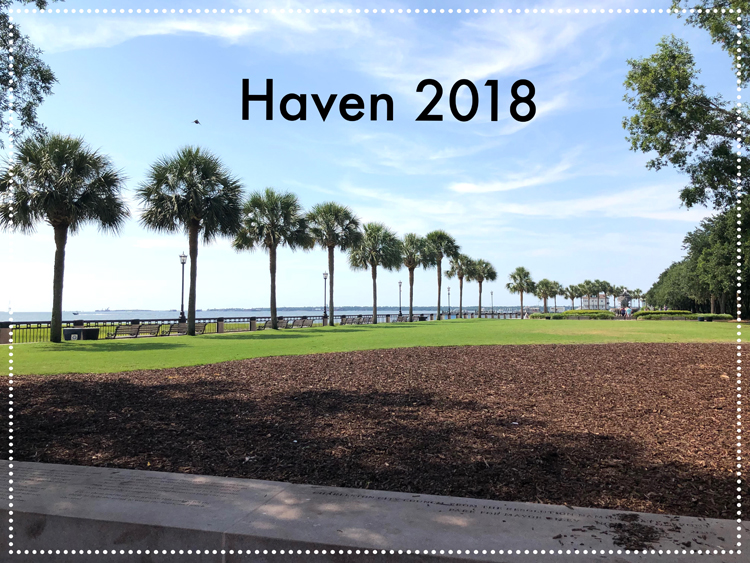 Hi, everyone! Today I thought I'd share more about the wonderful Haven blogging conference that I attended last week and over the weekend in historic Charleston, S.C. Haven is a three-day conference for bloggers who mainly work in the DIY, decorating and design blogging space. It was great fun as we got to meet with each other and connect with some of our favorite brands.
If you'd like to read my previous post about the first day I arrived at Haven, read my post HERE.
Connecting with Brands & Bloggers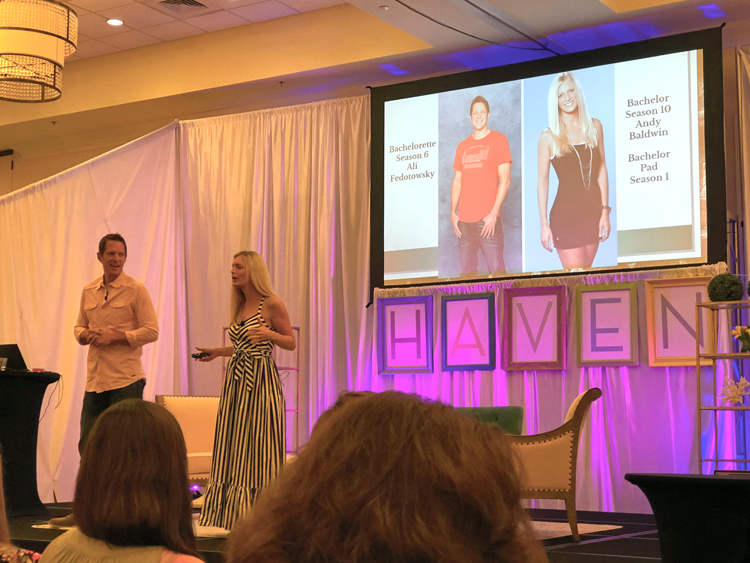 On Friday, the blogging conference started off with breakfast and a Haven kick-off event by Chris and Peyton Lambton of HGTV, DIY Network,The Bachelorette and The Bachelor fame. Chris Lambton is now the host of DIY Network's Yard Crashers and Lawn and Order.
I had actually run into the sweet and friendly Lambtons by the elevator near my room earlier in the morning — I didn't know that they were the opening speakers!
After the opening event, I got together with my friend, Carrie of Curly Crafty Mom, to explore the booths staffed by brands like Home Depot, Behr and Joann's.
This is a photo I took of Carrie in the beautiful fall family room area decorated by Joann's. (I don't like how the photos of me turned out, but my sweet friend Carrie always looks good!) I loved Joann's booth, because decorating is my thing!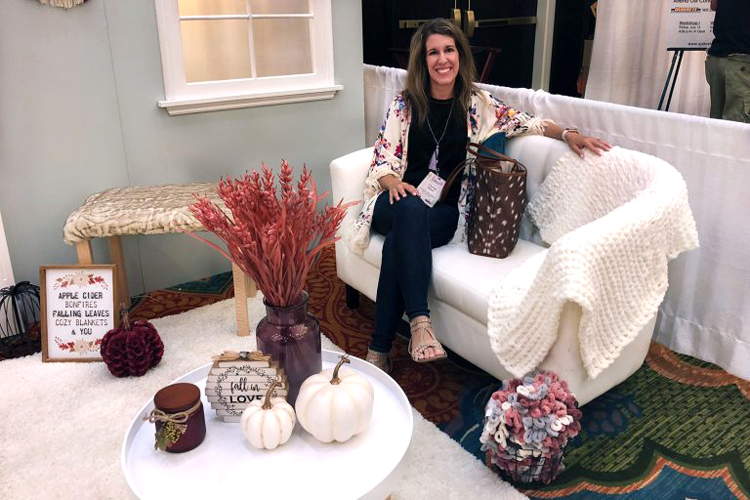 Another fun area was the Behr booth, where Haven attendees were given the opportunity to paint Behr's bear mascot. I got to try my hand at painting the bear.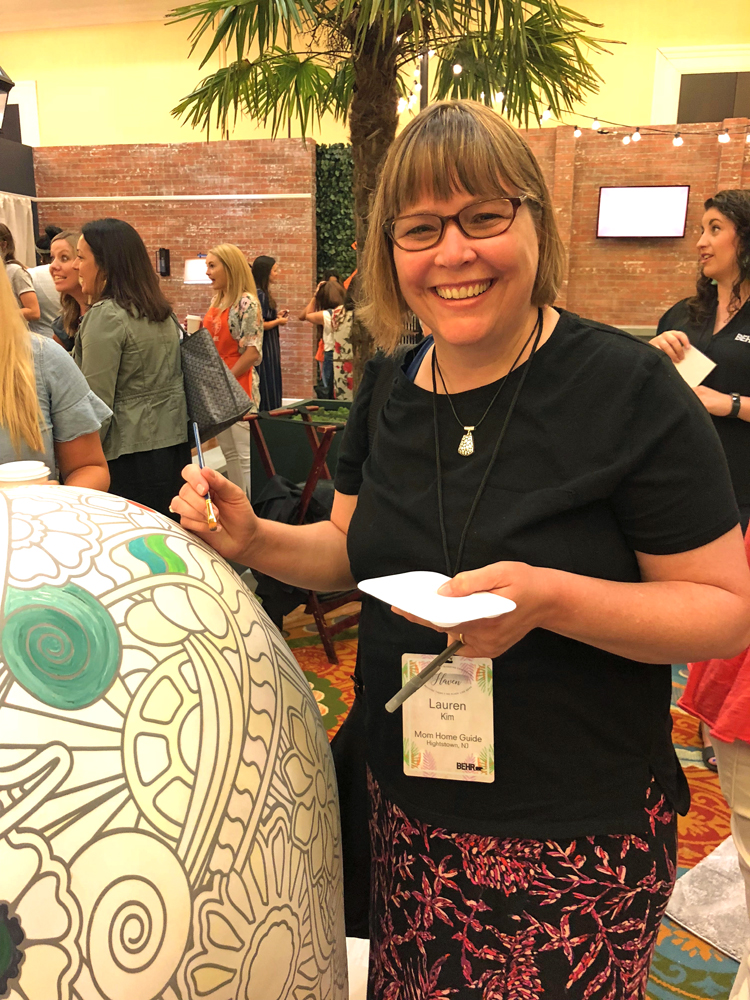 I also picked up a small pot of beautiful blue Behr paint. I'm sad to say, though, that I packed the paint in my carry-on bag, and security took it away from me at the airport! Sniff!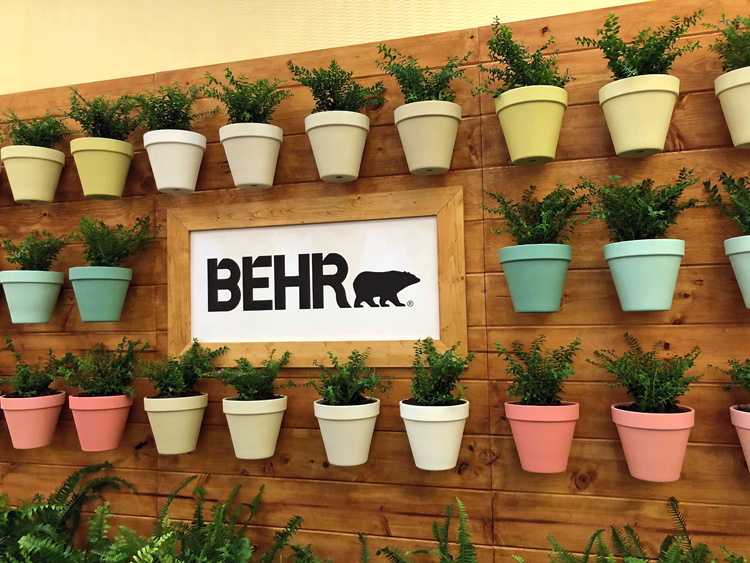 Haven Blogging & Crafting Classes
The first class I attended was the Make & Take session with RustOleum. The class was taught by Katie from Bower Power and Rachel from Shades of Blue. I found Katie and Rachel to be so nice and helpful. They both gave me some blogging tips after class. The tips they shared with me were among some of the best I learned during the conference! It was such a pleasure to talk to them.
The Rustoleum class was so much fun. We got to use some of Rustoleum's quick-drying stains to create quick and easy wood signs. I think my sign will look great on my living room console table. We got to pick the word we wanted to use for our sign, and the stain colors. (I choose "Cheers" for a happy and uplifting theme, and stains in white and gray.)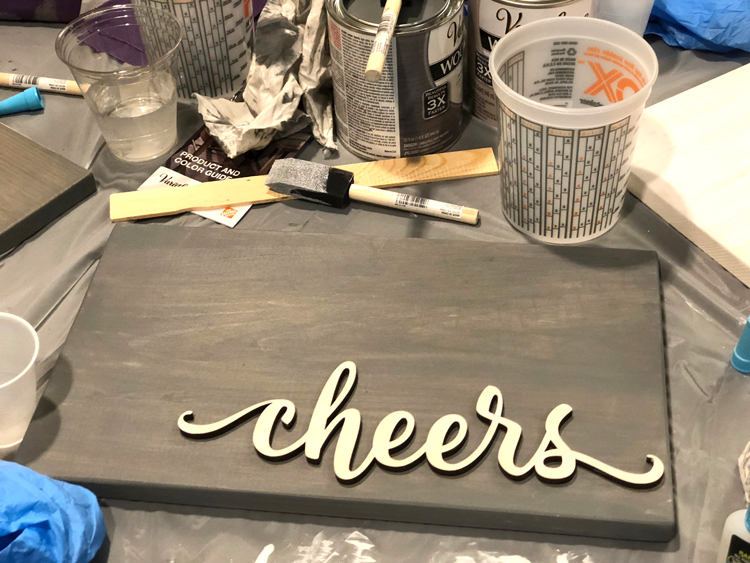 Lunch with Hometalk & Blogging Tips
After the morning classes, Carrie and I stopped in for lunch with Hometalk, and got to meet Hometalk's Abigail, whom we work with frequently. Hometalk is a platform on which bloggers can share tips and projects.
As a thanks for attending the lunch, each blogger received a Hometalk goodie bag and will get a feature in a Hometalk email. While at the conference, I had the surprise of discovering that I'm featured in the Hometalk brochure that Hometalk was giving out at the conference!
In the afternoon, Carrie and I went to the Building Your Traffic by Capturing Heats and Minds on Pinterest class by Alisa Meredith. I picked up a lot of really useful tips in that class on how to best use Pinterest to promote my blog — I took plenty of notes! I'm going to work on implementing the practices I Iearned.
Dinner on the Town in Charleston
Friday evening Carrie and I joined a bunch of bloggers for dinner at Charleston French restaurant, 39 Rue de Jean. I took an Uber for the first time with Carrie and her husband, Brian, to the restaurant.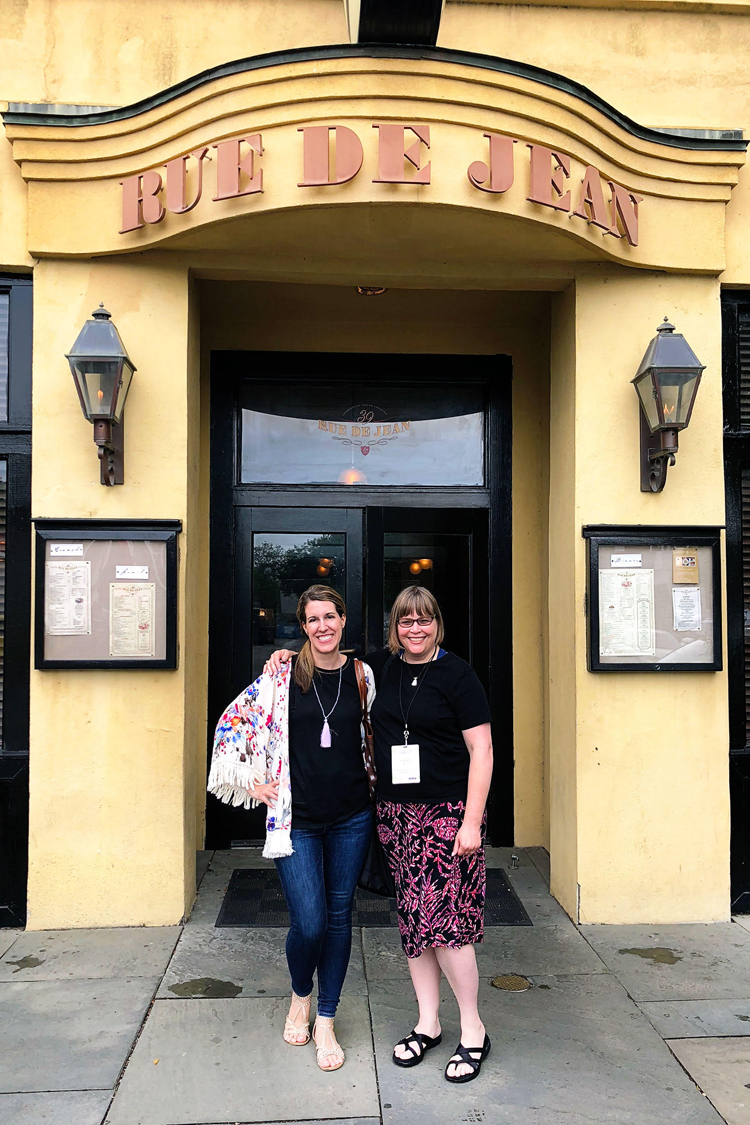 Nicole from Repurpose Life planned and invited everyone to the dinner. Thanks, Nicole!
I didn't get to talk to Nicole that much that night (I was on the opposite end of the table), but I got to speak with her later during the conference, and she's very nice!
It was great getting to talk with such a great group of bloggers that night. At the restaurant, I enjoyed a salad and a delicious dish of shrimp provencal with sautéed shrimp, penne pasta, garlic, tomatoes, chili flakes and pernod. I cleaned off my plate! After the main dish, I had a rich pot de crème au chocolat. It was quite good!

After the 3-hour dinner, Carrie and I stopped at the party that Haven was hosting that night at the hotel. The party featured lots of food and a Dremel wooden spoon decorating station. (All the spoons were gone when we got there, though.) Carrie and I decorated cupcakes at a cupcake decorating table and then headed up to our rooms.
We were so tired — plus, on Saturday I was competing in the Home Depot's Orange Tank competition! (In the competition, bloggers present home makeovers to Home Depot for a chance to have Home Depot sponsor that makeover/project.)
On Monday, I'll be sharing here on the blog more about the Orange Tank competition and about my final day at the conference. I'll share details and photos from my sightseeing in Charleston, S.C.!