Hi, everyone! The below post is an oldie but goodie here at Mom Home Guide. My spring garden is looking beautiful right now with all the daffodils and tulips that my daughters helped me plant last fall. (Thanks, girls!) I hope to get into the garden and plant some more flowers soon. I also have to make sure that I keep our bird feeder filled and bird bath replenished with water so the birds will keep coming to our garden! Enjoy my how to make a DIY bird bath tutorial!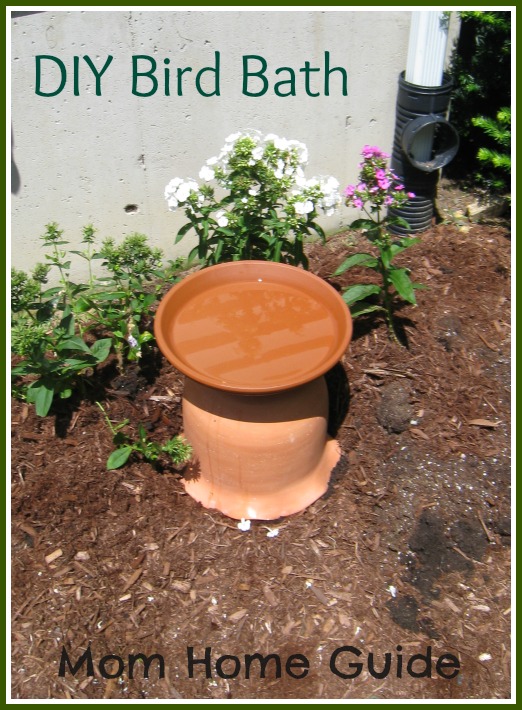 It's been a few weeks since I planted my flower garden. Now that my garden is complete, I have been loving it!
While the garden has been a haven for me, I've been hoping that the garden would also be a welcome place for birds as well. My kids and I love to bird watch!
The garden has lots of phlox, which I've heard can attract hummingbirds. I would love that!
Sunflowers are also said to attract birds. But although my sunflower plant is big, it hasn't flowered yet! I am hoping to get a sunflower or two soon!
DIY Bird Bath for the Garden
I wanted to add a DIY bird bath to the garden, but they can be so pricey! So, for only about $25, I picked up a large clay pot and saucer from my local garden store to make my own DIY bird bath. I like how deocorative the large clay pot for my DIY bird bath looks.
To make my DIY bird bath, all I did was turn the clay pot upside down. I then steadied it in the mulch by pushing the pot down, and centered the clay saucer on top. The bird bath is very sturdy! When I water the flowers, I spray some water into my DIY bird bath with the garden hose. My DIY bird bath is perfect, since it only holds just enough water for a day, so I can add fresh water the next day.
I haven't seen any birds in my homemade bird bath yet, but there has been some "evidence" so to speak that birds have been there — LOL.
Maybe when I finally locate the hummingbird feeder I purchased a year or two ago, there will be even more birds in my garden! The garden is located just outside our side living room window, so it's in the perfect spot for some bird watching!