*This post contains Amazon affiliate links. If you click on a link and make a purchase, I earn a small fee that helps to keep this blog up and running. Thanks so much! 🙂
It's been so hot here in New Jersey lately — it's difficult to find activities for my kids and I to do in heat! The hot weather makes us just want to stay inside in the air conditioning. So, the other day, I spread out a picnic blanked under some trees in our backyard, and we did some tie dying in the shade!
How to Tie Dye
I picked up some bottles of easy-to-mix tie dye in various colors at my local Walmart. I wound up also buying a big Tie-Dye Kit
, too, since we were having so much fun!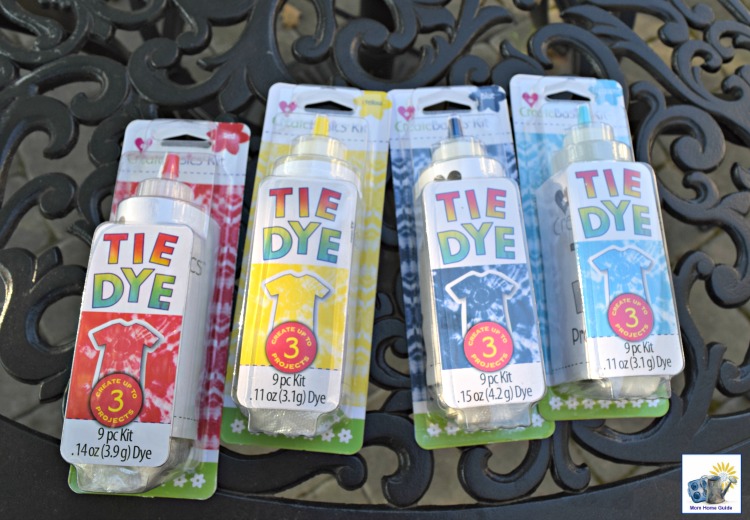 Tie dying is so easy and fun. It's a good project to do outside, as you don't want to chance getting dye on your furnishings. To start out, I pre-washed some plain White Cotton T-Shirts
.
The day that I tie dyed, I used a hose to soak the T-shirts and wrung the shirts out. (The die will soak more easily into a shirt if it is wet.)
I set up a blanket under some trees for us to sit on while tie dying. I also used racks as our tie dying surface, to get the T-shirts up off the ground.

Tie Dye Supplies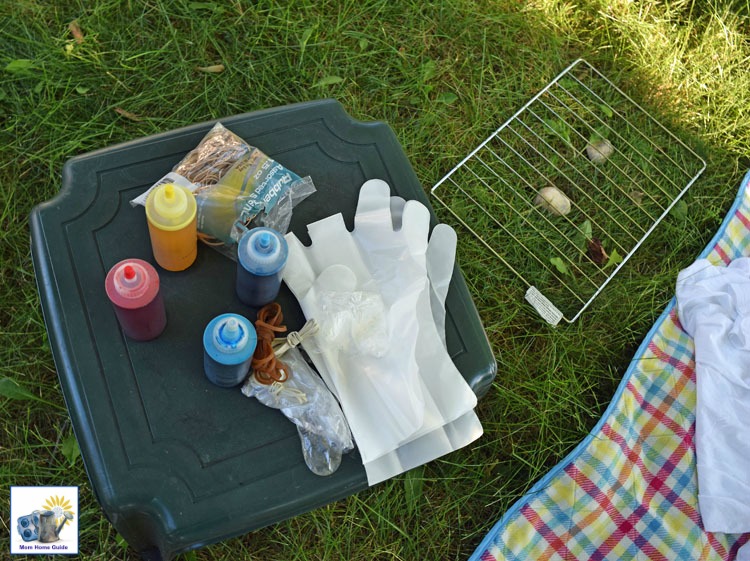 I set up our tie dye supplies on a small outdoor table. This is what we used:
Disposable Plastic Gloves
Rubber Bands
To make our dyes, we unscrewed the caps to the tie dye bottles, and used a watering can to fill each bottle up to the neck with water. We screwed the nozzles back onto the bottles, shook up the bottles, and our dyes were ready!
To make our designs, we used a tie dye swirl technique. This technique is really easy. To make a tie die swirled t-shirt, just pick where you want your swirl to be centered. Pinch up the fabric in that spot, and start twisting in a circular motion, folding your T-shirt into a circle. Fave Crafts has a great tutorial on how to use the tie dye swirl technique. Also check out the tutorial from YouTube at the end of this post.
After we swirled our fabric, we sectioned off our swirled fabric with rubber bands.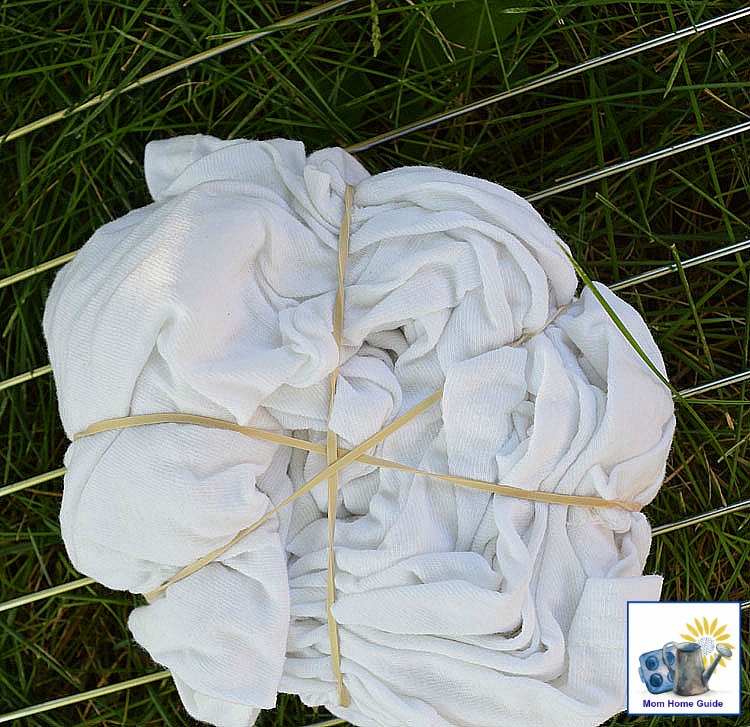 We then used our tie dye squirt bottles to color in each pie section of our swirled T-shirts. We discovered that to get more white to remain in your T-shirt, just dye the top section of your T-shirt. But if you want very little to no white in the shirt, separate each section gently with your fingers and squirt the dye into the sections of the T-shirt so everything is covered in dye.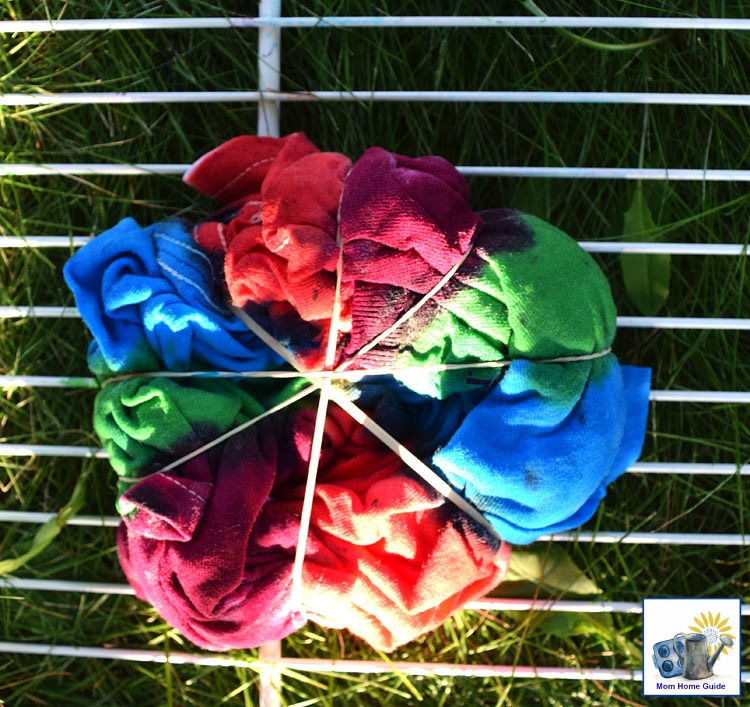 After all the T-shirts were dyed, I enclosed each tie-dyed T-shirt in it's own Ziploc bag.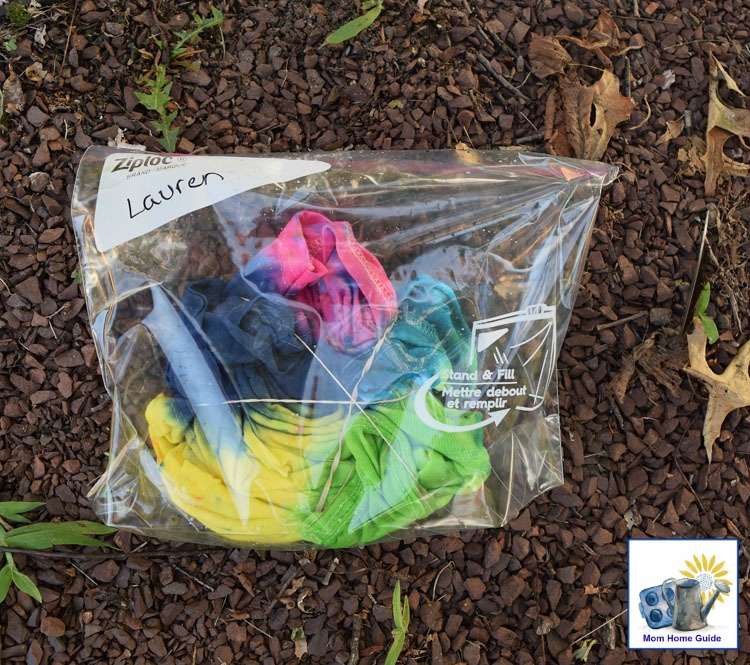 I placed our plastic bags of tie-dyed shirts in our backyard shed for the night. The next morning, I soaked each shirt with a hose and wrung out as much of the extra dye (that didn't soak into the shirts) out of the shirts as I could. I then washed our shirts in warm water in our washing machine to help set the dye. After they were dried, I tossed our shirts in the dryer.
My girls and I love how our shirts came out! We also tie dyed some shirts to give to my husband.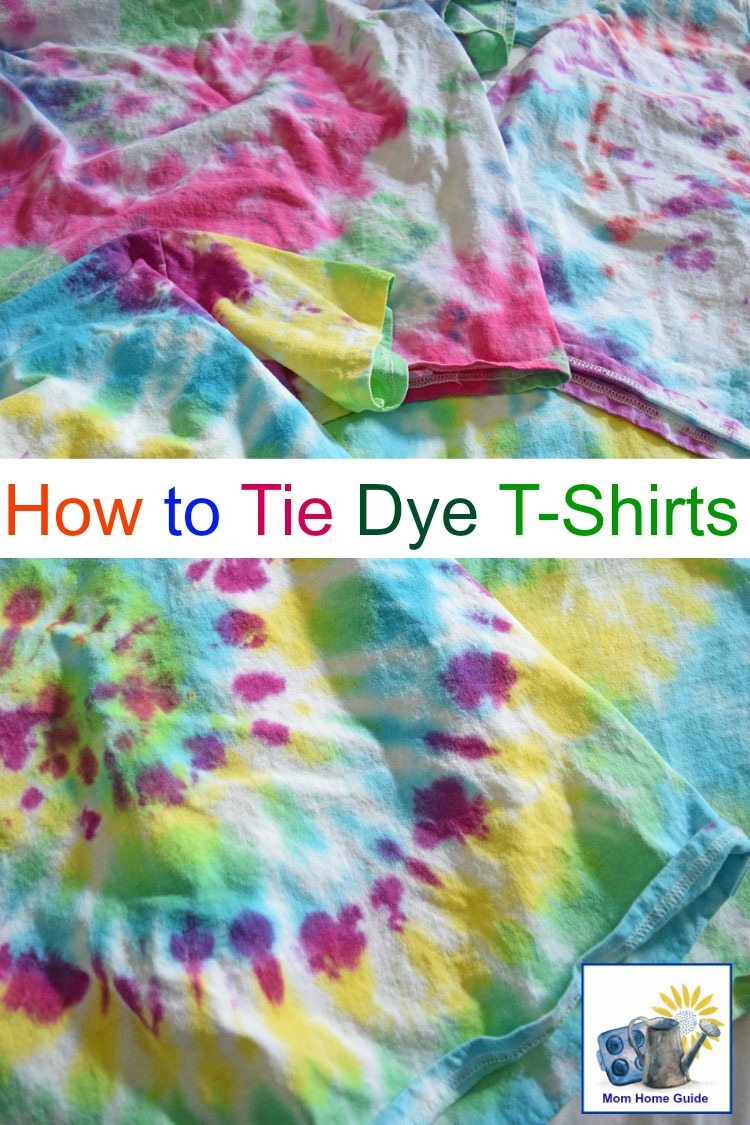 This is a closeup shot my daughter took of me in one of my tie-dyed shirts. It was so sweet of her to take the time to take time to take photos of me. (She did a great job!)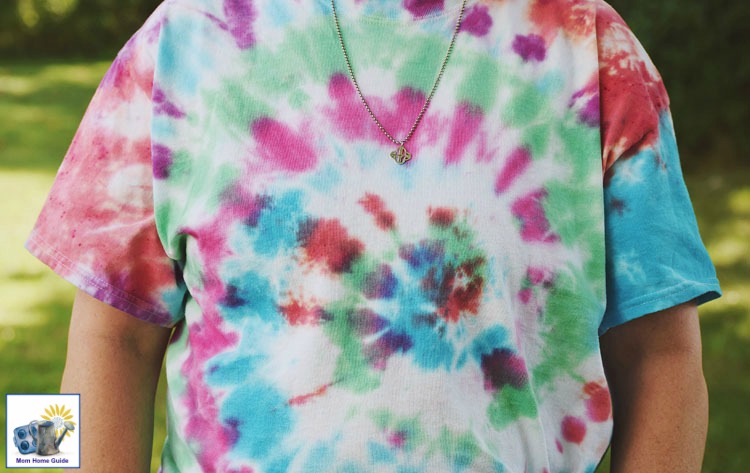 Here's one more photo by my daughter — she even managed to blur the background: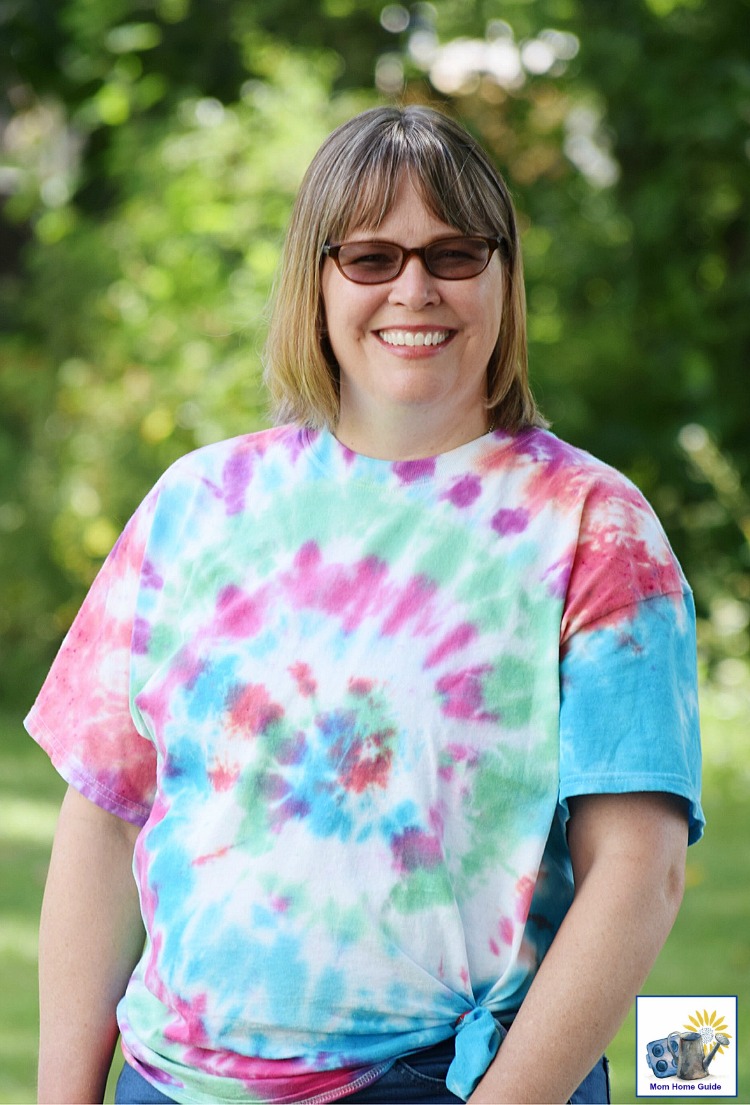 My daughters and I have a few more shirts left to tie dye, so maybe we'll be tie dying more shirts this week!
If you like this post, pin it for later!