This post contains Amazon affiliate links. If you click on an Amazon link and make a purchase, I will earn a small commission that helps to keep this blog running. Thank you!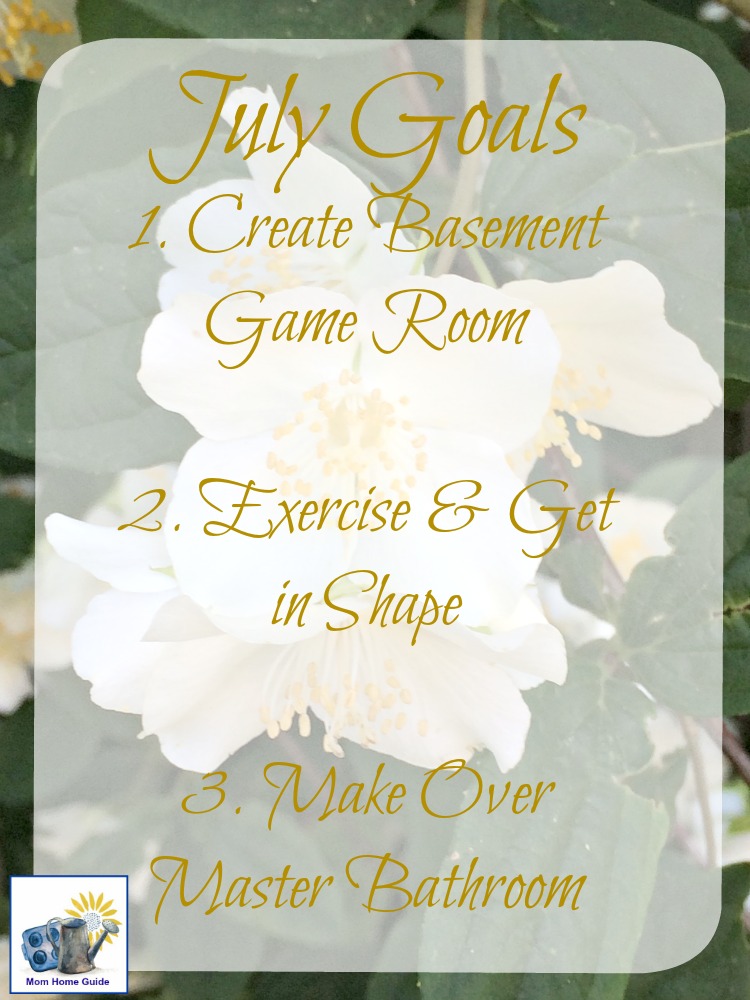 I can't believe that July is already here and that summer is in full swing! Now that my kids are home for the summer, it will be both harder and easier to achieve my personal goals for the month. My friend, Carrie at Curly Crafty Mom, got me started on setting small, personal goals each month. Setting these small goals for myself really help to get things done!
Accomplishing some of my personal goals will be tougher because with my kids home for the summer, I won't have as much time as I usually do to get things done. As a mom, I want to make sure that my kids have an enjoyable summer – I don't want them to putter around the house while I work on projects. I intend to plan some fun things to do with them this summer!
But of course, my kids don't have to be occupied 24/7, so I hope they can keep themselves occupied and entertained for at least a few hours each week. During those hours, I plan to tackle some much needed must-dos.
1 – Convert basement into a family game room. I've been talking and thinking about cleaning out my home's basement for years. I've pinned tons of images on Pinterest on unfinished basement ideas and ideas for a budget basement. But now the time has come – I recently had a whole bunch of Amazon cash that I earned through my Amazon credit card. So, when the price dropped dramatically on a new JOOLA Inside Table Tennis Table with Net Set
that I had my eye on, I took the plunge and bought it!
I also purchased a
Kettler Advantage 4-Player Table Tennis Set
.
So now that I have the ping pong table and paddle set, I have to clear out the basement so my family and I can set up the ping pong table and play! I've been working hard to clear out the basement, but I still have a ways to go! This is the way the basement looked just a few days after the ping pong table arrived. (The big box leaning against the pole is the ping pong table.)
I will have to share later this month (if and when) I have everything set up for a proper basement game room! I really hope I can achieve this goal so my kids can have a space to hang out in with their friends!

2– Exercise and get into shape. The past two years have been rough for me. In January 2014, I broke my wrist on our icy driveway, and had some screws put into my arm to help it to mend. My arm took several months to heal. Then, last July, I had bunion surgery, from which my foot is still recuperating. To top it off, I developed an underactive thyroid. The thyroid condition, combined with little to no exercise (plus little sleep), resulted in some weight gain. So, with the help of my daughters, I am hoping to work off some pounds this summer. The ping pong table might help a little — plus my daughters and I all got bikes and have been bicycling together. I am hoping the increased activity will result in some weight loss!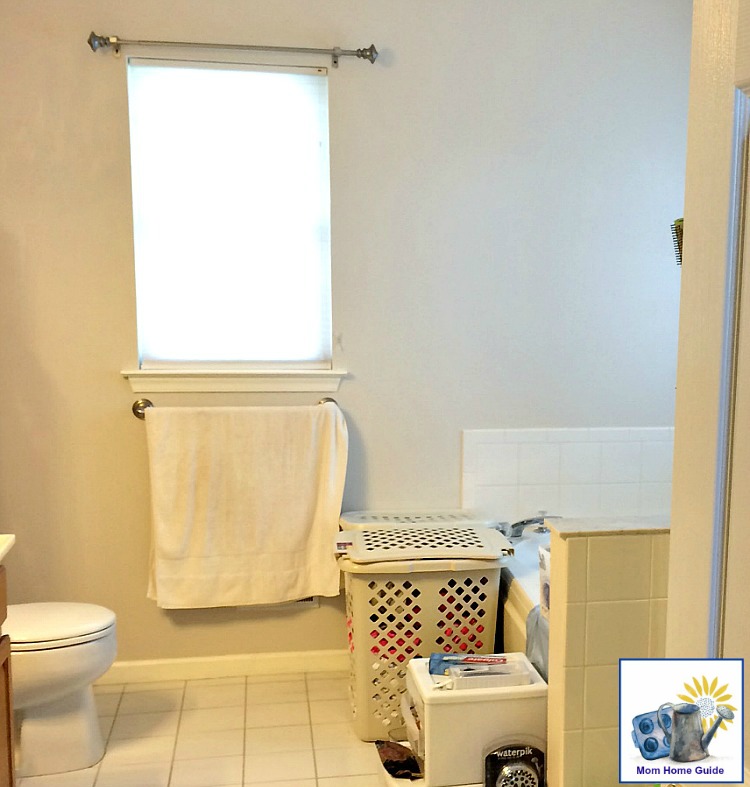 3 – Make over master bathroom. As you can see, my home's master bathroom lacks style. It also is in need of some organization. This summer I hope to up my game in terms of the master bathroom. I have a few projects in mind that I think will transform the bathroom, so check back next month to see what I did! I'm hoping to have a big bathroom reveal!

How Did I Do on My June Goals?
These were my goals for June: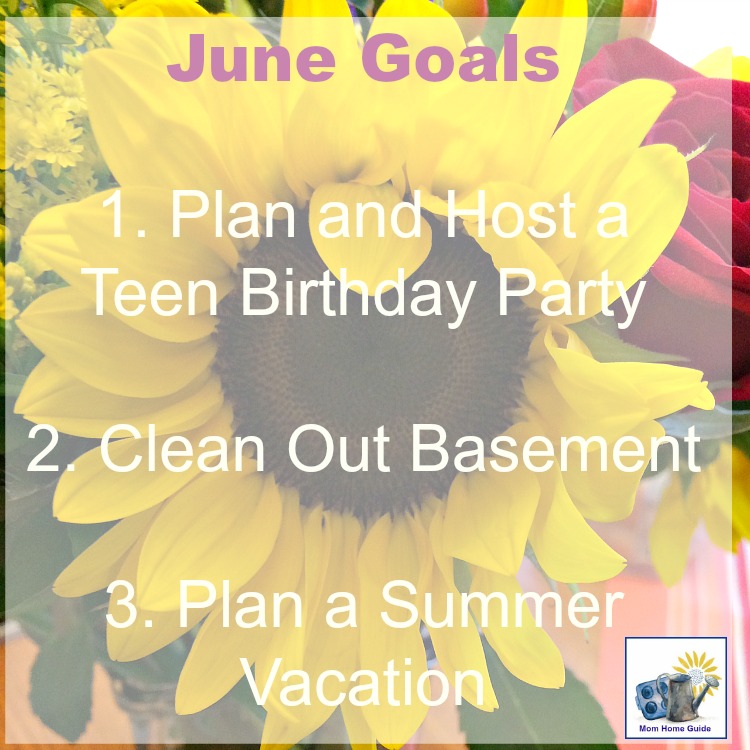 I made some progress on my June goals. I managed to clean out some of the basement. (The blank space you see in the basement photo above was filled with stuff.) The problem is that there is still LOTS of stuff in my basement — none of which my husband and kids want to part with! (I have already gotten rid of much of my stuff that was in my basement.)
Just last week I hosted a birthday party for my daughters in my backyard. They had a great time with their friends!
I also have a family trip planned for the summer — my family and I have made plans to go to Mystic in Connecticut and Cape Cod in Massachusetts for a seaside vacation!