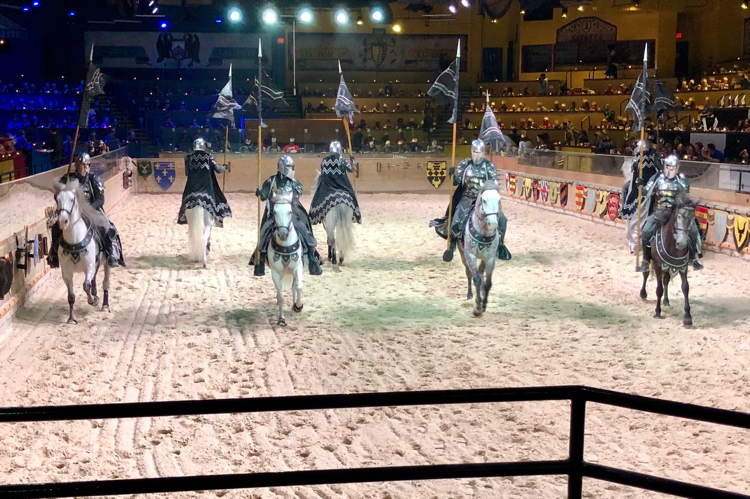 Earlier this year, my family and I enjoyed a spectacular night at Medieval Times in Lyndhurst, NJ. Medieval Times is a dinner and tournament experience that's fun for the whole family. My teen daughters were excited to be invited back to the castle last week for a behind-the-scenes tour, VIP access and training with some of Medieval Times' top knights! (Check out the bottom of this post for a coupon code from Medieval Times for as much as $19 off per person.)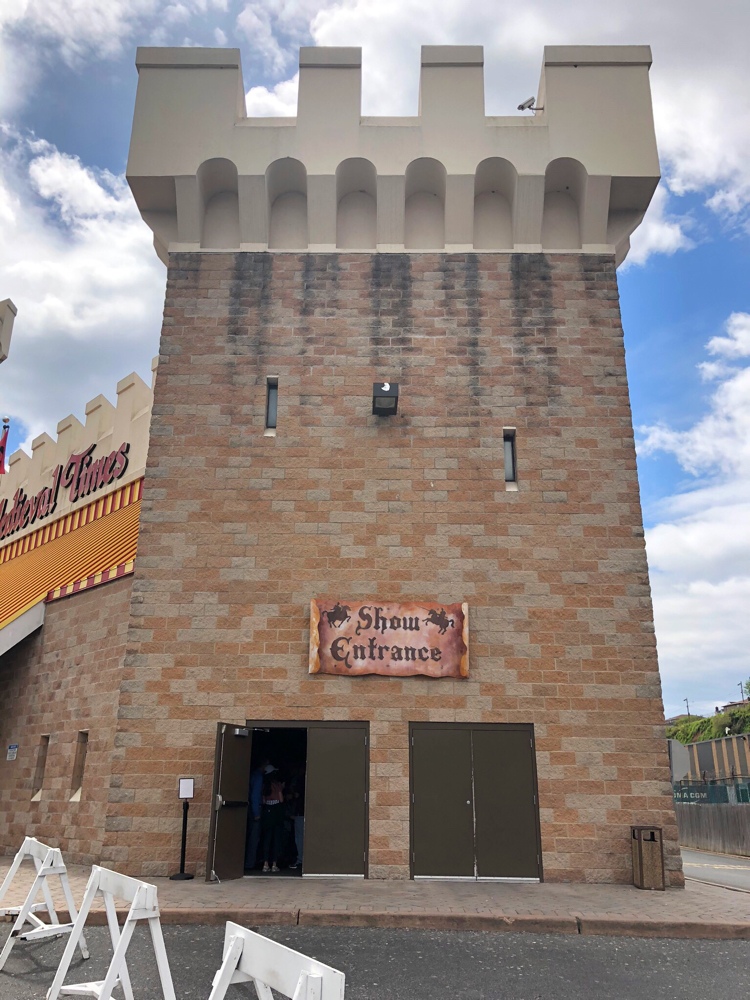 Unique Behind the Scenes Tour
Upon entering the replica 11th-century Spanish castle at Medieval Times in Lyndhurst, NJ, you get the feeling of what it might have felt like to live in medieval times. The castle opens 75 minutes before each show so you can fully take in the experience of being in a medieval-style castle.
The castle's spectacular main hall includes crests and pennants reminiscent of the medieval ages. The hall is filled with souvenir booths where you can pick up pennants (to help cheer on your knight) and replica swords, medieval-themed toys and other souvenirs.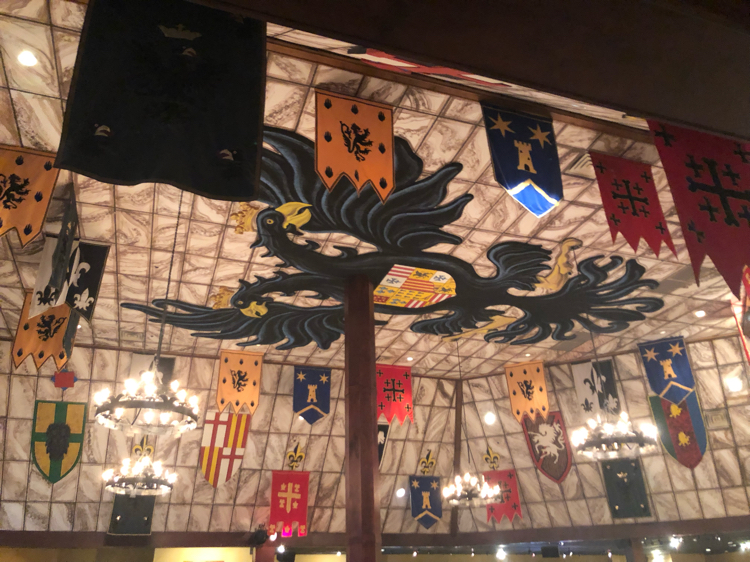 My daughters and I got non-alcoholic smoothies (alcoholic ones are available, too) in Medieval Times glasses that we were allowed to keep and bring home.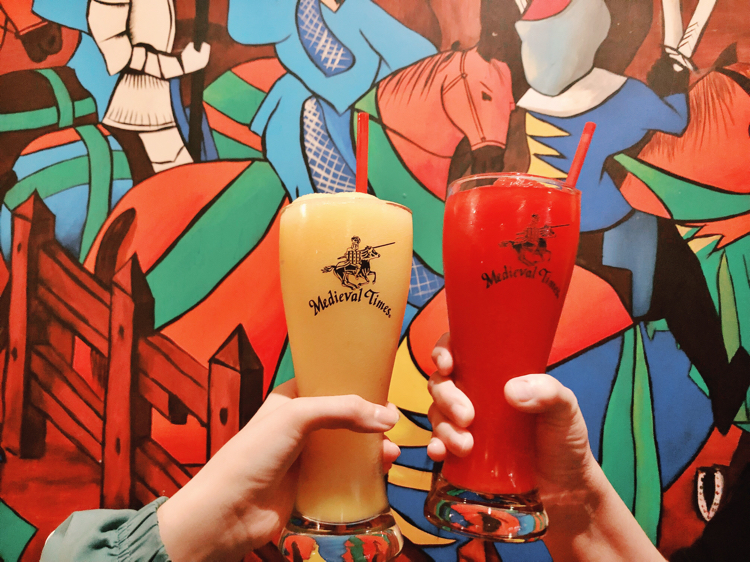 Our invitation from Medieval Times last week included a special behind the scenes tour at Medieval Times and joust training with some of Medieval Times' top knights! Upon arriving at the castle, we were given a tour of the castle's museum of torture. The museum contains replicas of torture implements that were commonly found in the dungeons of castles during medieval times. It was astonishing to see how many different ways people came up with to torture others.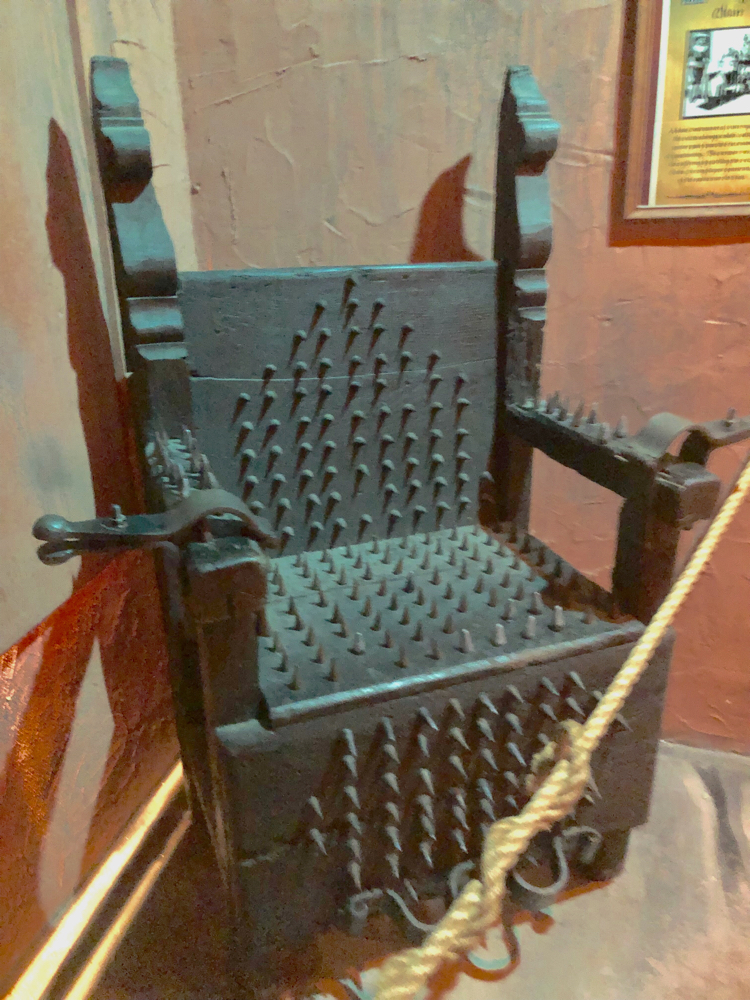 After our tour of the torture museum we were escorted to where the Medieval Times' tournaments take place. It was thrilling to be on the very sand where the beautiful Medieval Times horses gallop and the chivalrous knights joust.
On the sand some of Medieval Times' top knights schooled us in how to handle our swords and jousting moves.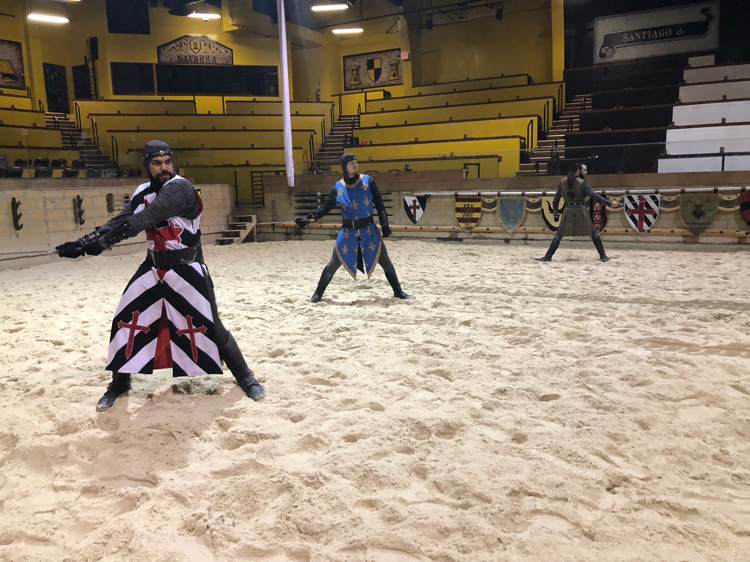 My daughters enjoyed mock sword fighting together.
I got into the action, too!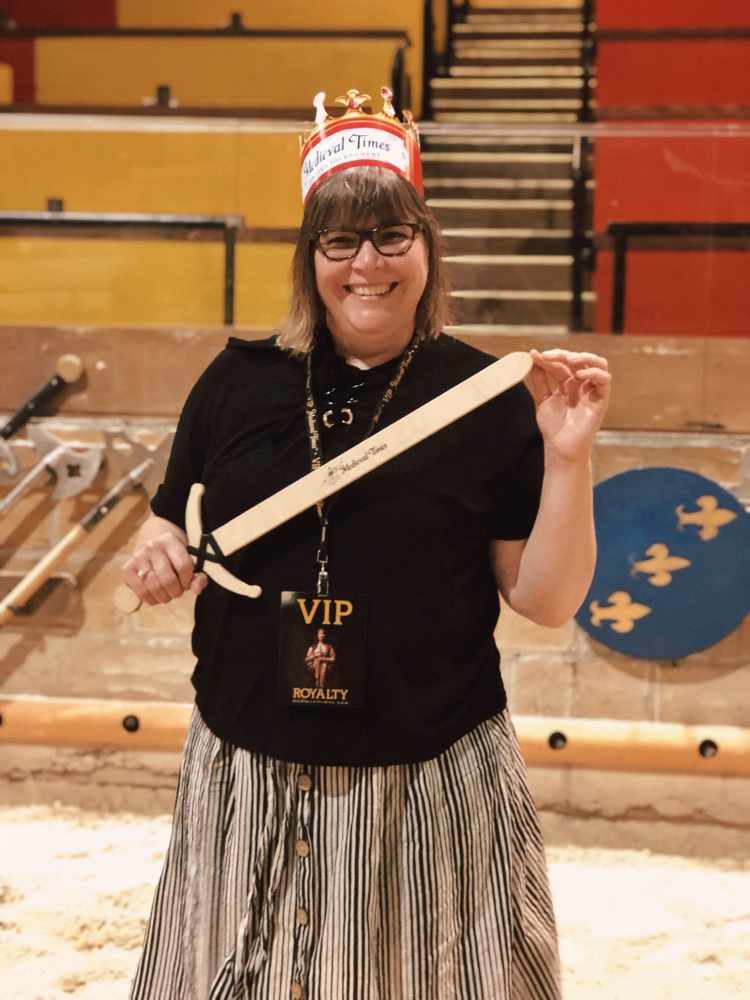 Feasting While Cheering on the Red Knight
When it came time to be seated for the 2-hour show, my daughters and I got VIP seating (close to the tournament field) in the red knight's section.
When I went to Medieval Times earlier this year, I enjoyed feasting on the tomato bisque soup, roast chicken, grilled corn, roasted potato and garlic bread. I even did reasonably well with eating with my hands (medieval style).
This time, my daughters and I opted to order the Queen's Vegetarian Meal. Our meal included the delicious tomato bisque soup, grilled corn, roasted potato, hummus with pita bread, celery and carrots, and a hearty vegetarian three-bean stew with fire roasted tomato and brown rice. My girls and I all had plenty of stew. Even though we loved the stew, we couldn't finish it! For dessert we enjoyed vanilla ice cream with a caramel sauce. We also had soda and water with our meal. (Coffee is also available with the dessert.)
The dinner is timed so you can enjoy it while you watch the show. I was impressed by the jousting skill and athleticism of the knights.
Knights often took rolling somersault tumbles off their horses when they were hit.

I loved the ability of the gorgeous trained horses.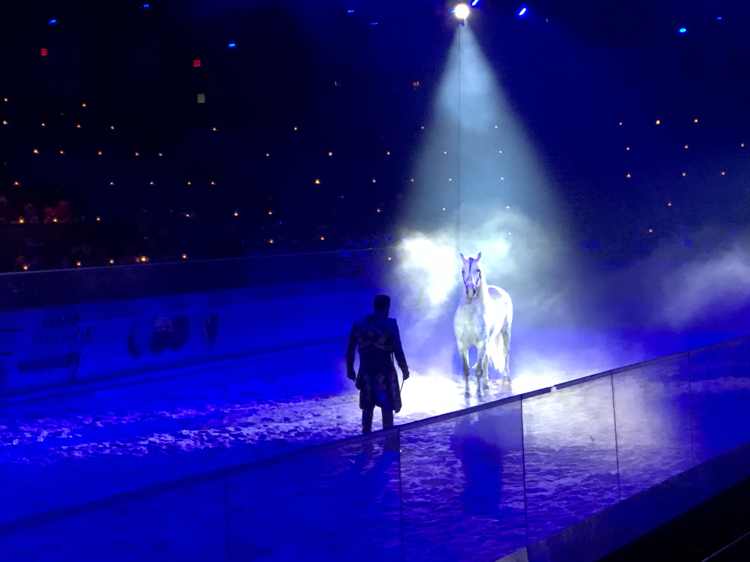 It turns out that our knight, the red knight, emerged victorious during the jousts. I even caught a red carnation tossed my way by the knight! My daughters and I enjoyed our evening at Medieval Times.
Save on Medieval Times
On its website, Medieval Times is currently offering a coupon code for upcoming shows at its Lyndhurst Castle. If you purchase a 2019 Medieval Times ticket for a show in Lyndhurst, NJ, before the end of this month (07/31/2019), you can get up to $19 off per person at Medieval Times with the coupon code ESMR19. Check out the Lyndhurst, NJ, Medieval Times website for the complete details on this Medieval Times coupon code.