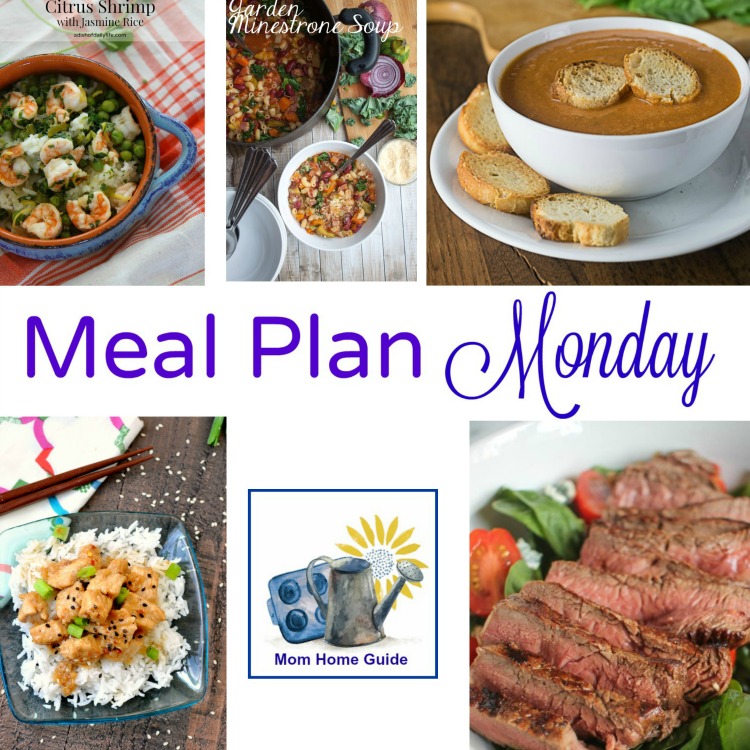 I co-host the Craft Frenzy Friday linky party every week, so I thought that for today's Meal Plan Monday, it would make sense to choose this week's dinner recipes from some of the fabulous recipes linked up with the linky party!
Creamy Tomato Basil Bisque Soup
My kids love tomato soup, especially when its paired with grilled cheese. This Creamy Tomato Basil Bisque Soup by Analida's Ethnic Spoon looks simple enough to make, so I thinking of serving this soup one night this week with a salad and grilled cheese. YUM!
Easy Korean Chicken
My daughters share a Korean heritage with my husband, and we all love Korean food. So, I was excited to see the Easy Korean Chicken recipe by Shannah at My Suburban Kitchen. The chicken is partly flavored with gochujang, a Korean chili paste. I am pretty sure there's some of that in my fridge!
Citrus Shrimp with Jasmine Rice
Now that my girls are getting older, they don't mind eating shrimp, so I am excited to start serving some shrimp dinners. The Citrus Shrimp with Jasmine Rice recipe by Michelle of A Dish of Daily Life looks easy to make and oh so delicious! I adore jasmine rice — a white rice, jasmine has a light, fragrant taste.
Sirloin Steak Salad
I serve salad dinners pretty regularly, which I love. But I know that my husband isn't completely fond of having salad for dinner. I know however, that he would like the Sirloin Steak Salad by Kit of The Kitchen. Her salad combines steak with blue cheese, walnuts, spinach (my fave), and grape or cherry tomatoes, which I prefer to regular tomatoes. I'll omit the walnuts when I make this salad for my family (I'm allergic to tree nuts), but otherwise, this recipe will be perfect for my family.
Garden Minestrone Soup
Soups are perfect for dinner in the fall. They are simple to make, are a great comfort food, and are a really tasty one-pot meal. I'd serve the Garden Minestrone Soup by Emily of Nap time Creations with a salad and some crusty French bread.