Now that Christmas is a week away, my children are very excited for Santa's visit.
One tradition that we have and that my children look forward to, is sprinkling magic reindeer food on our driveway Christmas Eve. Luckily, they are usually given a bag of the "magic dust," by one of their friends. But, the reindeer food, which is a combination of quick-cooking oats/uncooked oatmeal and glitter, can easily be put together on one's own. All you need to do is take about a cup of quick cooking oats and mix it in with a little glitter from the craft store.
In the bags of reindeer food that my children get from friends is usually a note on how to use the food on Christmas Eve to guide Santa's sleigh to one's home so there will be gifts waiting for the children on Christmas morning.
We received two different poems about the reindeer food this year, but this one is my favorite: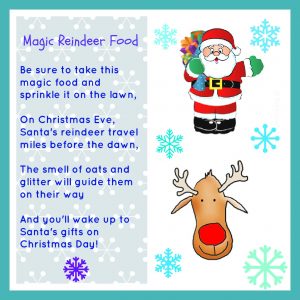 You are welcome to download this free printable for your kids this year! (Just right click on the poem/image, and choose print.)
So on Christmas Eve, my daughters will take their bags of reindeer food outside and will sprinkle it all over our driveway. The result will be a driveway full of oats for the reindeer and sparkles that the reindeer can spot from high above. What fun!