Hi! How is everyone's week going? This week is a hard week to get some blogging in — what with the school holiday this past Monday, a school half day today and a lunch date that I have with my dad and aunt later this week, it's hard to fit in writing and project time!
So, I'd thought that I'd give you all a sneak peak at my next project — I hope to have some photos of the completed project up on the blog on Friday.
Mod Podge Craft Letter
I've always liked the look of monograms and initials, so when I was at the craft store last week, I picked up a big wooden "K," to represent my family's last name. I grabbed a bottle of Mod Podge and a pretty piece of striped craft paper in green — my favorite color! I figure that once I Mod Podge the craft letter, I can set it on the fireplace mantle in my home's living room, or even on my kitchen counter. If the project goes well, I might have to Mod Podge some letters for my kids' new media and study space! The space is pretty much done, but it could use some more decor — and of course, some more organizing!
So, when I get a free moment or two this week, you know I will be working on my craft letter. Enjoy your week!
You Might Also Like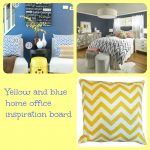 Yellow and Blue Inspiration Board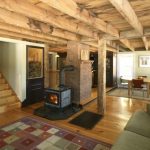 Ideas for Cheap Basement Remodeling