I just love looking at online house tours of other mom bloggers' homes. One house tour I recently saw was that of blogger Jenna from SAS Interiors. I just love how beautiful her home looks, from her tidy and clutter-free foyer, to her modern kitchen with beautiful wood floors to the serene master bedroom. I wish my home was so masterfully designed!
To me, my home is a work in progress. Over the past few months, I've completed a few home improvements, like making our home's mudroom/foyer area more functional, creating a fun study/media/play space for the kids and adding more privacy to my home's backyard. There are several more projects I'd like to complete — some of the wishes on my wish list include hardwood flooring and making our unfinished basement more livable, but I am not sure when/if I'll ever get to those big (and expensive!) projects!
Mom Home Guide House Tour
Let's take a look at some of my home's recent improvements!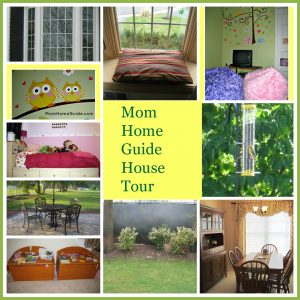 New Andersen Windows
About two years ago, my husband and I installed a new Andersen bay window and a new Andersen picture window in our home's living room. The windows are much more energy efficient, and the bay window has given our home's exterior a much improved look! I love the window seat that came with the bay window, and my kids enjoy sitting on the window seat and watching the birds at the bird feeder outside, reading and doing their homework. Sometimes, they even bring their stuffed animals and dolls to the bay window and play with them there!
We still have my kids' wooden toy chests in our living room (you can see the toy boxes in the photo collage above), but I'd love to replace them with a PB Comfort upholstered love seat from Pottery Barn! (The love seat is currently on sale at Pottery Barn — I loved the brushed canvas in honey!)
Home-Style Kitchen
I like my home's kitchen, which features a large oak farmhouse-style kitchen table that can seat eight people, with Windsor chairs. I love the oak china cabinet my husband purchased for me about two years ago — it has given me a place to display dishes and store placemats, utensils, etc. I'd love to one day add knobs to our kitchen cabinets (I purchased knobs in oil-rubbed bronze, but have yet to install them) and maybe one day replace the laminate floors.
Fun Kids Room
I love the kids room with twin storage beds that my husband painted for my daughters. My husband is an awesome painter! One side of the room sports two shades of blue, while the other features two shades of pink. (Each daughter chose her favorite color for her side of the room.) Because space is at a premium in the room, I chose the Lily Rose Collection, Twin Mates bed, which is available from Amazon.com. The twin bed frames, at about $169 each, are fairly affordable, and offer three large drawers for storage underneath. My kids have been talking about maybe wanting their own rooms soon, so I can tell that I'll be redesigning and coverting my home office into a tween bedroom soon! (I'll have to move my home office to a much smaller room — sigh! That bedroom happens to be in a beautifully painted Pooh Bear theme that my husband painted, so I guess I'll be having a Pooh Bear office, since I can't bear to paint over it!) Yeah, I am a sentimental gal! Luckily, the twin storage bed will work in the new bedroom soon, so at least I won't have to purchase a new storage bed!
Hallway Turned Kid Space
Our home has a large upstairs hallway, and my kids were in need of a play /media / study space, so I recently converted the hallway into their own space. I added a green feature wall with a cute tree and owl decal, some beanbag chairs and a TV. Now, I plan to organize the wall-to-wall bookcases in the space with colorful cloth organizing bins, so my family will each have his or her own bookcase in which to store stuff — but without the bookcases looking like a mess! (Keep an eye out for that project on the blog soon!)
Our Outdoor Space
My home's backyard backs to a playground, so I've been working to create more privacy in the backyard. To that end, I've planted bushes in front of the fence that separates our home's backyard from the playground, and I've hung a privacy tarp on the fence. The best features of the backyard are our paver patio and the wrought iron patio table and chair set. I can't wait until the weather warms up so more so we can enjoy the patio!
Master Bedroom Tour Coming Soon!
I love my home's master bedroom, but I haven't featured it yet on the blog. I have some home improvement projects planned for that space, so stay tuned!