"I participated in an Influencer Activation on behalf of Influence Central for American Express. I received concert tickets and a promotional item to thank me for my participation."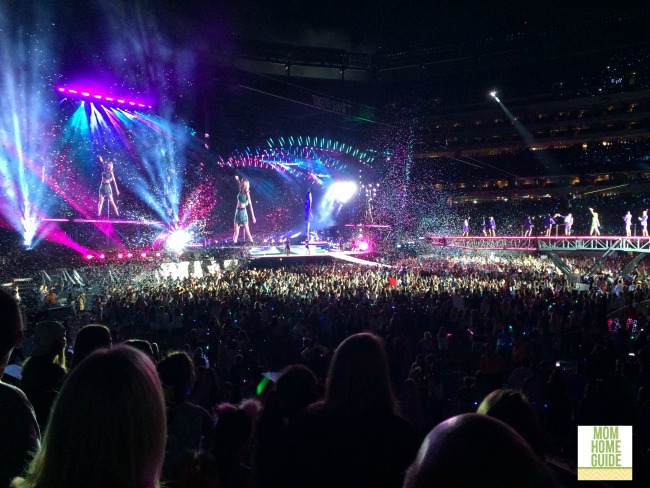 Happy Monday, everyone! My family and I had a FANTASTIC weekend — we went to Taylor Swift's 1989 concert together! The concert was a wonderful experience for us to share together — the concert was my twin tween daughters' first concert. It was a big concert! We saw Taylor Swift's concert at the MetLife Stadium on Saturday, and it was packed with 50,000 fans!
My family and I were lucky enough to receive the Taylor Swift tickets from American Express and Influence Central. AMEX and Influence Central have teamed up to provide fans with tickets to Taylor Swift's 1989 World Tour to create special moments for fans throughout the summer and to encourage families to celebrate #EveryDayMoments! The concert was certainly a special everyday moment for my family and me!
AMEX are the folks behind the Amex EveryDay Credit Card. The card is designed to help people like me make the most of special moments in our lives. With the Amex EveryDay Card, moms and other multitaskers are rewarded for everyday purchases—for every 20 transactions a month, card holders receive 20% rewards – with no annual fee.
Taylor Swift 1989 Concert
Taylor Swift's concert at MetLife Stadium was terrific! My daughters loved the interactive flashing bracelets that were given out to all the fans — the bracelets were coordinated to flash specific colors during the concert and made for a fantastic light show!
Taylor Swift had some wonderful opening acts for her show: Shawn Mendes, Vance Joy, and Haim. I had never heard of Haim before, but I loved them! The songs they performed Saturday had a hard rock edge to them, and were lots of fun and really got the stadium going!
During the concert, I was surprised at the amount of time Taylor Swift spent giving heartfelt pep talks and self-help tips to her fans. Her talks were joined by adorable videos about Taylor Swift by some of her BFFS, like Selena Gomez.
The theme of friendship promoted by Taylor Swift and in the videos was a great message for my tweens — Taylor Swift emphasized that there shouldn't be competition between girls and women. Instead, Swift expressed that girls and women should share support and friendship. Taylor Swift emphasized that one's BFFs should have your back and be a major source of support. I love how Taylor Swift promoted Girl Power and the importance of true friendship! What a great message for my kids! My girls and I also loved getting to see Taylor Swift's cats on the videos — so cute!
My husband and I realized later that Swift never took an intermission — those talks and videos were Swifts only breaks during 2.5 hours of a fantastic performance!
My husband wasn't too wild at first about joining me and my daughters at the concert (he noted at the beginning of the concert that women and girls outnumbered him by about 25 to 1), but after the concert, he admitted that Taylor Swift's 1989 concert was a great show! The concert combined truly fantastic performances of Swift's hits with fun to watch dance numbers. The concert was also an amusing throwback for my husband and me — we both graduated college in 1989, and Swift had hits from the 1980's playing in the stadium before the concert started! My husband and I got to share some musical memories together from our college days! LOL
My kids were excited when Nick Jonas joined Taylor Swift onstage for a surprise performance of his hit, "Jealous." I was thrilled when Taylor Swift sat suspended over the audience to play her older hit, "Love Story." The song happens to be one of my favorite Taylor Swift Songs! (I love the sweet and sentimental songs from Swift's earlier days.)
Among the other hits Taylor Swift sang were "We Are Never Ever Getting Back Together"  and "Bad Love," which had the whole stadium singing and on their feet. The show concluded with  "Shake It Off"," which Swift sang on a raised catwalk surrounded by a host of dancers. Fireworks topped off the amazing performance!
My daughters and I would love to see another Taylor Swift performance! Thanks, AMEX and Influence Central, for giving my kids and me so many special #EveryDayMoments at the concert! Taylor Swift, Vance Joy, and Haim will perform at the Staples Center in Los Angeles, CA on August 22, 2015.
Win Taylor Swift Tickets!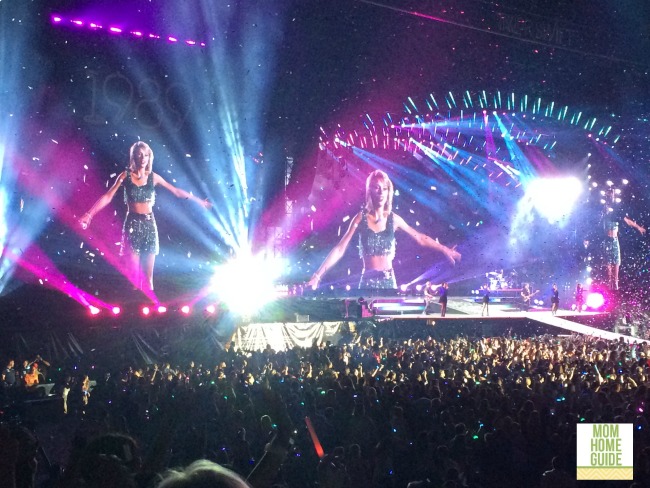 Influence Central, on behalf of AMEX, is giving away two tickets to 7-8 lucky winners to Taylor Swift concerts in various locations throughout the summer! Visit everydaysummerconcerts.com to enter and for more details!
Additional Resources
EveryDay Summer Concerts Giveaway Microsite: http://everydaysummerconcerts.com/
American Express EveryDay Card: https://www.americanexpress.com/us/credit-cards/amex-everyday
Facebook: https://www.facebook.com/AmericanExpressUS
Twitter: https://twitter.com/americanexpress