Last week, I finished the feature wall in my kids' new study area. I think it looks great!
For the new feature wall, my kids picked out a pretty green paint, plus a really cute owl and tree RoomMates mural (Happi by Dena), that I purchased on Amazon (my go-to shopping place).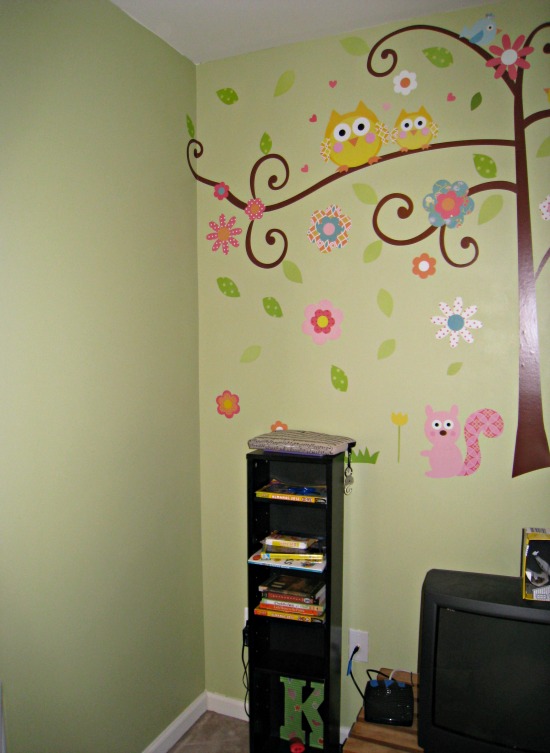 The mural was pretty easy to put up — the only help I needed was reading the itsy bitsy numbering on the mural's instructions that told me where to put each of the mural's parts. The numbers were so small, I couldn't read them even with the help of a magnifying glass!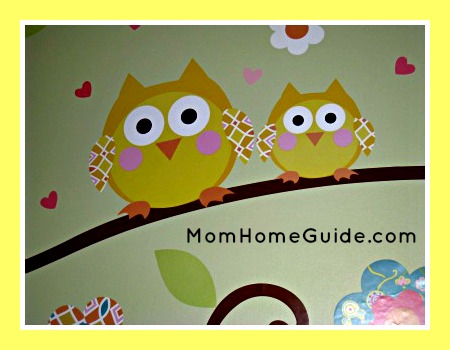 I finally had to call one of my daughters in to write bigger numbers on the diagram for me. But, once that was done, assembling the mural was easy peasy!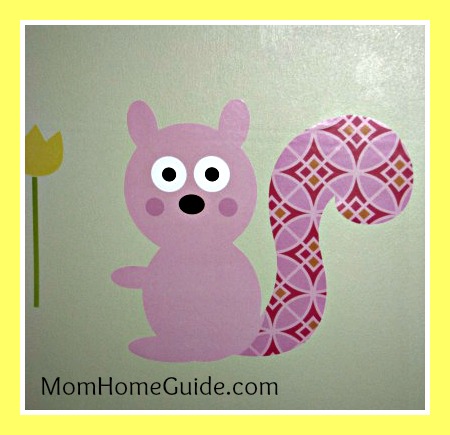 After I had the tree up, I strayed from the mural's directions (on where to place the leaves, flowers and animals), since I wanted to fill more of the wall instead of just the middle.
I even gave up the TV (an old fashioned one, not a flatscreen) and the TV stand (an old coffee table) that once sat in my office so the area could also double as a media area for my kids. At some point, I might bring up their WIii console, so they can play Wii up there, too.
What do you think of the TV stand? It either needs to be restained or painted — I am not sure what to do. I am not sure whether I should stain it, paint it a white or a yellow, or come up with something completely original and fun. You'll know I'll be surfing the Web and Pinterest for ideas!
More Organization Needed
To complete the transformation of my kids's study area, I've assembled a new plastic shelving system in the basement to hold a lot of the books that once sat on the shelves in my kids' new study/media room/play area. I bought some fabric bins today in tan, green and blue at Target, and hope to use them to store some of my kids' books, toys and art supplies in thr space. I'll have to show you the completed space once it is done!
You Might Also Like