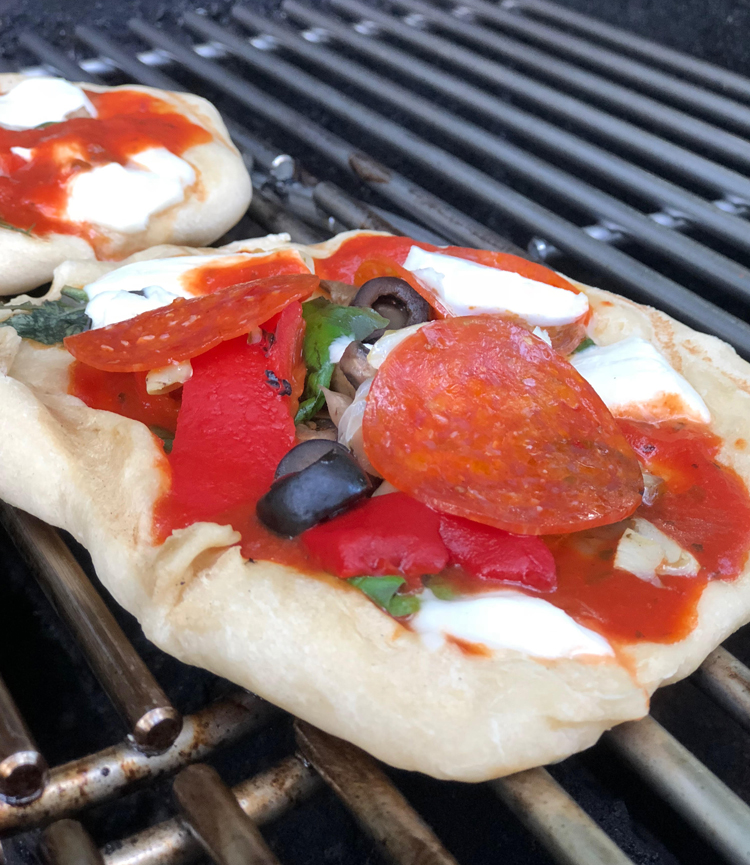 In the summer months, I love making dinner outside on the grill! Big pluses to cooking on the grill are that I don't dirty or heat up the kitchen, and I get to squeeze in some extra time outdoors! I'm always looking for new recipes for the grill. So I'm excited to be participating in the Taste Creations Blog Hop today. We will all be sharing recipes that can be made on a grill! (Check out my friends' recipes below in this post.)
Grilled Personal Pizzas
I am fairly new to grilling. I only learned to grill about 4 years ago, when I got my Weber Propane Gas Grill. Much of what I grill is pretty basic — mostly hamburgers, hot dogs and some veggie burgers. My daughters have been wanting to make homemade pizzas at home for a while now, so I found an easy recipe for homemade personal pizzas made on the grill. The recipe I found is from the food blog, The Kitchn.
I didn't have any experience making pizza dough, but I found that this pizza dough recipe is simple. I was surprised to find that the dough is easy to work with, cooks up in minutes and doesn't stick to the grates of the grill. (This recipe calls for grilling the pizza directly on the grates.)
My family and I liked this recipe so much that I served personal pizzas two week nights in a row last week. The Kitchn's pizza dough for grilling recipe says it makes enough dough for 8 pizzas, but I was able to squeeze 10 small pizzas out of it. (So there is plenty of dough to make pizza two nights in one week for my family.) I love that this dough only contains a few natural ingredients — flour, yeast, olive oil, salt and water. This dough recipe makes a thicker dough recipe that isn't too flimsy for the grill. (Which is important, because this recipe calls for grilling the pizzas directly on the grates.)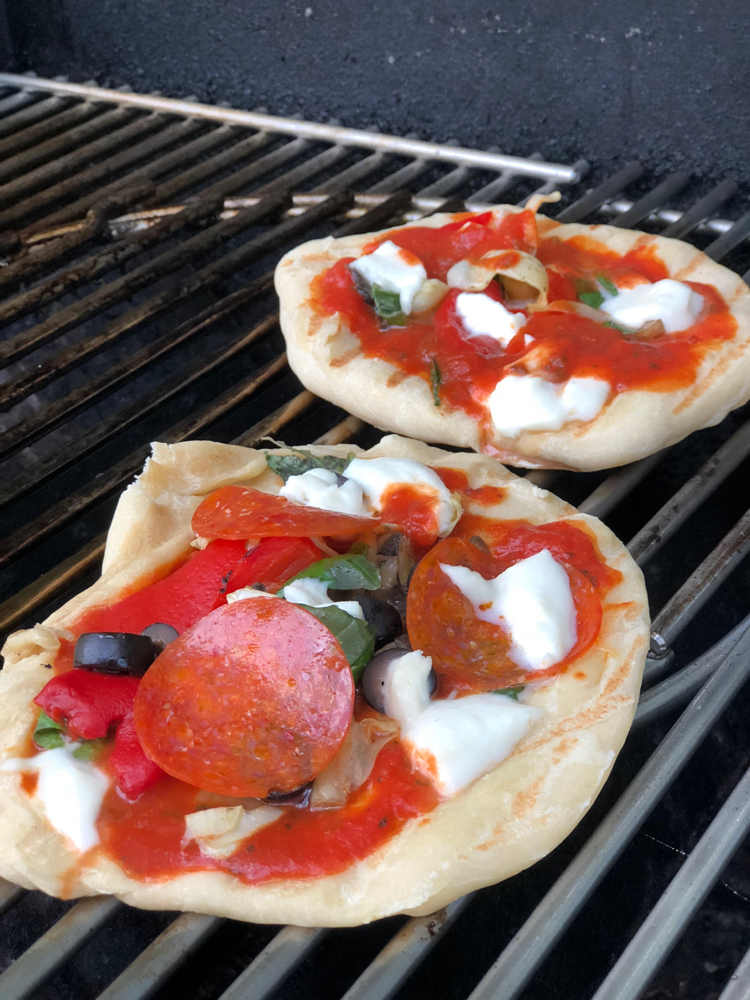 Pizza Dough Ingredients
(Makes 8-10 small pizzas)
If you want to use the pizza dough the same day, use 2 teaspoons yeast. If you are going to let the dough rise overnight, use 1 teaspoon yeast.
1 2/3 cups water
1 to 2 teaspoons active dry or instant yeast
1/4 cup olive oil
5 cups all-purpose flour
2 teaspoons
salt
Mix the water and yeast in a bowl of a stand mixer or in a large mixing bowl. Let the mixture stand for a few minutes until the yeast is dissolved. Stir the oil into the yeast mixture. Add the flour and salt. Stir the mixture with a spatula until a dough is formed.
Knead the dough on low speed with a dough hook for 5 to 7 minutes. Or, knead the dought by hand on a clean surface (I used a large cutting board) for 6 to 8 minutes. The dough should form a smooth ball.
Cut the dough into 8-10 lumps. Grease a baking pan lightly with olive oil or baking spray. Round the lumps between your hands and place them in the pan, making sure they get coated with oil. Cover the rolls for dough with plastic wrap or a clean kitchen towel.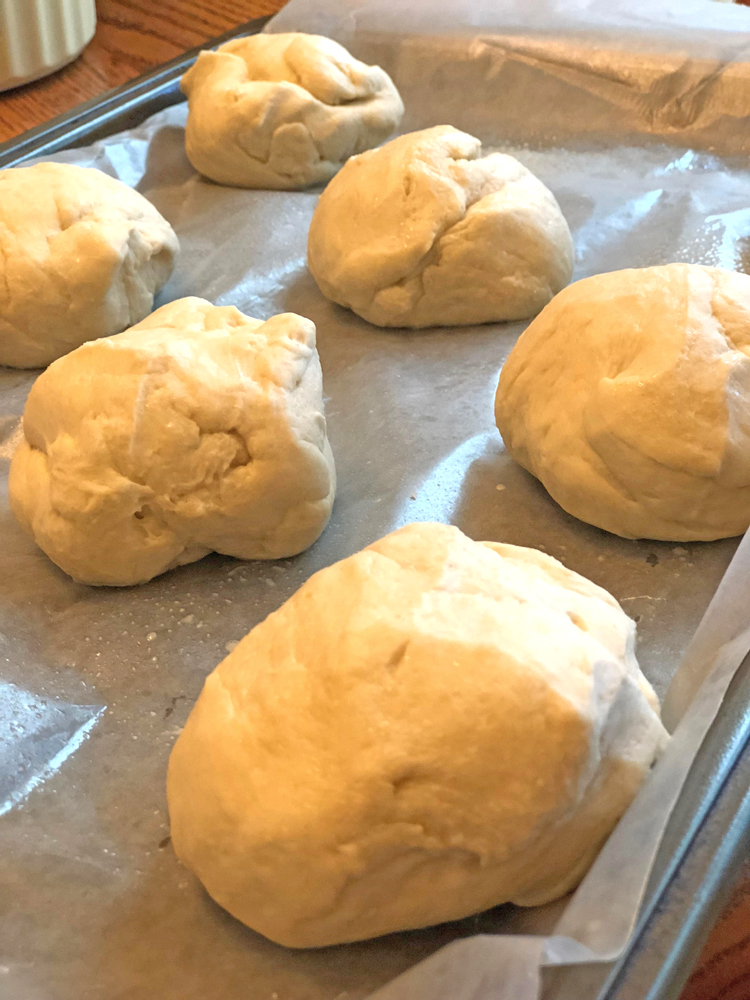 To Make Pizza the Same Day
Let the dough rise at room temperature for 1 to 1 1/2 hours, or until it has doubled in bulk.
The dough can be used immediately or refrigerated (up to 3 days) or frozen for later use.
To Make Pizza the Next Day (or Later)
If you are making the dough for another day, place the covered pan in the refrigerator immediately and let it rise slowly overnight or up to 24 hours. Remove the dough for the refrigerator to bring the dough to room temperature at least one hour before making the pizzas.
How to Grill Pizza
To make your pizzas, heat your grill on high at least 10-15 minutes to at least 500 degrees. To make things easier, have at least one burner set on high and one set on low.
Prepare your toppings and have plates, a pair of grill tongs and a grill spatula on hand. It is essential to add the toppings to the pizzas once your dough is grilled, so the pizzas won't burn.
These are the toppings I used for my family's pizzas:
Jarred tomato sauce
Mozzarella Cheese
Pepperoni
Sauteed Fresh Mushrooms
Roasted Red Peppers
Marinated Artichoke Hearts
Fresh Basil Leaves (from my patio garden)
Hot Pepper Flakes
Garlic Powder
If you are making this recipe for your family, it's easiest if you make the mini pizza crusts all at once. Stretch out each ball of dough with your hands. On a plate smeared with some olive oil, press the dough into circles. (Be sure to rub the oil onto the bottom of the dough as you are forming your circles of dough.)
Cook the pizza dough rounds on the grill on high for 2-3 minutes with the grill top closed, until the dough hardens a bit and gets light char marks. Move the rounds to the burner that is set on low.
Immediately add sauce and desired toppings and seasonings, and top with bits of fresh mozzarella cheese. Close the top of the grill for 2-3 minutes, or until the cheese is melted. (Be sure to keep a careful eye on the pizzas so you don't overcook them.) Transfer the pizzas to small plates or to a large platter. Serve and enjoy!
Some friends of mine will be visiting on July 4th, and I am looking forward to making these grilled pizzas for them! Have a happy holiday!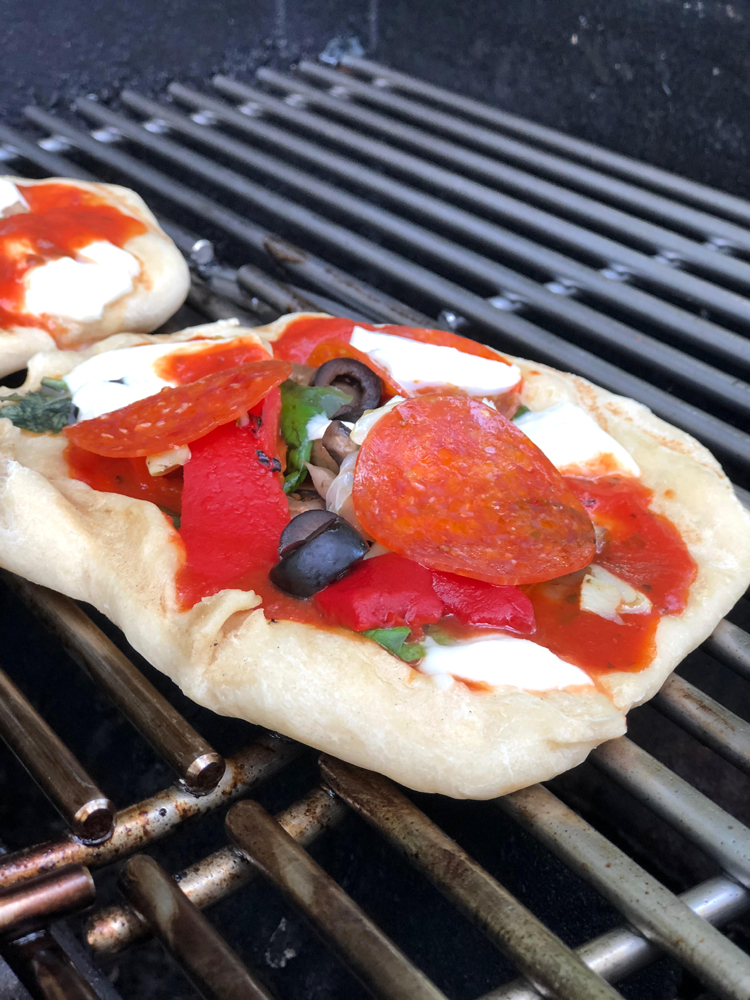 Be sure to check out my friends' delicious recipes for the grill below!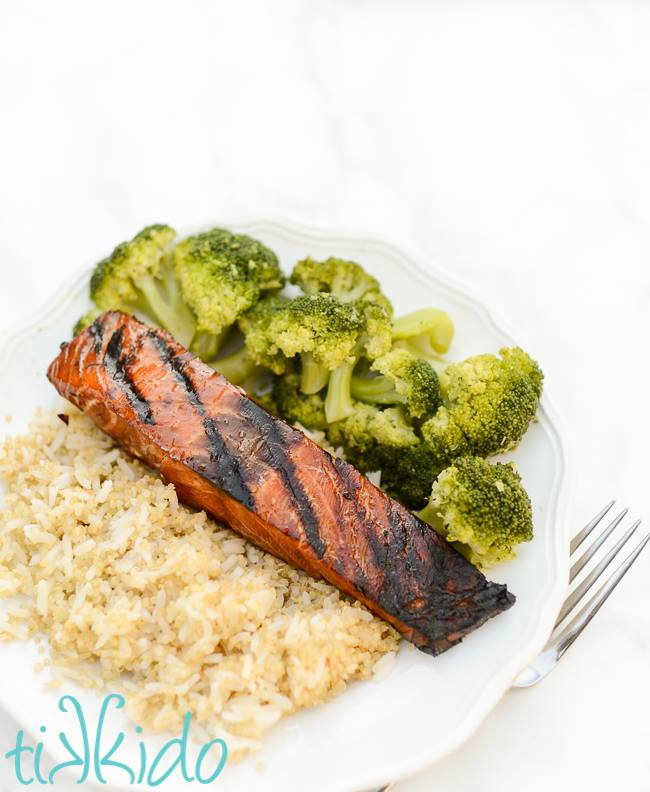 Grilled Salmon with a teriyaki glaze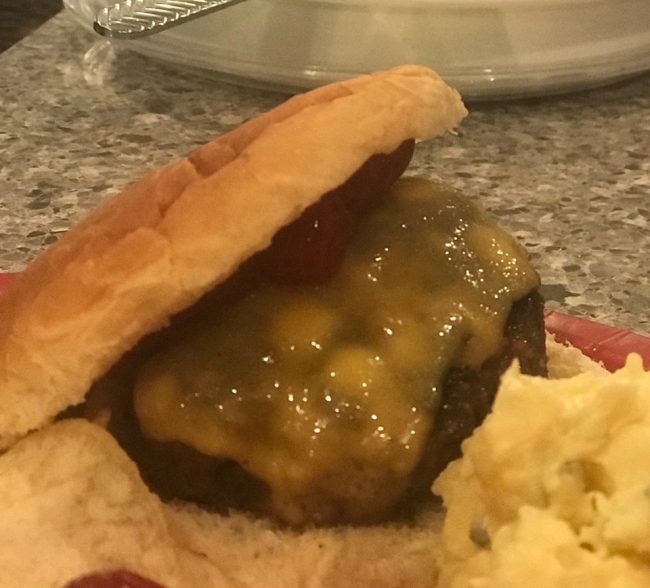 Marinated Burgers — Our Good Life