My family and I recently got back from an amazing road trip to the Niagara Falls, Canada and New York's Finger Lake region. Best of all, we brought our new Shih Tzu puppy, Mochi, with us! The trip passed by in a blur, and I can't believe that we are back home already.
We adopted Mochi in January, and weren't ready to leave him in a kennel. I've read that the Niagara Falls and New York's Finger Lakes region is dog friendly. So we settled on upstate New York as this summer's vacation destination. I used the app, Bring Fido, to locate the puppy-friendly hotels and many of the sites we visited on our trip.
I have been wanting to take my daughters to see the Niagara Falls. Plus, I have a sentimental attachment to upstate New York. My grandparents lived in Penn Yan, NY, when I was a kid, and we vacationed several summers together on the breathtaking Keuka Lake. I've always thought that Keuka Lake is one of the prettiest places I've visited.
Day 1 – New Jersey to Bath, NY
For the first leg of my family's trip, I arranged for us to stay in Bath, NY, which is only about 30 minutes to New York's Penn Yan and Corning. Corning has the Corning Museum of Glass and Corning's lovely downtown. (But I've found that hotel rates are a lot higher in Corning, too, than outside Corning.) Penn Yan is pretty much the same small town it was when my grandparents lived there, but I wanted to see it again for old times' sake.
We stayed in the Microtel in Bath, since Microtel allows pets. The hotel made the mistake of renting our reserved room to someone else — when we opened the door to our room, somebody else was there! They gave us a different room. The room was on the first floor (I usually don't prefer that) and it had a walk-in shower. Since the shower was basically open to the rest of the room, it meant that the floor always got soaked whenever we took a shower. The bathroom also only had a pedestal sink with no counter space. We also discovered that the hotel's free breakfast isn't as nice as other hotel breakfasts we've had.
Later in the trip we discovered that it's handy to be on the first floor when you are traveling with a dog. At the Microtel, a side entrance to the hotel was about 100 feet from our door. When our puppy needed to go out early in the morning or late at night, we didn't have to go far. (Meanwhile, when we stayed on the second floor in other hotels during our trip, we had to take the elevator and go through the lobby before taking puppy out for his walk.)
Lunch in Phillipsburg, NJ & The Crayola Experience in Easton, PA
Bath is about 5 hours from my house, so I planned for my family to stop in Phillipsburg, NJ, about an hour away from our home, for lunch on our drive up. Philllipsburg is a picturesque town on the Delaware River. In town there's a great hot dog stand — Jimmy's Doggie Stand – that has outdoor seating with great views of the river. We needed to find a restaurant with outdoor seating because of our puppy, and my husband LOVES hot dogs, so the restaurant was a perfect fit! When you travel with a dog, you often eat takeout or need to find a dog-friendly restaurant with outdoor seating.
After lunch, we drove over to Easton, PA, which is directly across the river. There, we made a quick visit to the gift shop at Crayola Experience, where my daughters picked out some souvenirs. After souvenir shopping, my daughters and I met up with my husband and our puppy, who were hanging out at the beautiful fountain in Centre Square. Our puppy loves to cool off at fountains!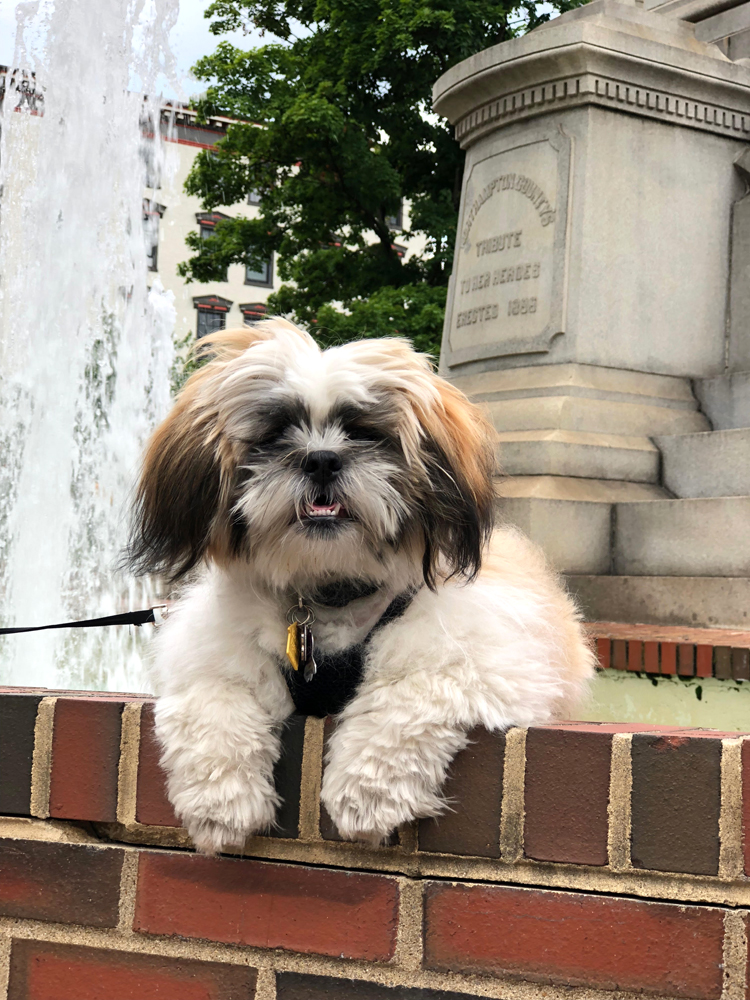 The below photo is another look at the fountain.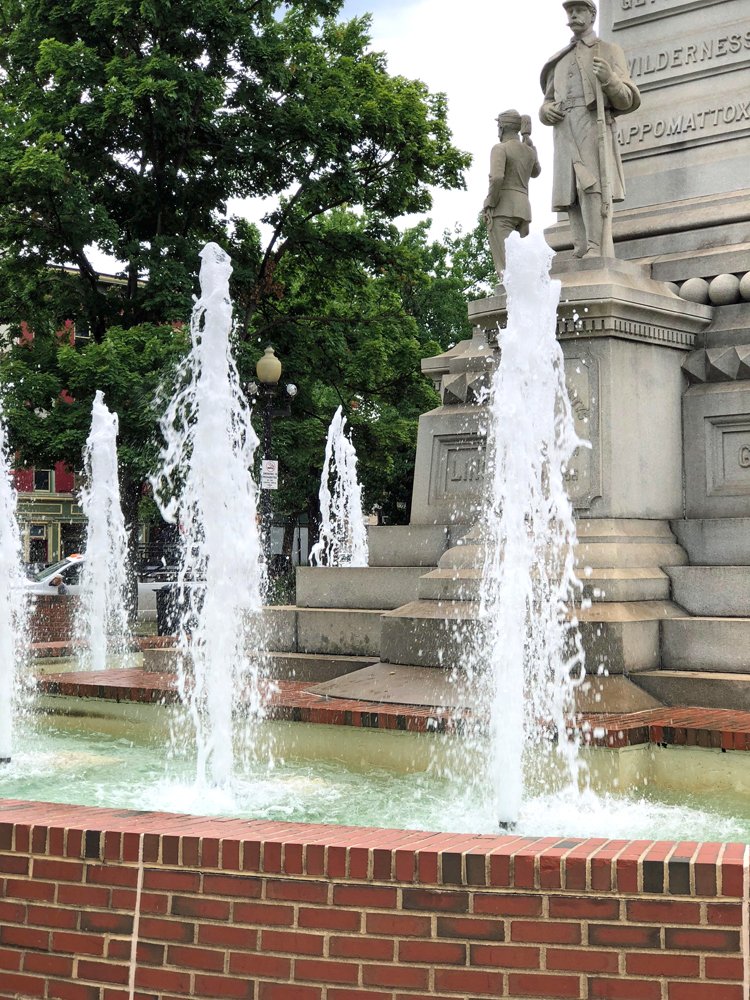 I would really like to visit Easton again sometime soon to see its beautiful downtown again.
We arrived at our hotel fairly late in the evening, so after we checked into our hotel, we ordered takeout from the Italian restaurant across the street (I got a delicious vegetable calzone) and checked in for the night!
I'l be sharing more about our road trip here on the blog. Up next, I'll be sharing about our first full day in New York State. Our first full day in New York included touring the beautiful countryside and towns along Keuka Lake, the third largest finger lake in the state.