This post contains Amazon affiliate links.

One of my New Year's resolutions this year is to make things easier for myself. I cook dinner for my family almost every night. Each meal requires some meal planning, grocery shopping, preparing, cooking, and cleaning up afterward. It can be a lot of work! Sheet pan dinners cut down on some of the work of making dinner.
Since you can cook everything on just 1 or 2 sheet sheet pans
, there is a lot of less cleanup for a sheet pan dinner. My family loves rosemary chicken and potatoes, so yesterday I cooked up an easy rosemary chicken, asparagus and potato sheet pan dinner.
There is very little prep for this meal. All that's needed to be done is to wash the potatoes and asparagus, prepare the asparagus (I cut the tough white ends off), season the chicken, potatoes and asparagus, and cook! That's it!
Rosemary Chicken & Potatoes Sheet Pan Dinner
with Asparagus
(Recipe from Pillsbury.com)
Ingredients
1/4 cup olive oil
1 teaspoon salt
1/2 teaspoon black pepper
2 tablespoons chopped fresh rosemary leaves
1 lb baby red potatoes, quartered
6 boneless skinless chicken thighs (about 1 1/2 lb)
1 bunch asparagus, cut into 2-inch pieces (about 1 lb)
Instructions
Heat oven to 425°F. Spray a rim sheet pan or two with cooking spray. (I used 2 sheet pans.)
In a large mixing bowl
, mix 2 tablespoons of the olive oil, 1/2 teaspoon of the salt, 1/4 teaspoon of the pepper and 1 tablespoon of the rosemary. Add potatoes; toss to coat. Place potatoes skin side down in single layer on a sheet pan
. Roast the potatoes for 23 to 25 minutes or until tender when pierced with a fork. Remove from oven; stir.
In same large bowl, mix the remaining 2 tablespoons olive oil, 1/2 teaspoon salt, 1/4 teaspoon pepper and 1 tablespoon rosemary leaves. Add chicken and asparagus; toss to coat. Arrange in single layer on a pan (or 2, if needed) along with the potatoes.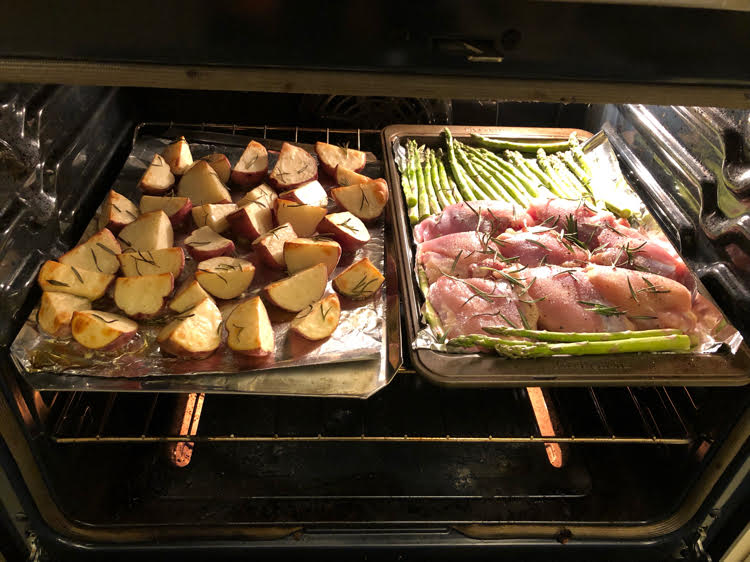 Roast 16 to 20 minutes longer or until the chicken reaches a temperature of 165°F (measure the temperature with a
meat thermometer
).
I thought this meal would be enough for two dinners, but my family liked this dinner so much that they ate it all in one meal!