This post was sponsored by Cedar Bay. I received a cedar planked salmon in exchange for my review. This post contains Amazon affiliate links for your shopping convenience. They cost you nothing, but Mom Home Guide may earn a small commission that helps fund this blog if you make a purchase. Thanks!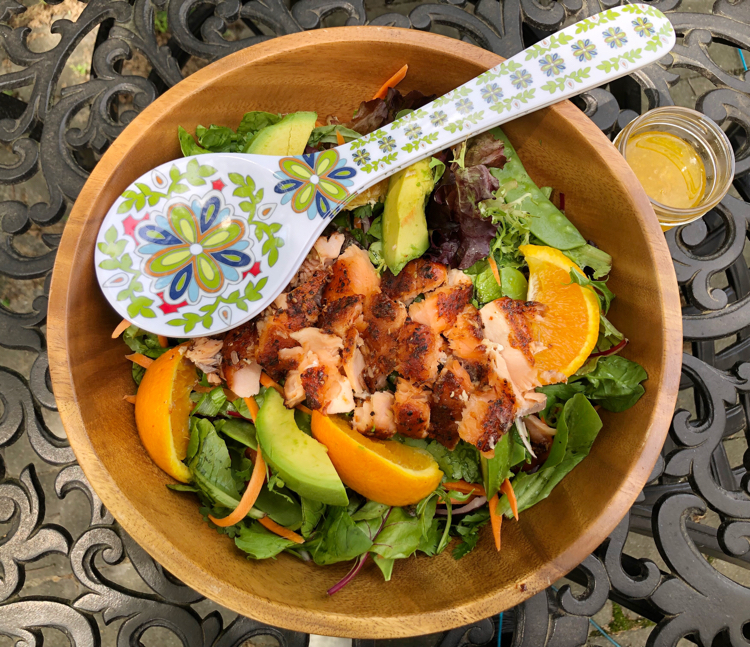 This recipe for Smoky Ginger & Orange Salmon Salad is so easy and fun to prepare and is so delicious! I made this recipe with a portion of cedar planked Orange Ginger salmon from Cedar Bay Grilling Company. The frozen portion of salmon came pre-seasoned with orange rind, brown sugar, ginger and other spices. The salmon came with its own pre-soaked cedar plank! To prepare the salmon, all I did was defrost it and heat it up on the grill for about 15 minutes. This salmon is simple to prepare and yummy! I like cooking on the grill — I adore the added flavor the grill lends, and I like that cooking outside on the patio means less kitchen cleanup!
I got my Weber Propane Gas Gril a few years ago. Little by little I've been learning how to cook new recipes on my grill. I've always wanted to grill salmon on a cedar plank on my Weber grill, and have pinned several salmon plank recipes to my Recipes Pinterest board. I recently received a Orange Ginger 24 ounce cedar planked salmon from Cedar Bay Grilling Company™ as part of the Blogger Recipe Challenge from Cedar Bay Grilling Company! The top prize for this recipe contest is $1,000! So today, my recipe for the Pinterest Challenge will be a Smoky Ginger & Orange Salmon Salad. (Wish me luck in the contest!)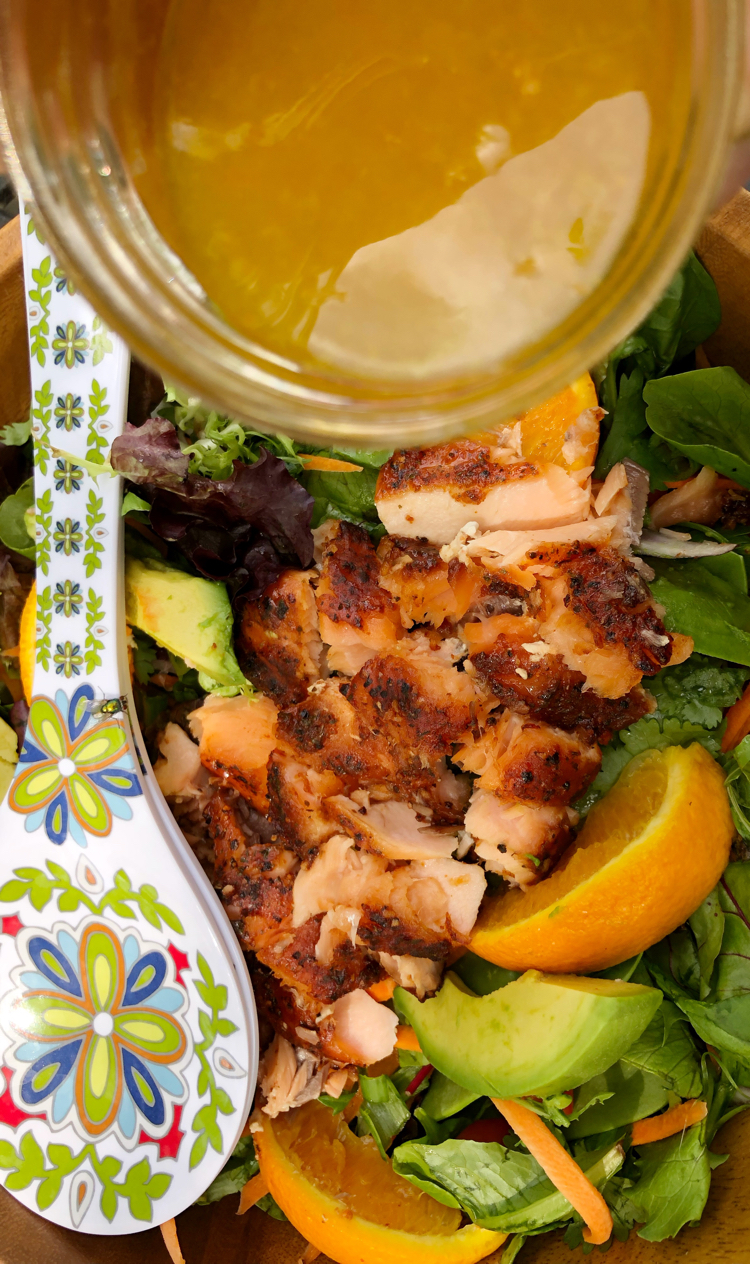 Cedar Bay Grilling Company salmon can be purchased at Kroger, Publix, Hannaford, Safeway, Albertsons, Fred Meyer, Ralph's, Giant, Giant eagle, Stop n Shop and Roche Bros.
The Pinterest Challenge is hosted by Erlene of My Pinterventures once a month. In the challenge, my blogging friends and I get together to challenge ourselves to try a pin that we've pinned — whether it be a recipe, DIY project, craft, etc. Scroll down below to see my friends' projects and recipes for this month!
For my smoky ginger and orange salmon salad, I first made some homemade orange ginger salad dressing. I then heated my grill to 425°F.
While my grill was heating, I washed and prepared all the salad greens, fruit and vegetables for this main dish salad recipe and put the salad into a beautiful large wood salad bowl
. I like to pair the salad bowl with a colorful pair of salad servers
.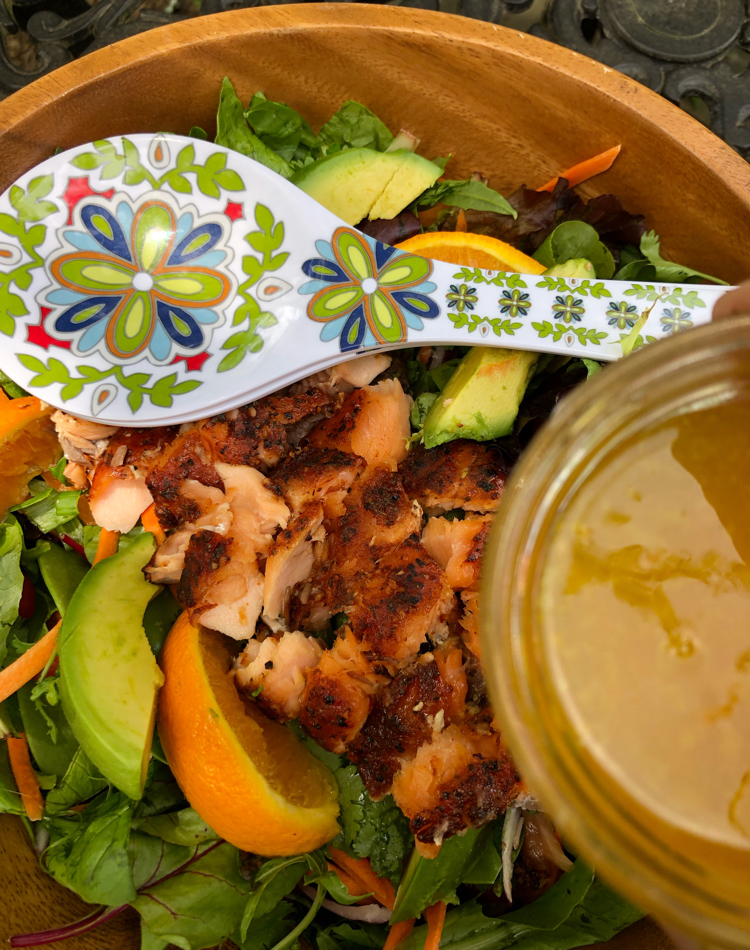 Once the grill was hot, I cooked the salmon according to the package's directions.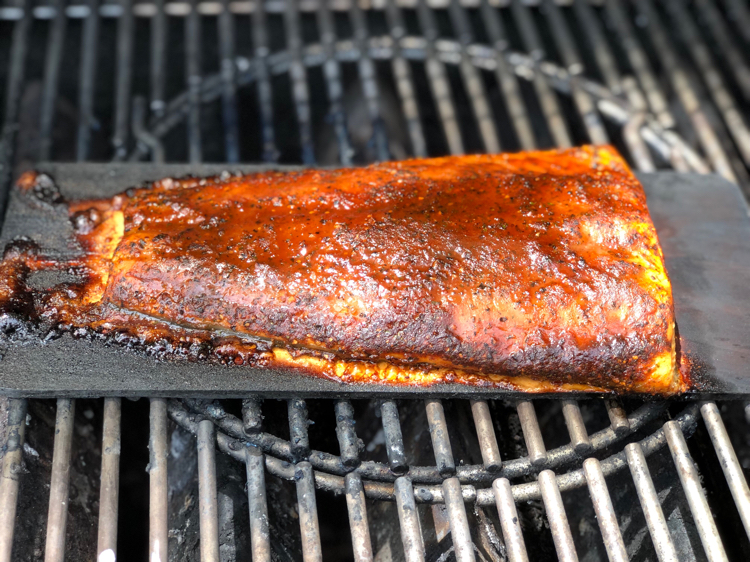 I love the orange/ginger taste of this perfectly seasoned salmon from Cedar Bay Grilling Company! Grilling the salmon couldn't be easier – I didn't have to season the fish or soap the cedar plank. All I did was place the salmon on its plank into the heated grill, and I was ready to go!
Once the salmon was grilled, I sliced it and placed it on top of the fresh salad and topped everything with my homemade vinaigrette.
For the ingredients and recipe instructions, check out my recipe card below! This recipe can be ready to go in about 30-40 minutes.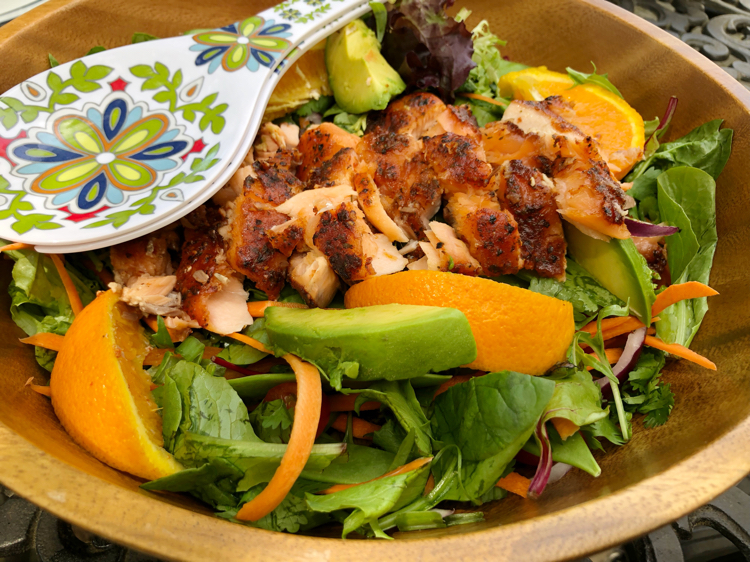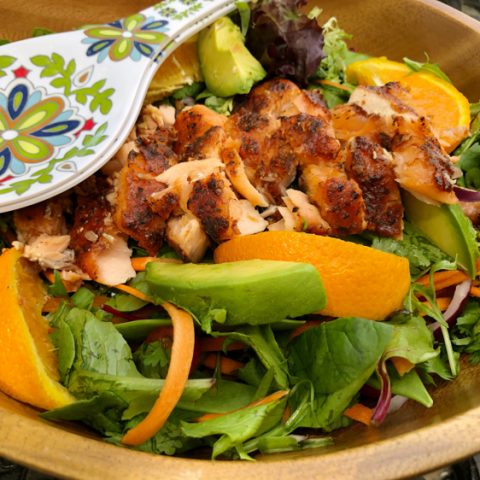 Smoky Ginger & Orange Salmon Salad
A delicious green salad with orange and ginger seasoned grilled salmon, avocados, snow peas and orange slicess.
Ingredients
SALAD
16 ounces mixed salad greens
1 cup shredded carrots
2 oranges (cut into slices)
2 cups cherry tomatoes, halved
2 ripe avocados, sliced
2 cups fresh snow peas
1/2 red onion, sliced
1/2 cup fresh cilantro leaves
2 stalks green onion, sliced
ORANGE/GINGER VINAIGRETTE
Juice from 1/2 large orange
1 teaspoon orange zest
1 teaspoon agave syrup
1 teaspoon freshly grated ginger
2 tablespoons seasoned rice vinegar
Sea salt to taste
Instructions
Pre-heat grill to

425°F.

Wash and prepare the salad greens, fruits and vegetables.Set aside.
Add salad greens to a large salad bowl.
Top with sliced oranges, avocado, cherry tomatoes, snow peas, shredded carrots, red onion, green onion and cilantro.
Whisk together the vinaigrette ingredients and set aside.
Grill the salmon according to the package's instructions.
Top the salad with slices of the cooked salmon.
Top the salmon and salad with the vinaigrette.
To learn more about Cedar Bay Grilling Conpany's fresh salmon, check out these links:
https://www.facebook.com/cedarbaygrilling/
https://www.instagram.com/cedarbaygrillingcompany/
Let's meet this month's Pinterest Challenge hosts!
To join next month's #pinterestchallenge, click here to sign-up ? July Pinterest Challenge
Now, let's see what the other hosts have created!