Several of my blogger friends and I will be posting recipes this week for treats and desserts that we made with ingredients available at the dollar store. My local dollar store always has lots of Oreo cookies and Snickers candy bars on hand, so I decided to try out a Snickers and Oreo cheesecake recipe from Domestic Superhero from that I found on Pinterest. The rest of the recipe includes ingredients that I normally have stored in my fridge or my pantry.
I just made one alteration to the recipe — instead of topping my Snickers cheesecake bars with chocolate chips, I topped mine with chopped up Snickers — you could never go wrong with more Snickers! The cheesecake recipe was super easy, and my kids couldn't wait to eat up the Snickers bars!
I am sure that my friends will be posting lots of great recipes at The Great Dollar Store Challenge, which will post tomorrow (Wednesday) at 8 p.m.(ET) at The Everyday Home, Atta Girl Says, Sondra Lyn at Home, Bringing Creativity 2 Life and A Few Miner Adjustments. I can't wait to check out all the recipes!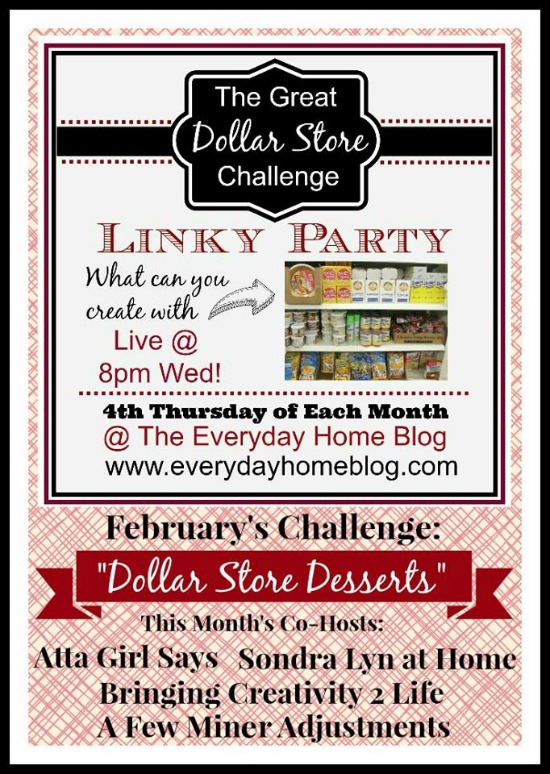 Snickers Bars Recipe*
(*recipe based on the Snickers Cheesecake Bars recipe from Domestic Superhero)
For the Crust:
20 Oreo cookies (any type)
5 tablespoons of unsalted butter, melted
For the Cheesecake Filling:
16 ounces of cream cheese (softened to room temperature)
1 large egg
1/4 cup sugar
2 teaspoons of vanilla extract
12 fun size snickers, chopped, plus a few extra chopped Snickers (size of your preference) for the topping
Baking Instructions
Preheat oven to 350F degrees. Set aside a 8×8 or 9×9 baking pan.
For the crust: Pulse the Oreos into fine crumbs in a food processor or blender. If you don't have a good blender/food processor (like me), you can put the cookies in a Ziploc bag and mash them with a mallet until you get fine crumbs. Stir the cookie crumbs and melted butter together well. Pour the butter/crumb mixture into your baking pan, and press it down, making sure all gaps are filled. Bake for 9-10 minutes. Let your baked Oreo/butter mixture cool in the baking dish while you mix the cheesecake filling.
For the filling: Beat the cream cheese, egg, sugar and vanilla extract together (by hand or in a mixer) until smooth and creamy, about 3 full minutes. Carefully stir in the Snickers. Spread the mixture over your cooled crust. Top with extra chopped Snickers bars.
Bake for 35 minutes or until the cheesecake is set and the edges are lightly browned. Cool for 30 minutes on a wire rack, and then cool for at least 3 hours in a refrigerator.
Remove the cheesecake from the refrigerator and cut it into bars using a sharp knife.
The bars can be stored in a covered container in the refrigerator for up to 10 days.
Enjoy!
Posts You Might Also Like