This shop has been compensated by Collective Bias, Inc. and its advertiser. All opinions are mine alone. #ScrubCloth #CollectiveBias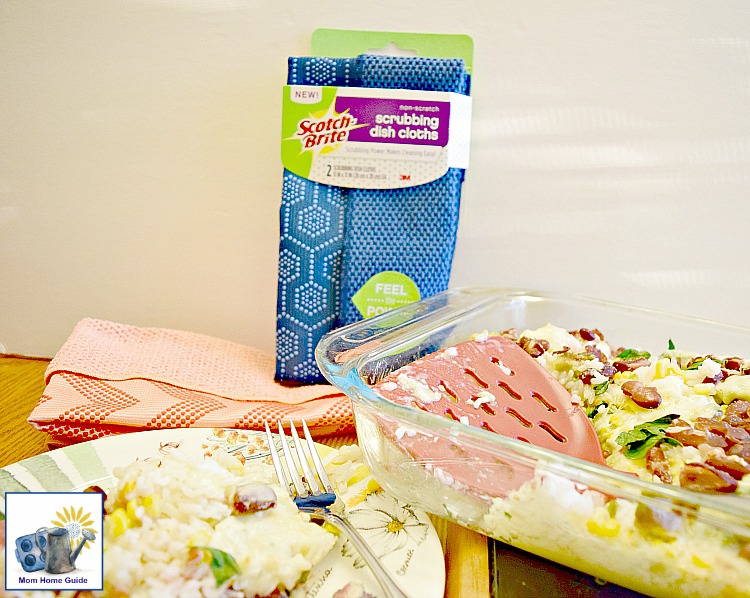 My family and I adore foods with Southwestern flavors — especially cilantro! So the other day, I baked my family a tasty Southwestern rice and bean casserole with avocado, beans, cilantro … and lots of cheese! But there's one problem with this casserole — it can make for a difficult cleanup after dinner, since the cheese tends to stick to the casserole dish! I often end up soaking the dish and then still have to scrub like mad to get it clean! Thankfully, cleaning up after our meal the other day wasn't difficult, since when I picked up the ingredients for my casserole, I got some 2-packs of the new Scotch-Brite® Scrubbing Dish Cloths, too. Scotch-Brite is the same brand that's trusted and well-known for sponges.
Easy Dinner Clean Up With Scotch-Brite Scrubbing Dish Cloths
My kids and I went on a beautiful walk the other day in a park near our local Walmart, so I stopped by the Walmart on the way home to get some ingredients for the casserole and to pick up some Scotch-Brite Scrubbing Dish Cloths for the cleanup. These new Scotch-Brite Scrubbing Dish Cloths are located in the cleaning aisle and come in 2-packs of coral, navy and tan cloths. I picked up a pack of navy, and a pack of coral for just $4.98 each.
The great thing is that a 2-pack now comes with a $1 off instant redeemable coupon to save on your purchase of Scotch-Brite Scrubbing Dish Cloths. You can redeem the coupon at the register upon checkout. Don't forget to peel the coupon off at checkout to redeem.
An Eco-Friendly Kitchen
I am excited about the new Scotch-Brite Scrubbing Dish Cloths, because they fit in with my goal of being more eco-friendly in the kitchen! I've been trying to use fewer paper towels in the kitchen, and these new cloths fit right in with the goal.
The cloths, which are very durable and can be tossed in the washing machine, have two different sides of scrubbing dots that clean without scratching. I like that I can also dry surfaces with a Scotch-Brite Scrubbing Dish Cloth, like a regular dish cloth.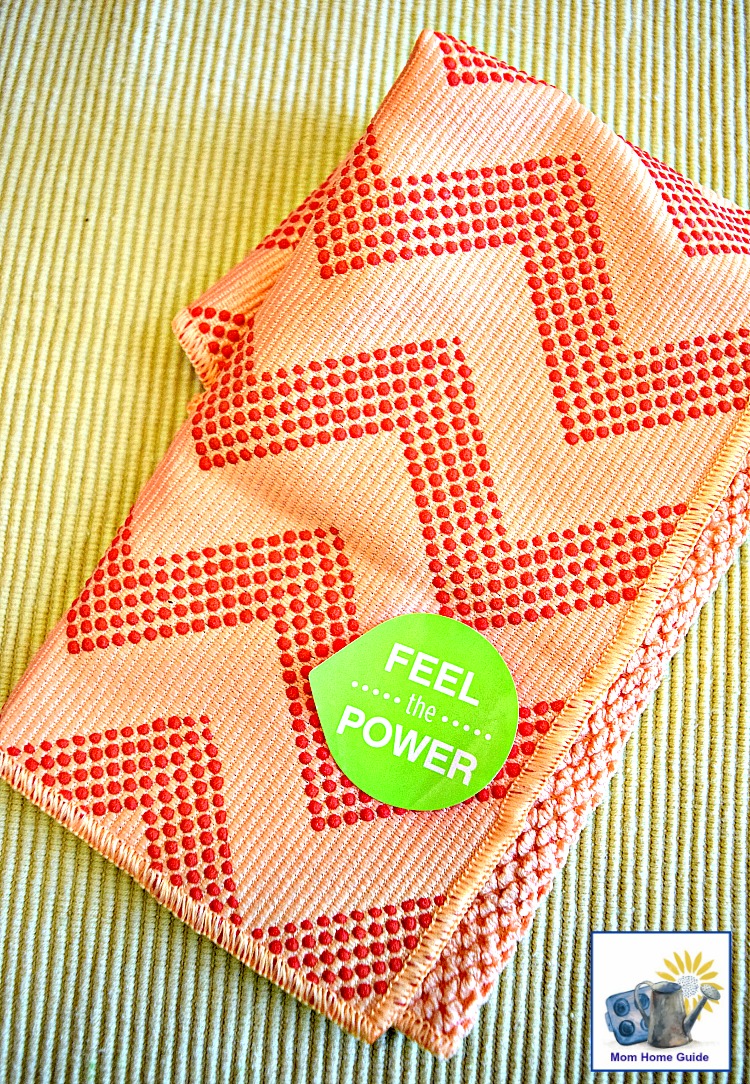 The Scotch-Brite Scrubbing Dish Cloths can also be used throughout the kitchen — such as for cleaning the kitchen sink and the counters. (I sometimes like to clean the counters with just a little bit of dish soap and water.)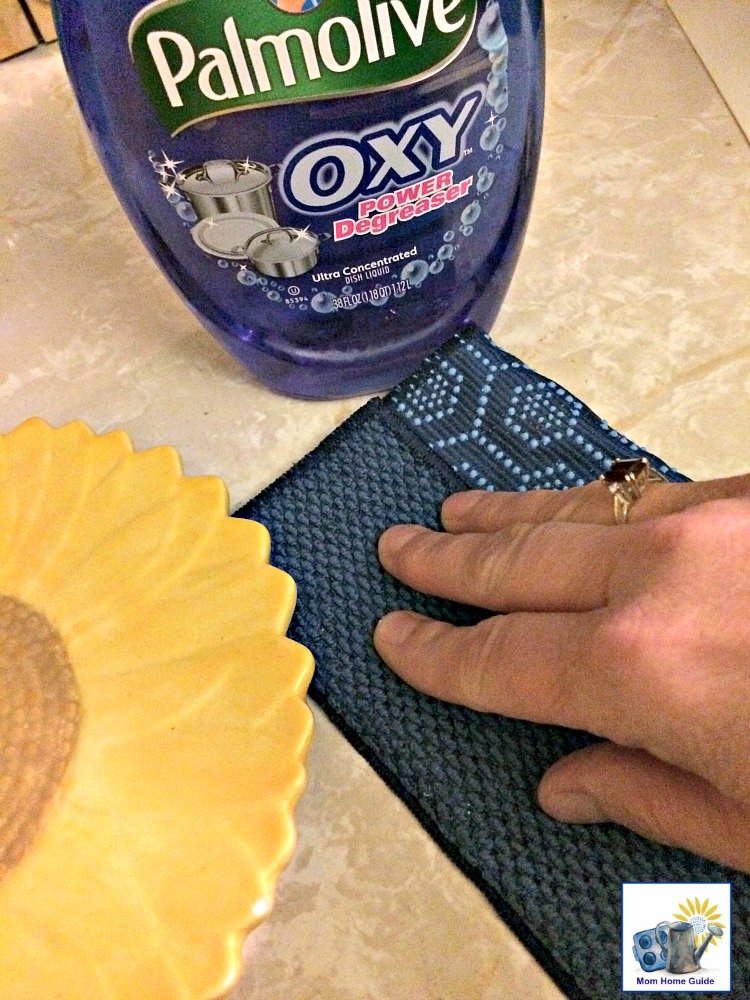 I am glad I bought two 2-packs of the cloths. I can use the coral cloths for my dishes, and the navy cloths for cleaning around the kitchen. I plan to keep a basket of Scotch-Brite Scrubbing Dish Cloths in the kitchen for when I need to do some kitchen cleanup!
I already have a basket of pretty cloth napkins in my kitchen so my family and I don't have to waste money on paper napkins.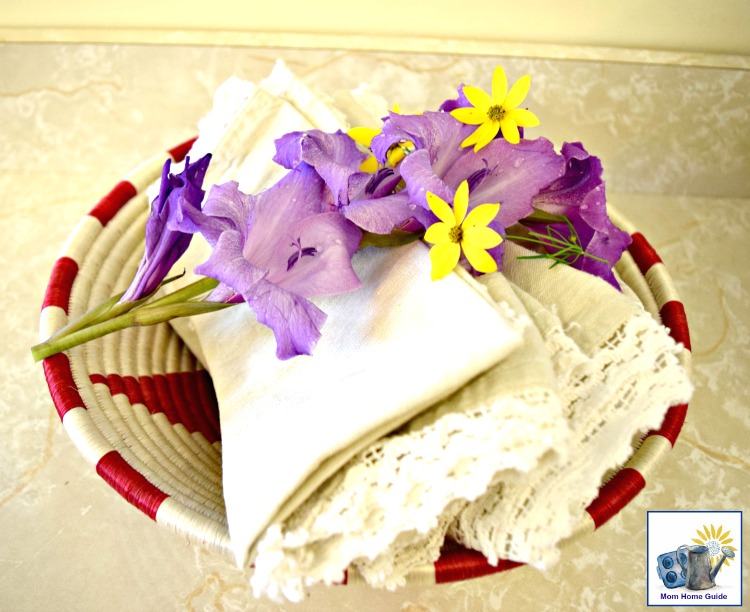 I am happy to report that when I washed my dirty casserole dish with a Scotch-Brite Scrubbing Dish Cloth, it did a great job! I didn't need to soak my dish to get off all the baked cheese!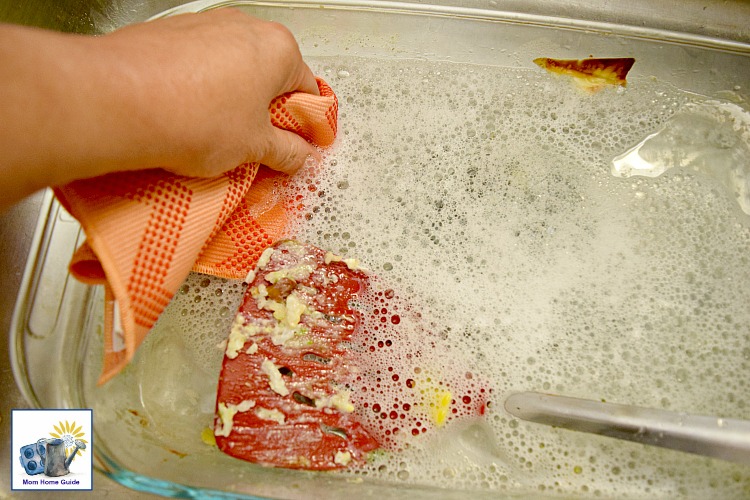 I was happy that dinner clean up was quick with my Scotch-Brite Scrubbing Dish Cloth, since I was tired from my long walk with my daughters in the park!

Southwestern Casserole
Ingredients
Nonstick Cooking Spray
3 tablespoons of butter
3 Cups Cooked White Rice (I cooked mine in my rice maker)
1 Can Kidney Beans
I Avocado, skin removed and cut into small pieces
1 Cup Chopped Cilantro (or Parsley, if you prefer)
1 teaspoon each of salt & pepper
3 tablespoons all purpose flour
3 cups milk
1 package shredded cheddar cheese
4 slices of American cheese
4 slices of pepper jack cheese
Directions
Preheat the oven to 350 degrees Fahrenheit.
Cook the white rice and set aside. Spray the bottom and the sides of the casserole dish with nonstick cooking spray. Spread the white rice into a layer on the bottom of the casserole dish.
Melt the butter in a small sauce pan. Add the flour slowly. Stir until the flour and butter form a thick paste. Add the milk, season with salt and pepper and bring to a boil. Once the milk boils, reduce the heat and let the sauce simmer for a minute or two.
Add a layer of beans, cilantro (or parsley) and avocado. Pour half of the butter sauce over your veggie layer.
Place two slices each of American and pepper jack cheese on top of the bean and veggie layer. Sprinkle half of the shredded cheddar cheese on top.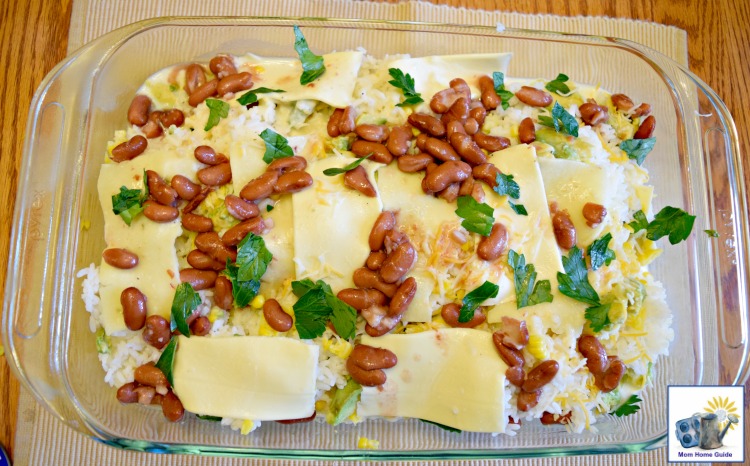 Add another layer of the beans and veggies. Add the sauce and then top with two slices each of American and pepper jack cheese. Sprinkle the rest of the shredded cheese on top.
Bake for 30 minutes. Let cool for a few minutes, and serve!
Want more cleaning tutorials and recipes? You can find a whole bunch of great ones HERE.