"I participated in an Influencer Activation on behalf of Influence Central for Neutrogena. I received samples to facilitate my review and a promotional item to thank me for my participation."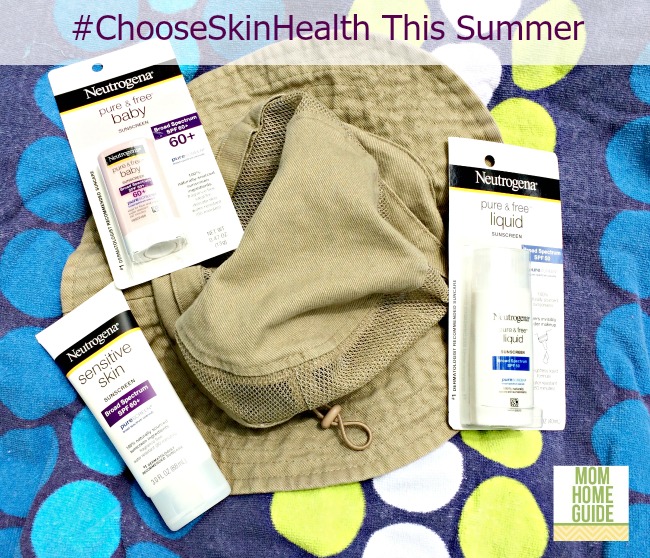 Now that my kids are on summer vacation, we love spending time outdoors together! We've already been swimming, had some barbecues and have visited some local parks. My kids know that in our family, we don't spend time outside without applying sunscreen! I have fair skin and skin cancer runs in my family, so I take skin protection from the sun very seriously. That means that my kids and I apply sunscreen before we go outdoors, and we reapply sunscreen after we've been out in the sun for a while.
I have eczema and my kids and I have sensitive skin, so that means we choose our sunscreens carefully. That's why I love to use the line of sunscreen products from Neutrogena. I already use Neutrogena's products in my daily skin care regimen, so it's only natural that I would choose Neutrogena for the sunscreen that my kids and I use!
I am glad to know that the National Eczema Association has recently awarded its Seal of Acceptance to five Neutrogena products:
NEUTROGENA

® Pure & Free® Baby Faces Ultra Gentle Sunscreen Broad Spectrum SPF 45+

NEUTROGENA

® Pure & Free® Baby Sunscreen Stick Broad Spectrum SPF 60

NEUTROGENA

® Pure & Free® Baby Sunscreen Lotion Broad Spectrum SPF 60+
NEUTORGENA® Sensitive Skin Sunscreen Lotion Broad Spectrum SPF 60+

NEUTROGENA

® Pure & Free™ Liquid Sunscreen Broad Spectrum SPF 50
Also, Neturogena sunscreens are made from naturally sourced products and are safe for both kids and adults. I think it's crucial to begin protecting kids' skin from the sun at an early age — sunburns in children increase the odds of skin cancer later in life. One in five Americans will develop skin cancer, yet only 20% use SPF daily.
I love that Neutrogena Sensitive Skin Sunscreen has a very high SPF (60+) and provides broad spectrum UVA/UVB protection that's hypoallergenic, PABA-free, fragrance free and is water resistant!
Neutrogena Pure & Free™ Liquid Sunscreen Broad Spectrum SPF 50 goes on light and oil free and works well underneath my makeup, so that is a huge plus!
Have you tried Neutrogena's sunscreen products? I'd love to hear from you! Also, feel free to write a review on the Neutrogena website about sun products that were awarded the NEA Seal of Acceptance.
Sun Skin Protection
Always wearing and reapplying sunscreen outdoors is just one step my kids and I take to protect our skin from the sun. These are other measures we take to protect ourselves from potential harmful effects of the sun:
Use sunscreen with a Sun Protection Factor (SPF) of at least 30. (I prefer even higher with my fair skin!)
Wear hats or visors when in the sun
Wear sunglasses to protect eyes from the sun
Wear swim tops or rash guards over swimsuits
Limit sun exposure between the hours of 10-4 (by seeking shade when possible, covering up with protective clothing or applying and reapplying sunscreen).
I always tell my daughters that while tans may look great, it's actually better for one's skin in the long run if one reduces sun exposure. If they take steps to protect their skin now, they will be glad they did years from now when they have healthy skin!
Neutrogena Sun Care products are available through Walmart both in-store and online. For more information please visit Walmart.com.
Additional Resources
Info on Recognized Neutrogena Sun Products:http://www.neutrogena.com/category/sun/purescreen-+technology.do
Facebook: https://www.facebook.com/Neutrogena
Twitter: https://twitter.com/neutrogena
Hashtag: #ChooseSkinHealth