*I received accommodations from the beautiful Hope Lake Lodge in exchange for this post. Thanks, Hope Lake Lodge, for a wonderful family vacation!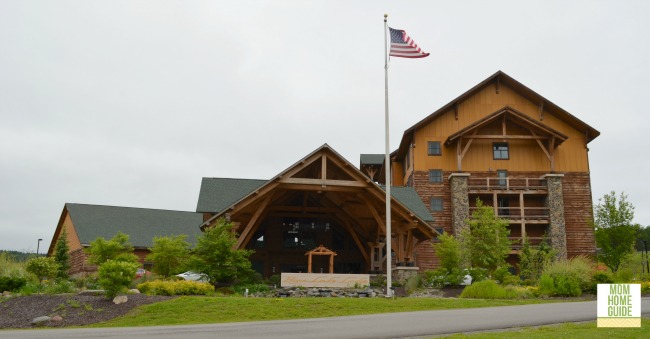 Earlier today I shared with you about the fantastic Taylor Swift 1989 concert that I attended over the weekend with my husband and twin tweens. Last week, my family and I traveled to the beautiful Hope Lake Lodge in the Finger Lakes region in Upstate New York. It was an amazing trip!
Hope Lake Lodge was the perfect place for my family's summer vacation! The lodge is situated just outside Ithaca, New York, which sits on the beautiful Cayuga Finger Lake. I traveled to the Finger Lakes region every summer with my family as a kid, and I have been wanting to introduce my kids to that gorgeous section of the U.S.!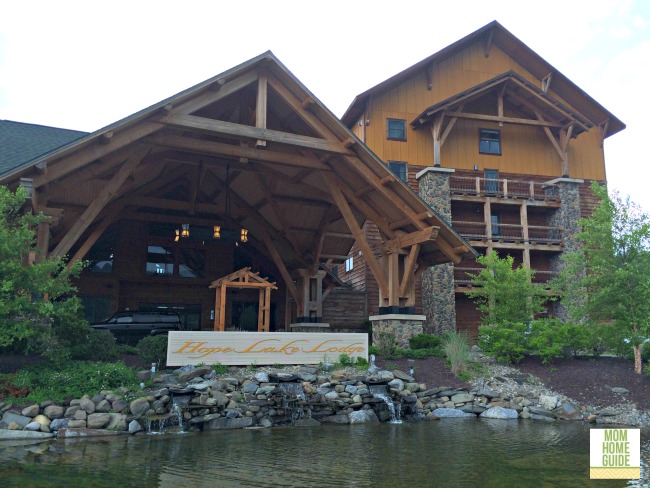 Hope Lake Lodge is part of the Greek Peak Mountain Resort, and includes a "green"/eco-friendly hotel (complete with its own Starbucks – yum!), Cascades Indoor Waterpark, Waterfalls Spa, and the Outdoor Adventure Center.
My family and I really enjoyed our suite — we stayed in the Eagles Nest Suite with Loft — the suite had two spacious levels for our comfort. We loved our suite! The suite has two bedrooms with queen beds, a murphy bed, a sleeper sofa, two full baths, a kitchen with dining area, and a TV area with a gas fireplace.
The accommodations were perfect for my family! My daughters especially loved the spiral staircase that led to the upstairs loft with full bathroom, where my husband and I stayed.
Cascades Indoor Waterpark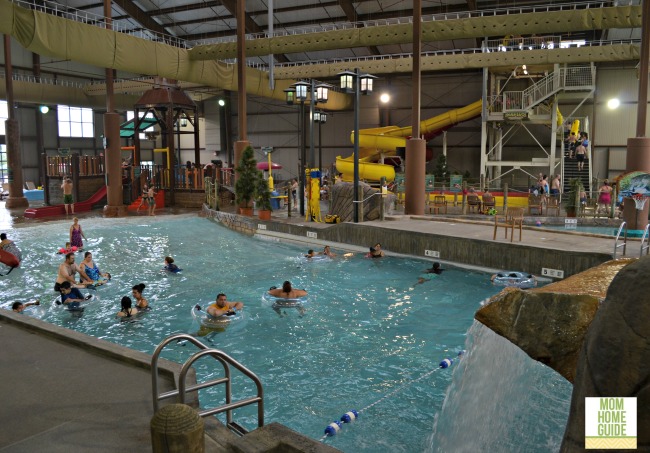 My family and I started our vacation with a trip to the Cascades Indoor Waterpark. We had a great time! The park features a wave pool, several indoor water slides, splashes, sprays and an indoor/outdoor hot tub. My husband, kids and I had a wonderful time going down the water slides together on single and double inner tubes and rafts! My daughters loved floating in plastic inner tubes in the wave pool.
After a few trips down the water slides, my family and I enjoyed the indoor/outdoor hot tub. I loved that you can easily go from the indoor hot tub to the outdoor hot tub! After a few minutes in the hot tub, we went to the outdoor pool just outside to cool off. The outdoor pool has beautiful views of the forest and peaks beyond!
During our first night, we enjoyed dinner at The Acorn Grill in Hope Lake Lodge. I ordered the Scampi Roasted Cod, my husband had a mushroom bacon burger and my kids both had the Sauteed Chicken Giovanni. We all enjoyed our meals!
Afterwards, my daughters and I went to the resort's outdoor fire pit to roast some s'mores — it was beautiful outside, and we had the fire pit to ourselves. (If you go to Hope Lake Lodge, remember to bring your own s'mores fixings and skewers. Or, you can purchase wooden skewers for 75 cents each, and the makings for s'mores, in the lodge's gift shop.) My kids really enjoyed making their s'mores and roasting some for me!
More Vacation Fun to Come
Check back later this week! I'll share where we hiked and saw some beautiful waterfalls. I'll also share my family's incredible experience at the Outdoor Adventure Center, where my family went zip lining and enjoyed Greek Peak's incredibly fun mountain coaster!
Related articles across the web