I received the Twin Dragon Asian Gyoza Wrappers free for this recipe as part of the Twin Dragon Asian Wrapper Blogger Recipe Challenge.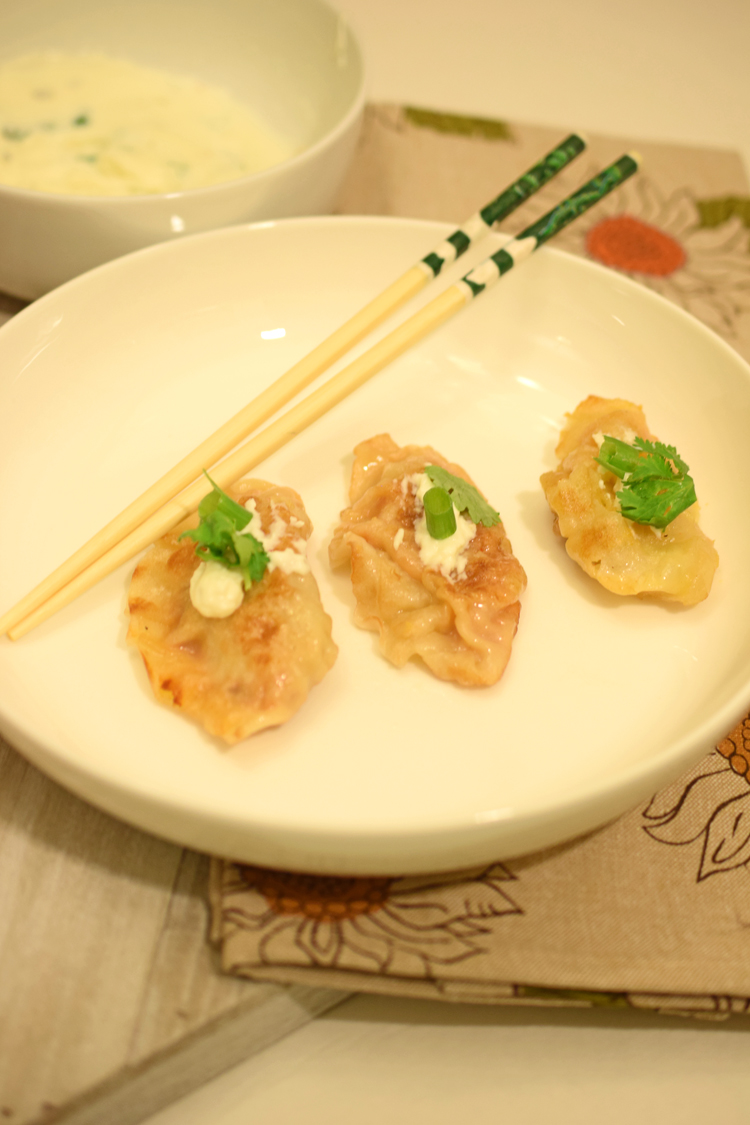 Happy Monday, everyone! As a kid, I grew up with pierogi. A Polish dish, pierogi are delicious envelopes of dough often stuffed with potato and later pan fried with onion. My husband, whose parents were from Korea, grew up eating Asian-style pot stickers (called "mandu" in Korean)  and kimchi, a fermented spicy cabbage dish. I've always wanted to make my own pot stickers, so I combined the best of our food heritages and made sweet potato and kimchi pot stickers! These pot stickers are pan fried and then served with a slightly spicy and delicious queso sauce for dipping. (I love Asian fusion cuisine — like French fries topped with spicy kimchi and cheese.)
I was inspired to make these pot stickers by the Twin Dragon Asian Wrapper Blogger Recipe Challenge. For my recipe, I used Twin Dragon Gyoza wrappers. These round wrappers are the perfect size for making bite-sized pot stickers (gyoza). The wrappers are GMO free and are made with vegan and all natural ingredients. I found the wrappers easy to work with, even for this novice gyoza cook!
Gyoza Ingredients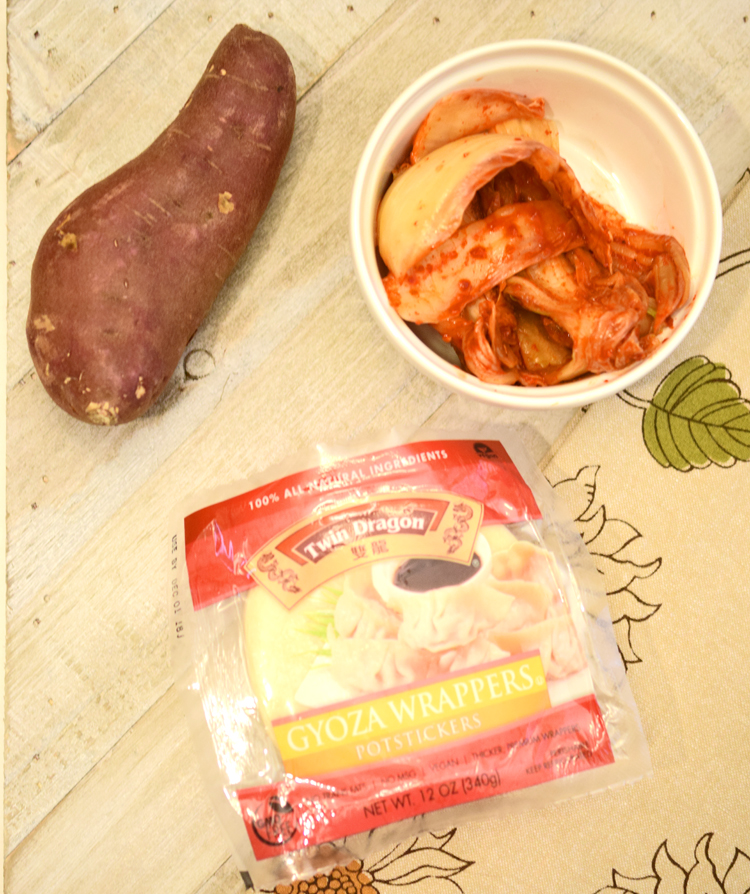 One package Twin Dragon Gyoza Wrappers (I used 30 wrappers)
3 medium sweet potatoes
2 cups cabbage kimchi, chopped (I used store-bought kimchi.)
Gyoza wrappers
1/2-inch grated ginger
2-4 tablespoons cooking oil (I used canola oil.)
Cilantro and/or scallion for topping the gyoza (optional)
Queso Ingredients
1 pound pepper jack cheese
8 ounces cream cheese, softened
½ cup sour cream
1 10 ounce can tomatoes & green chilies, drained
¾ cup whole milk
1/3 cup fresh chopped cilantro (optional)
1/3 cup chopped green onion/scallions (optional)
A dash or two of hot sauce (optional)
Gyoza Instructions
Peel and rinse the sweet potatoes.
Cook the sweet potatoes in boiling water until cooked, about 15-20 minutes.
Mash the sweet potatoes.
Grate the ginger.
Chop the kimchi and mix into the sweet potatoes. Add the ginger and stir to mix.Delete Cache
Place about a teaspoon of the sweet potato and kimchi mixture into the center of each wrapper. Dipping your finger into a bowl of water, moisten the edges of each wrapper. Fold each wrapper over and press to seal the open edges.
If you like, you can use Nami of Just One Cookbook's technique to pleat the edges of the gyoza. (It's not necessary, but I think it makes a tighter and prettier seal. I pleated my pot stickers, even if I'm not an expert at it.)
To cook the gyoza/pot stickers, coat a frying pan with about 2 tablespoons of cooking oil. Add the gyozas. Fry the gyozas until they are lightly browned on the bottom. Pour in some water so the gyozas are covered with water about 1/4 of the way up. Cover your frying pan. Steam the gyozas until the tops of the gyoza are steamed. If you like your pot stickers crispy, you can fry the gyozas some more. Remove the lid and cook the gyozas until the steam has evaporated. Be sure to lightly move the gyoza around while the water is evaporating, so they won't stick. Add 1-2 tablespoons more of cooking oil, and fry the pot stickers some more until crisp.
Queso Instructions
Cut the pepperjack and cream cheese into small squares. Combine the pepperjack cheese, milk, sour cream and cream cheese in a deep medium-sized frying pan over low heat. Stir until most of the mixture is melted. Mix in the tomatoes and green chilies. If you like, add a dash of hot pepper. When serving, you can top the queso with chopped cilantro or green onion if you like.
To enjoy the pot stickers, you can either dip them into the queso, or you can plate the pot stickers and add a small dollop of queso to each pot sticker. Top with cilantro and scallion if you like. Enjoy!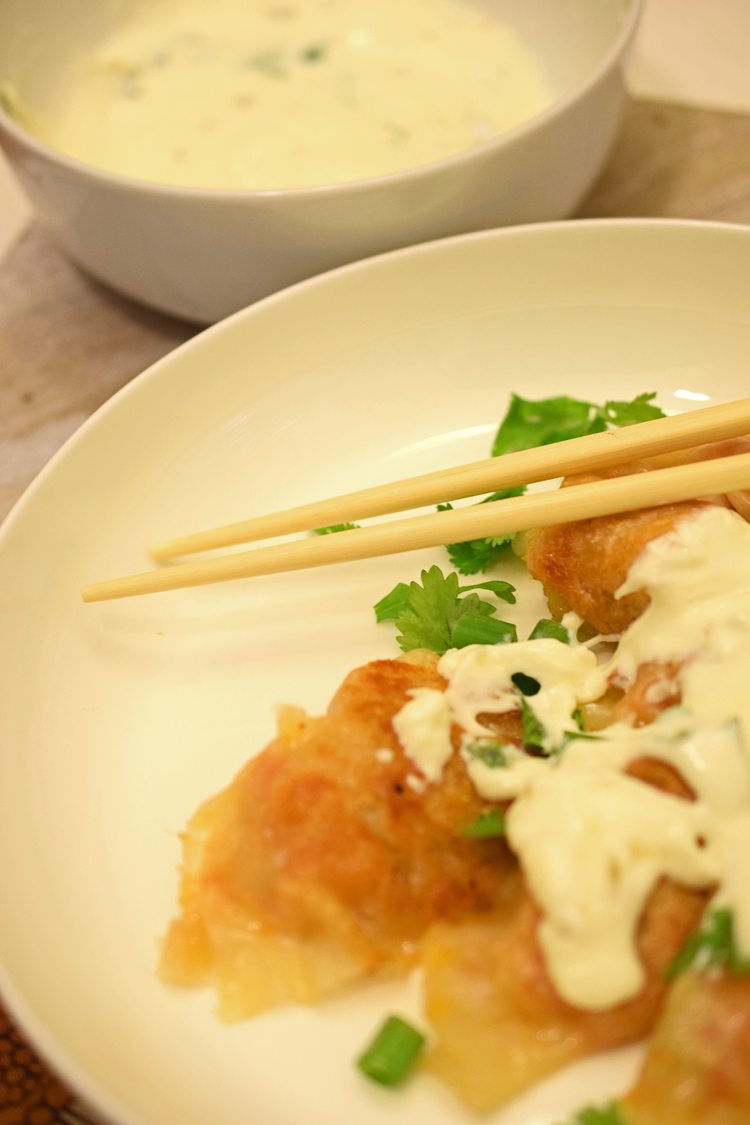 Interested in finding out more about the Twin Dragon Asian Wrappers? Check them out here for recipes and more:
Website: http://www.jslfoods.com/
Facebook: https://www.facebook.com/JSLFoods/
Twitter: https://twitter.com/JSL_Foods
You can purchase JSL Foods Twin Dragon products at Albertsons, Shaw's, Von's, Stater Bros, Lucky's, Food Maxx, Fred Meyer, QFC, Cub Foods, Rainbow Foods, Safeway, Associated Stores, Price Rite, Shop Rite, Winco, Price Chopper and Gelson's!