This post contains Amazon affiliate links.

Happy Holidays and New Year, everyone! This past year sped by for me and my family! I can't believe that it's almost 2020. With the New Year around the corner, I'm sharing a look at the most read posts and most popular projects for 2019 here on Mom Home Guide. From the looks of it, I completed a few DIY projects in the past year!
DIY Dreamcatcher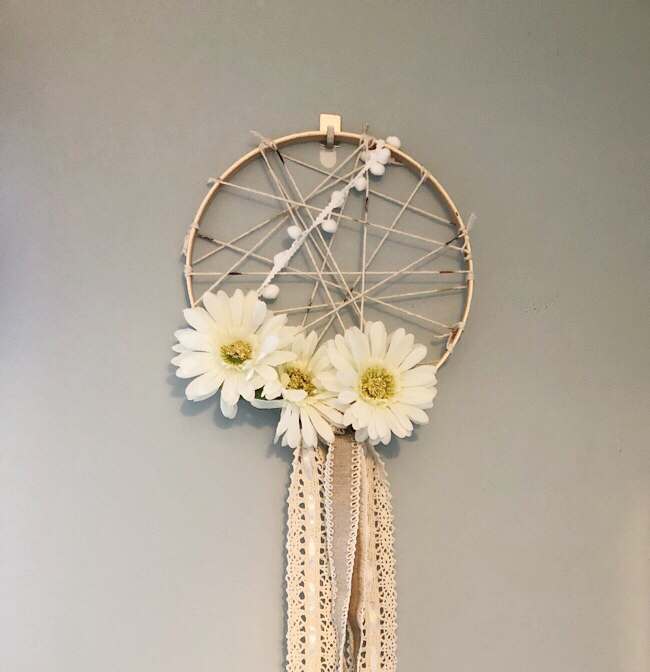 This year I participated in the One Room Challenge (ORC), hosted by Linda of Calling It Home. In the challenge, featured designers and guest participants (like myself) have just 6 weeks to make over a space or room in their home. The challenge is a great motivator to not just dream about renovating or updating a space but to get it done!
I decided to redecorate my teen daughters' hall bathroom. The last time I updated their bathroom, they were just tweens and in middle school. So it was time to give the room a more sophisticated look!
One thing I created for the bathroom is a simple DIY dreamcatcher. The dreamcatcher isn't a true dreamcatcher, but a modern take on one. I love its sweet pom pom, lace and floral accents. I was inspired by the dreamcatchers by Maggie Homes Design for my project. Drop by my dreamcatcher post for the full tutorial!
Painted Bathroom Vanity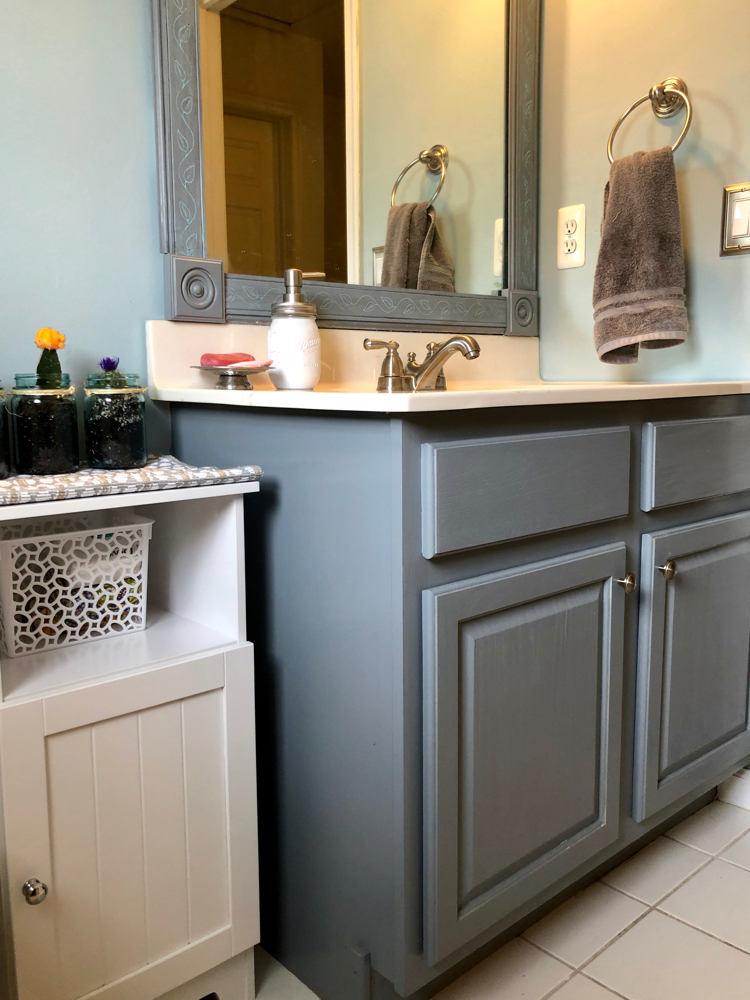 My second most popular project in 2019 was the painted bathroom vanity in my daughters' bathroom. I had previously painted the bathroom a pretty shade of blue that my daughters had picked out. I didn't think the orange hue of the oak cabinets looked right in the new space, so I painted the cabinets a pretty gray with DecoArt Americana Decor Satin Enamels Paint in Smoke Grey
. Check out my DIY painted bathroom cabinets post for the full tutorial on how I did it.
DIY Framed Bathroom Mirror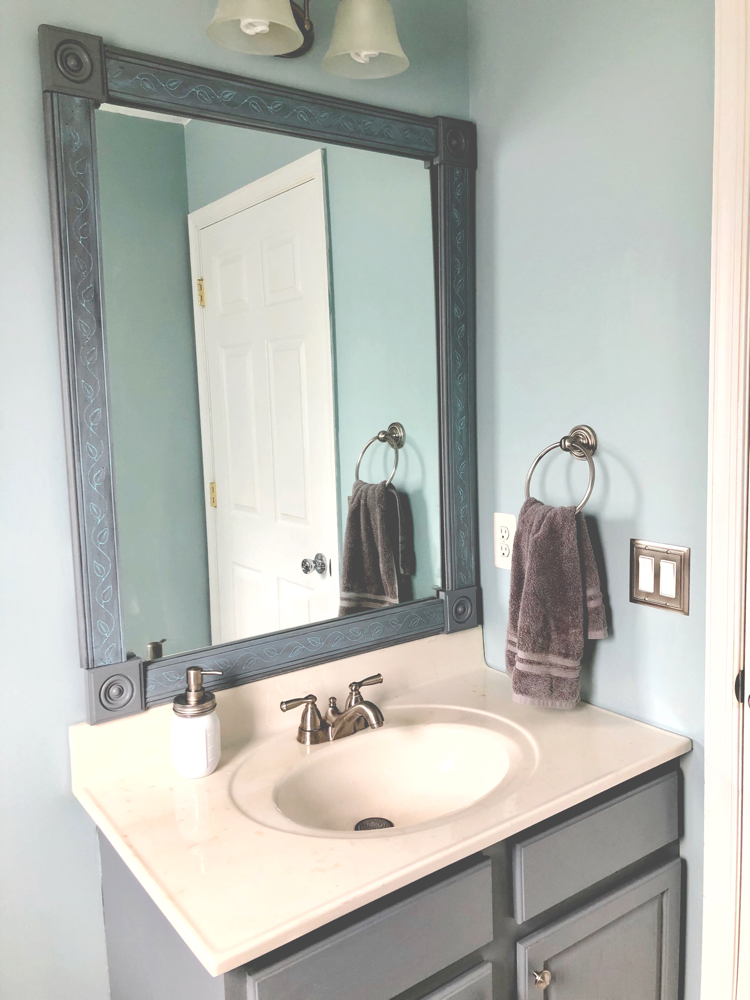 For my daughters' bathroom makeover I also made a DIY bathroom mirror frame, and that post has also made it into the top 5 posts of 2019! My method of making the frame requires no special saws or power tools — and my frame is hung with several Command Strips! So easy!
I made my frame out of a pretty leaf patterned molding that I found at Home Depot and some wood rosettes that are also at Home Depot. The best part is that Home Depot cut my molding to size for me! All I had to do was paint the molding and hang it around my mirror with my Command Strips. Simple! Check out my DIY Framed Bathroom Mirror post for all the details!
DIY Covered Kitchen Chair Cushions
Every month I participated in the Pinterest Challenge, hosted by Erlene of My Pinterventures. In the challenge, participates are encouraged to complete a project they've pinned on Pinterest. For October's challenge, I decided to make DIY covered kitchen chair cushions (with chair ties) for my kitchen. I started out with inexpensive (but not the prettiest) chair cushions from Walmart. I covered them in Premier Prints Feather Silhouette Twill, Storm fabric. I love the cute feathers on this fabric! Check out my simple cushion covers with chair ties post for the full instructions on how to make these cushions!
DIY String Light Planter Posts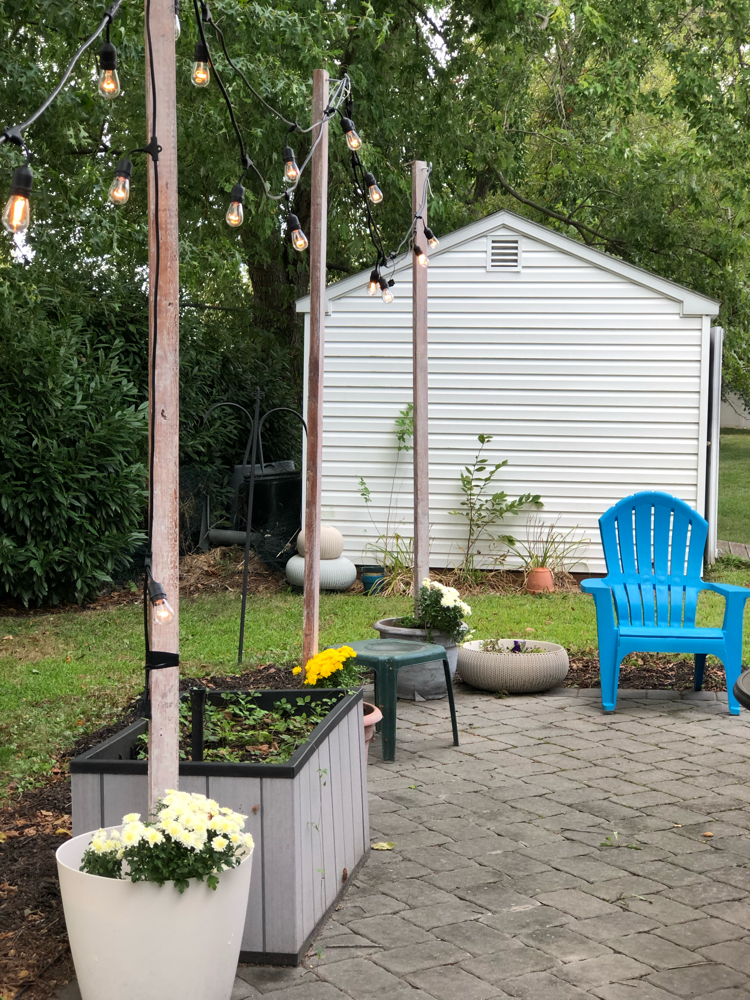 My teen daughters wanted to host an evening party this past fall. The problem was that except for one dim back door light, our patio had no lighting! So I decided to make some DIY planter posts for string lights so I could put up some string lights for their party.
The string light posts were easy to stain and white wash. I sunk them in some quick drying concrete in large planters. I then added some mums to pretty up the planters.
My daughters and my friends loved the ambiance of our patio with the string lights! Everyone had a great time! Check out my DIY planter posts tutorial for the details on how to hang your own string lights like I did!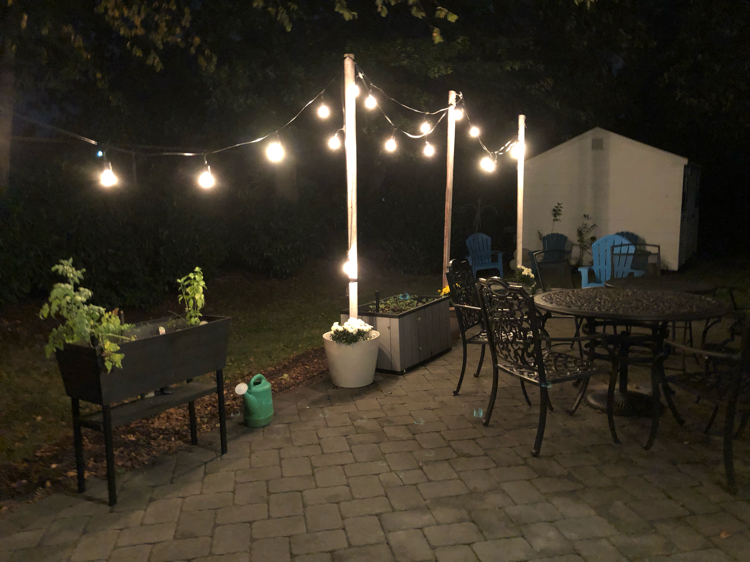 This concludes the top posts 0f 2019. Be sure to check back for the projects planned for 2020!
Here's wishing everyone a happy 2020!