Thanks to the folks at the TreEscape Aerial Adventure Ropes Course for providing my family and me a fun day of challenges in the trees free of charge. All opinions expressed here are my own.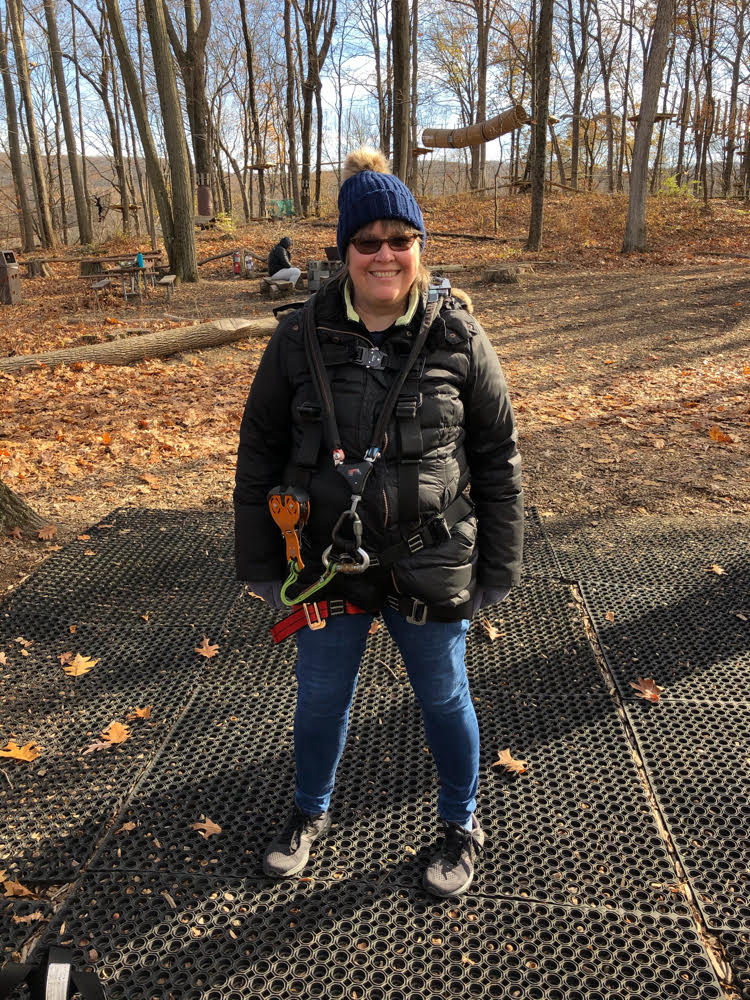 My family and I had a fun day together at the TreEscape Aerial Adventure Ropes Course at Mountain Creek over the weekend! The course is an exhilarating combination of rope walks, obstacles, climbing elements and zip lines in a beautiful forest in Vernon, NJ. Mountain Creek is a 4-season resort located in Sussex County in northwestern New Jersey.
My daughters were excited about spending a day zip lining and navigating the tree-high obstacles at TreEscape Aerial Adventure Ropes Course! I was nervous — I've been zip lining once before, but it was several years ago!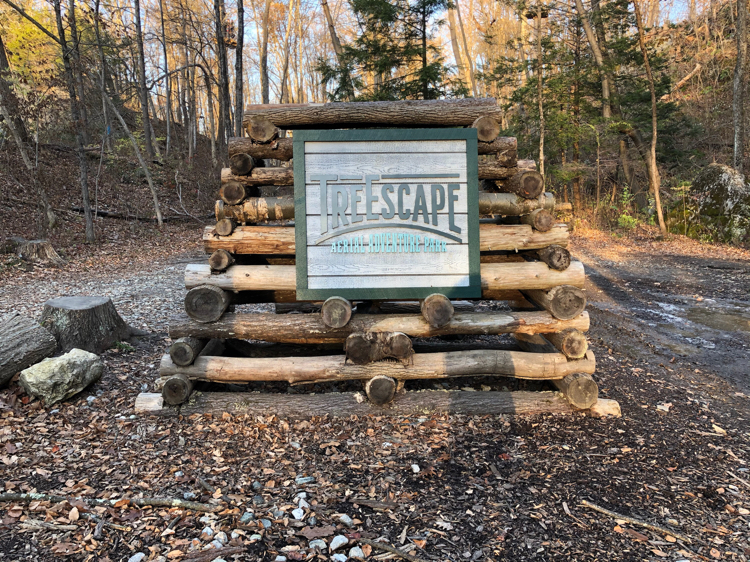 Tackling Obstacles High in the Trees at TreEscape
We arrived at the Great Gorge Clubhouse at the Great Gorge Golf Course to pick up our passes for our ropes course and zip lining adventure! Once we were signed in, we took a golf cart ride through the forest to the TreEscape Aerial Adventures Ropes Course. One of my daughters found the golf cart ride through the forest to be exhilarating and fun!
When we got to the course, we were met by a TreEscape guide. Our guide helped us put on our harnesses and demonstrated how to use the course.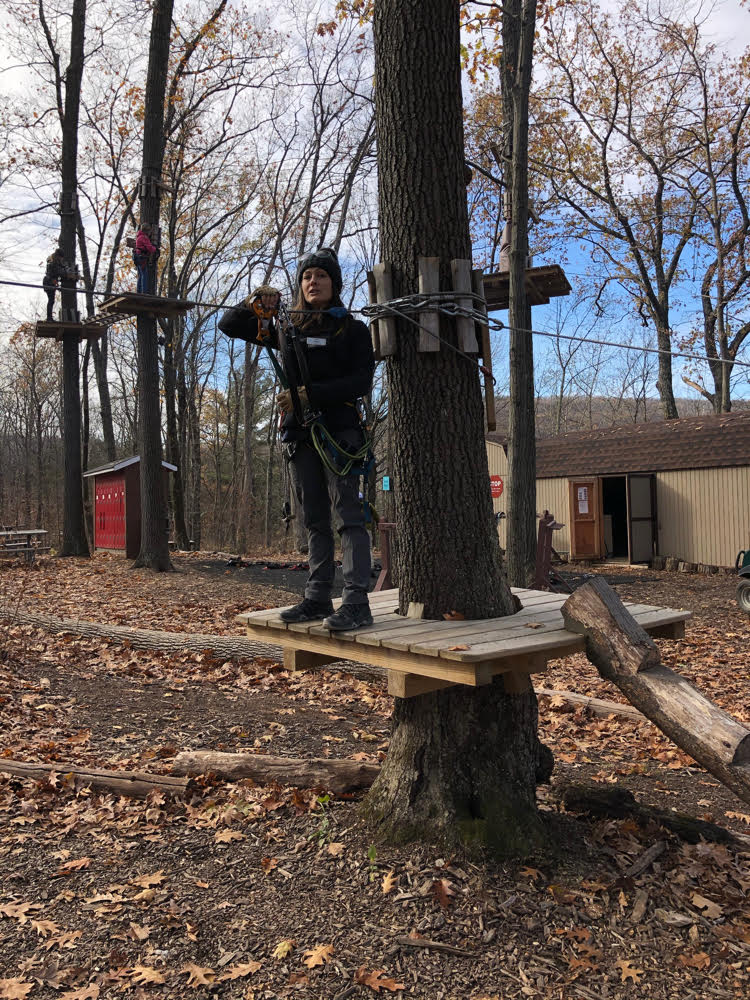 The guide went over how to use our equipment safely for the various lofty obstacle courses at TreEscape. The obstacles mostly consist of high wooden platforms and various suspended obstacles strung between trees. The obstacles I completed ended with a quick zip lining component.
The harnesses that we wore each had two carabiners (heavy-duty hooks) on them that would secure us to the thick metal safety wires on the course.
The carabiners are designed so that one stays automatically locked on a safety wire at all times while on the course. We all had a trolley on our harnesses for the various ziplines at TreEscape. My daughters helped me with my carabiners — I tend to be a nervous Nellie, so I was constantly checking that I had a locked carabiner on my first run. But I eventually got the hang of it.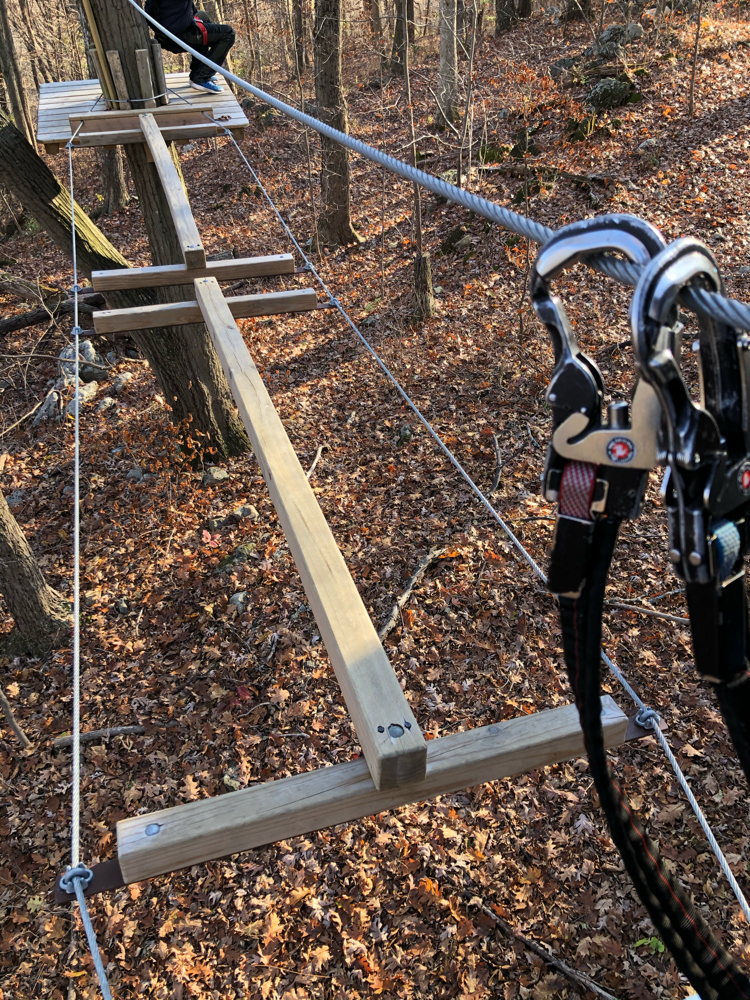 Outdoor Adventure Obstacle Course
My husband, daughters and I all started on a "yellow" course. The courses are color coded by difficulty. The courses start at yellow, and go up to black for the hardest courses. My husband was the first to try the course. (My family made sure to put me between two family members in case I needed help with hooking and unhooking my carabiners from the course.)
There are several courses throughout TreEscape for all ages – 20 of the more than 120 climbing elements, obstacles and zip lines are geared for children between 4 and 6 years old.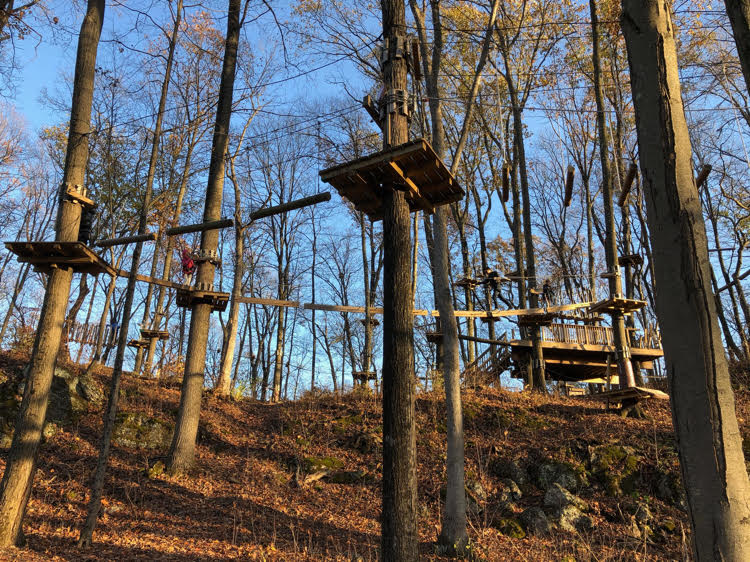 It turns out that the first course we tried was the hardest of the courses that I tried that day, but I made it through! I nearly fell off an obstacle at one point, but I would have been secured to the safety wire by the carabiner if I did.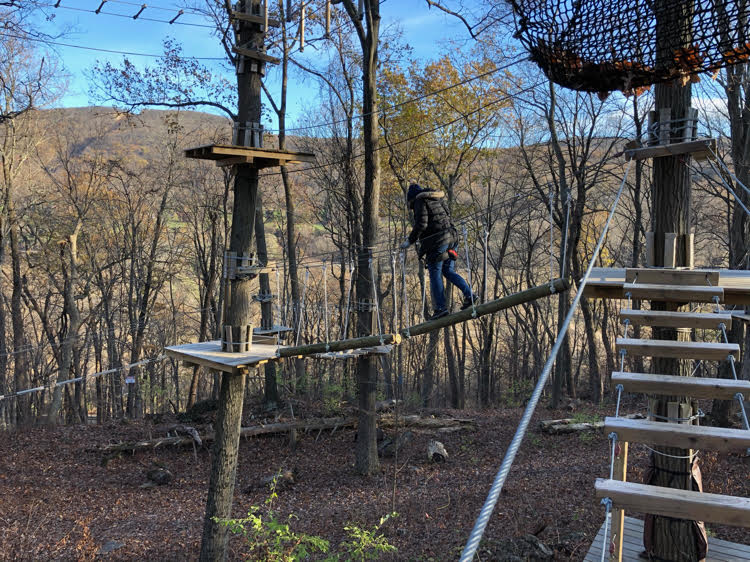 At the end of the first obstacle course was a zip line, which I enjoyed. But I somehow pushed myself backwards when I tried to land on the platform at the end of the zip line. Luckily, the zip line on that beginner course was low enough so that my husband could push me back to the platform so I could exit the obstacle course.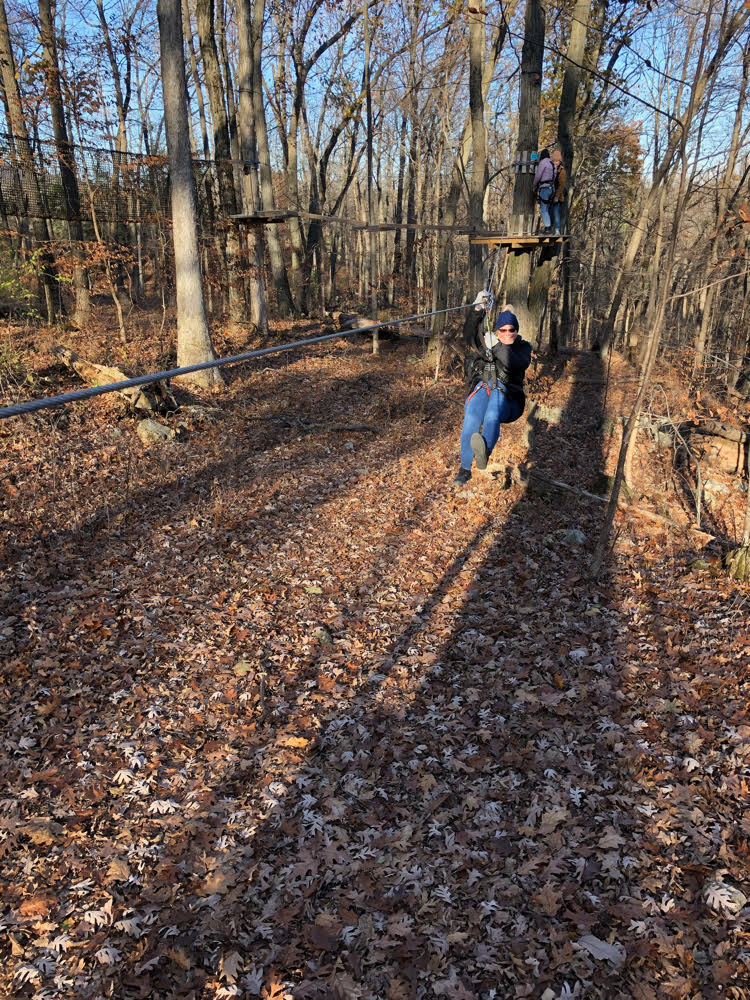 After we completed the first course, my husband and I let our daughters go off on their own together to tackle harder courses.
My husband and I went on to complete another yellow obstacle course. I did better on the second course and had less fear, but I still didn't dismount properly from the zip line! Since the second zip line was higher up, I had to use my arms to pull myself along the cable to the platform so I could exit the course. (Which was a little tough for me considering my lack of strength.) Luckily, my daughters did quite well on the zip lines on the course they tackled together, since they were rather high up.
We all had a great time! We spent 3 hours at TreEscape, and were all able to complete 2 obstacle courses.
After we ended our obstacle session, my husband, daughters and I all warmed up for a bit by the fire in TreEscape's large outdoor fire pit.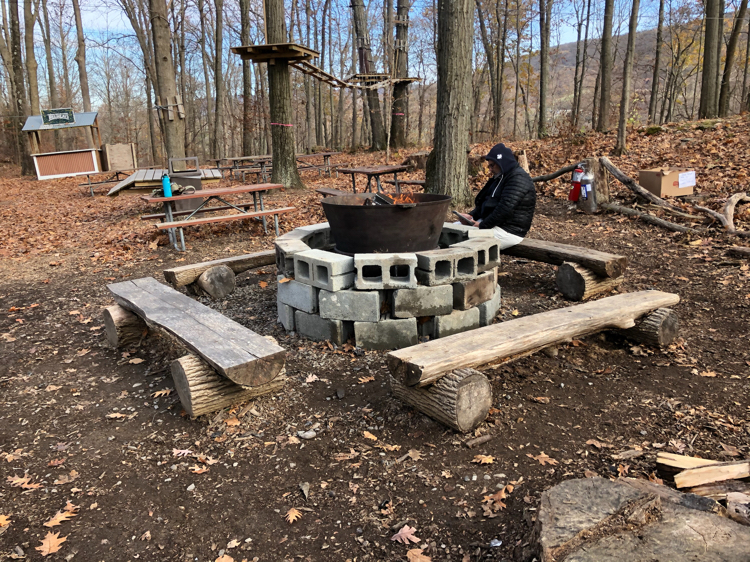 I suspect if we were to go back again, we would be able to complete more courses as we would be more used to the equipment and have less fear. (Most of the fear was on my part — I probably held up my family a bit on the first course.)
I'm glad we went to TreEscape with our daughters — it was a great family experience! My daughters also enjoyed the time they spent together completing a course on their own.
After our adventure, my husband, daughters and I caught a shuttle back to the Great Gorge Clubhouse.
Dinner at the Great Gorge Clubhouse
After that hard work navigating the obstacles at the TreEscapes Aerial Adventure Ropes Course, my family and I were looking forward to dinner! We opted to eat at the Great Gorge Clubhouse. My daughters and I all ordered quesadillas and fries. We enjoyed our meals!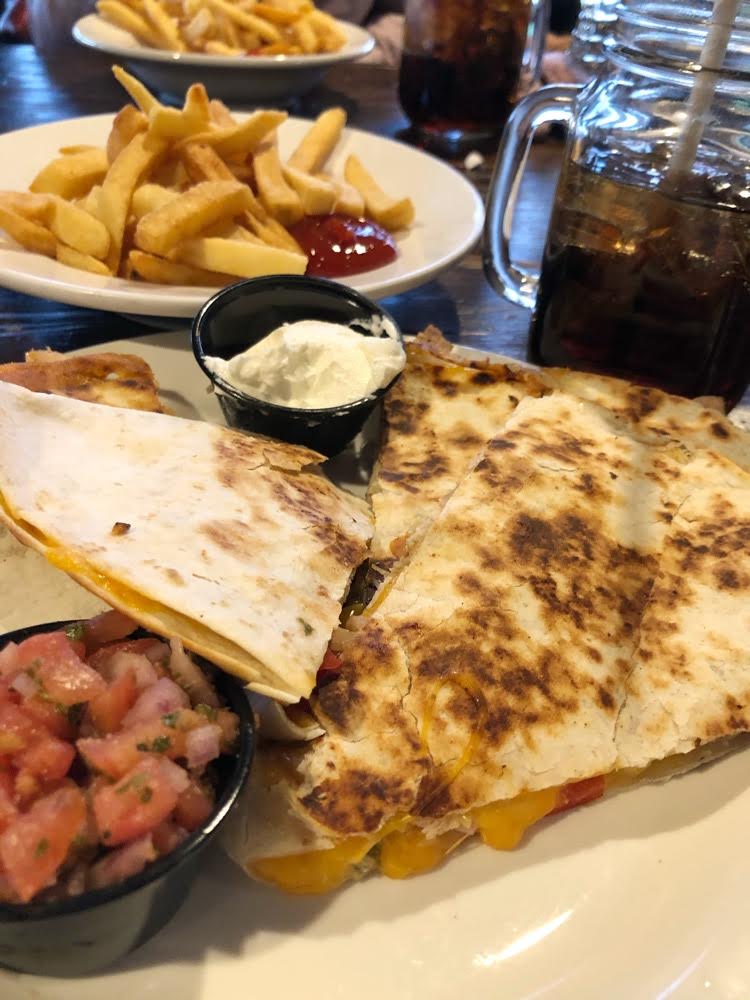 My husband ordered a cheesesteak, and liked his dinner, too.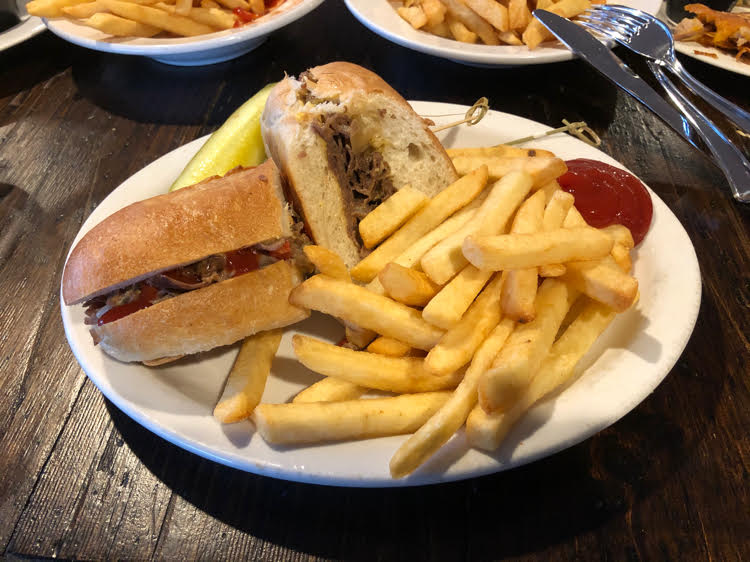 Your Own Adventure at TreEscapes
Interested in tackling the obstacles at the TreEscapes Aerial Adventure Ropes Course? The TreEscape courses are open on weekends through November 30. A ticket for the course gets each participant a three-hour session to tackle the TreEscape Aerial Adventure Ropes Course.