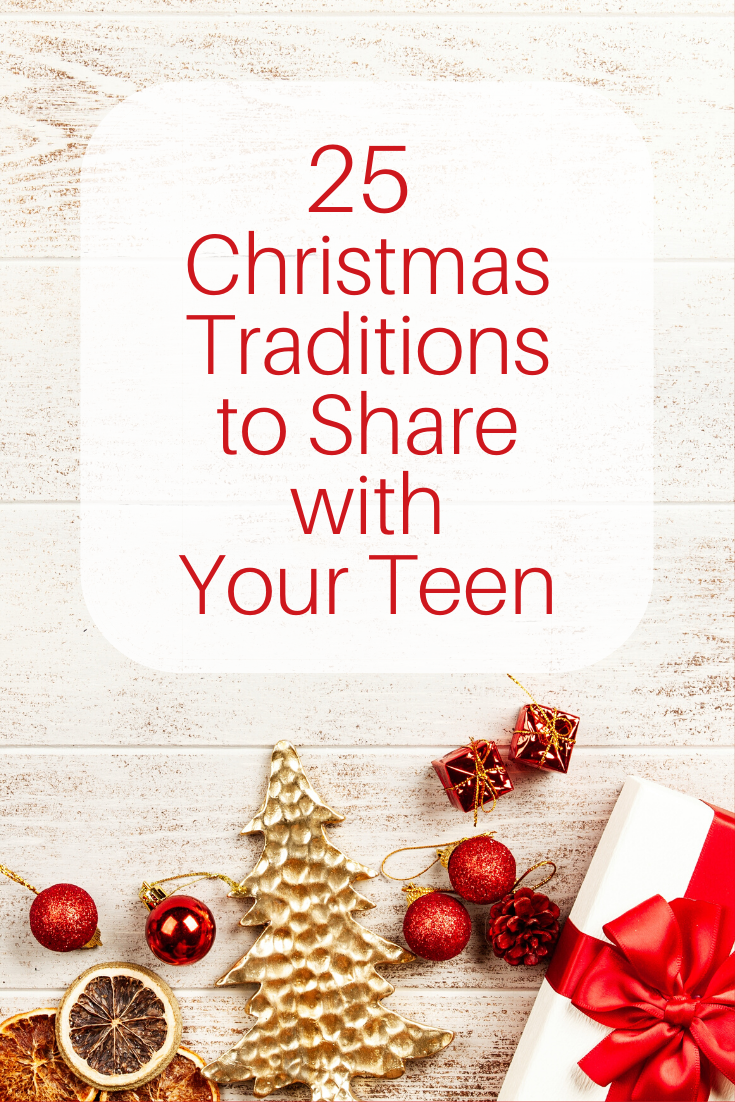 Welcome to the 4th day of the 5th annual 12 Days of Holiday Ideas event, hosted by Shirley of Intelligent Domestications and Erlene of My Pinterventures. Between Nov. 11th and December 6th there will be hundreds of new ideas shared by over 55 Co-host bloggers!
Go here to see our kick-off collection of holiday ideas as well as all of this year's talented participating DIY and Foodie Blogs. Download this year's November and December calendars with all of the topics and dates so you can make plans to watch for ideas! Today we are featuring Holiday Kid Activities!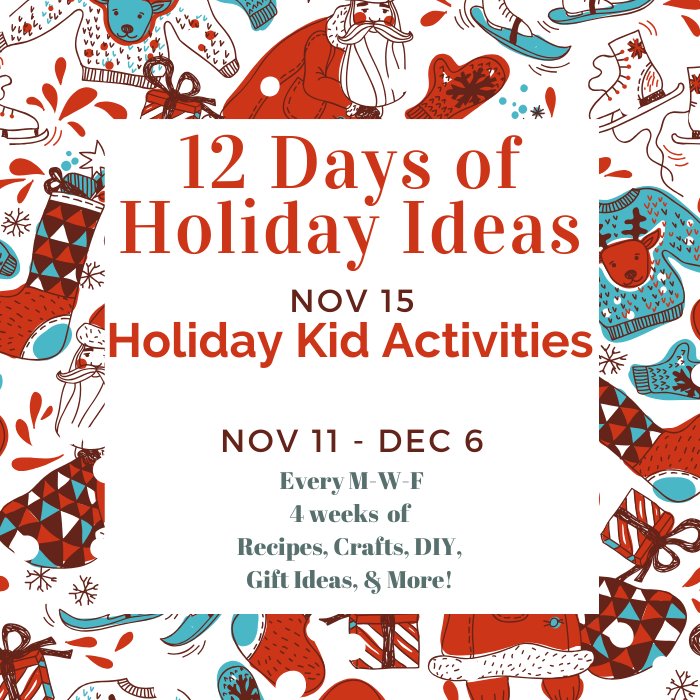 We are hosting a BIG GIVEAWAY from our Sponsors this year! Be sure to scroll all the way down for more information and to enter to win!
25 Christmas Traditions to Share with Your Teen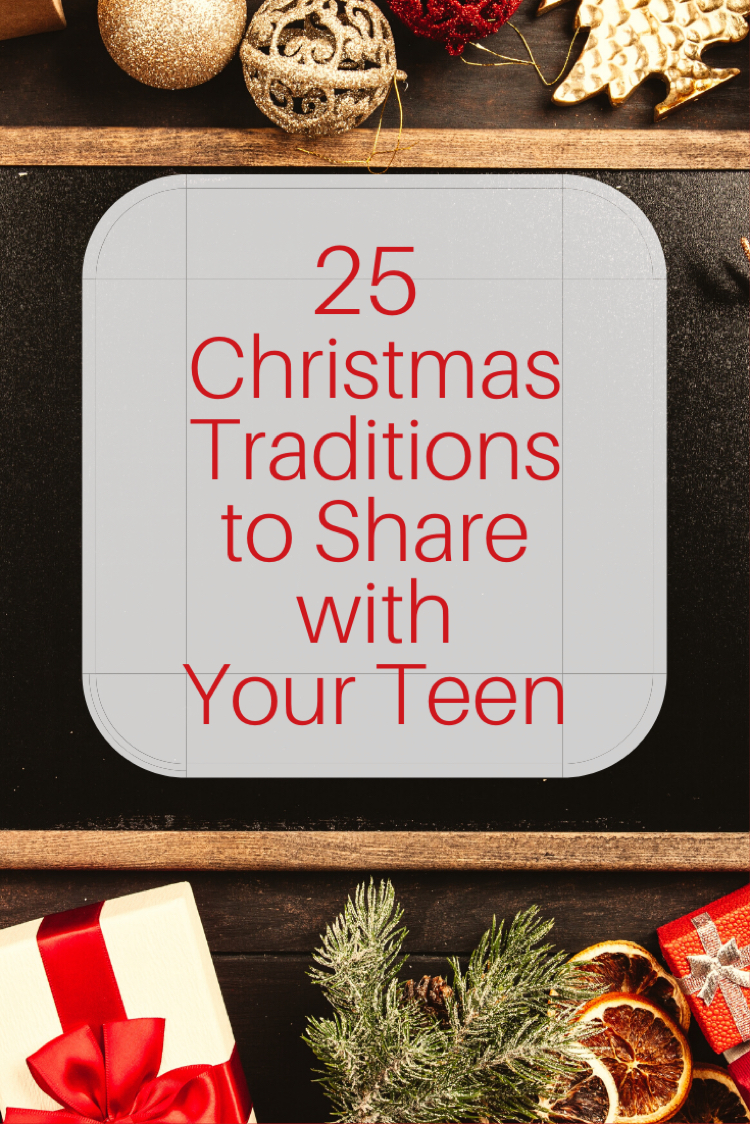 When my daughters were little, we used to put out cookies for Santa Claus and sprinkle "reindeer food" on our driveway to help Santa and his reindeer find us. Once my daughters got older and we stopped those activities, we missed having a family Christmas Eve tradition! So my husband, daughters and I have been looking for new holiday traditions to enjoy this season. If you are a parent of a teen and are looking for holiday traditions to share with your teen, check out this list of fun holiday activities you can enjoy together.
25 Holiday Traditions to Share with Teens
1 – Start a new Christmas Tradition. If your teen no longer embraces traditions of years past (visiting Santa, leaving out cookies, etc.), you can start new traditions! This year, my daughters and I have talked about having a family game and movie night on Christmas Eve. We're thinking we can make popcorn, watch some holiday movies, enjoy some treats and appetizers, and play some board games or play pool/billiards.
2- Help Out a Charity. This holiday season, you and your teen can volunteer at a food pantry or soup kitchen or donate to a local gift drive. There is a very good charity in my area that runs a gift drive for local children that my daughters and I donate to every year. My daughters enjoy helping to pick out and wrap the gifts for the children on our charitable gift lists.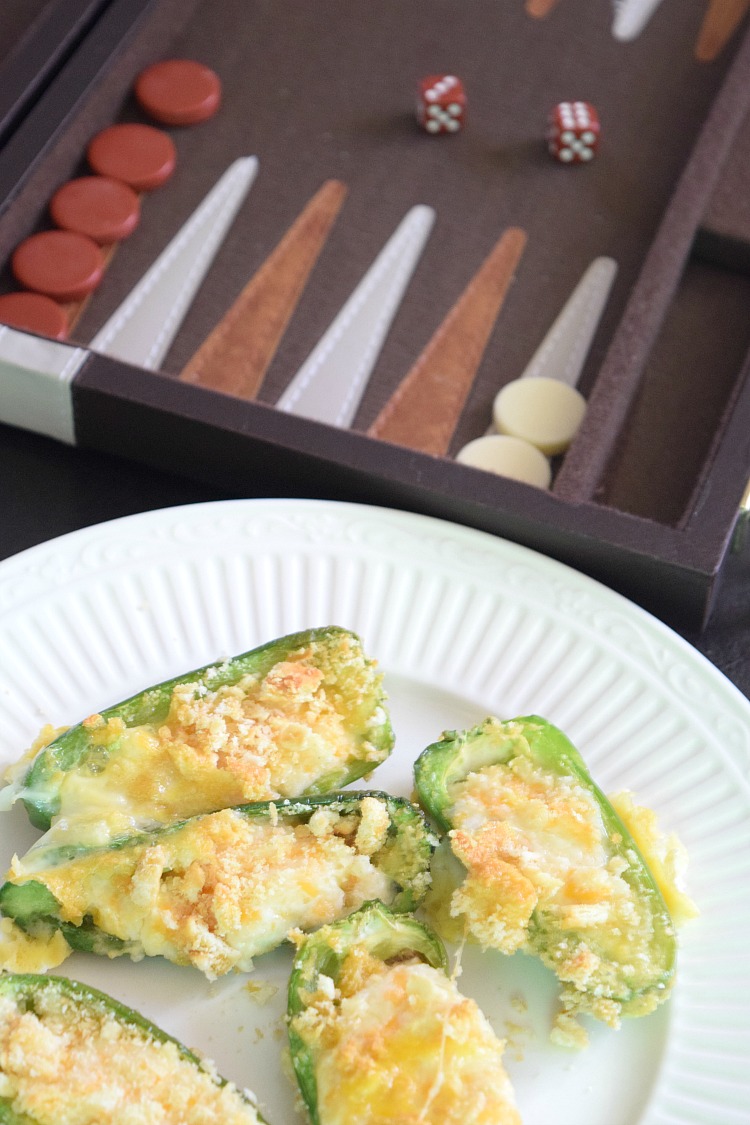 3 – Bake and Decorate Christmas Cookies. If your teen enjoys spending time in the kitchen, he or she might enjoy baking and decorating Christmas cookies with you. Last year my daughters and I made some gingerbread cookies at Christmas – we had a great time!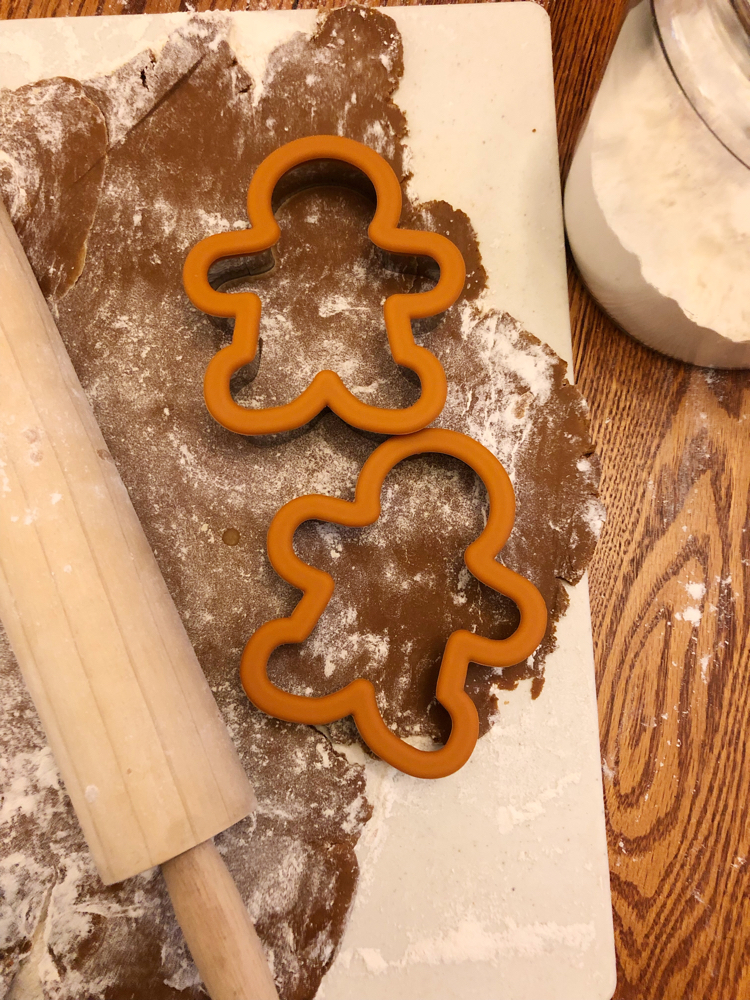 4 – Go Christmas Caroling with Family and Friends. Christmas caroling is always a lot of fun! It's a great time to spend with family, and you and your teen can invite some friends to come along, too.
5 – Decorate the Christmas Tree as a Family. Picking out the perfect family Christmas tree can be a fun tradition to share with your teen. My family and I put up artificial trees, but we always enjoy decorating them together.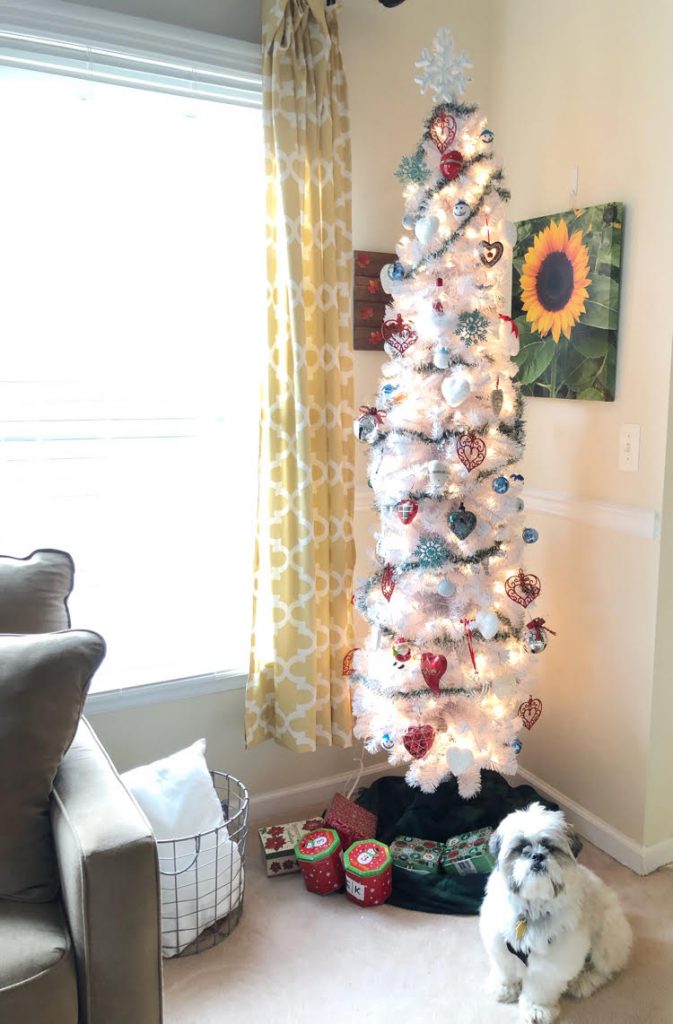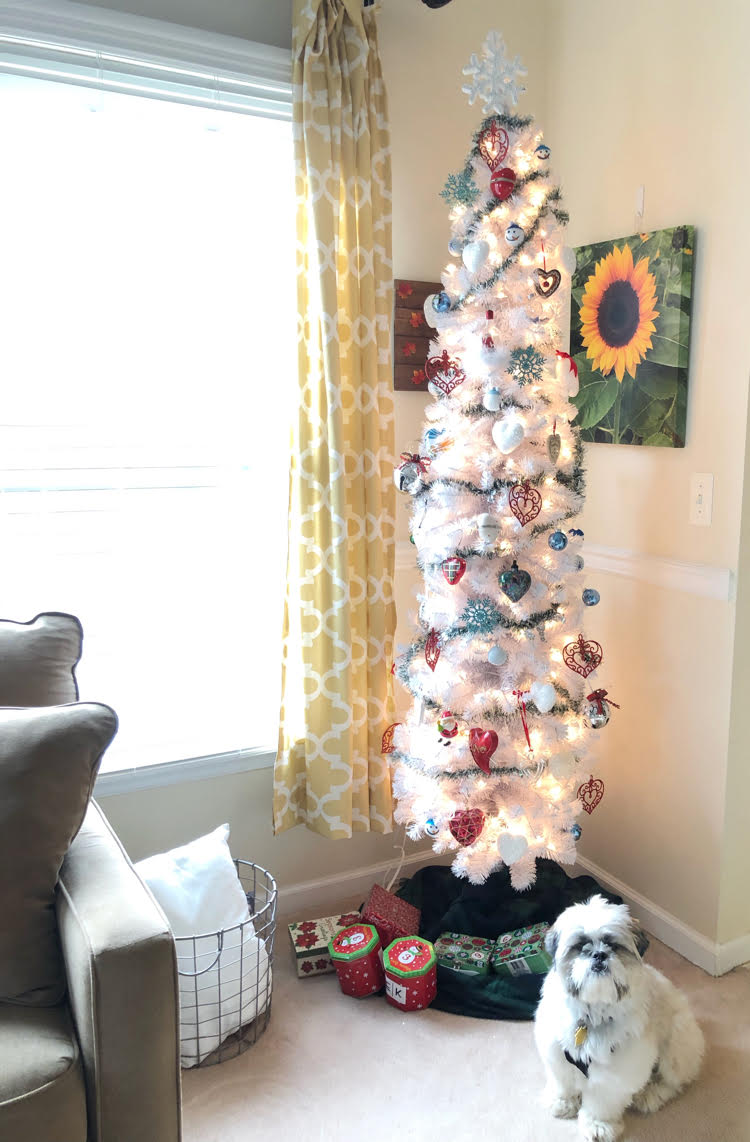 6- Take a Family Holiday photo. When my daughters were little, my husband and I used to feature a photo of them together on our Christmas cards. But now that our daughters are older, we like to include a family photo. This fall, we hope to travel somewhere fun one weekend to get a photo for our card. We could take a photo somewhere around town or at a scenic spot. Taking and planning the holiday photo for our Christmas card could become a new tradition for us.
7 – Decorate the House Together or make some of your own holiday decor. I used to always go all out decorating our home for Christmas for my kids. But now that my kids are older, they might enjoy decorating the house for the holidays, too.
8 – Share the Season with Your Pet. During the holiday season, you and your teen can go to a local pet store with your pet. You can get a photo with Santa, and buy a holiday outfit for the family pet. My teens love to dress up our 2-year-old Shih Tzu! (His birthday is actually today!) Last year we had him wear angel wings for his Christmas photo with Santa. He is a good puppy!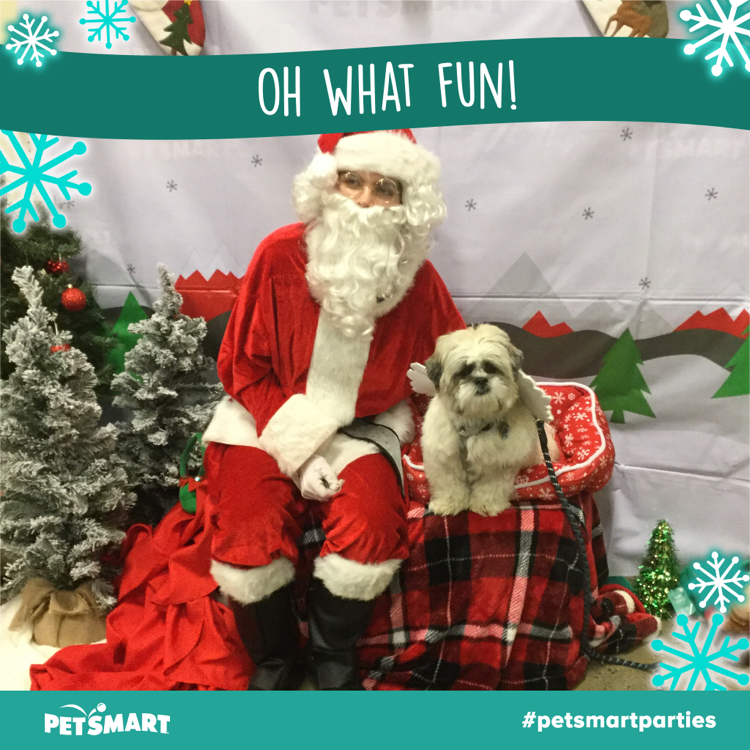 9 – Take a Weekend or Short Trip Together. My family enjoys scheduling short trips together throughout the year. The holiday season is an especially fun time to travel. Even if you only visit a town within a few hours from your house (as my family often does), it's fun to see new sights and to take in various holiday events.
10- Have a DIY or Homemade Gift Swap. Often, it's the homemade or handmade gifts that mean the most to us. If you host a family gift swap, each member of the family can draw a name of a family member he or she will make a gift for. I am hoping to start this tradition with my husband and kids. Gifts that can be exchanged could include baked goods, DIY art, photo books, etc.
11- Bake or Make Homemade Gifts to Give to Family and Friends. It's always nice to remember family, neighbors and friends with baked goods or homemade gifts. Making and giving out these gifts could make for a fun afternoon with your teen.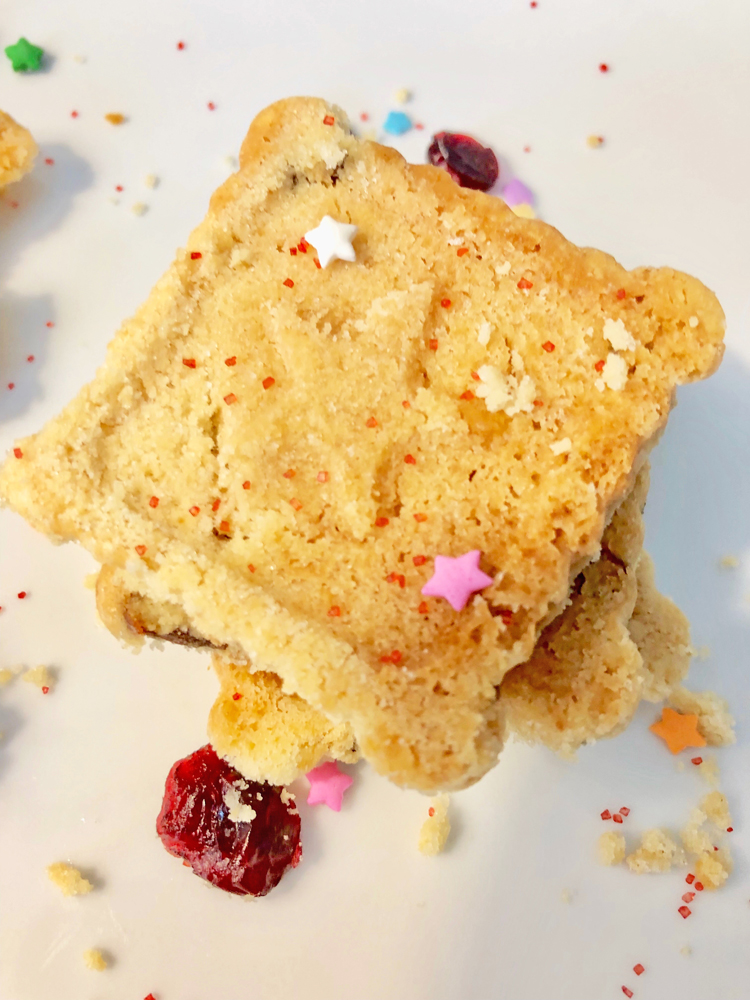 12 – Cook a Family Meal Together. My daughters have expressed an interest in cooking lately. It would be fun this holiday season to plan and make a special meal together. Maybe we can learn a new dish together!
13 – Visit a Local Nursing Home. The holiday season is a perfect time to spread joy to others. Visiting a nursing home with your teen is a good way to express the meaning of the season.
14 – Make Gingerbread Houses Together. This is something my daughters and I have done together for several years, and I know it's still a tradition they enjoy.
15 – Decorate Your Front Lawn for the Holidays Together. Decorating the front yard is a chore that neither my husband or I have really enjoyed over the years. But since it would be a first for our teens, it might be something they'd have fun doing.
16 – Attend a Tree Lighting or Go on a Sleigh Ride. Many towns feature tree lighting events or even sleigh rides during the holiday season. These events are a fun way to get into the holiday spirit with your teen.
17 – Write Out Christmas Cards Together. Writing out holiday cards can be a lot of work, but it can be fun as a shared activity while drinking hot cocoa and listening to holiday tunes.
18 – Have a Decorating Contest – You can assign each person a room or space in the house to decorate, and then you can vote on who did the best job. You don't have to do a whole room – each person can decorate the door to their room, a holiday table, etc.
19 – Work on a Holiday Puzzle Together. My daughters put a jigsaw puzzle together last year, and they really enjoyed it. I glued the puzzle together and it's hanging in our home's upstairs hallway now.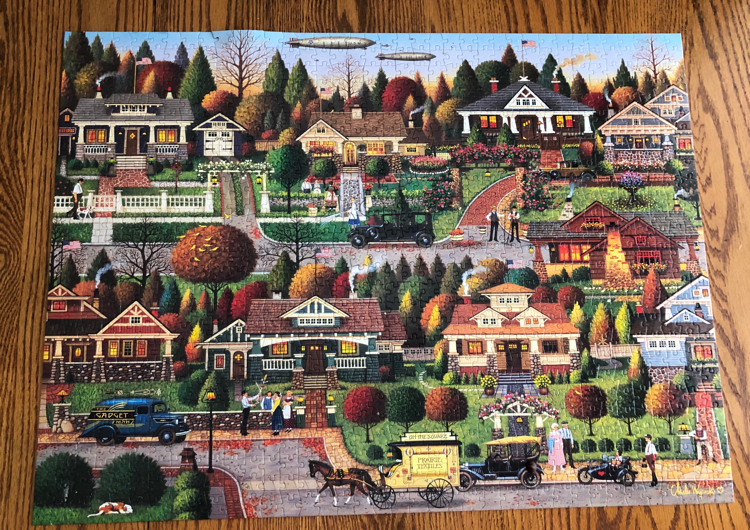 20 – Go Ice Skating. While I am more likely to be found in the clubhouse drinking hot cocoa instead of on the ice, going ice skating with my teens could be a fun activity.
21 – See a Holiday Movie. There are always great new movies out during the holiday season. My daughters and I are hoping to see "Last Christmas" together.
22 – Make Pottery Together – Making pottery could be a fun thing to do with your teen. We have several pottery places near our home. These places let you pick out a piece of pottery (a plate, mug, ceramic tree, etc.) that you can paint. They will fire the piece for you and you can pick up the piece a few days later when it's complete.
23 – See a Holiday Show – There are lots of opportunities to take in a fun cultural event together during the holiday season. There are choral performances, and shows like The Nutcracker and A Christmas Carol to see on stage.
24 – Make DIY Ornaments Together – You can have a holiday ornament making session with your teen. These DIY ornaments can adorn your own tree, be given to friends, family or a charity, or serve as gifts for family and friends.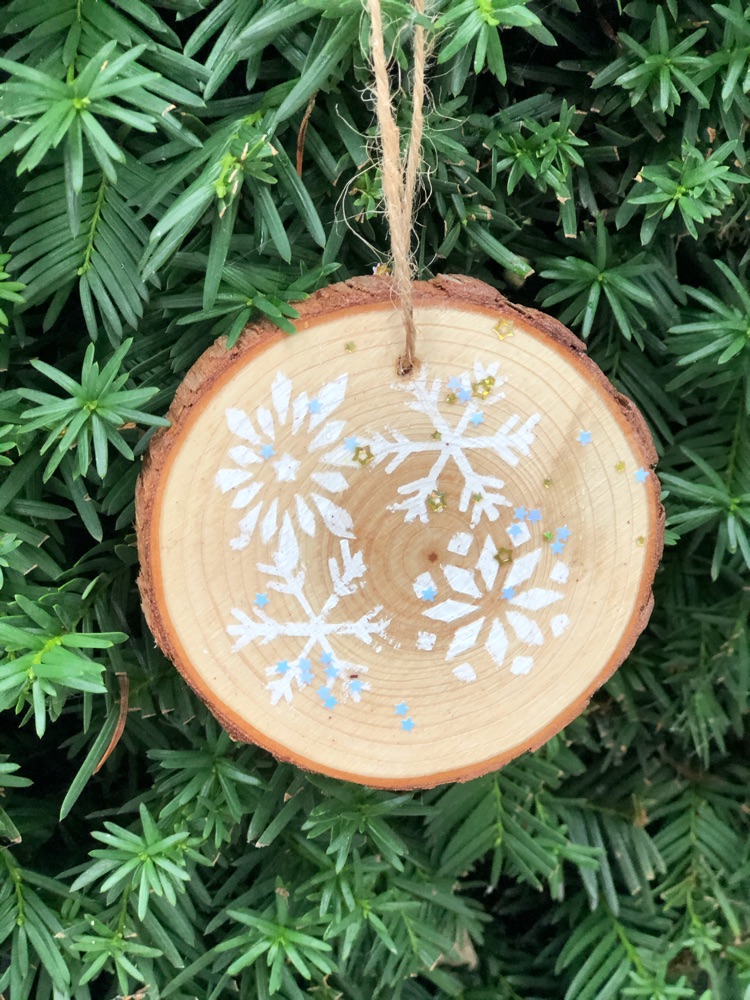 25 – Go on a Holiday Lights Tour – No matter how old you are, it's always fun to go looking for holiday lights. You can tour your neighborhood by foot or by car and see how your neighbors have decorated their homes and lawns for the season.
MEET OUR GIVEAWAY SPONSORS WHO HAVE GENEROUSLY DONATED FABULOUS PRIZES FOR THE BIG CHRISTMAS GIVEAWAY!
DecoArt winner will receive a prize package valued at $100!
Dixie Crystals/Imperial Sugar winner will receive a Keurig Coffee Maker valued at $100!
Oriental Trading winner will receive an OrientalTrading.com gift card valued at $200!
Cabot Cheese winner will receive a gift basket of Cabot products valued at $75!
Burlap Fabric winner will receive a prize pack of products valued at $50!
Zulay Kitchens winner will receive one Milk Frother and a Lemon Squeezer valued at $21
It's Home To You winner will receive one wooden Santa sign valued at $65
Giveaway begins Nov. 8, 2019 and ends Dec. 6, 2019. Winners will be notified by December 13, 2019. Sponsors will ship each prize to the winner. There will be a total of six winners, one for each prize. Drawing is by random selection using the Rafflecopter widget.
Must be 18 to win. Open to U.S. residents only.