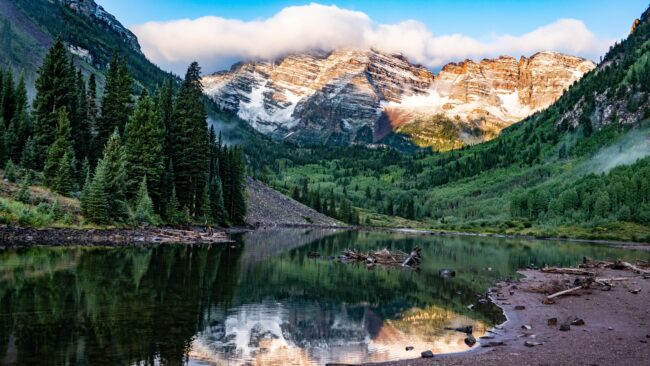 As the United States continues to see high levels of relocation from state to state, places like Colorado have emerged as clear winners with substantially higher inbound moves than other states. The net increase in new residents is nothing new for the state, which has added 760,000 new residents over the past decade, but the pandemic helped propel Colorado into the fast lane. While moving to Colorado brings a host of benefits to middle-class families, all cross-country moves come with a price tag.
Located in the mid-range of America's Rocky Mountains, the state offers amazing vista as far as your eyes can see and man other other benefits, including a vibrant economy, healthy job market, and comparatively lower real estate prices, among many other pluses.
The Economy
Colorado's economy has doing well for the past decade and the state has continued to deliver a GDP growth rate of nearly 6% between 2009 and 2019, adding $100 billion in value-added goods and services over the years. Amazingly, the state's GDP now stands at $382 billion, and continues to gain significantly gain each year.
Plus, the state's high concentration of scientific research and technology industry has stayed resilient during the pandemic and has been further aided by the presence of 54,000 non-military federal employees.
Great Cities, Low Housing Prices
Another good reason to move your family to Colorado is that it has an appealing mix of rural, urban, and suburban cities. The state is more than just the metros of Aspen, Denver and Vail.
You can choose from plenty of amazing cities to live in. In addition, most of these urban centers are ideal for people from various backgrounds. Parker, Lakewood, Castle Rock, and Littleton are just some of the top cities for those looking to move to Colorado. And, even though real estate prices in the state are about equal to the national average, rents and housing prices are still lower when compared to states like California, Washington, and Massachusetts.
Amazing Outdoors
Whether it's the beautiful landscapes, idyllic lakes, ski resorts, or natural hot springs, Colorado has the best of the outdoors. There aren't many other locations that boast Colorado's range of options, all within driving distance of major cities. If you're tired of the traffic, density, and faced-paced city life, Colorado has everything for pursuing an active, outdoorsy lifestyle.
Highly Rated Schools
When you move to Colorado, you can rest assured that your children will get the best education around. Colorado's public school system and higher education opportunities offers everything families with children could want. In 2021, the state was ranked the third most educated state in the country, and it has some of the most highly-rated schools in districts across the state, providing quality education to students moving from other parts of the U.S.