Thanks to General Finishes for providing the primer, paint and top coat used to paint my kitchen cabinets. All opinions expressed in this post are my own. This post contains Amazon affiliate links. These links cost you nothing, but may earn a small commission to help fund this blog. Thanks!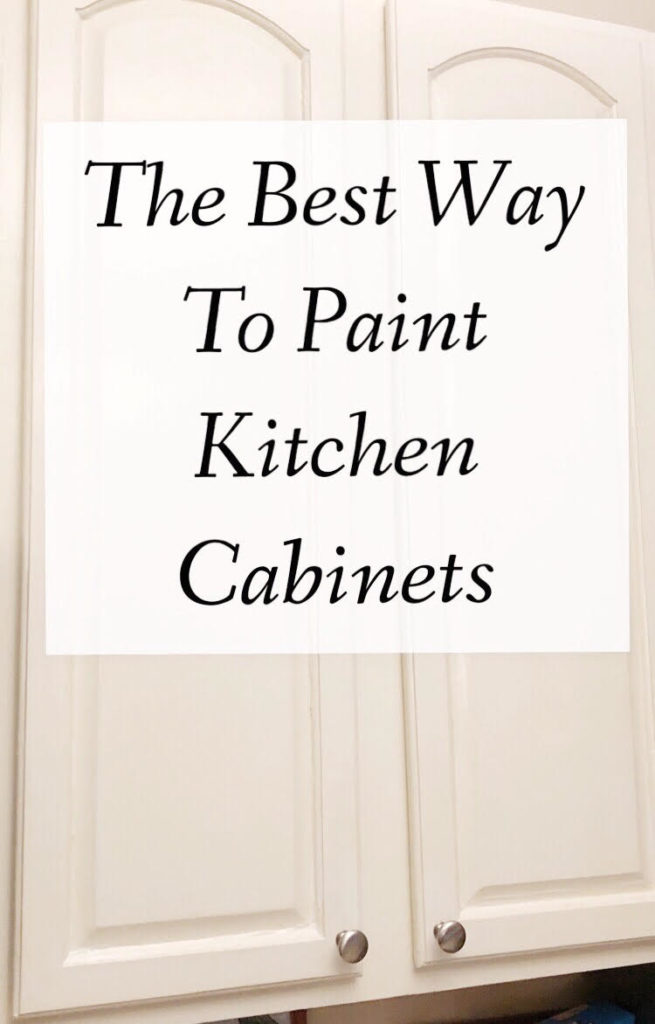 Almost three years ago, I started painting my kitchen cabinets. For the most part, I completed the project. I have to admit, though, that I didn't complete it all! I still have about two doors left to paint. An illness — and a cute new puppy –sidelined my project a bit! Now that I have more time at home – I'm finding more time to complete those projects around the house!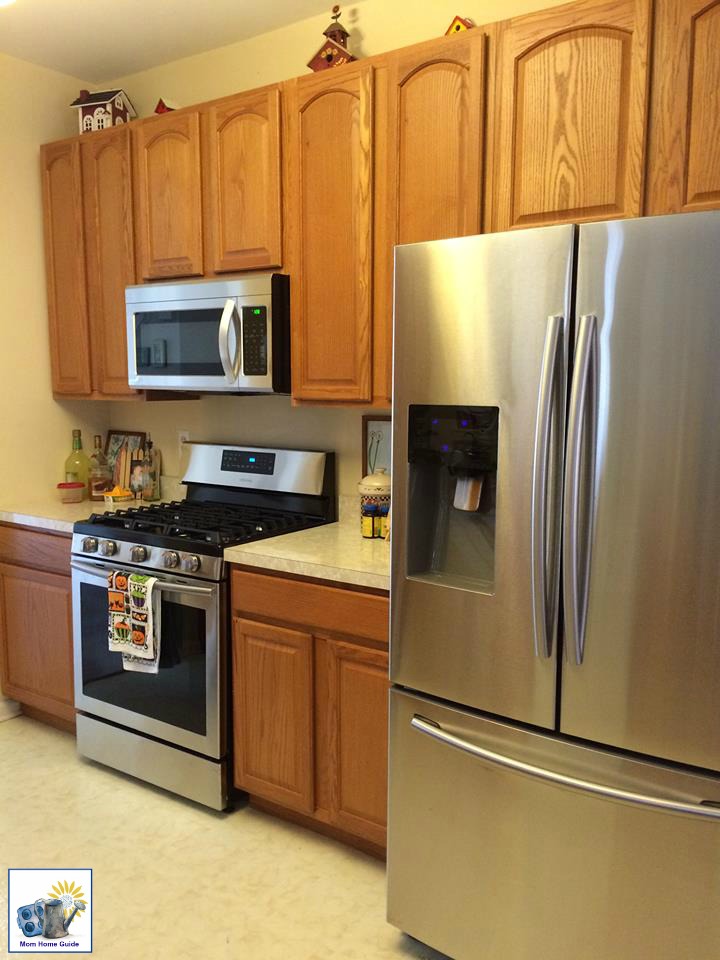 Since my family got our puppy, my progress has been slow. I prefer to paint in my kitchen over the basement or the garage. It's better lit and warmer! Since I don't like to lock up my pup, I have been painting the doors on a folding card table — which means I can only paint two doors at a time.
I painted my oak kitchen cabinets with stain-blocking primer (to prevent the oak from coming through), milk paint and a protective top coat, all from General Finishes. The primer, paint and top coat are all made for refinishing cabinets and furniture — minimizing the amount of sanding that's required before painting. Only minimal sanding is necessary with General Finishes' milk paint!
By the way, I'd like to give a shout out to Tasha of Kaleidoscope for showing me how to paint kitchen cabinets with milk paint from General Finishes. It was her kitchen cabinet painting tutorial that encouraged me to start this project. Thanks, Tasha!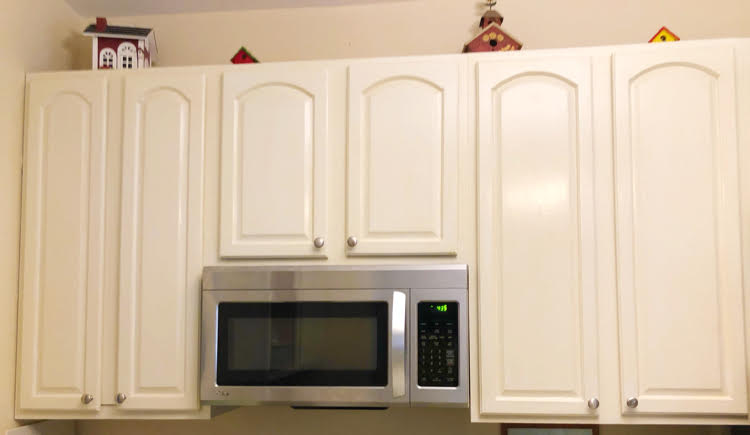 In today's post, I am going to share some kitchen painting cabinet tips I learned along the way.
Visit my painting kitchen cabinets tutorial to find the complete steps for painting your kitchen cabinets, as well as all the supplies you'll need. This process would work for painting bathroom cabinets as well as kitchen cabinets.
Essential Kitchen Cabinet Painting Tips
Lightly sand your cabinets and doors with Coarse Sandpaper
at the start of your project.
Use a grease cleaning product like Krud Kutter
to clean your cabinets before painting.
Inexpensive Foam Paint Brushes
work well for painting kitchen cabinets. With these brushes I was able to avoid brush strokes in my paint.
Lightly sand between coats of primer and paint with an Extra Fine Sanding Sponge
. (This helps to get an extra smooth finish.)
Silicone Store and Pour Collapsible Paint Can Lids
will make it easier to store and pour your paint during your painting process.
Use simple Wood Blocks
(or you could use scraps of wood or boards) to lift the cabinets doors up from your painting surface (e.g., the table or floor) instead of Painters Pyramids
when painting. Your doors will be more stable while painting. (My doors tended to rock a bit on the painting pyramids.)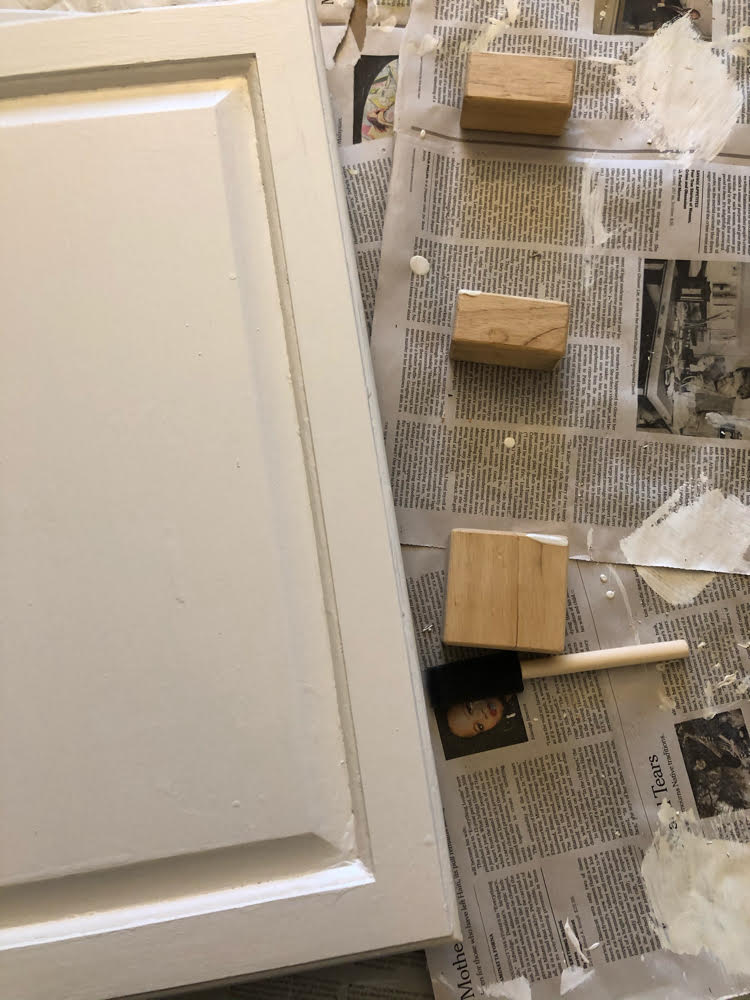 If you decide to add knobs and pulls (if your cabinets didn't have them before), a
Hardware Knob/Handle Pull Drill Mounting Template
will help you to easily mark where to drill the holes for the new cabinet hardware.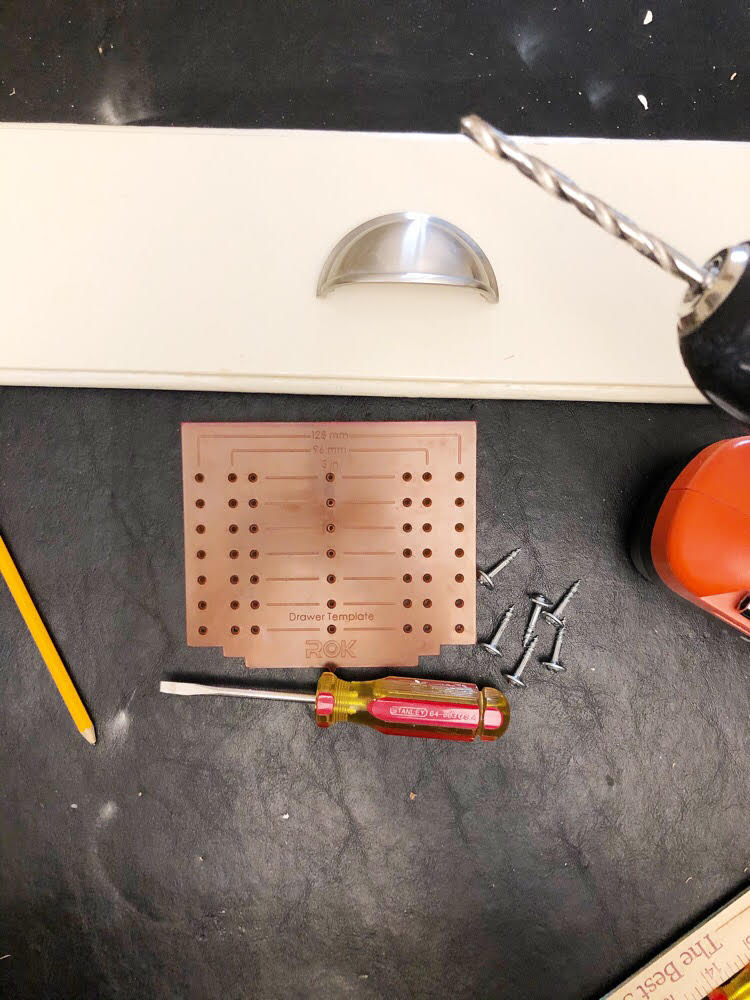 If you are like me and you still manage to mess up where you drill (my drill skipped once on me), it's helpful to have Paintable Wood Filler
on hand to fill up your mistake.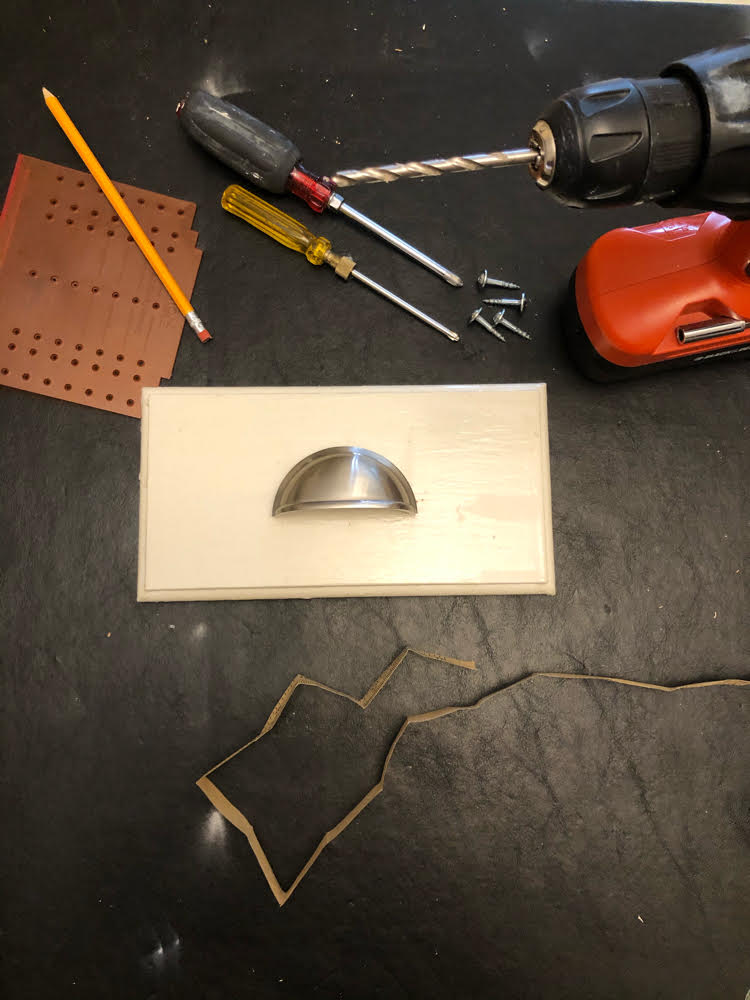 If you like this project, be sure to pin it for later!