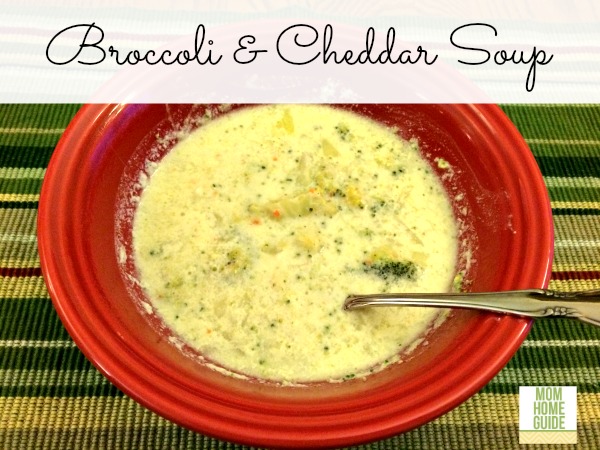 When my daughter was home sick recently, I treated her to broccoli cheese soup at Panera Bread. Broccoli cheese soup is her favorite thing to order there! So this week, I decided to surprise her with a special treat and cook some homemade broccoli cheese soup for dinner one night! I decided to make a crock pot broccoli cheese soup recipe so it would be super easy to make, too, so I could make it on a week night!
I put my broccoli cheese soup recipe together by browsing the Internet, doing some Google searches and using Pinterest. I wanted to make a soup that was yummy but wasn't filled with lots of butter! This is what I came up with. My kids enjoyed it — I hope you enjoy it, too!
Broccoli Cheese Soup Recipe
(Serves 3-4)
1 head of fresh broccoli, washed and chopped (about 2-3 cups)
2 tablespoons olive oil
2 garlic cloves, minced
1 cup of shredded carrots
2 cups light cream
3 cups chicken stock (I used organic)
4 cups shredded cheddar cheese
3 tablespoons butter
3 tablespoons flour
2 teaspoons garlic powder
Salt and pepper, to taste
Instructions
Saute the carrots and the garlic in the oil in a skillet on low until soft. Put the carrots and garlic in the slow cooker.
Add the chopped broccoli.  Cover the vegetables and the garlic with the chicken stock. Add the garlic powder and the salt and pepper to taste. Stir well and cook on low for 3-4 hours.
Lightly warm the cream in a microwave oven and set aside.
Melt the butter over a low flame in a sauce pan and whisk in flour.
Slowly whisk the cream into the butter and flour mixture a little bit at a time. Cook until the sauce begins to bubble. Pour your sauce into the slow cooker and stir.
Cook on high for 30-45 minutes, until the soup has thickened.
Once your soup is thick enough, add the shredded cheddar cheese, a little bit at a time, stirring. Cover and cook a few minutes until the cheese is completely melted.
Using an immersion blender or a regular blender, blend the soup (a little at a time). Return the soup to the slow cooker and heat until warm.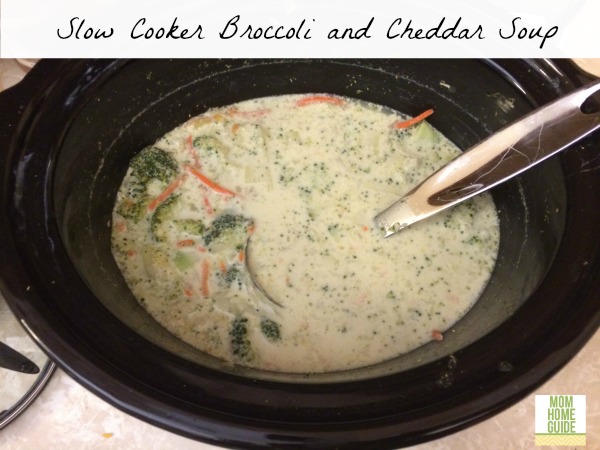 Once the soup is warm, you can ladle the soup into bowls and serve! If you like, add extra shredded cheese on top, or top the soup with sour cream or croutons.
This recipe has been shared at Souper Bowl 2015 and Hit Me With Your Best Shot