I was provided with Fortune Udon Noodles in exchange for my participation in the Fortune Udon Noodle Soup Recipe Challenge. All opinions expressed in this post are my own. #fortunenudonoodles, #cheftyaki #udonsoups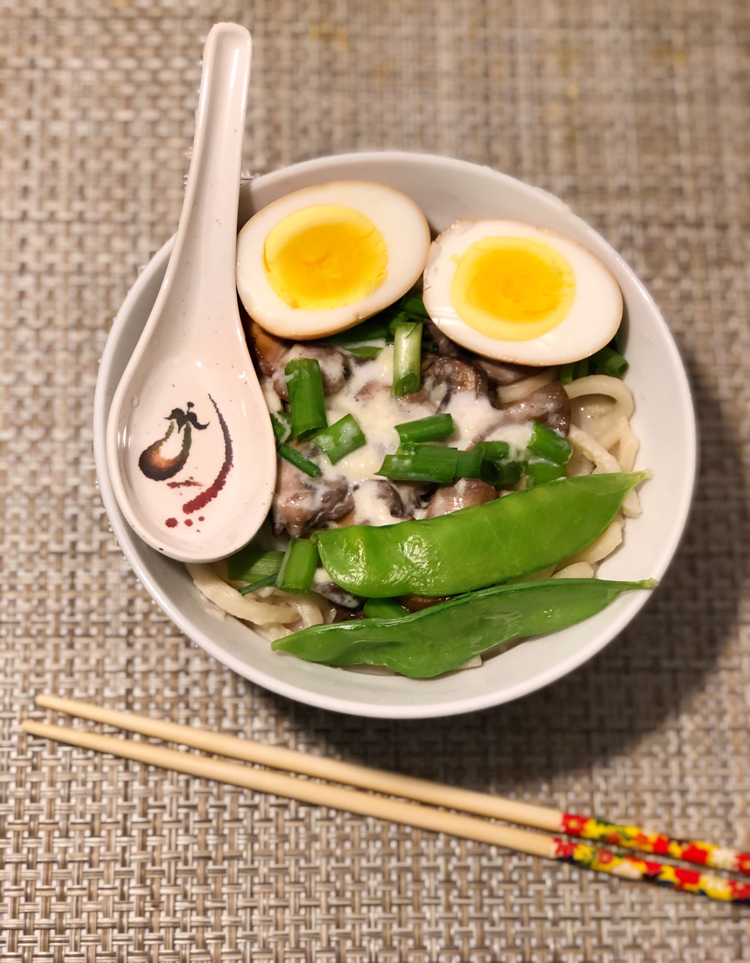 My family and I love going out together to get delicious bowls of udon soup. Japanese udon soup is a savory soup filled with thick noodles. My daughters and I usually choose a flavorful veggie udon soup when we have lunch together.
When we go out, our udon soup is sometimes topped with a delicious soft boiled egg that is flavored with soy sauce. I love soy eggs! They are so yummy.
My daughters and I also adore creamy bowls of mac and cheese. Udon and mac and cheese are both popular comfort foods in our family!
I was invited to participate in the Fortune Udon Noodle Soup Recipe Challenge. I decided to combine two of our favorite dishes in one recipe! (In case you missed it, check out my previous Recipe Challenge Entry — I took a third place prize for my Tex-Mex Breakfast Udon.)
The Fortune Udon Nooldes are very delicious! They are pre-cooked, and not dried, and can be found in the refrigerated produce section of your grocery store. They only need to be heated up a few minutes to serve! The noodles are also cholesterol-free and MSG free. The noodles also contain added flaxseed for 130 mg. of ALA Omega-3 per serving. Each pack of noodles comes with a sauce packet. For a quick delicious meal, all you need to do is add a protein and a veggie!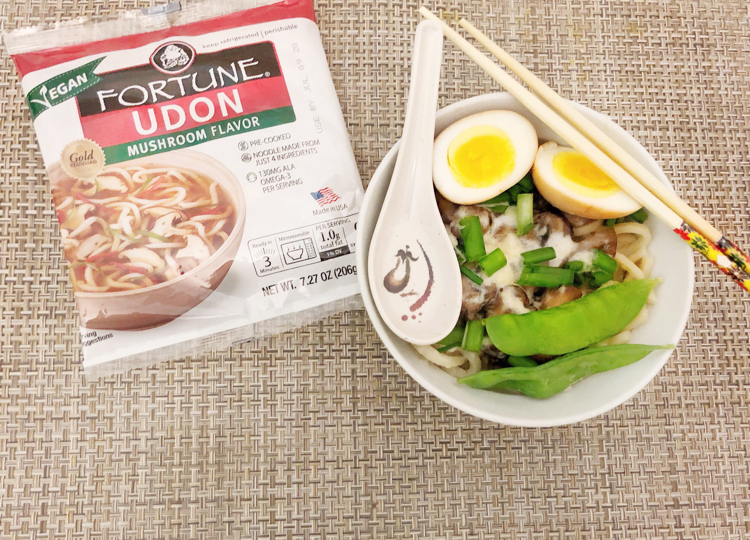 Cheesy Mushroom Swiss Udon with Soy-Marinated Egg Recipe
(Serves 4)
Udon Soup Ingredients
4 Packages of Fortune Udon Noodles (I used Mushroom Flavor)
5 and 1/3 Cups Water
4 Eggs
4 Tablespoons Soy Sauce
2 Cups Sliced Cremini Mushrooms (or "baby Bella" mushrooms) – these mushrooms are more flavorful than the standard white button mushrooms
1-2 Tablespoons Olive Oil
2 Cups Fresh Snow Peas
Chopped Scallion (to taste)
Black Pepper (to taste)
Cheese Sauce Ingredients
1 Tbsp. Butter
1 Tbsp. Flour
1 1/2 Cups Milk
1 (8) Oz. package or Two Cups Shredded Swiss cheese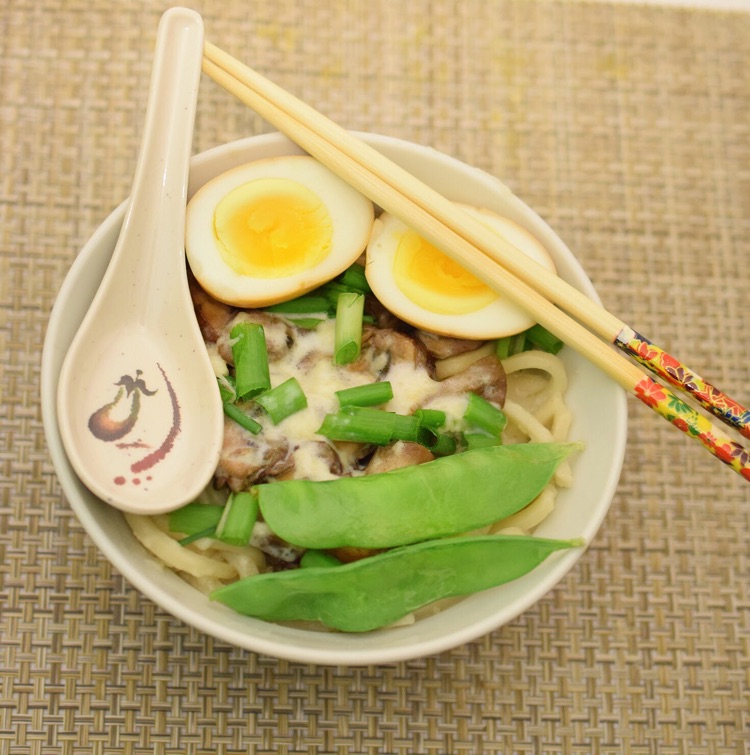 1 – Make the soy sauce eggs. Add water to a medium pot (enough to cover the eggs). Bring to a boil. Add eggs and reduce heat to low. Boil eggs for 6 minutes.(Or you could use an electric egg cooker.)
Fill a bowl with plenty of ice and water. Submerge the eggs in the ice water for at least 2 minutes. Shell and rinse off the eggs. Add 4 tablespoons of soy sauce to a small sauce pan. Bring soy sauce to a boil and immediately turn off heat. Add the eggs and roll the eggs in the soy sauce for about 2 minutes. Set the eggs aside.
2 – Saute mushrooms. Add olive oil to a small pan and saute the mushrooms in the olive oil until they are soft. Season the mushrooms with black pepper to taste.
3 – Make the cheese sauce. Heat butter in a medium-sized sauce pan on medium heat. Add the flour to make a roux. Cook the flour and butter mixture for about a minute. Add the milk. Sir the milk and the roux together to combine. Reduce the heat to low and gradually stir in the cheese. Keep stirring until the cheese is melted. Turn the heat under the sauce pan off and set the cheese sauce aside.
4 – Make the Fortune Udon Noodles Mushroom soup. Prepare the Fortune Udon Nooldes according to the instructions on the back of the package. (To make 4 packages of the udon, use 5 1/3 cups of water.)
5. Ladle the udon soup and noodles into serving bowls. Top each bowl with mushrooms, two halves of a soy egg, fresh snow peas and some of the cheese sauce. Top with sliced scallion, if desired.
I like to serve udon soup with pretty Asian-style soup spoons that my husband gave me. The spoons hold a lot more soup than a regular tablespoon does. It's also helpful to have some chopsticks on hand to eat the savory noodles! (My chopsticks are from Oriental Trading.)
It's useful to have extra deep soup bowls to hold as much soup as possible! Yum!
Interested in making this soup? You can purchase Fortune Udon noodle products at:
Hannaford
Price Rite
Shop Rite
Price Chopper.
Visit JSL Foods for a coupon good for one free packet of Fortune Udon Noodle soup! (Visit their website for the coupon.)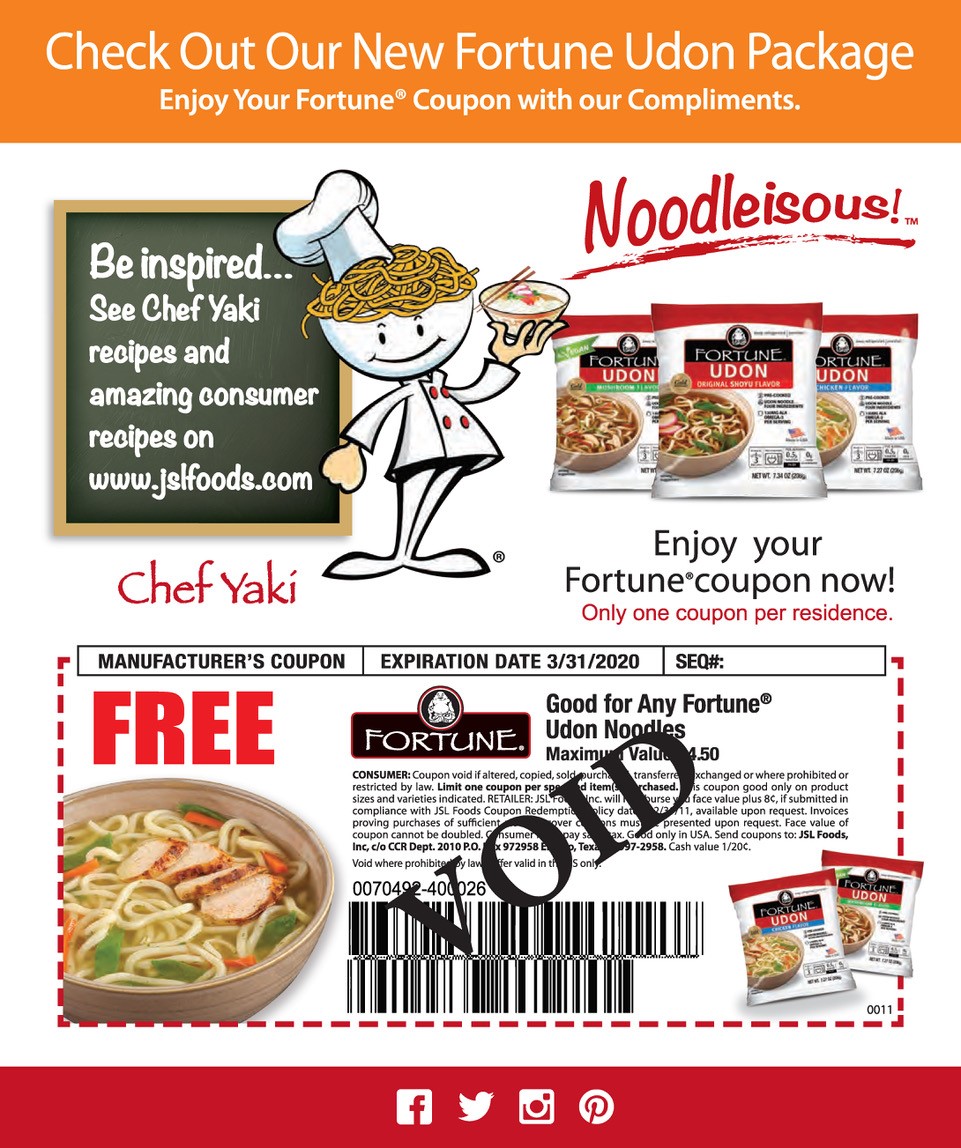 Learn more about all of JSL Foods' offerings here:
Website: http://www.jslfoods.com/
Facebook: https://www.facebook.com/JSLFoods/
Twitter: https://twitter.com/JSL_Foods
Instagram: https://www.instagram.com/jslfoods/
Interested in seeing the other entries in the Fortune Udon Noodle Soup Recipe Challenge? Follow the hashtags #cheftyaki #udonsoups.