I was provided with Fortune Gluten Free Shelf Stable Noodles as part of Fortune's National Blogger Contest. #glutenfreenoodles #cooklikeawokstar #fortunerecipechallenge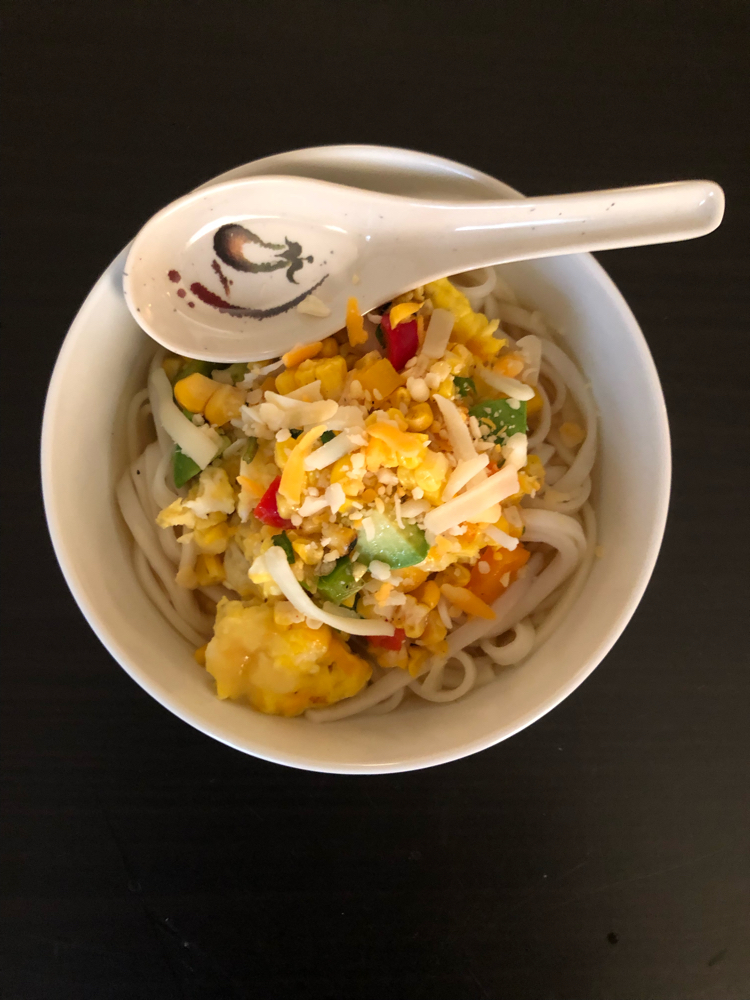 I love udon soup. If you haven't had udon before, it's a thick Japanese noodle that's often served in soup. So yummy!!
I used to have to go out for udon, but I recently discovered udon noodles that I can make right at home. With Fortune branded Gluten Free Shelf Stable Noodles, all I need to know how to do is boil a pot of water to have a big bowl of delicious noodles! The noodles are packaged partially cooked and come with a flavoring packet to get a delicious noodle soup with a traditional Asian noodle flavor!
The Fortune noodles come in four fantastic flavors — Ramen, Miso Pork Flavor; Udon, Garlic Chicken Flavor; Soba Buckwheat, Shoyu Flavor; and Red Rice Ramen, Shoyu Flavor. All 4 varieties are perfect for when I want a quick and savory bowl of noodles for lunch, dinner or a snack.
The noodles (ramen and udon) come packaged partially cooked and are ready to eat in minutes. They are cholesterol free and gluten free and made in the U.S.A.
These Fortune Gluten Free noodles are NEW to market, Shelf Stable and can be found in the Asian dry grocery section in grocery stores.
Tex-Mex Breakfast Udon Recipe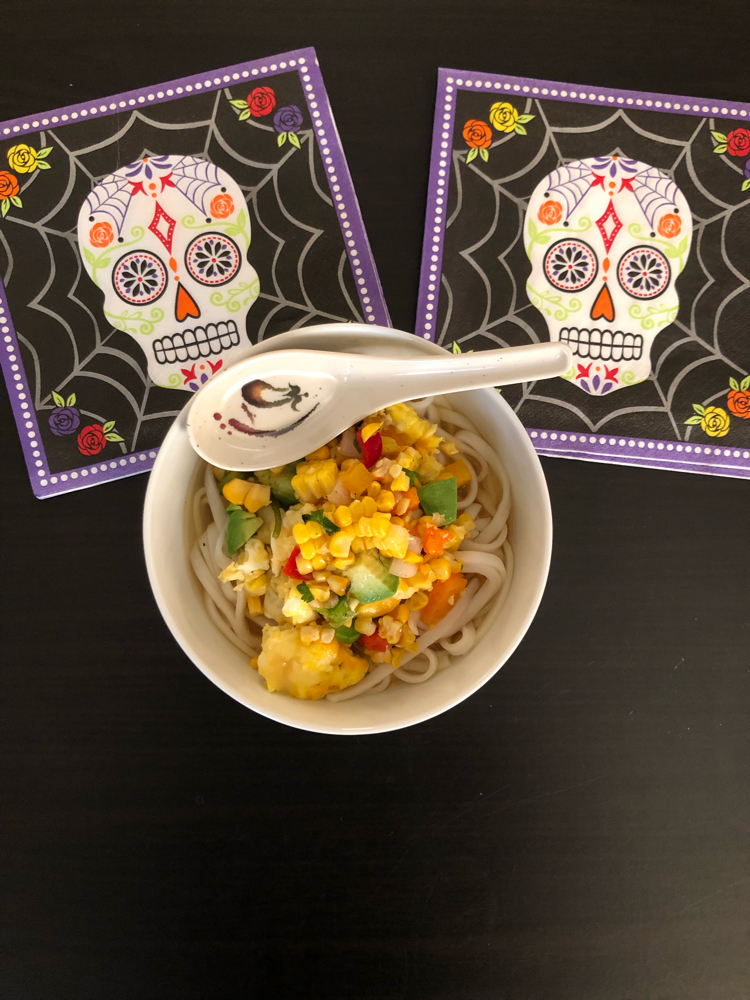 (Makes 2 Servings)
I like udon so much that I can eat it any meal of the day — even for breakfast! So I came up with an easy, savory Tex-Mex style udon recipe that I can easily whip up any day of the week!
I love how when I order udon at a restaurant, it often comes with a flavored, soft boiled egg. I thought it would be fun to try a different kind of egg in my bowl of udon.
In the morning, I sometimes like to scramble eggs with cheddar cheese for extra flavor. So, I'm topped my udon soup with cheesy scrambled eggs. I also added diced peppers, onions and avocado, and some grilled corn.
Ingredients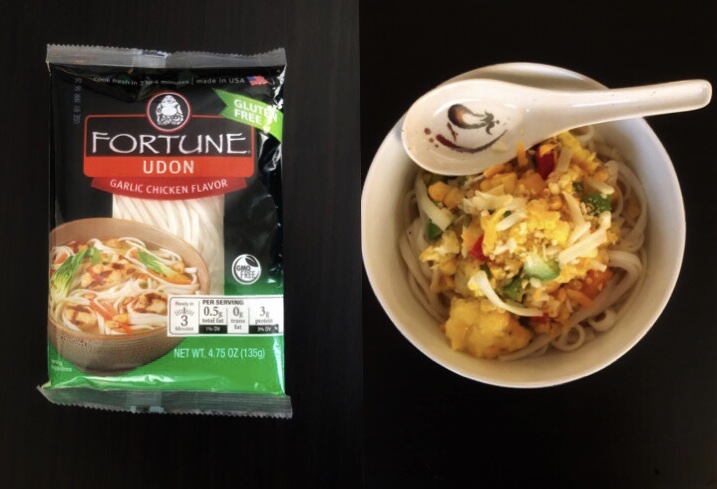 1 Package of Fortune Noodles, Udon, Garlic Chicken Flavor
1 Red Pepper
1 Yellow Pepper
1 Orange Pepper
1 Small Yellow Onion
Two Eggs
A Handful of Shredded Cheese (I used a cheddar mix)
1-2 Tablespoons Olive Oil
1 Avocado
Grilled Corn (or a can of corn if you don't have grilled corn)
Salt and Pepper to Taste
Optional: Fresh Cilantro, Hot Pepper Flakes or Sauce
Tex-Mex Breakfast Udon Directions
Make the package of Fortune Noodles, Udon, Garlic Chicken Flavor according to instructions on the package.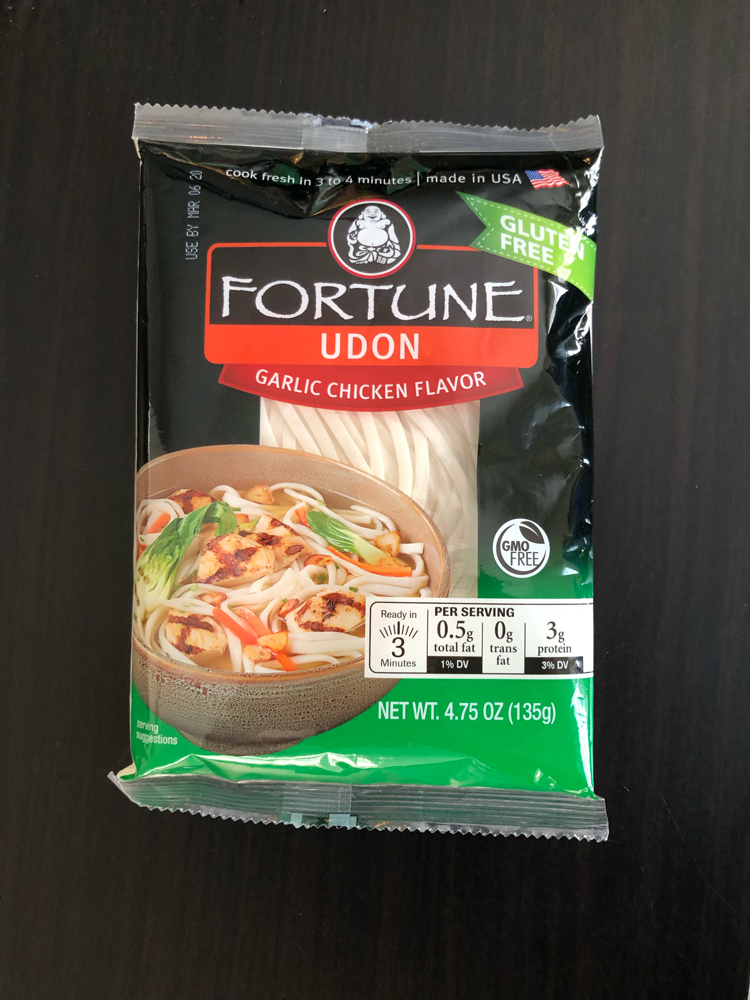 Dice the peppers and 1 small yellow onion. Lightly sauté the peppers and onion in olive oil.
Dice 1 avocado.
Slice off the kernels of a grilled corn on the cob. (Or a heat up a can of corn.)
Mix sautéed peppers and onions into the corn.
Scramble two eggs. Season with salt and pepper. When eggs are scrambled, mix in the shredded cheddar cheese.
Add soup base to serving bowls and top with the udon. Dress the udon with scrambled egg, avocado and the corn mixture. Add extra shredded cheese if desired.
If you like, you can also top the udon with fresh cilantro, hot sauce and/or red pepper flakes. Enjoy! (It's best to enjoy this dish with a big soup spoon and either a pair of chopsticks or a fork to eat up all the noodles!)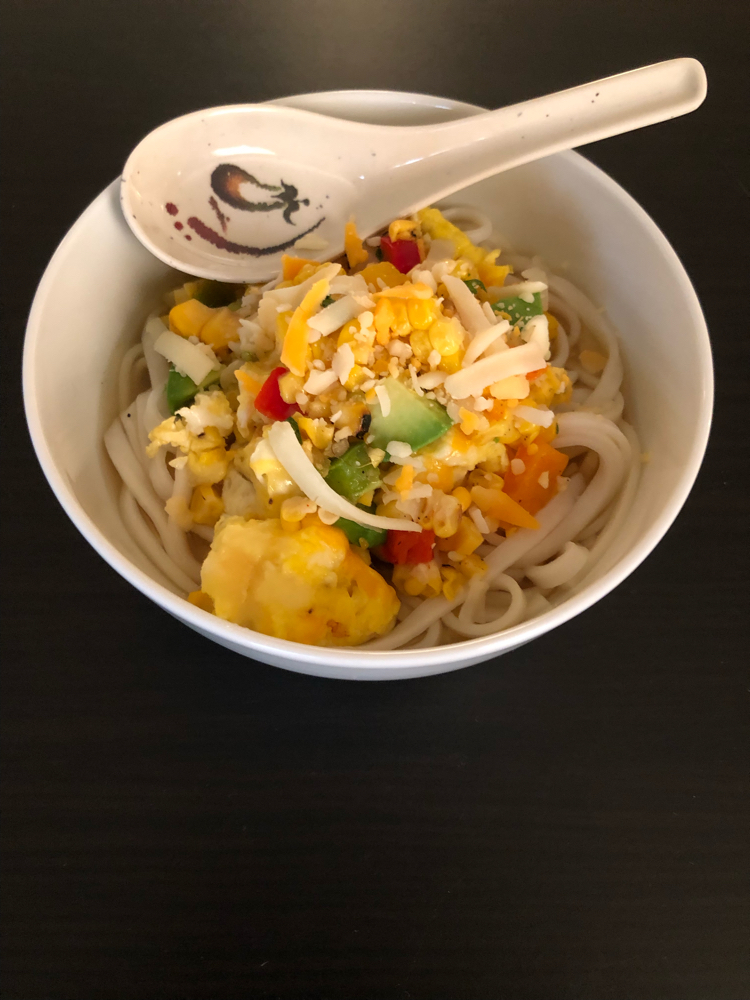 If you'd like to make this dish, you can purchase Fortune Gluten Free Noodle products at: Albertsons, Von's, Safeway, Dierbergs Markets and Cub Foods.
Check out these links for more info about Fortune Gluten Free Noodle products and recipes:
Website: http://www.jslfoods.com/
Facebook: https://www.facebook.com/JSLFoods/
Twitter: https://twitter.com/JSL_Foods
Instagram: https://www.instagram.com/jslfoods/