This is a Sponsored post written by me on behalf of Duck Brand® for SocialSpark. All opinions are 100% mine.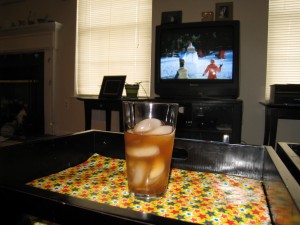 The custom Duck Tape® placement that I created.
I have been loving Duck Tape® lately. The tape is inexpensive, durable, comes in great designs and is an easy way to add some flair and durability to household items.
Recently, I used a star pattern and a pretty spring green Duck Tape® to dress up some cardboard storage boxes that I use to store my children's toys in our basement playroom. The colorful Duck Tape® adds some interest and fun to our unfinished gray basement playroom space.
Today, I used the rest of the Duck Tape® that I had to create durable placements that will fit in the serving tray tops of the storage ottoman coffee table in our family room. At 15" x 13", the trays are an irregular size that aren't served well by store-bought placemats. So, I've been worrying about the finish on the trays, because when the family enjoys movie nights in front of the TV, those trays get pretty beat up by spills and dropped food.
Duck Tape® to the Rescue
So today, I took just regular pieces of 8.5" x 11" printer paper and placed them so that they will completely cover the surface of a tray. Once I had the paper in an arrangement that completely covered the top of the tray, I covered the paper with Duck Tape® to make custom, simple to clean placemats. Easy!
More Projects
Now that the placemats are complete, I'd love to use Duck Tape® to create a durable holiday table runner for my kitchen table. I love table runners, but since I have kids, those runners get dirty quickly and don't stay on the table long.
I figure I could get a roll of brown craft paper, cut it to size, and cover it with holiday print Duck Tape® to give it a festive look for the upcoming holidays. I'd love to use either the Duck Tape® reindeer print (which comes in green, my favorite color), or the red-and-white Duck Tape® candy cane print.
Holiday Storage
When it comes time to take my home's holiday decorations down, I could always cover some cardboard storage boxes with holiday print Duck Tape® to make ornament and holiday decoration storage boxes that are festive and easier to find among all the boxes in my home's basement. Once covered with the Duck Tape® , the boxes will also be easier to keep clean, since any dirt or dust can be easily be wiped off.
Before I make those storage boxes, I might throw some Duck Tape® into my daughter's Christmas stockings. My kids love making fashions for their Barbie dolls, and with some Duck Tape® , they can add strength and durability to the paper dresses and outfits they create for their dolls. They made really cute Duck Tape® bows for their hair with the extra Duck Tape® that I had left from my project today.
Find Ideas on Facebook
The Duck® Brand Facebook page is a great place to see what Duck Tape® designs are available, so I've liked the page, and will head over there for more Duck Tape® designs and ideas! You can find Duck Tape® on Facebook at www.facebook.com/ducktape. Know of any great Duck Tape® projects and prints? Share them in the comments!